When you think of a timeshare you might be thinking of the old-school model where you visit the same location year after year. But, as owners' needs and wants have changed the timeshare industry has evolved. In fact, as the product has changed its main demographic has changed from majority boomers to now millennials. Have you ever asked, "why do people buy timeshares?" or "are timeshares a good deal?" Well, the answers may surprise you. Keep reading to learn more!
Why Do People Buy Timeshares?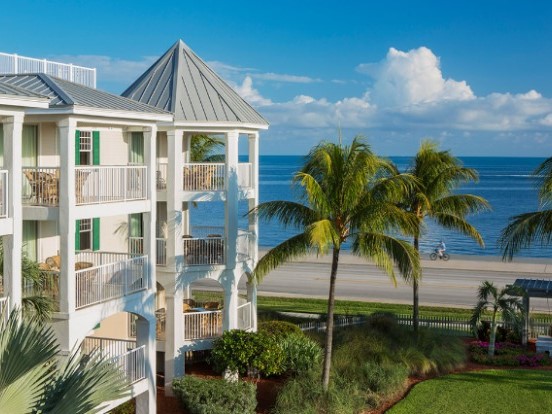 There are many reasons why people buy timeshares. The savings, flexibility, accommodations, and more make buying timeshares worth it to families. Keep in mind that not everyone enjoys vacation ownership, and that's ok! For families or individuals that travel regularly, prefer a specific brand, and want to enjoy savings on a lifetime of vacations, a timeshare is completely worth buying. Here is an overview of the top reasons people buy timeshares:
Timeshares provide flexibility and guaranteed vacations every year.
The average cost of a timeshare is nominal compared to a lifetime of hotel stays.
Accommodations at timeshare resorts are larger, with private bedrooms, fully-equipped kitchens, spacious living room areas, and more amenities.
Owners can trade their weeks or points on vacation exchange platforms to redeem more travel options around the globe, as well as get discounted rates on airfare, cruises, or travel packages.
Financing is available to lessen the financial burden of the initial purchase, making travel easier every year.
Top developers have in-house exchange options with resorts in popular destinations, giving owners the ability to stay within their network at no extra cost.
Additional loyalty programs, such as HGV Max or Marriott Bonvoy, reward owners just for traveling! Loyalty programs can be used with ownership to redeem even more discounts, free stays, and more.
Some timeshares are perpetual, meaning they can be passed down to your children or grandchildren, giving them the greatest gift of all: lifelong memories on vacation.
Timeshare resales can be a great way to get started with vacation ownership. Furthermore, many families will look to the resale market to add to their existing ownership for less!
What is a Timeshare?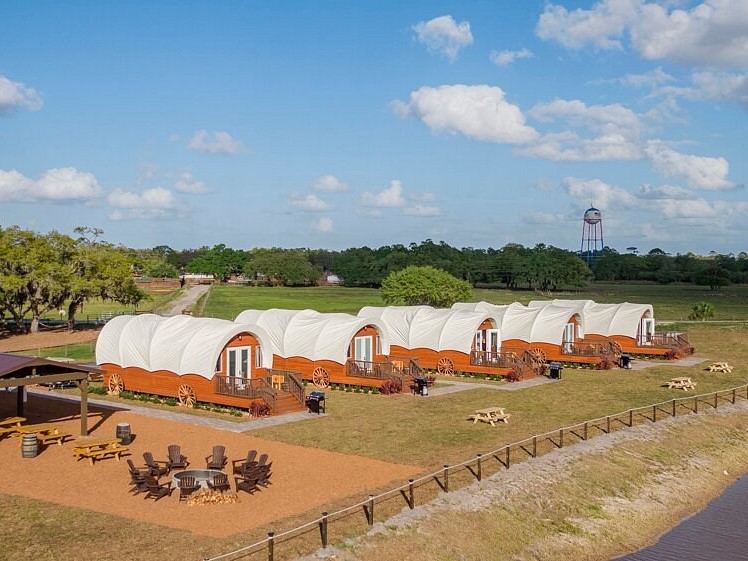 Now that you know why people buy timeshares, you might be wondering what a timeshare is exactly. A timeshare is not what you may think it is. Long gone are the days of owners traveling to the same resort, in the same unit, at the same time every year. The best timeshare companies in the industry offer owners more flexibility and options than ever before. Being a member of one of the best vacation clubs means access to even more perks. Top brands include Disney Vacation Club, Marriott, Hyatt, and Hilton.
With points-based ownership, timeshare owners can use their vacation points as currency to spend as they wish. The travel club lifestyle has taken over, and for this reason, owners love their timeshare. In fact, about 85% of timeshare owners love their brand or resort.
A timeshare is also a guarantee to vacation every year, and you pay up-front for a lifetime of travel. To learn more, check out our blog "What is a Timeshare and How Does it Work?"
So, Why Are Timeshares Bad?
There's a lot of noise out there. Influential celebrities and unscrupulous companies have overrun the media with messaging that timeshares are bad. Why? Timeshares are meant to be a lifelong product, even to pass down to your children or grandchildren. The timeshare resale industry began to assist owners in need of getting out of their timeshares, and it was unregulated. Most owners do, in fact, love their timeshare (check out LoveMyTimeshare.com), but sometimes our lifestyles change or we just can't vacation like we used to. Timeshares are considered bad because they are not a financial investment, and it can be challenging to get out of your timeshare contract. Not to mention, timeshare resale scams can target owners in need of relief.
In reality, timeshares are a good deal. They provide families with lifelong memories and incredible vacations, which is why people buy timeshares. With points, you have the utmost flexibility with booking trips where and when you want.
Average Cost of a Timeshare
People buy timeshares because the average cost is almost nominal in comparison to a lifetime of vacations. At most timeshare presentations, a sales representative will show you approximately how much you'll spend over your lifetime on travel. When you compare the average cost of a timeshare (including maintenance fees!) with 60+ years of vacations, the savings are clear. According to ARDA, the American Resort Development Association, the average cost of a timeshare was $23,940 in 2022.
Let's say you take a week-long vacation every year somewhere new. How much do you normally spend on your hotel? How many people normally accompany you? Now, multiply this over the next 50 to 60 years. With the average cost of a timeshare, you will have already made up what you paid for and more! The savings over the years make it clear that timeshares are a good deal.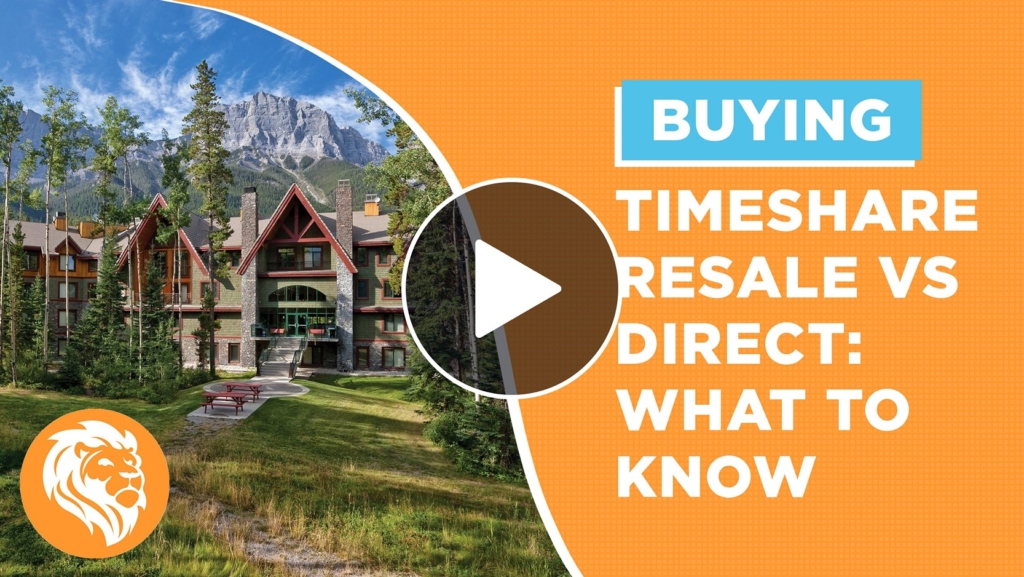 Not to mention, with a timeshare resale, you can save thousands on your purchase. The resale value of timeshares is often a fraction of the retail value since they rarely appreciate in value. Want to learn more about buying a timeshare resale vs. buying directly from the developer? Check out our video, where we go in-depth about the differences between both.
Timeshare Vs Hotel Room
Not only is the average cost of a timeshare much lower than your lifetime of vacations, but timeshare units offer much more space than the typical hotel. With a timeshare resort, units normally have private bedrooms, spacious living rooms, and a fully-equipped kitchen. That's another reason why people buy timeshares; the accommodations are comfortable, spacious, and luxurious!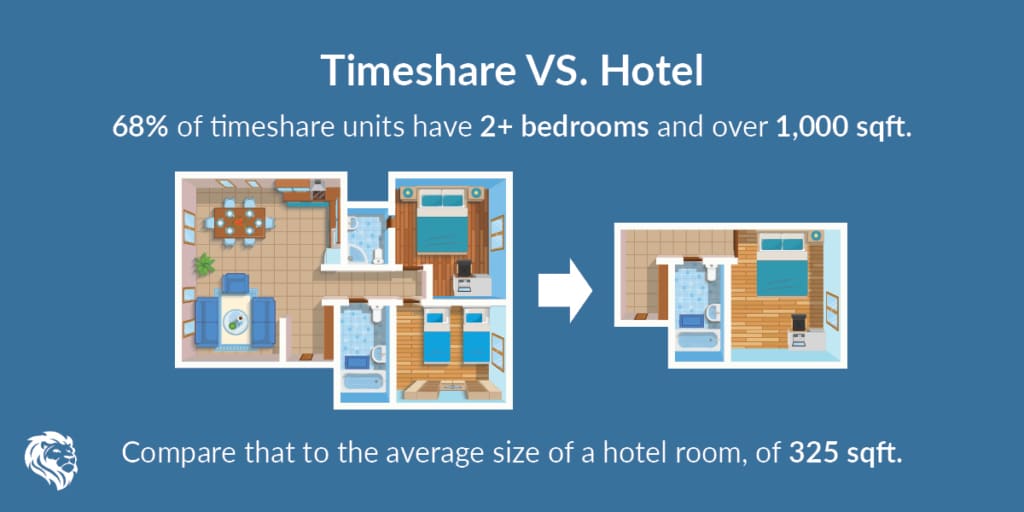 Over 70% have two or more bedrooms, giving families room and space to unwind and relax truly. There's nothing worse than a cramped hotel room and lack of personal space. Plus, you can even save on dining when you have the option to use a kitchen for home-cooked meals. Timeshares are a good deal when it comes to giving you more bang for your buck.
Vacation Exchange
When you feel like you've seen it all with your brand's resorts (although this is unlikely, with brands like Wyndham having hundreds of resorts within their portfolio to visit), timeshare owners have the option to exchange their week or points on popular networks like RCI or Interval International. Why do people buy timeshares? Because they can travel virtually anywhere with their ownership, not just to the same place at the same time every year. For example, if you buy a Wyndham timeshare at Club Wyndham Governor's Green in Williamsburg, Virginia, you can trade to stay at an RCI resort in the UK or in Florida.
RCI and Interval International are the most popular vacation exchange networks, with thousands of travel options across the world. Trade your timeshare for a cruise or an exciting trip abroad.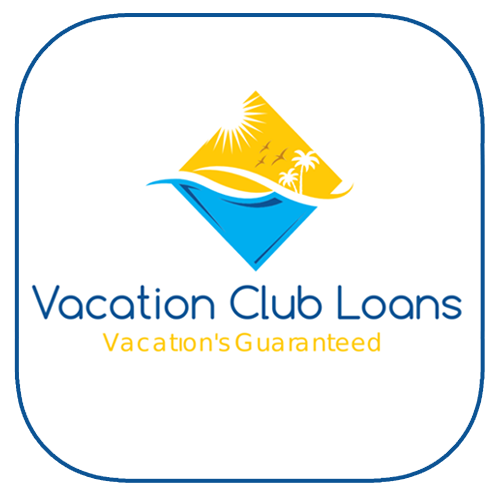 Timeshare Financing
If the price point still seems like it's unfeasible to you, how does financing your vacations sound? With our friends at Vacation Club Loans, buyers can finance their timeshare purchases for up to seven years. Vacation Club Loans makes it easy to pre-qualify with an easy online application and fast loan approval. There's also no pre-payment penalty.
Get timeshare financing on major brands like Disney Vacation Club, Hilton Grand Vacations, Holiday Inn Club Vacations, and more.
Is a Timeshare Worth it for People That Do Buy?
So, are timeshares a good deal? Well, the savings and perks are clear! A timeshare is definitely worth it for families that want to travel frequently and travel in comfort. There are many benefits of a timeshare, but if you aren't going to use it to the fullest, you may miss the opportunities!
Keep in mind that a timeshare is not a financial investment. When you buy a timeshare, it's an investment in your family and the quality of vacations.
Learn More About Why People Buy Timeshares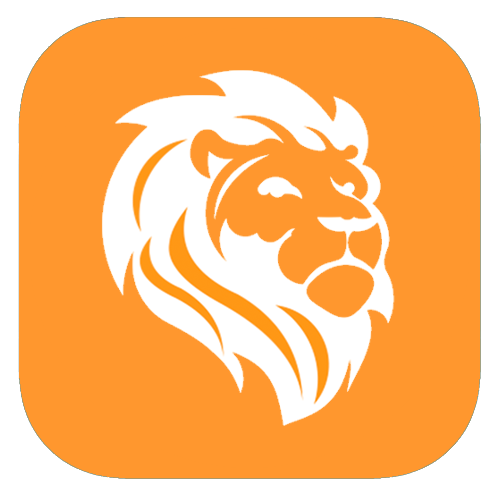 At Fidelity Real Estate, we understand there's a lot of confusion over whether or not timeshares are a good deal. That's why our team is here to help guide you through the process. If you have any questions, feel free to call us at 1-800-410-8326 or email us at team@fidelityresales.com.
Or if you are ready to buy a timeshare! Start browsing our marketplace! Then, once you find the best one for you and your family, simply make an offer.