This week I took a field trip with my "work husband" and signed up for a Disney Vacation Club timeshare presentation tour. DVC has become quite the game changer! From their no-pressure sales tactics to their unique take on a points-based membership, they have revolutionized the timeshare industry. I may have just went on the tour out of curiosity, but to be honest they really spell it out in a way that makes owning a DVC timeshare a no-brainer.
Where Do You Sign Up For A DVC tour?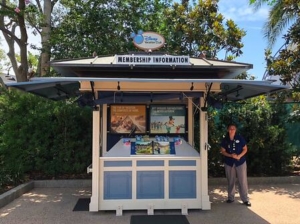 To schedule a tour in your pajamas at home, head over to the DVC website and look for the section titled "Explore Membership," or click here. If you find yourself visiting Disney soon, there are Disney Vacation Club Membership Information kiosks all over DVC resorts, within the theme parks and throughout Disney Springs or Downtown Disney. At Disney Springs, there are actually 2 information booths—the smaller one is located between the AMC theaters and the Aerophile hot air balloon. There is a larger booth across from the stage, in the heart of the Disney Springs Marketplace. We recommend going to this one, especially if you have little ones. The larger kiosk has an area of games to play and it's right across from the train. We went to the smaller one since it was just the two of us (and it was the first one we spotted!)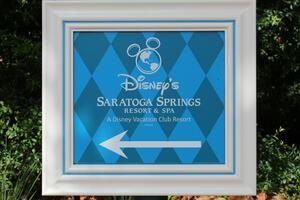 When you walk up to the DVC tour kiosk, you will be greeted by a friendly sales representative with a bubbly, inviting personality. They can answer any questions you might have, set you up with a tour at the resort of your choice and even arrange transportation from anywhere on Disney property. We chose to take the tour at Saratoga Springs, where they have built an entire Disney Vacation Club Preview Center complete with full-scale models of a few different resorts around the world! Plus, it was walking distance from Disney Springs so we could take our time and site see. Just a heads up: if you are looking to score free Disney tickets for taking a DVC tour, you will be disappointed! I have heard of FastPasses being given out but Disney does not use the same sales tactics as a typical timeshare sales company.
Who Can Go On A DVC Tour?
While Disney may not tell you no if you don't meet their criteria or "qualify," they will schedule you for the tour and show you around a little more quickly so they don't "waste" their own time. The DVC sales representatives won't give a full scope or spend a lot of time with people that don't fit into a profile that's pre-determined for a high rate of closing or finance approval. Most timeshare companies follow this same buyer profile, which based on ARDA's research of today's timeshare owners. To answer the question "Can anyone take a DVC tour?" yes. The salesperson you are assigned to will ask you a few qualifying questions right out of the gate, guised as casual conversation, to gauge where you fall on the scale.
What to Expect at Saratoga Springs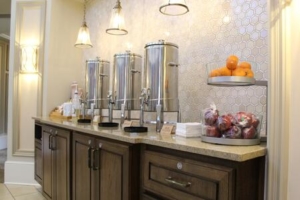 Disney has built a massive preview center at one of their most prestigious DVC properties, Saratoga Springs. A Victorian-style resort modeled after the famous 1800's New York equestrian spa retreat of the same name, Saratoga Springs Resort & Spa is located just across the water from Disney Springs. DVC will provide transportation to the location so you can stay off your feet. The DVC preview center is located next to the resort's main check-in building and welcomes potential Disney timeshare owners with pastries, coffee, fresh tropical juices, and other refreshments while waiting to check-in for the tour.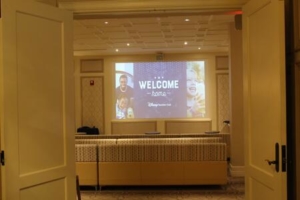 Upon receiving a name tag, visitors are escorted into a mini-movie theater to watch a brief video of life as a DVC owner. Smiling faces and laughing families splashing in a resort pool, character meet-and-greets on the Disney Cruise Line, multiple generations sitting around a spacious villa are all scenes that might give you FOMO. They really drive home that DVC lets you stay in the heart of the magic year after year, showing young couples, families, and grandparents with their grandchildren. Once the movie ends, the attendant introduces the DVC tour guide.
DVC Sales Representatives Aren't Like Typical Timeshare Sales Reps
After the short video, the attendant takes visitors into a private sitting room. We were taken to one of many—it felt like a never-ending hallway. Each room has a table in the center and a console against the opposite wall with a huge touchscreen computer. To start the presentation, the salesperson actually tried to talk us out of buying. With rehearsed phrases like, "If you don't do ___, then this isn't for you." This was honestly the most aggressive part of the whole tour. This is an attempt to hype up attendees until you have to be the ones convincing him that you're ready to buy right away.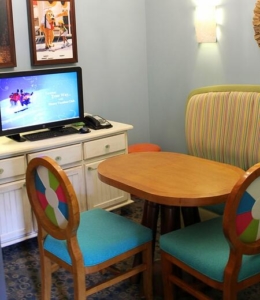 The representative was subtle as he slipped qualifying questions in, like if we own our own home, are married, if we want children, etc. He then went through a slideshow on the computer screen, showing us video clips and informative slides on how amazing ownership is, the DVC membership benefits, how many resorts and hotels we can use the points at and how the points system breaks down. At one point he took out a blank piece of paper and wrote 2068 at the top. After a dramatic pause, he explained the legality of a deeded timeshare, making it very clear that it is a timeshare and it expires in 50 years. Any time we asked a question about this deed, money, es or fees he was very careful to say "We will get into that in a little bit." After a while, we stopped asking questions at all. After all this, the real tour began!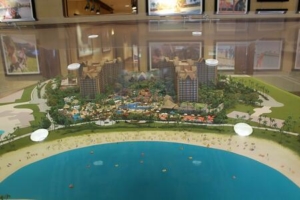 Before getting into how much a DVC timeshare would cost, we were brought into the secured building next door. In the entrance was a huge encased 3D model of the Aulani, Disney Vacation Club Villas, Ko Olina, Hawaiʻi resort. It was impressive, with little tiny people swimming in the ocean and tiny towels on the beach chairs. As you walk around the room, there are framed photos of every DVC property, a map of the world marking each one, and characters posing with families. It's all just enough to paint the picture of a luxurious life of Disney traveling waiting for you.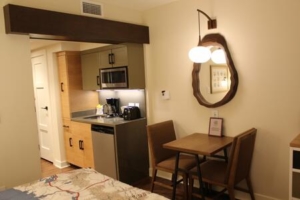 A little walk down a hallway and you enter a built-to-spec model of a Deluxe Studio Villa from Copper Creek Villas & Cabins at Disney's Wilderness Lodge. These villas show upgraded features like a whirlpool tub and stainless appliances amid organic wood accents—the perfect blend of lux and natural. The next room down is a one-bedroom villa, allowing you to compare the difference of amenities and size. For instance, the studio features a kitchenette and a smaller two-person table against the wall across from the bed. These units share an interior door to connect them, making up the two-bedroom villa! Our DVC salesperson/tour guide also explained that they share a connecting balcony, which is open to walk through by removing a temporary wall divider.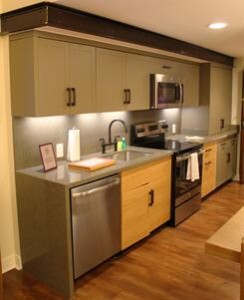 The one-bedroom villa shows you what their full kitchen looks like and how much more space you get, with a dining room table large enough for the whole family. We were really impressed with how they set this model up to make you feel like you were really in Copper Creek. Even the balcony had a huge backdrop poster with an image of what the view could look like from your room. They also sell you on the maximum occupancy. There are sleeper sofas and fold-out beds from almost every piece of furniture, including the entertainment center.
Another feature of both the studio and one-bedroom villas worth mentioning is the bathroom layout. While both rooms offer nice, spacious bathrooms with granite countertops and luxurious feel, they also have a divider door between the toilet and shower to separate a sink and large countertop just outside. This is great for families traveling together. One more bonus of space and privacy lets more than one person to get ready at a time. Also, since this is a timeshare villa (not a hotel), housekeeping does not visit daily. In providing all of the comforts of home, they do provide everything you need to keep your space tidy—even a laundry basket to use with the washer and dryer.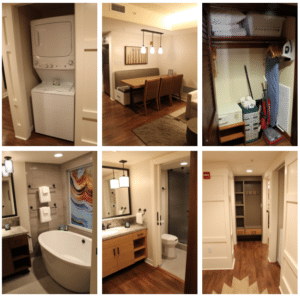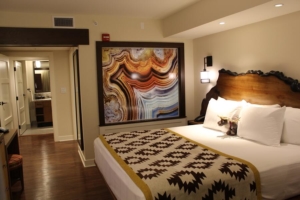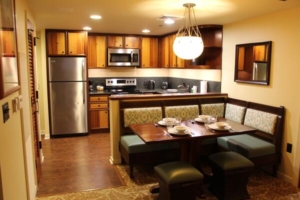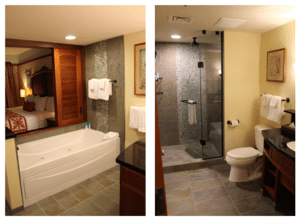 If previewing one DVC property wasn't enough for the day, the geniuses behind the preview center built a full-scale model of a one-bedroom Aulani villa as well. Disney spared no expense reconstructing the entire room, making you feel like you are actually at the Aulani resort. This one had one of the best kitchen layouts, with a beautiful banquette large enough to seat 6 comfortably and opens to the living room area.
These villas are designed with families in mind. They're spacious and full of amenities, including two separate bathroom areas. There's a sink and jetted tub just off the bedroom, with a pass-through that can be closed off for privacy. Through a door is a huge bathroom with a walk-in shower, toilet and another sink area. Now the shower—not only does it have a rain shower head in the ceiling, but there is also a handheld sprayer and full bench. The floor-to-ceiling glass door and river stone accent wall all make for a bathroom feature you wish you had at home.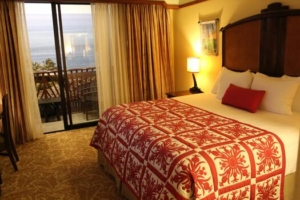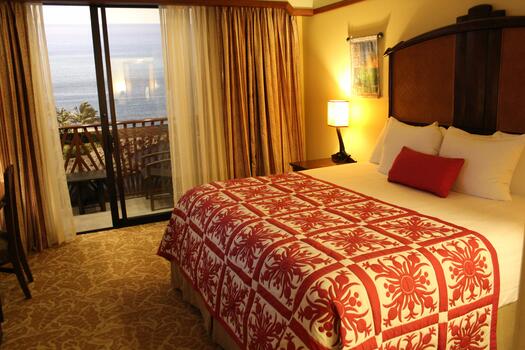 The decor, layout and fixtures really have a homey feeling to them, with a luxurious touch. Just like the other model, there was even a pull out bed built into the TV stand. It looks like a dresser with drawers, but surprise! More room for your friends and family to crash. The decor is reminiscent of true Hawaiian culture, with wood carvings, unique artwork and natural island accents everywhere you look.
The Close—To Buy Or Not To Buy?
With stars still spinning in our eyes, we were whisked back to the sitting room we started in. Every person we passed greeted us with "Welcome Home!" Our salesperson finally got into the brass. Currently, DVC is focusing on selling properties from Aulani and Copper Creek. They're the newest Disney timeshare resorts to hit the market and have the most inventory. The sales agent directed our attention to the computer screen again and this time asked us questions like which resort we wanted to visit, how many people we would be traveling with and how many nights we would stay. He explained the minimum points we can purchase is 75, with the maximum being hundreds of thousands of dollars. Suggesting we look at 150 points, he showed us what the price would be, closing costs and annual maintenance dues. (These 3 figures were displayed inside 3 circles resembling Mickey Mouse, fluctuating up and down with the adjustment of a points slider on the bottom of the screen). He explained how to use the points, banking, borrowing, and exchanging in a third-party network. We have compiled all of this information, everything you need to know about the ins-and-outs of owning a Disney timeshare, into a Family Guide you can download for FREE here!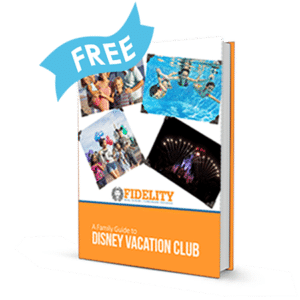 It is worth mentioning that during "the close," we brought up buying DVC points on the resale market and asked what the difference was. The DVC tour agent seemed to get a little flustered with this line of questioning and quickly dismissed the idea, stating that resale membership does not include any of the same benefits. He made it seem like resale points are only good at the 14 DVC resorts. What he failed to clarify is that Disney Vacation Club points can be exchanged through RCI (the largest timeshare exchange network in the world). When it comes to the other members-only events and discounts, the extra DVC benefits are accessed with the show of an "Official" DVC Membership Card, which does not transfer to new ownership. To be honest, we are really only talking about a few hundred dollars per year in potential savings, assuming we consistently get annual passes and shop or dine on Disney property often. Compare that to thousands saved on the purchase up front.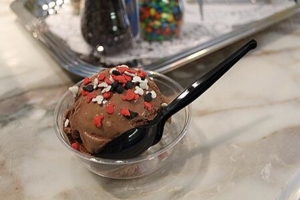 When we broke the news that we were not going to buy today and that we wanted to do a little more research, the agent's tone instantly took a turn, almost to annoyance. "I thought you said you were going to buy today," "I have never actually had someone call me back to buy once they leave to sleep on it," and "I wouldn't have spent so much time if I knew you weren't ready" were just some of the comments made as we wrapped up the tour and were escorted to an ice cream parlor for a free treat.
Buying DVC Points from Disney vs. DVC Resale
After we left the tour, the first thing I did was compare the pros and cons of buying DVC Points directly from Disney versus on the DVC resale market.  The price difference was shocking. I'm talking thousands of dollars of a difference in some cases. For tips on how to follow the market and when you will get the best price per point check out this article.  All in all, I do recommend taking a tour of a Disney Vacation Club property. Be prepared to be impressed! A little note of caution though, no matter what they tell you about special discounts expiring or not being able to get any benefits if you buy on the resale market—do your own research.  When it comes to Disney timeshares, it's not like buying a car where there is negotiation.  The price is the price. Any "specials" they have are nominal compared to the investment.  Stick to your guns and be upfront about not buying that day.  Check out the current listings for DVC Resale Points here and see for yourself the savings available by buying DVC resale vs. retail.