Nestled in the heart of the Ozarks, Westgate Branson Lakes promises a peaceful vacation surrounded by nature. With all the amenities you should expect from a Westgate resort to its fantastic location near several great attractions, there's plenty to enjoy about this resort. Here are a few things you should know about Branson Lakes Before you decide to own a timeshare there.
Amenities at Westgate Branson Lakes
While you may be in the Ozarks for all the hiking and sightseeing, there's plenty to do indoors too. Westgate Branson Lakes has plenty of amenities to keep you busy while you're at the resort. These amenities include basketball and volleyball courts for a fun game with friends. You can also cool off in either the indoor or outdoor pool. The indoor pool is even heated! If you'd like to keep up with your routines, there's a fitness center on-site. You'll also be able to visit the marketplace for groceries and sundries to bring back to your villa. For those days when you'd rather cook indoors, the Marketplace is the perfect place to visit. Speaking of cooking, you'll also be able to do so outdoors with the on-site barbeque grills. After all, nothing says the great outdoors like a delicious barbeque.
Accommodations at Westgate Branson Lakes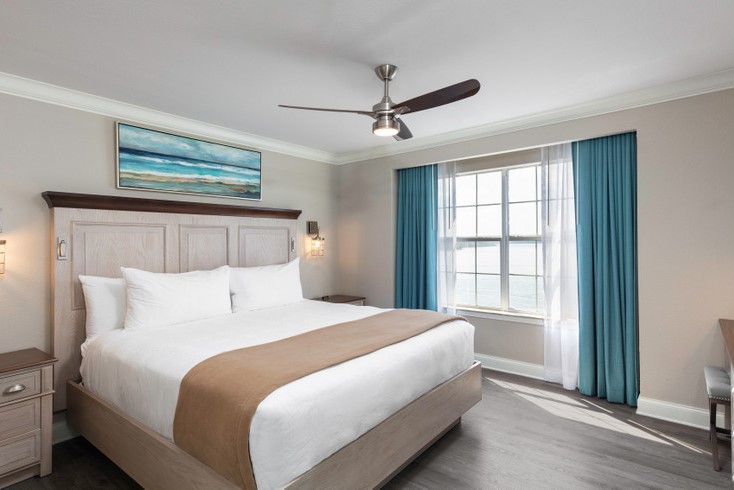 When you return to the resort after an exciting day in the mountains, you'll be welcomed by stellar accommodations. Westgate Branson Lakes features one and two-bedroom villas. The one-bedroom villas have a queen-sized bed and queen-sized sleeper sofa. Next, the two-bedroom villas offer a king-sized bed, queen-sized bed, and queen-sized sleeper sofa. No matter which villa you choose, you'll have access to a living room, dining room, and a fully-equipped kitchen. Additionally, there are deluxe villas with even more space and larger beds. These deluxe villas also boast a furnished balcony or patio with a beautiful lake view. All the villas are excellent, but if you want some extra room to stretch your legs in, the deluxe villas are a great value.
Things to Do Near Westgate Branson Lakes
Of course, while the resort itself is comfy, there's more to the Ozarks than the walls of the Westgate. These mountains are known for an abundance of sparkling springs, waterfalls, lakes, caves, caverns, and sinks. It's safe to say that if you want an outdoor adventure, you can't go wrong with the Ozarks. With that said, there are plenty of things to do indoors as well. Here are just some of the things you can do near the Westgate Branson Lakes.
Branson Mountain Adventure Park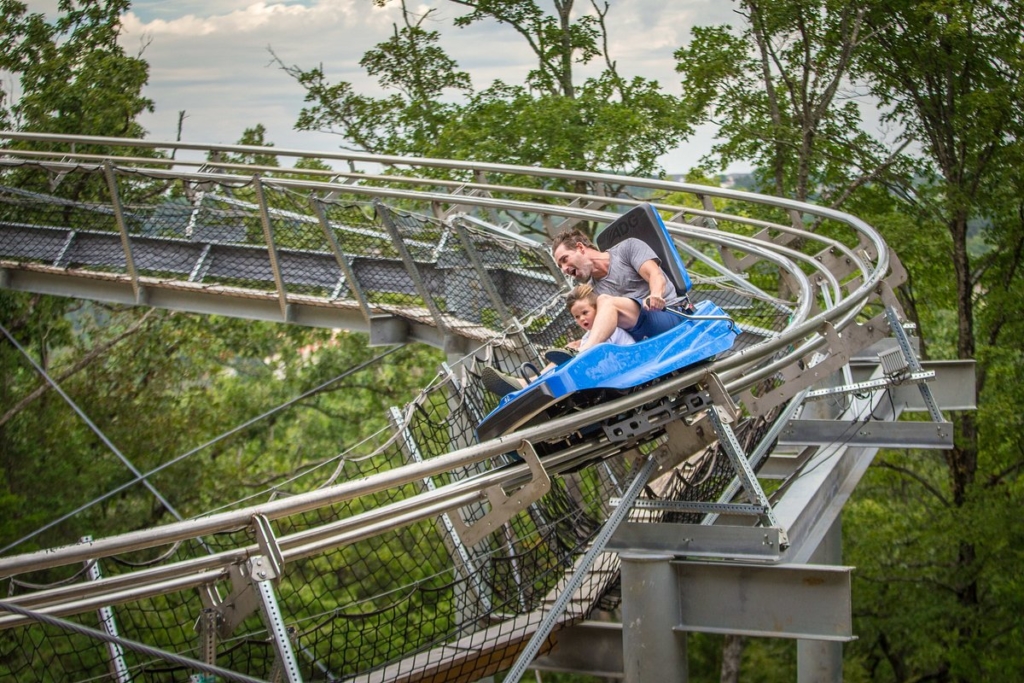 We mentioned earlier that one of the best parts about staying at this resort is its easy access to great attractions. One must-see spot near the Westgate Branson Lakes is Branson Mountain Adventure Park. This park takes advantage of the Ozarks' terrain through its attractions. The first of these attractions is the Runaway Mountain Coaster. The coaster is a thrill ride that starts at the top of the mountain and takes guests down the hill, twisting and turning around the natural environment in the forest. For a high-altitude adventure, check out the Flyaway Quad Ziplines. These ziplines take guests over Fall Creek and the mountain coaster before landing hundreds of feet away. Last but not least, there's the newest addition to the park: gem mining. This is the largest gem mine in the Ozarks, and visitors can choose to look for gems or fossils here.
Aquarium at the Boardwalk
If you love marine biology, don't miss out on the Aquarium at the Boardwalk. Located just 20 minutes from Westgate Branson Lakes, this aquarium features a number of aquatic marvels. You can take a 5D submarine ride to the bottom of the ocean and witness a giant pacific octopus. Or you could step into the Jelly Infinity Room, and surround yourself with dozens of beautiful, glowing jellyfish. The aquarium also has a water tunnel to walk through, so you can marvel at hundreds of fish swimming around you. It's almost like you're in the ocean! You'll be able to appreciate a colorful coral reef teeming with marine life too, as well as a special pool where you can touch manta rays and crabs. It's safe to say that if you like marine biology, you'll love the Aquarium at the Boardwalk.
Outdoor Activities in Branson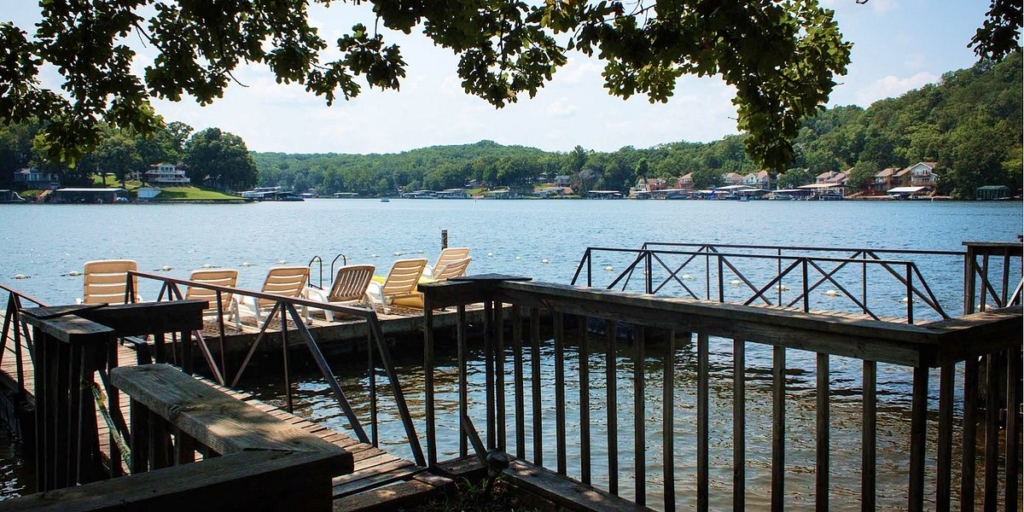 Of course, if you've come to the Ozarks, you're probably here to enjoy the great outdoors. Fortunately, there are over 200 miles of hiking trails in Branson to explore, with a variety of terrain. If you'd like to admire a beautiful waterfall, swing by the Lakeside Forest Trails. These trails wind through 315 hand-lain stone steps to the Grotto, a partial dome carved into the side of the bluff above Lake Taneycomo. If it's rained recently, you will be able to see an impressive waterfall flowing over the top of the ridge. On the other hand, if you'd like to enjoy a peaceful day of fishing, visit Table Rock Lake. Known as a popular spot for bass fishing tournaments, this lake is one of the best fishing destinations in Missouri. Table Rock Lake is also near Moonshine Beach, where you can swim, sunbathe, picnic, or play volleyball.
Dining Near Westgate Branson Lakes
Aside from all the great attractions, Westgate Branson Lakes is also near plenty of delicious food. What's more rustic and outdoorsy than a good old-fashioned barbeque? That's exactly what you'll get at Dana's BBQ and Burger Shop, a family-owned restaurant that serves exactly what it says in the title. If you'd like a delicious, hearty breakfast, head down to Hungry Hunter Restaurant. This restaurant has massive pancakes to enjoy in a family-friendly setting. For something a little more modern, the Star Bar Grill is your best bet. There's modern decor and interior mixed with classic comfort food for you to enjoy at this bar.
Buy a Timeshare at Westgate Branson Lakes
If you're planning a vacation in the great outdoors, you can't go wrong with Branson, Missouri. From the hiking trails, to the beach, to the gorgeous mountainside, anyone hoping for an outdoor adventure will have plenty to enjoy. Want to visit the Ozarks? Then stay at Westgate Branson Lakes. The amazing amenities, comfy accommodations, and great location make it an excellent resort in Missouri. If you'd like to buy a timeshare there, then check out our marketplace and make an offer. We also have listings for resorts not just with Westgate, but other popular brands like Hilton Grand Vacations, Marriott, and Holiday Inn Vacation Club. If you have any questions, feel free to give us a call at 1-800-610-2734 or email us at team@fidelityresales.com. Our licensed agents are always happy to help.