Hawaii is the pinnacle of tropical vacation getaways. The islands are full of world-famous beaches, lush rainforests, and scenic mountaintops. Every island has something exciting to offer and every trip to Hawaii can be different from the last. Whether you want to relax on the beach with a mai tai or helicopter over a volcano, The Aloha State can make your getaway perfect. It's hard to fit every activity into one trip, which is why a Hawaii timeshare is great! Return as many times as you want to enjoy the culture, natural beauty, and delicious delicacies of the islands. Here are some of our favorite timeshare resorts in Hawaii that will give you the vacation of your dreams.
Island of Hawai'i – The Big Island
The largest of the Hawaiian islands, The Big Island's size is awe-inspiring. On The Big Island alone you can find golden beaches, snow-capped volcanoes, dense rainforests, and impressive waterfalls. There is never a dull day when you vacation on the Island of Hawai'i. Visit sacred sites and royal palaces, take a two-mile zipline, tour a volcano, or snorkel over the vibrant reefs. The Big Island offers big fun and these Hawaii timeshare resorts will put you right in the center of it all.
Club Wyndham Royal Sea Cliff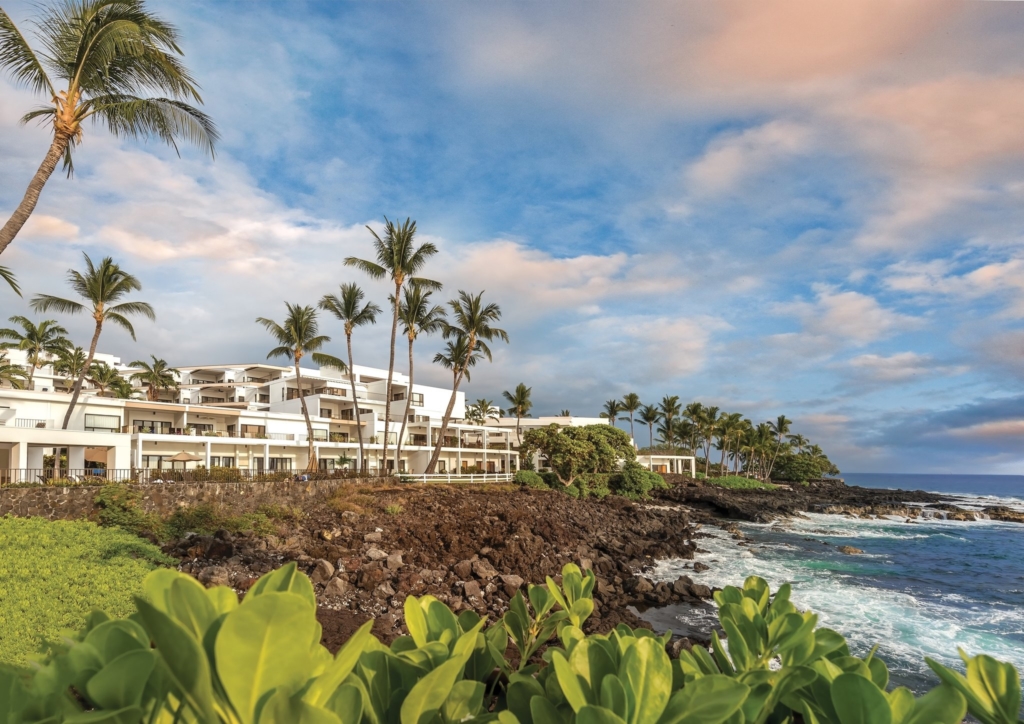 Club Wyndham Royal Sea Cliff is a resort that sits on the cliffs of Hawaii's scenic west coast. The rocky cliffs make for an incredible view, which can be seen from many villas. You'll also catch some incredible sunsets from all over the resort. Although there isn't beach access, the resort has two incredible pools to relax in. Experience a unique getaway on the island at this stunning Hawaii timeshare resort.
Hilton Grand Vacations Bay Club Waikoloa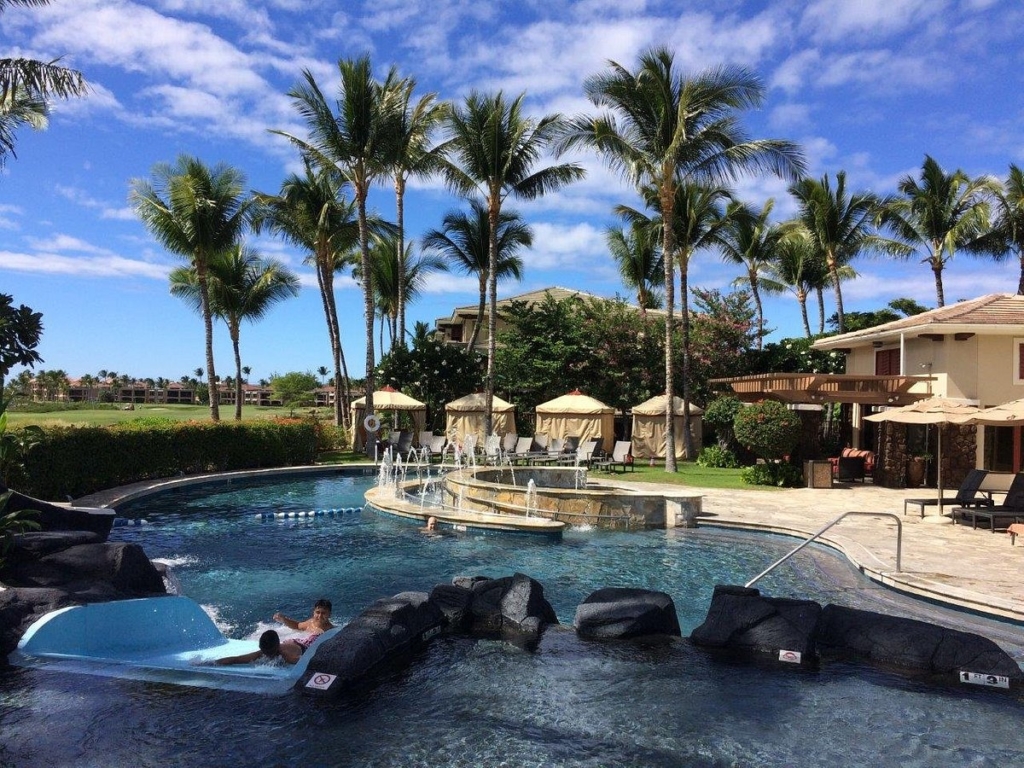 Hilton Grand Vacations Bay Club Waikoloa is a haven in the heart of Waikoloa. This resort is located amongst two championship golf courses and is an idyllic setting on The Big Island. Spacious villas offer the comforts of home and private lanais with stunning views of Waikoloa. Hawaii is the ultimate place to enjoy a relaxing tropical getaway and this timeshare resort is nothing short of perfect for that.
Island of O'ahu – The Gathering Place
Due to its central location to the other islands, Oahu is known as The Gathering Place. It's a fitting name too because about two-thirds of Hawaii's population lives on Oahu. Honolulu, Hawaii's capital and largest city, is located on Oahu and is a popular tourist destination. Many famous landmarks are on Oahu, including Pearl Harbor and Diamond Head crater. O'ahu offers Hawaii's ancient history with a modern flair. Many consider O'ahu to be the heart of Hawaii and with a timeshare ownership on this island, you'll see why!
Aulani, A Disney Vacation Club Resort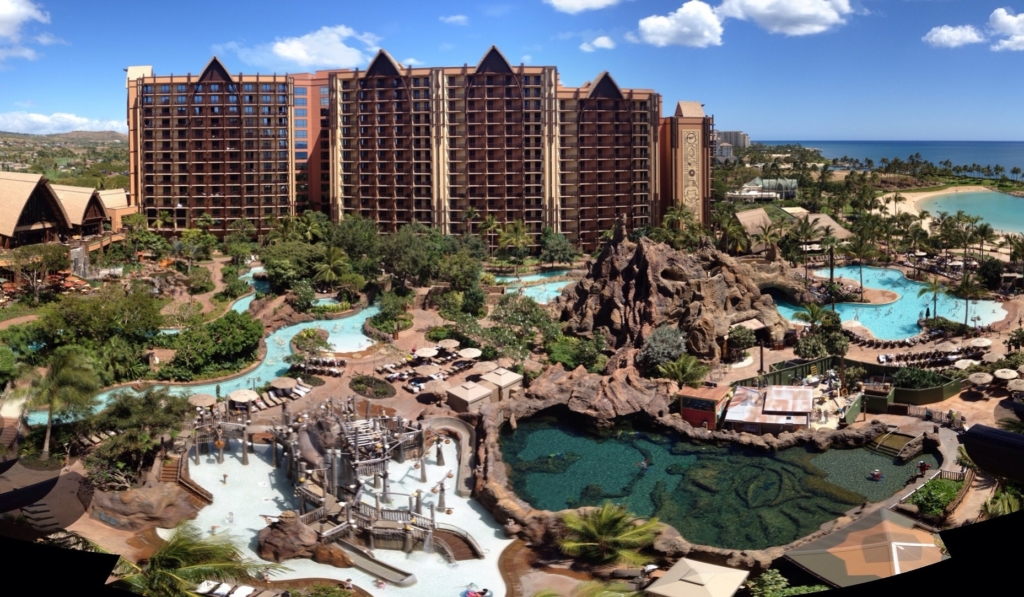 Aulani is a Disney Vacation Club Resort that captures the natural beauty of O'ahu, but with a Disney twist. The resort is situated on the beautiful beaches of Ko Olina and celebrates the local culture. Aulani is bursting with Hawaiian art and also offers traditional entertainment or activities to guests. Experience the spirit and beauty of Hawaii at this magical timeshare resort.
Hilton Grand Vacations Grand Waikikian
Hilton Grand Vacations Grand Waikikian offers tranquility to owners while also putting them right in the heart of Waikiki. This resort is located in Hilton's Hawaiian Village, so endless luxurious amenities are available to guests. For example, you can dine and enjoy traditional Hawaiian music at Waikiki Starlight Luau. This 38-story oceanfront tower offers incredible views of the city and its world-famous beach. Enjoy moments of peace, as well as the lively culture of Hawaii's capital, at this timeshare resort.
Island of Maui – The Valley Isle
Maui is Hawaii's second-largest island and is overflowing with endless natural beauty. It's no wonder Maui has been considered the best island in the U.S. for over 20 years. You can find white, black, and red sand beaches on the world-famous shores of Maui. Surfing and windsurfing will be an unforgettable experience on this island for the more adventurous crowd. For a more relaxing time in Maui, enjoy a magnificent sunrise while lounging on the beach or while dining at an authentic restaurant at your Hawaii timeshare resort.
Westin Nanea Ocean Villas, Ka'Anapali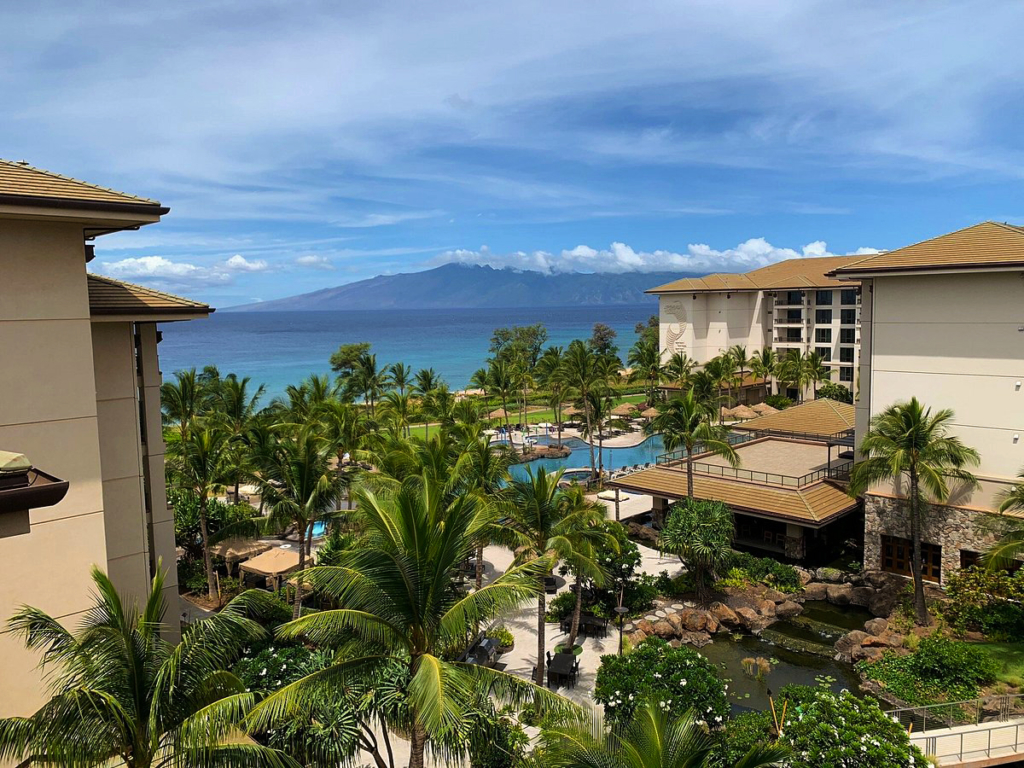 Westin Nanea Ocean Villas, Ka'Anapali is a lively resort in Maui. Not only does this resort offer beautiful beaches and amenities, but a world of fun is right at their doorstep. Located in Lahaina, this resort is conveniently located near many attractions. For example, hiking, whale-watching, ziplining, and golfing are all within miles of the resort. There will never be a dull moment at this stunning Hawaii timeshare.
Marriott Maui Ocean Club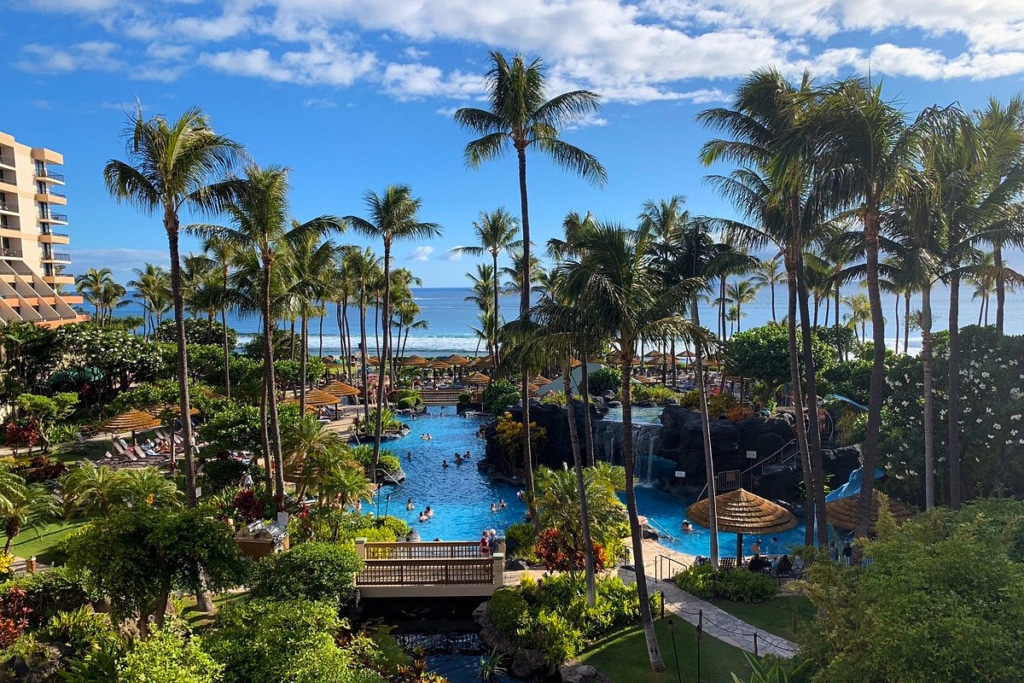 Marriott Maui Ocean Club is a slice of paradise in Maui. Spend your days lounging on the beach or floating in the pool with a drink, then retreat to your spacious villa. This oceanfront resort offers spectacular views and is conveniently located near many local attractions, so there will always be fun to be had at this resort. This resort is part of the Maui Marriott Resort, so there are endless amenities available to owners at the Ocean Club.
Island of Kaua'i, The Garden Isle
Kaua'i is known as The Garden Isle and that name is entirely fitting. The island consists of lush valleys, tropical rainforests, forking rivers, and cascading waterfalls. Some of these elements are only viewable by air or sea, which reveal unimaginable views. There are some spectacular outdoor activities in Kaua'i, so you can take scenic adventures all over the island. For example, kayaking the Wailua River or hiking in Kokee State Park. Owning a timeshare in Kaua'i is an amazing way to experience the beauty of Hawaii.
Wyndham Kaua'i Beach Villas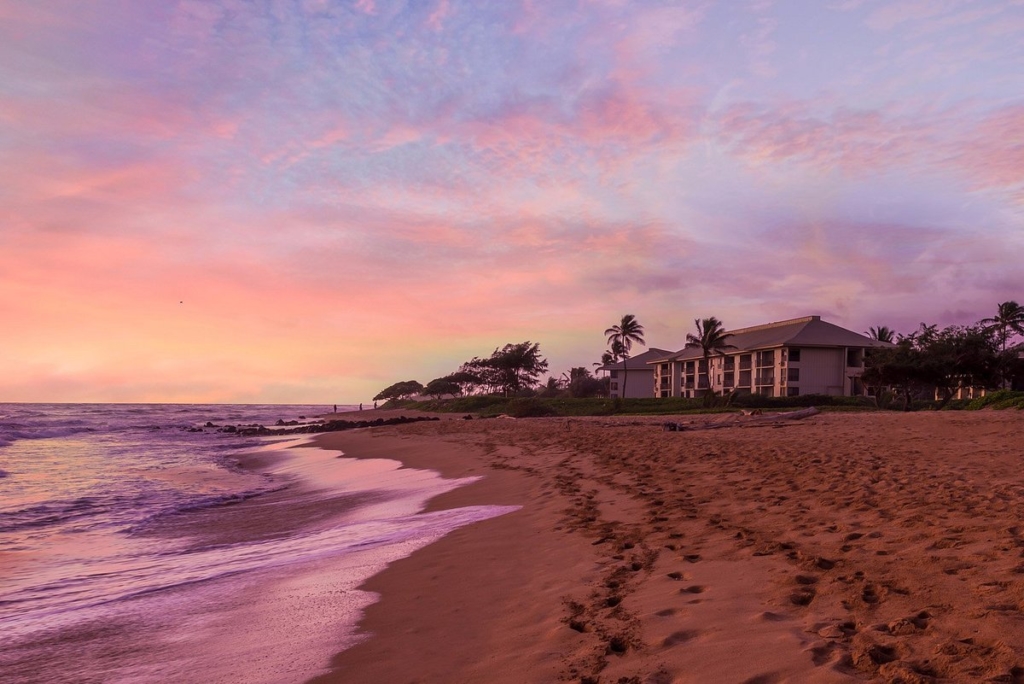 Wyndham Kaua'i Beach Villas is located on Kaua'i's coconut coast and is the perfect location for an island getaway. The resort is located near the airport, so traveling to your accommodations will be a breeze. Swimming and snorkeling at Lydgate State Park are just minutes away and make for an unforgettable experience in Kaua'i. Experience the tastes of Hawaii at a tasting tour with a local chef in one of the island's top restaurants. Unwind in the cool breezes of Hawaii at this cozy timeshare resort.
Marriott Kaua'i Beach Club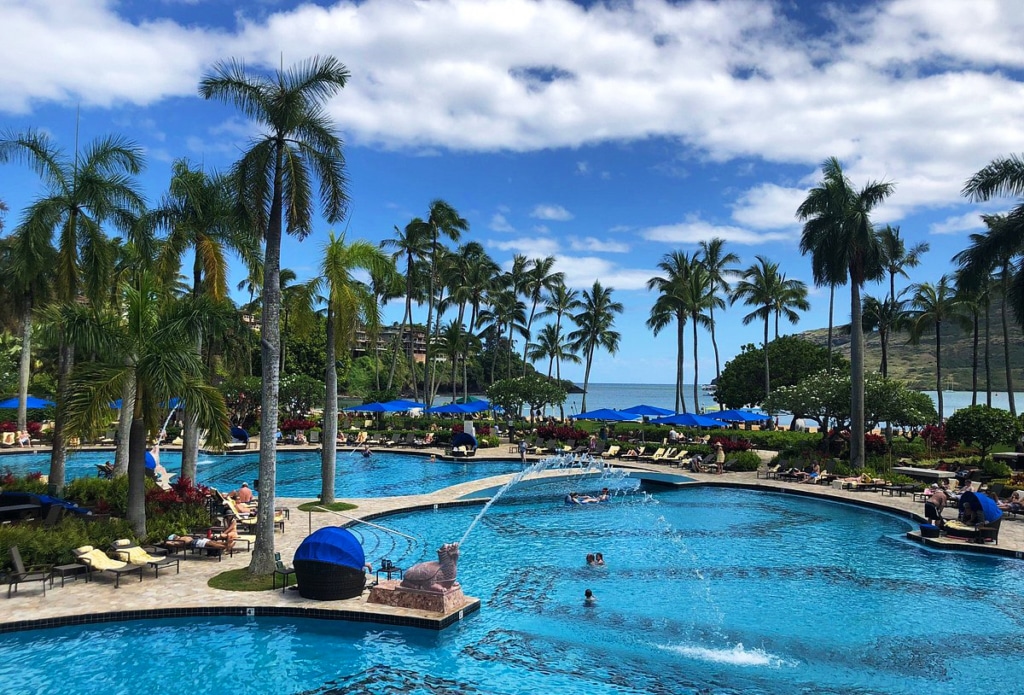 Marriott Kaua'i Beach Club is a lush oasis that further proves why Kaua'i is truly "The Garden Isle." The resort is located on the scenic cove of Kalapaki Beach, which is one of Hawaii's most beloved beaches. Hang out by the 26,000 square foot pool and you'll be surrounded by tropical greenery. Immerse yourself in the surrounding areas by foot, horseback, kayak, or ATV. Experience the quintessential Hawaii getaway at this incredible timeshare resort.
Hawaii Timeshares for Sale
Deciding to start timeshare ownership can seem like an overwhelming task, but we're here to help. If you're thinking that a timeshare in Hawaii might be right for you, start by browsing our available listings. When you've found the one, simply make an offer! If you need further assistance, feel free to contact us at (407)465-5188 or at team@fidelityresales.com. Our team of licensed real estate agents has the experience and knowledge to make buying a timeshare in Hawaii a breeze!