Disney Vacation Club is known for a lot of things. Beautiful resorts, tons of amenities, and easy access to Disney Parks are all staples of this resort developer. While these qualities are all great, there's one more feature that stands out at DVC resorts: their pools. The pools at Disney Vacation Club's resorts are all top-notch. In fact, they're so popular that one of the perks of DVC membership is the ability to hop between pools at different resorts. Of all the Disney pools, one has remained the most popular: Stormalong Bay. This massive pool has a lot working in its favor, but is it still number one? Read on to find out!
What is Stormalong Bay?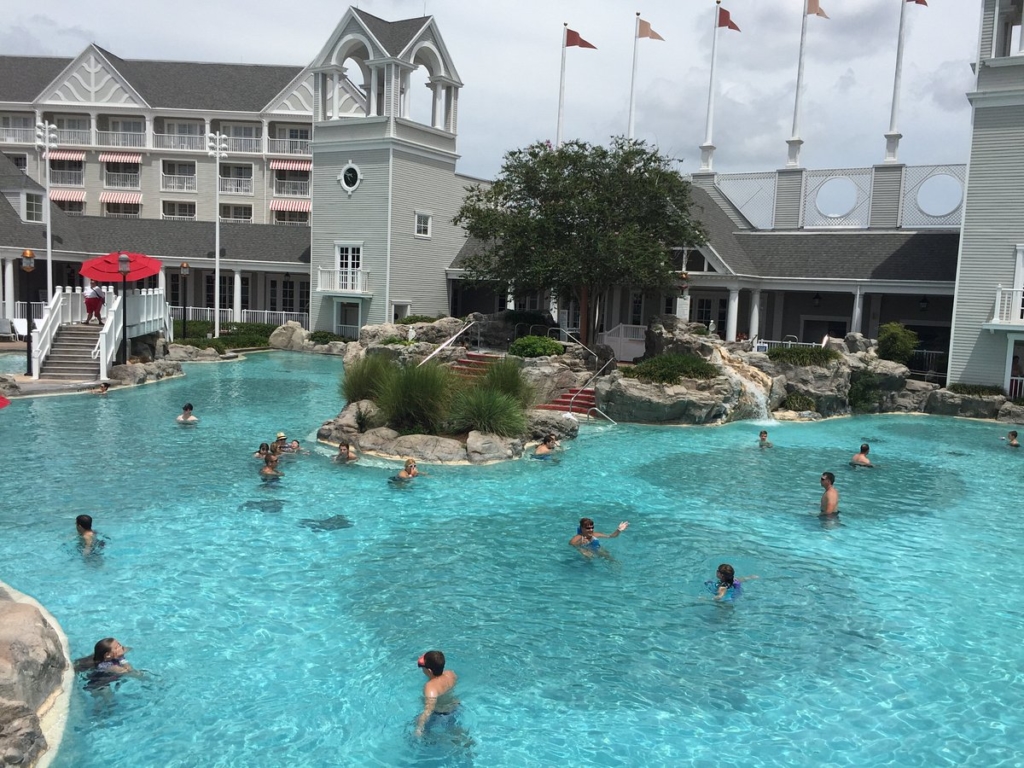 With 3 acres of space, Stormalong Bay isn't a pool. It's a massive water park experience. For reference, the average football field is just over 1 acre. Imagine enjoying a pool as big as three of those fields combined! Thanks to its enormous size, the Bay is packed with tons of excitement around every corner. Of course, this park has a 230-feet long waterslide to race through, but there's even more here than meets the eye. The middle of the pool has an island of sand, so kids can dig through it and make sand castles. It's almost like visiting the beach! Additionally, visitors can float down a lazy river on an inner tube or spin in the whirlpool. If you're a sports fan, you can even play a game of water volleyball or basketball. If there's something you would want to do in the water, Stormalong has you covered.

How Does Stormalong Bay Stack Up to the Competition?
Now, all of these facts make Stormalong Bay pretty impressive, but how does it compare to other Disney pools? Let's look at the other two largest pools to see how Stormalong stacks up. First up, we have Disney's Big Blue Pool. This pool pays homage to the beloved Pixar film: Finding Nemo. Big Blue has two kids' playgrounds, one in the water and one on land, so the little ones are sure to stay entertained. As for the third largest pool, Coronado Springs Resort has a striking design. This sprawling pool complex is themed after ancient Mayan ruins. One of this pool's highlights is a 123-foot-long waterslide. There's also a hot tub and a white-sand volleyball court for people to enjoy. At the end of the day, while both of these pools are great, they can't quite match up to the size and variety of options at Stormalong Bay.
How Can I Visit Stormalong Bay?
At this point, you might be wondering how you can enjoy the excitement at Stormalong Bay. The key to visiting this pool lies with two resorts: Disney's Beach Club Resort and Disney's Yacht Club Resort. Guests at either of these luxurious Disney Vacation Club resorts have access to this enormous pool. Now, let's cover each of these resorts to see what else they bring to the table.
Disney's Beach Club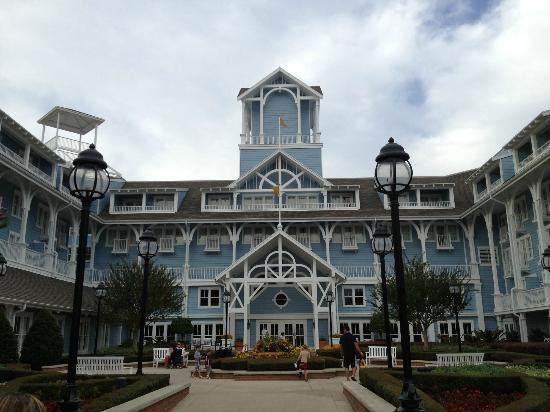 Disney's Beach Club is a New England-styled resort overlooking a tranquil lake. Guests can enjoy a massage, facial, or workout at the resort's state-of-the-art fitness center and spa. If you have a sweet tooth, Disney's Beach Club has you covered. Just a few steps away from Stormalong Bay is Beaches and Cream. This restaurant serves mouth-watering burgers and onion rings, but what it really excels at is dessert. Beaches and Cream boasts signature milkshakes and ice cream sundaes that are sure to be the highlight of your stay. Be sure to try the Kitchen Sink: a massive ice cream sundae with every topping you can think of served in an actual kitchen sink! You can also enjoy classic American-style food at the Ale and Compass Restaurant and Hurricane Hanna's Waterside Bar and Grill.
As for accommodations, guests have their choice of a one or two-bedroom villa. The one-bedroom suite comes with a king-sized bed and queen-sized sleeper sofa. Overall, this suite can accommodate up to four guests. Next, the two-bedroom suite features a king-sized bed, two queen-sized beds, and a daybed. This large suite can house seven guests. No matter which suite you choose, you'll have access to a patio or balcony with a great view of either the lake or the resort's gardens.
Disney's Yacht Club Resort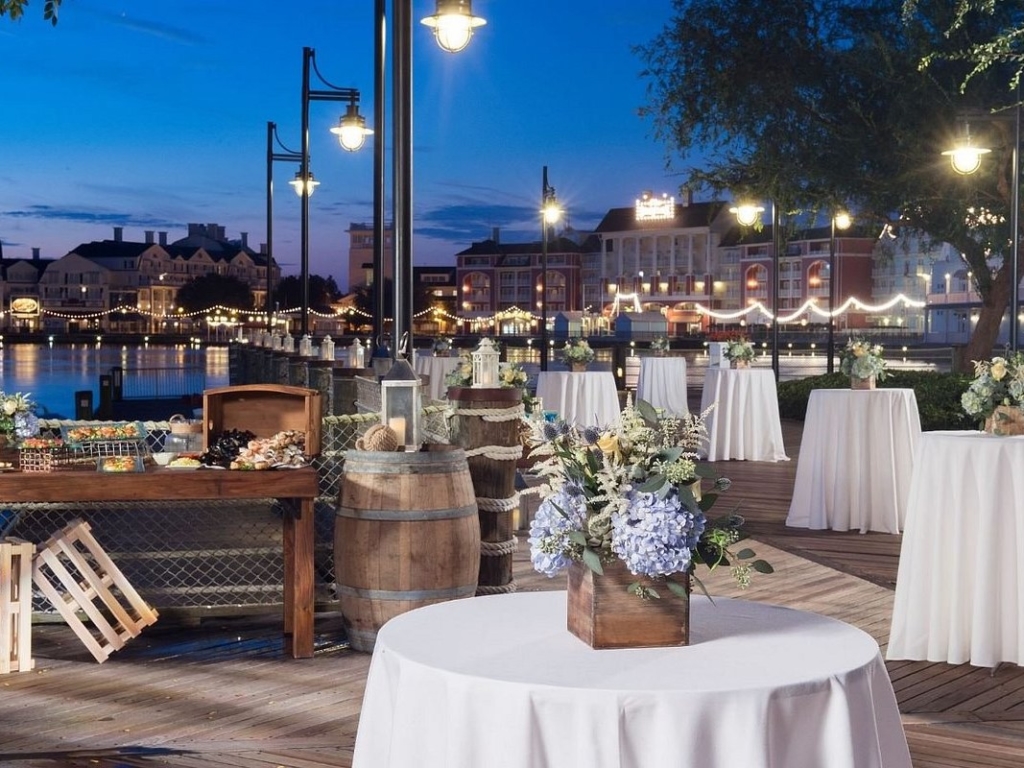 Much like the Beach Club, Disney's Yacht Club Resort combines New England flare with easy access to Stormalong Bay. As an added bonus, both of these resorts are near Epcot, so if you want to visit the Flower and Garden Festival, this resort's a great pick. The Yacht Club also has access to the Ale and Compass Restaurant and Hurricane Hanna's Waterside Bar and Grill. With that said, it also has one luxury dining experience all to itself: Yachtsman Steakhouse. At the restaurant, guests can savor premium steaks, fresh seafood, and more. If you'd like to try your hand at golf, then swing by the nearby Fantasia Gardens and mini golf court inspired by the classic film Fantasia.
Accommodations at the Yacht Club include one and two-bedroom suites, much like those found at the Beach Club Resort. The one-bedroom suites come with either a king-sized bed or two queen-sized beds, along with a daybed. These suites can accommodate up to four guests. Meanwhile, the two-bedroom suites boast two king-sized beds and a queen-sized sleeper sofa to house six guests. The one-bedroom suites offer guests a view of either the garden or Stormalong Bay, while two-bedroom suites can also offer a view of the Bay alongside a view of the lake.
Is Disney Vacation Club Worth It?
If you're still on the fence about whether or not you'd be interested in buying a Disney Vacation Club timeshare, check out our video: "Is Disney Vacation Club Worth It?" down below.
Buy a DVC Timeshare to Visit Stormalong Bay
At the end of the day, while the pools at every DVC resort are great, there's a reason why Stormalong Bay is so beloved. Its size and sheer variety of options practically make it a mini waterpark all on its own. If you'd like to experience Stormalong Bay alongside the magic of Disney World, consider buying a Disney Vacation Club Timeshare. DVC Timeshares allow you to return to these beloved amusement parks each and every year. Want to get started? Then check out our marketplace! We have listings not just for DVC resorts but timeshares from other top developers like Westgate and Hilton Grand Vacations Club. Or, if you own a timeshare at one of these properties you no longer use, we're happy to help you sell your timeshare. If you have any questions, please email us at team@fidelityresale.com or call us at 1-800-410-8326.