This past weekend, we were lucky enough to stay at the brand new Star Wars Galactic Starcruiser hotel. Disney Vacation Club members had early-booking access to the incredible new experience. Immediately upon stepping into the Halcyon, you become completely immersed in another galaxy. Every detail, from the elevators to the bedding, is perfectly tweaked to look exactly how it would at a hotel in the Star Wars universe. Of course, what most people are talking about regarding the Galactic Starcruiser is the price. So, let's discuss our experience at the hotel, what you should know before you go and if we think the Star Wars Galactic Starcruiser is worth it. Don't worry, there are no spoilers in our review!
About The Star Wars Galactic Starcruiser Hotel
Since its opening in early 2022, the Star Wars Galactic Starcruiser has been dazzling guests with an out-of-this-world experience. This one-of-a-kind hotel experience provides Star Wars fans with a chance to travel to a new galaxy. As the story goes, hotel guests will join the crew of The Halcyon as they celebrate the 275th anniversary of the ship's maiden voyage. The main purpose of the guest's stay, or cruise, is simply just a leisurely celebration. Of course, as you may expect, things take a turn and a full-on galactic adventure starts to unravel.
Can Disney Vacation Club Owners Book the Galactic Starcruiser with Points?
If you own Disney Vacation Club points purchased directly from DVC, you are able to use them to book the Star Wars: Galactic Starcruiser hotel. So far, guests can only make reservations until the end of 2022. We suspect the point allotments will be adjusted come 2023 when more reservation dates open up. While DVC resales are a great way to save money on Disney Vacation Club, you won't be able to use resale points to book. There are some resale restrictions to keep in mind if you do purchase DVC resale.
To see how many DVC points you will need to reserve at the Star Wars: Galactic Starcruiser, you can click the links for March-September and October-December.
Star Wars Galactic Starcruiser Hotel Schedule Day One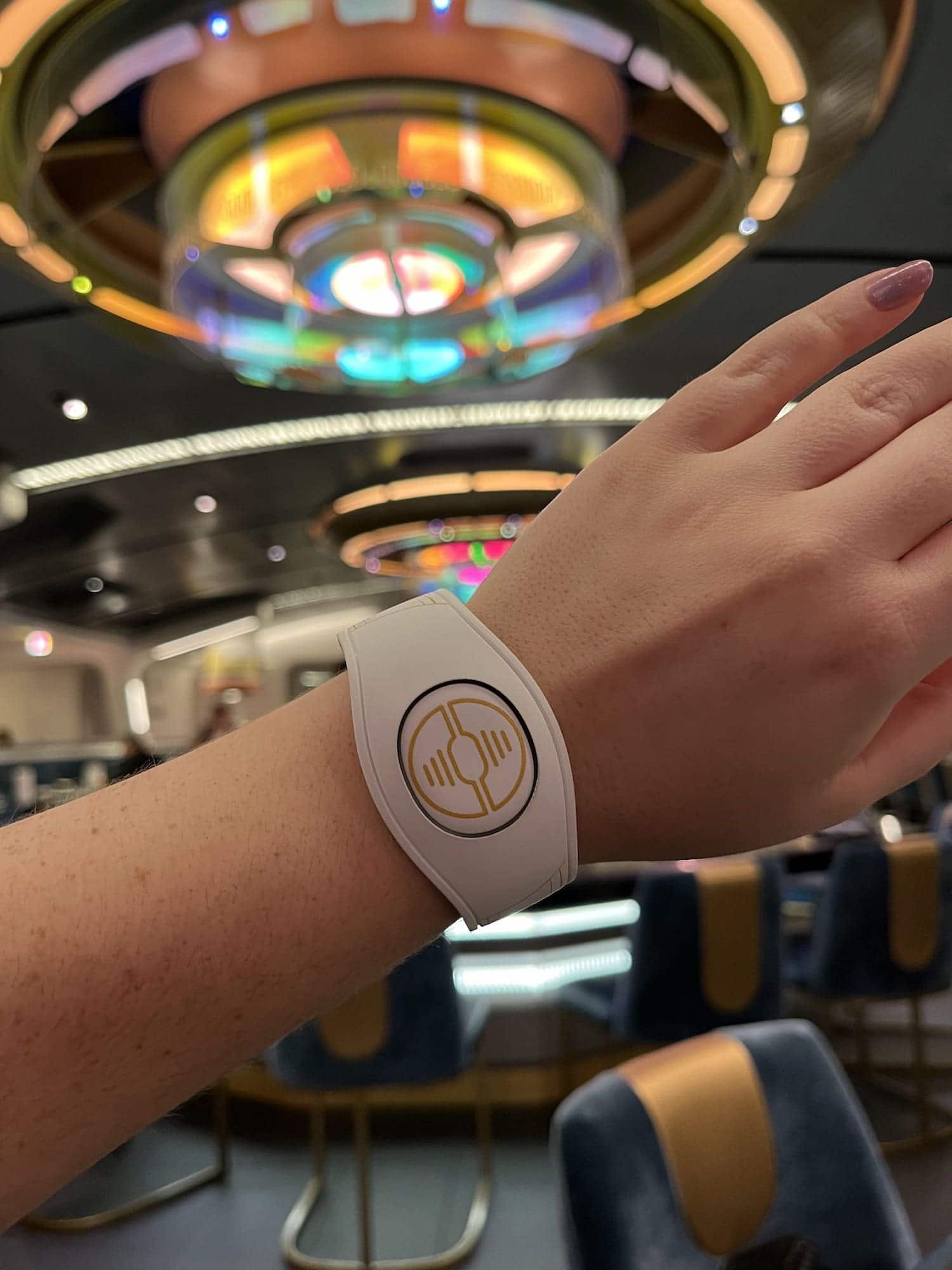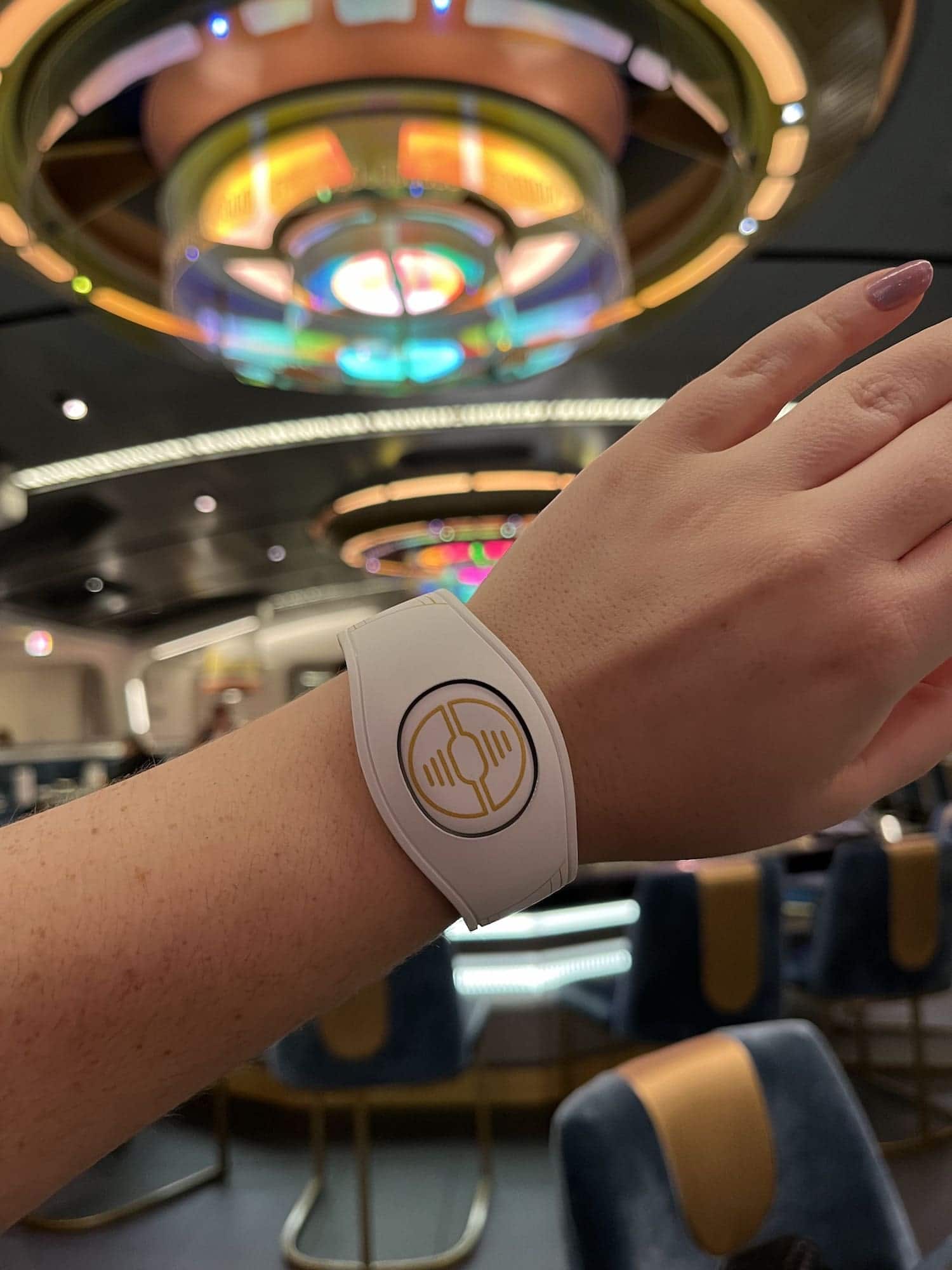 Upon arrival at the Galactic Starcruiser terminal, guests will be met by the complimentary valet service. This crew will give you your M-Band (Magic Band) and bring your bags to your cabin, so you are able to freely explore the starcruiser when you arrive. To get to the actual Halcyon ship, you will board a launch vessel and blast off towards the hotel. Windows in the launch pod allow you to see your journey into space! You'll arrive in the ship's dazzling atrium, the hotel's lobby area, and then head to your cabin. If you arrive before 4 PM, you can enjoy a fabulous all-you-care-to-enjoy lunch in the Crown of Corellia Dining Hall.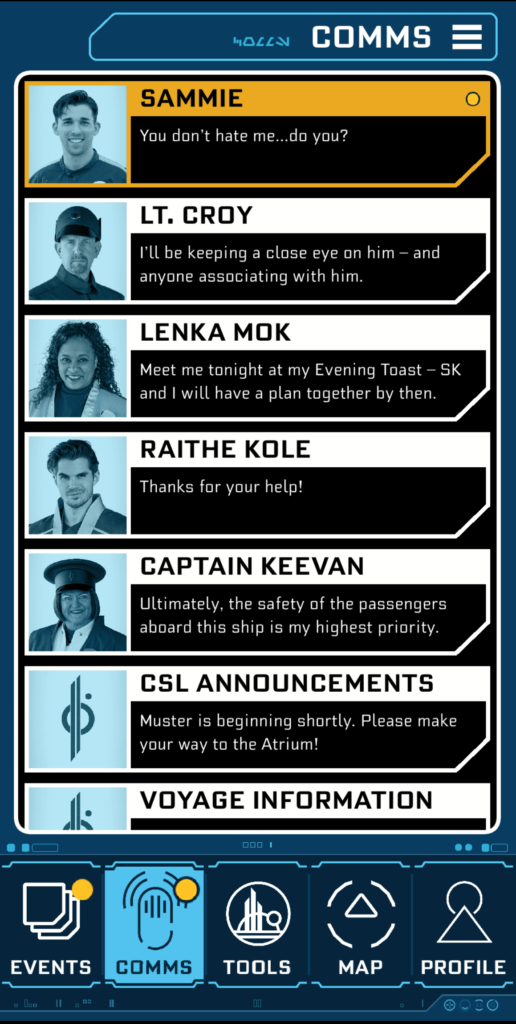 Guests can take part in a ship orientation session where you'll learn about the history of the ship and how to use your datapad. Your datapad, usually your cell phone or other smart devices, is where you will find your itinerary and missions for the day. You can also communicate with characters through your datapad!
The Star Wars Galactic Starcruiser storyline kicks off with a muster drill and captain's reception. This is when you will meet most of the characters that you will see throughout your journey. Dinner on night one includes unique eats and a live performance from Gaya, an intergalactic pop star.
Throughout the course of days one and two, guests will also participate in other fun activities. Bridge Training is one of the scheduled activities that every guest gets to do. This is when you will learn how to run the ship's defense systems including the control boards, shields, and blasters. Our Bridge Training session was early on day one, which we really enjoyed because we felt like we really jumped into the storyline right away.
Star Wars Galactic Starcruiser Hotel Schedule Day Two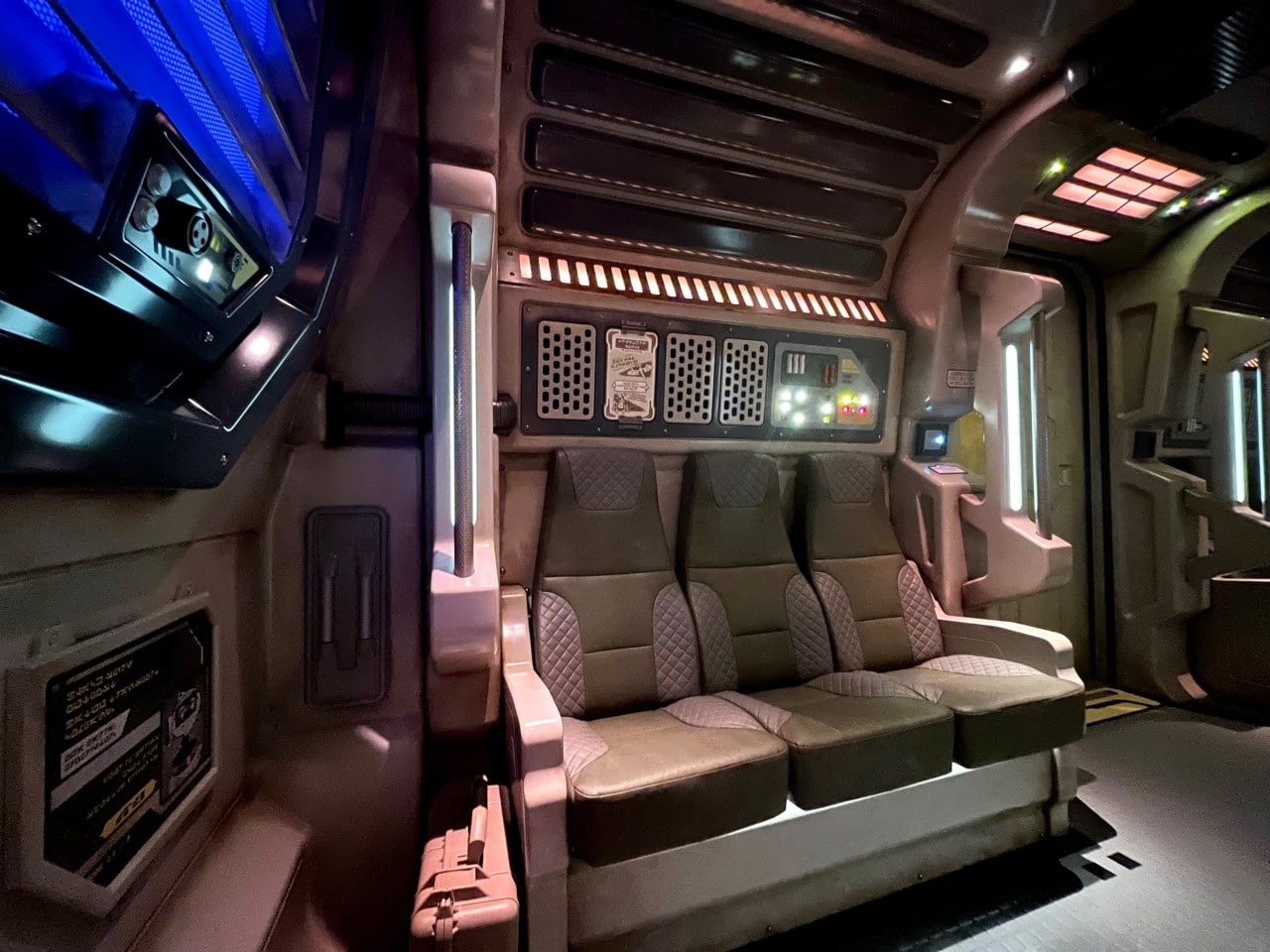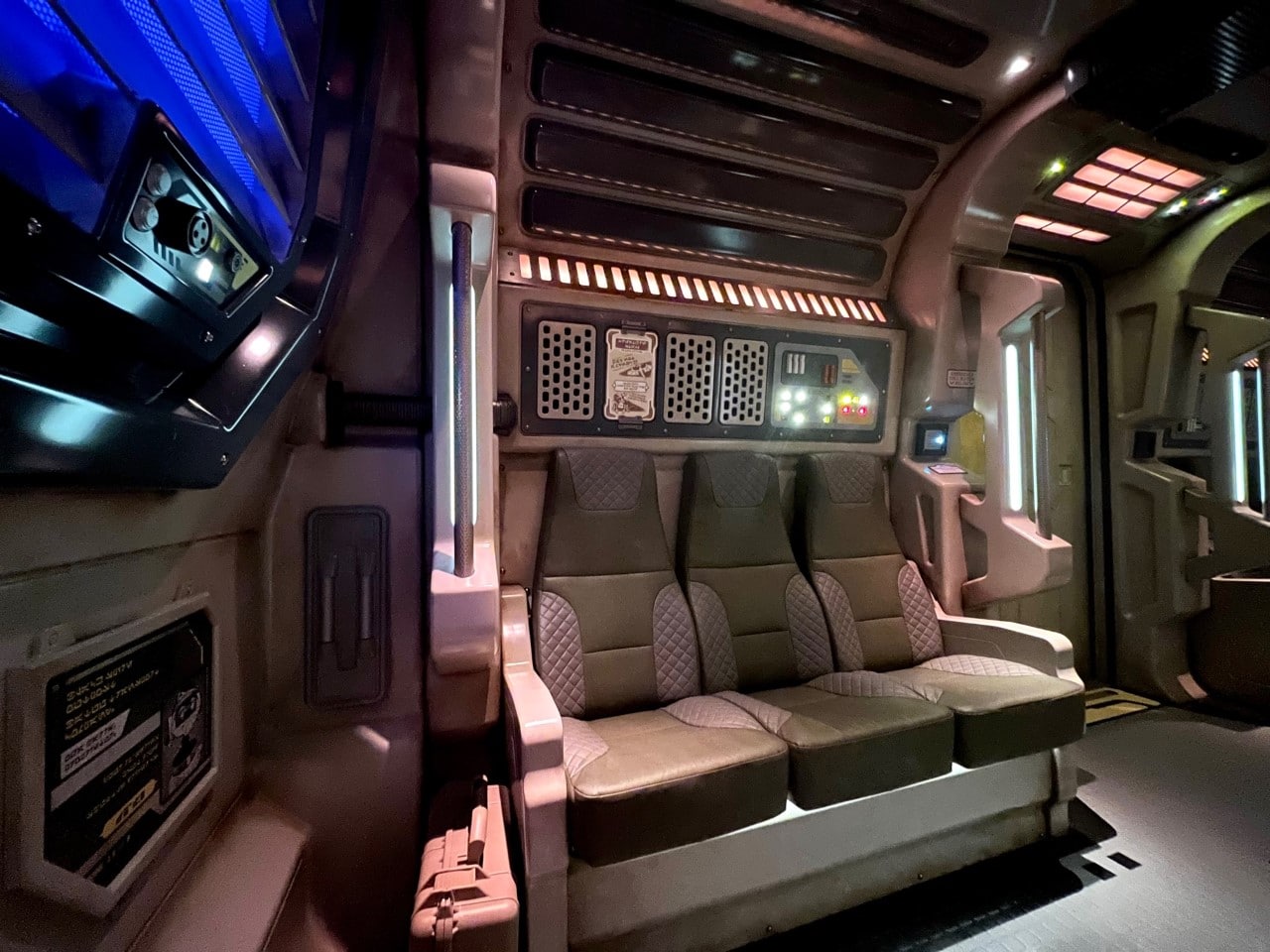 Day two kicks off with an excursion to Batuu, AKA Hollywood Studios' Galaxy's Edge area. Guests are transported via a shuttle driven by a droid pilot. On Batuu you'll complete more missions and really solidify which storyline will unfold for you. You also have an opportunity to enjoy a complimentary lunch at either Docking Bay 7 or Ronto Roasters. Alternatively, you can head back to the ship to enjoy another lunch buffet in the dining hall.
Upon your return to the Halcyon, you'll find that your missions will really start to pick up. On the evening of day two, after another dazzling dinner, all of the storylines will converge into an incredible finale. Of course, we won't spoil what that finale is, but you definitely won't want to go to bed early that night!
The other scheduled activity for all guests to participate in is Lightsaber Training. As you would expect, this is when you learn how to use a lightsaber and how to harness the power of The Force. You will be trained by a Saja, a master in the art of the lightsaber. This is an extremely fun and immersive experience, great for any Star Wars fan! This activity is also great for kids!
We had our Lightsaber Training at 4 PM on day two. Unfortunately for us, that meant that we missed an important event for our overall mission. Our suggestion is to request an early session for any activities you have scheduled on day two. Although it didn't ruin our experience, we definitely would have liked to have been able to participate in every one of our mission's events.
Star Wars Galactic Starcruiser Hotel Characters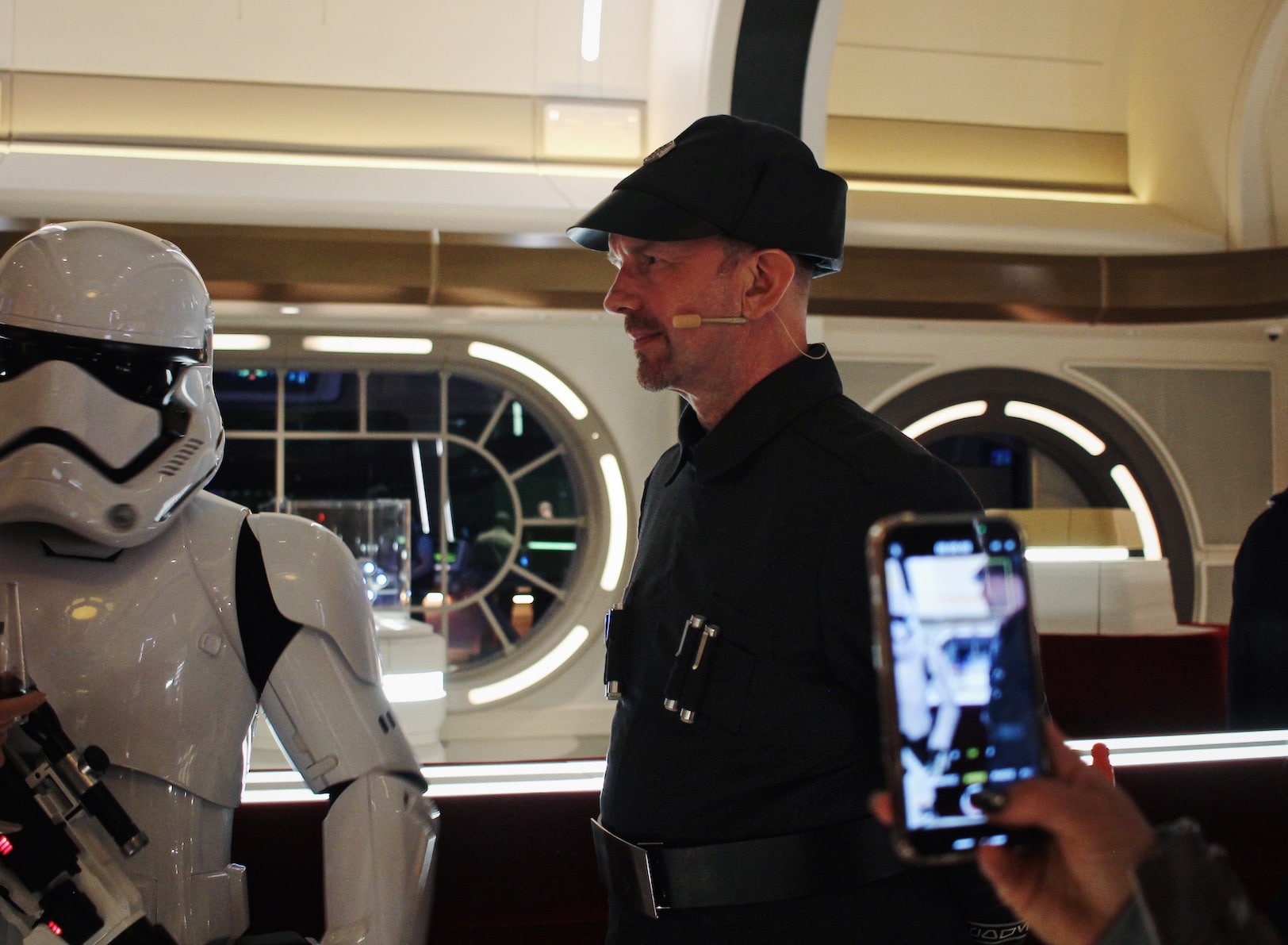 The Star Wars Galactic Starcruiser is simply more than just a themed hotel. It is, if you choose to let it, a fully-immersive multi-day adventure where you play an important part in the story. By interacting with the characters and crew onboard the Halcyon, you will uncover a choose-your-own-adventure storyline.
Every hotel guest, or passenger, will have a unique experience based on who they talk to or what missions they choose to go on. You can join the ship's leaders, Captain Riyola Keevan and Cruise Director Lenka Mok, as they try to keep the peace on board. You can help a ship engineer named Sammie and his droid sidekick, SK-620, as they try to protect the ship from outside forces. Alternatively, you can follow alongside Lieutenant Harman Croy of the First Order and his Stormtroopers, as they try to bring the ship to the Dark Side. Or, for a bit of fun with some scoundrels, you can help Raithe Kole find an ancient relic from his friend Gaya's home planet. Of course, these are the main characters that you'll interact with, but you never know who you're going to see onboard the Halcyon throughout your journey.
The best part about the characters onboard the Star Wars Galactic Starcruiser is how much they interact with guests. They don't simply put on a show for everyone to watch, but they also get guests involved. Not only will you see Captain Keevan commanding the ship from the bridge, but you'll also catch Raithe in the Sublight Lounge playing Sabacc with guests. The characters learn guests' names, they incorporate guests into the storyline, and they make every person feel special. That personal touch really makes it so easy to immerse yourself into the Star Wars universe.
How Much Does Star Wars Galactic Starcruiser Hotel Cost?
One of the main concerns that many people have about the Star Wars Galactic Starcruiser hotel is the price. Yes, this is a very pricey experience. As of now, the lowest price starts at $749 per guest per night. This starting price is for four guests in one standard cabin. For three guests in a standard cabin, the price is $889 per night per guest. The price for two guests per cabin is $1209 per guest per night. Keep in mind that these prices are for the most basic lodging option, which is a one-bedroom cabin with a queen bed and two bunk beds.
The Star Wars Galactic Starcruiser has two suite options, which are definitely pricier than the standard cabin. The current prices of the suites aren't listed on Disney's website, so you have to call to get more information. The Galaxy Class Suite and Grand Captain Suite offer full living rooms and bar areas, so you will certainly be getting more room to relax. However, the price for the journey does include more than just the room.
What Is Included?
The price tag of a journey aboard the Star Wars Galactic Starcruiser also includes all of the ship's activities, meals, and admission to Hollywood Studios. Guests can participate in every event onboard without having to pay any extra fees. This includes all of the training sessions, missions, games, and events. The price also includes two breakfast buffets, two lunches, two multi-course meals with included gratuity, and a dessert party. Guests also receive entry passes into Hollywood Studios on day two, which includes fast passes for the rides Rise of The Resistance and Smuggler's Run. Guests have the option to eat lunch within the Galaxy's Edge area, which includes an entree and dessert or alcoholic beverage. There are other free gifts included such as a Star Wars Galactic Starcruiser magic band, a Halcyon passenger pin, and a self-care tin.
Star Wars Galactic Starcruiser Hotel Common Areas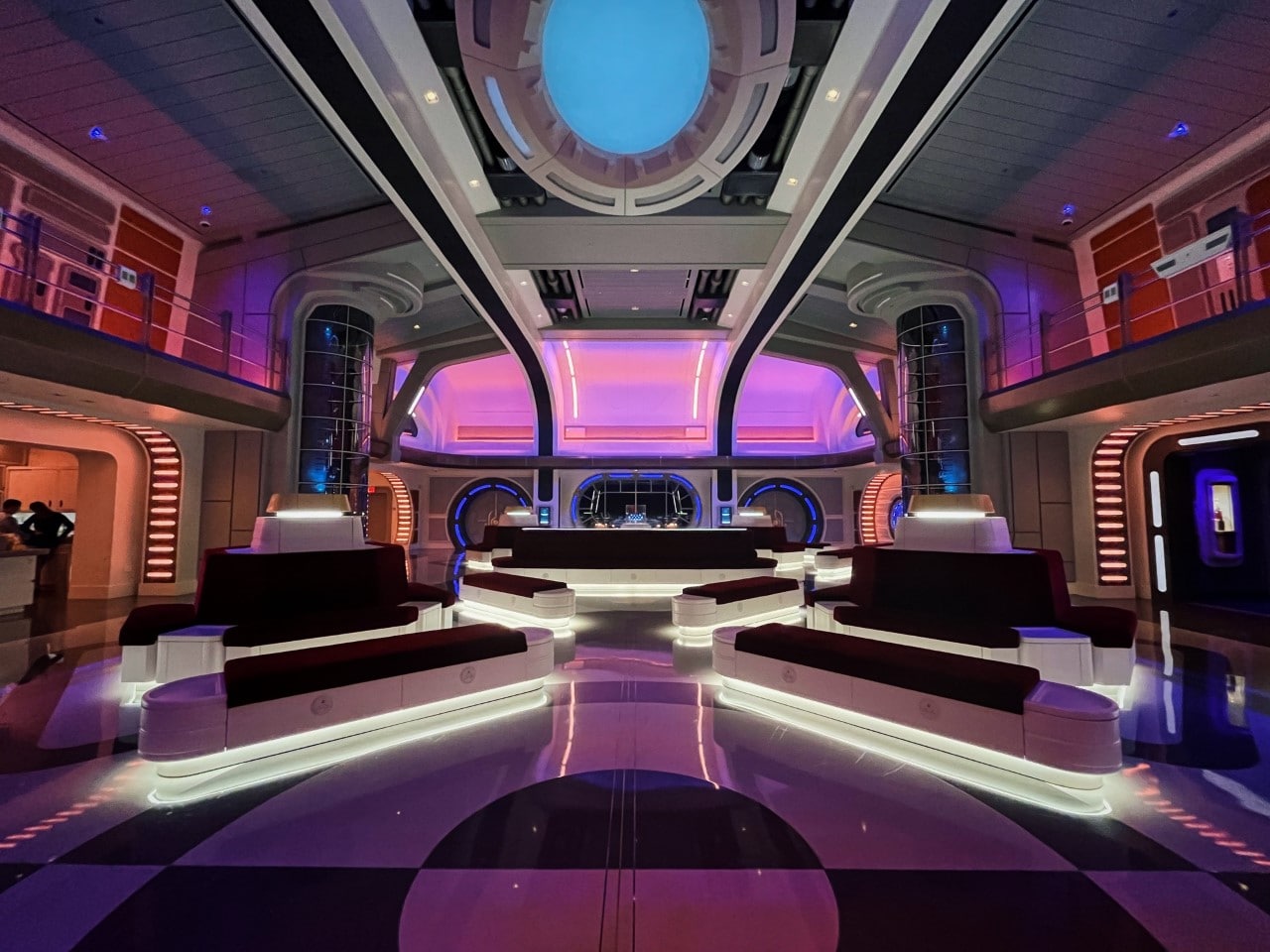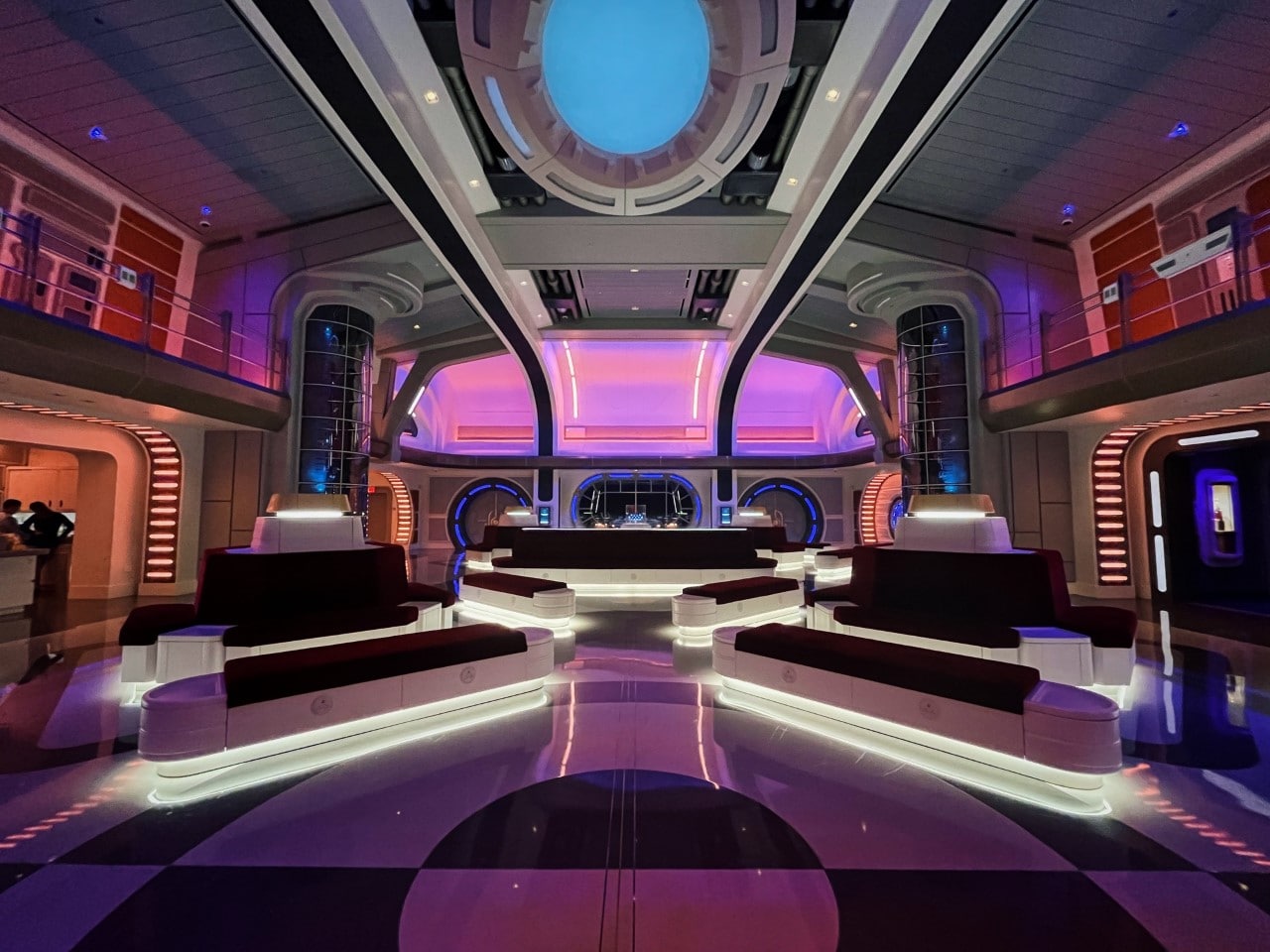 The Atrium
As we previously mentioned, the Atrium acts as the hotel's lobby area. The Atrium is the first section of the Star Wars Galactic Starcruiser that you will see and where you will spend a lot of time. You'll be introduced to the characters in the Atrium and many mission tasks take place here as well. The modern decor of this area immediately transports you to another galaxy.
The Bridge
At the front end of the Atrium sits the Bridge, which is essentially the control room of the Halcyon. Large windows allow guests to look into the Bridge from the Atrium to see all of the action going on outside the ship. Bridge Training of course happens here, but certain missions will lead you back to the Bridge to show off the skills you learned in training.
The Sublight Lounge
The Sublight Lounge, the ship's bar area, is also located off the Atrium. Guests can order complimentary snacks at the bar or uniquely-themed cocktails for an extra charge. You'll often see many of the main story characters in The Sublight Lounge interacting with guests. This is also where you can play Sabacc, a popular game from the Star Wars Universe.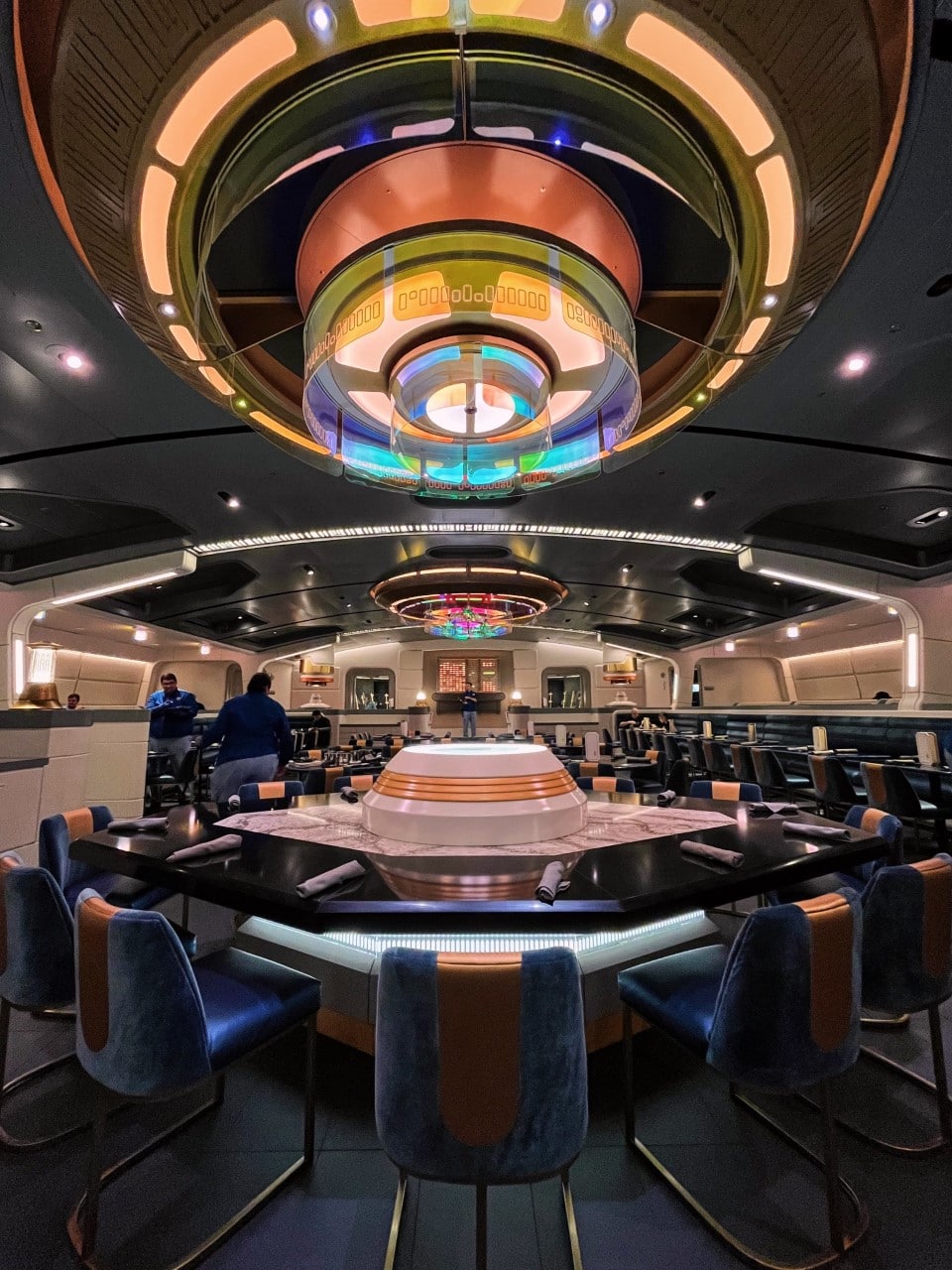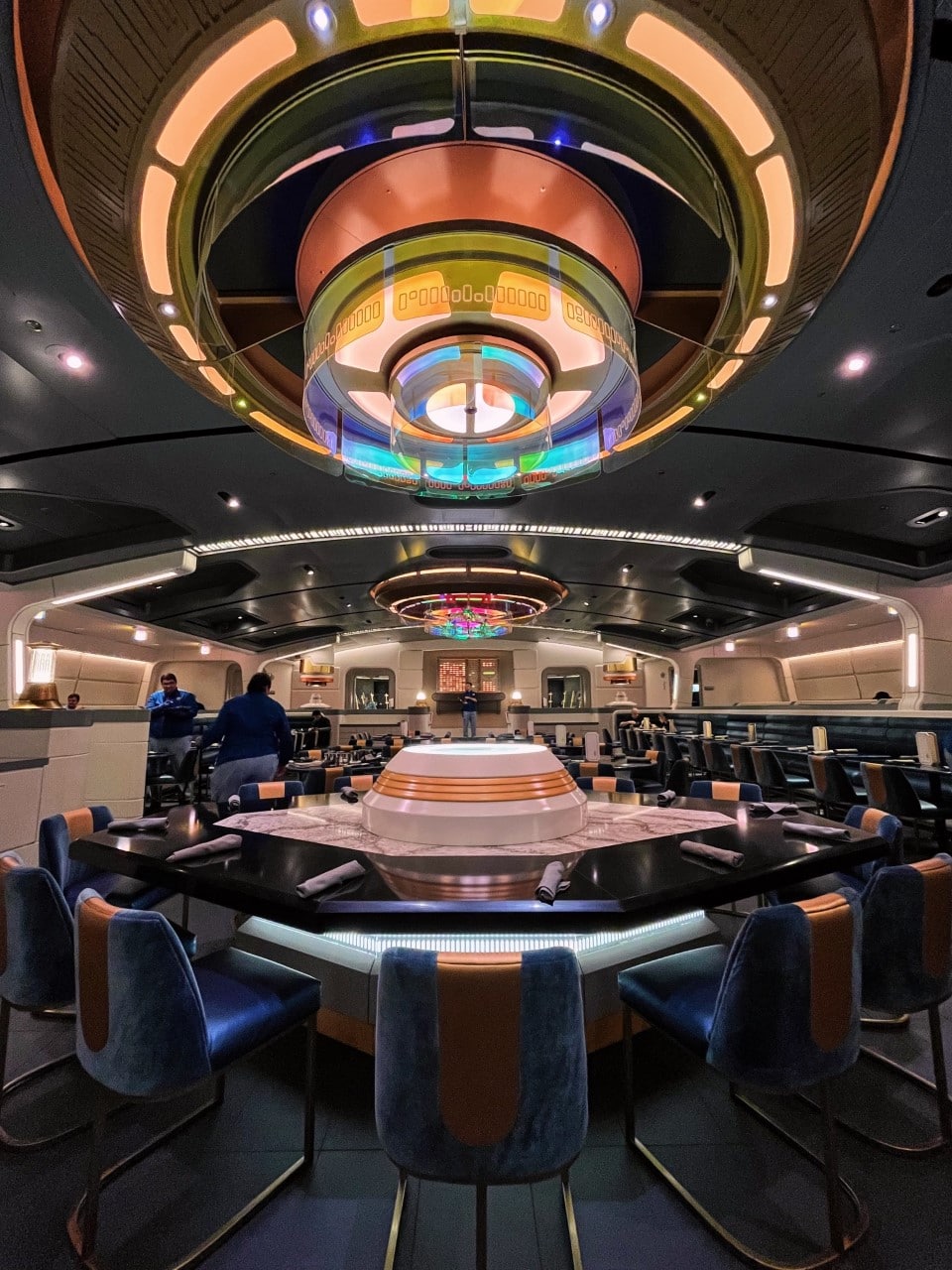 The Crown of Corellia Dining Room
The Crown of Corellia Dining Room is where guests will eat most of their meals when visiting Star Wars Galactic Starcruiser. Breakfasts and lunches served here are all buffet-style. Every meal here offers dishes that you'd expect to find in the Star Wars universe. As we mentioned before, on night one there is a musical performance on the stage of The Crown of Corellia Dining Room.
Climate Simulator
As you might have heard, there are no windows or access to the outdoors once you board the Star Wars Galactic Starcruiser hotel. However, if you need a breath of fresh air, then head to the Climate Simulator. This lush area is meant to simulate the weather on Batuu, where the ship is headed. In actuality, it is an open-air courtyard great for guests that start to feel a little stuffy onboard the Halcyon.
Chandrila Collection Gift Shop
The ship's Chandrila Collection Gift Shop is great for guests who are looking for a souvenir to bring back to their home planet. The gift shop also offers clothing for guests who didn't pack Star Wars-themed outfits. There are also some hidden items that guests can purchase after finding out the secret password.
Other Guest Areas on The Halcyon
While you're participating in your missions while visiting the Star Wars Galactic Starcruiser, you may find yourself in secret rooms that were previously locked. Guests may receive authorized access or passcodes to unlock these rooms where they may find more tasks for their mission! We won't go into detail about what may happen in these rooms, but make sure that you check your datapad to see where your mission may lead you!
Star Wars Galactic Starcruiser Hotel Guest Rooms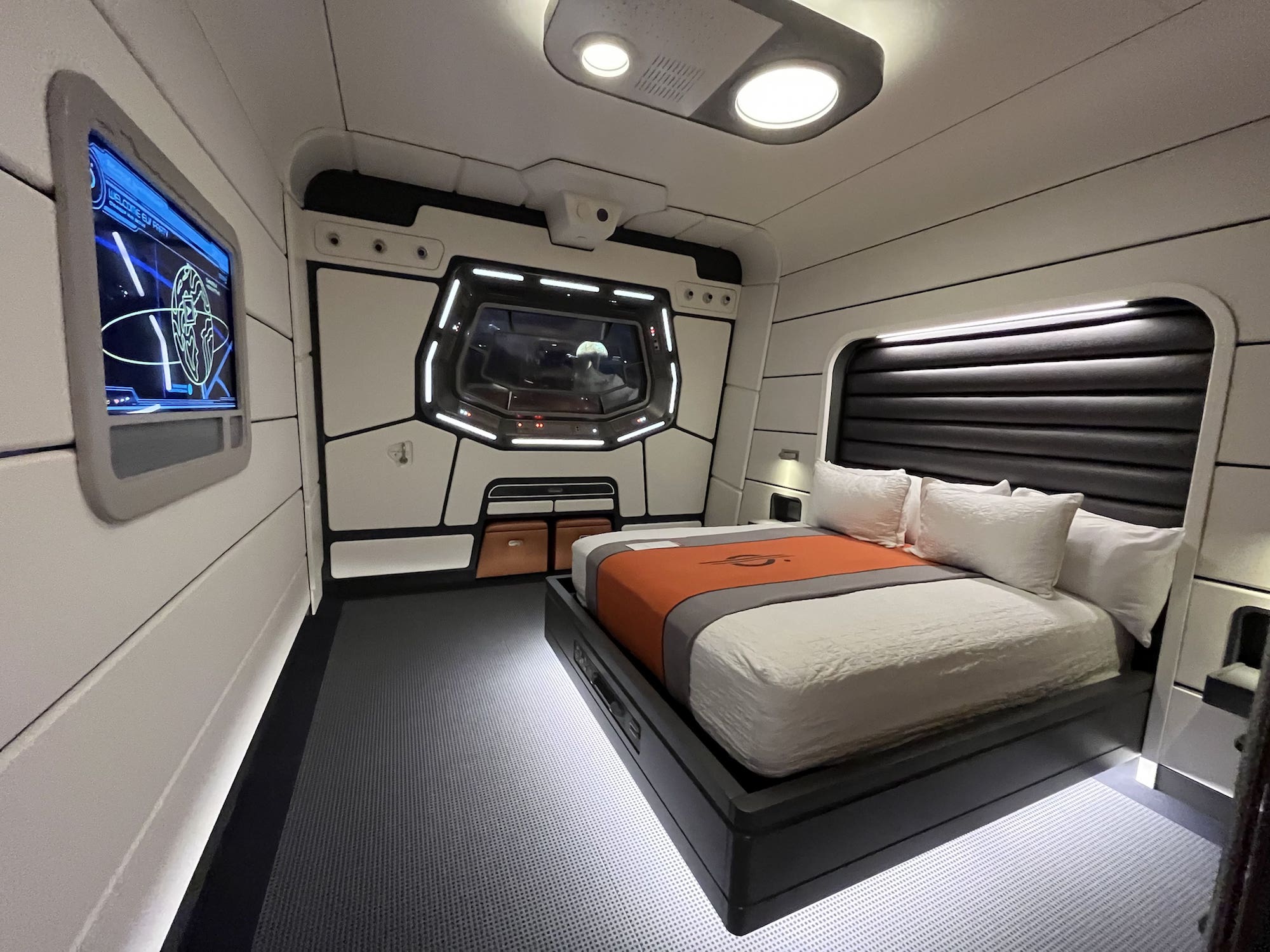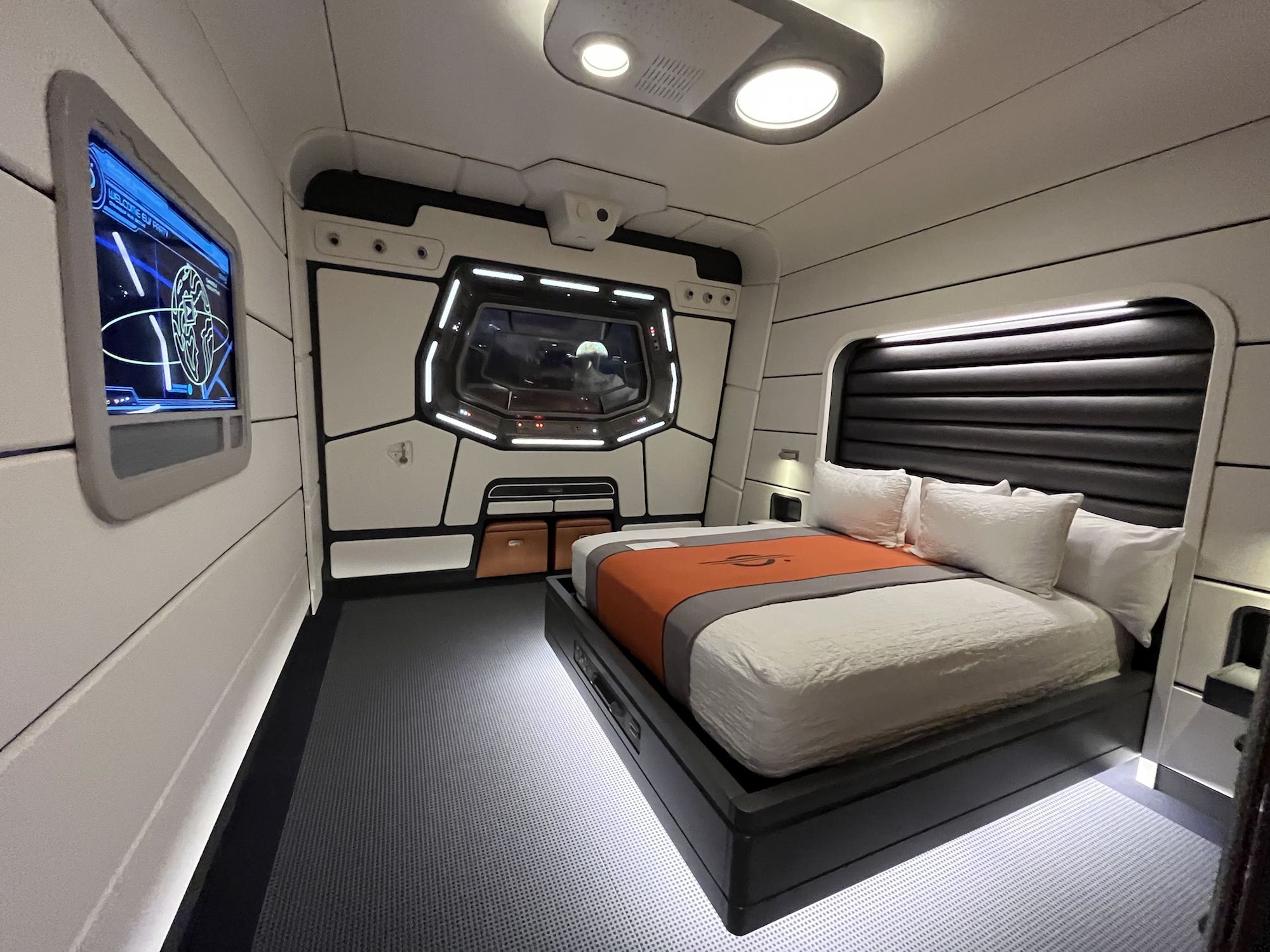 The fully-stylized decor doesn't end in the common areas. Every guest room is completely themed to look like a cabin on a starcruiser. The standard cabin that we stayed in had a queen bed and two berths (bunk beds.) We found that although the bunks were impeccably themed, they were quite uncomfortable. It just seems like for such a high price tag, you would be able to come back from a long day to a comfortable bed to sleep in. The queen bed, however, was quite comfortable.
The bathroom of our cabin was spacious and had luxurious, modern details. The shower has two showerheads; one was a removable handheld showerhead and the other was a large rainfall showerhead. The bathroom also provided toiletries such as shampoo, conditioner, soap, and more.
We found that there was a fair amount of storage space in our cabin. There is a full wardrobe with shelves and a clothing rack. There is also space under counters and the bed where a suitcase can be stored. A mini-fridge and safe are also in the room. We found the small pull-out table and chairs to be super convenient, as well.
We found that the theming of our cabin was incredible, which pretty much canceled out any of the little negative details. Plus, if you are doing it right, you won't be spending much time in your cabin anyway!
Technology In The Star Wars Galactic Starcruiser Cabins
There were a few details in the cabin that really enhanced the experience. Each room has a personal concierge droid, D3-09, who can answer any questions about the ship and can even provide more missions to guests! D3-09 has tons of features and is incredibly responsive, so be sure to talk to her throughout your trip!
Every guest room has large windows made to look out into space. Of course, these are digital screens, which means that there will be no natural sunlight in your room. We found this lack of light a bit tricky in the mornings, as it was still pitch black in our room when we woke up at 7:30 AM. Obviously, we used the room lights to help wake us up, but it was a bit disorienting to wake up in the dark. However, the room's windows provide a view of other ships flying by and other galactic scenes, so we definitely enjoyed the feature.
Star Wars Galactic Starcruiser Hotel Dining
One of the most fun things to do while visiting the Star Wars Galactic Starcruiser hotel is trying all of the unique foods! While some of the flavors may be unfamiliar to you, picky eaters shouldn't worry too much. Lots of the food options are pretty common dishes presented in uncommon ways. Our full review of the Galactic Starcruiser food is on the blog, where you can dive into all the menu items we tried and tips for dining!
How To Have The Best Experience Onboard The Halcyon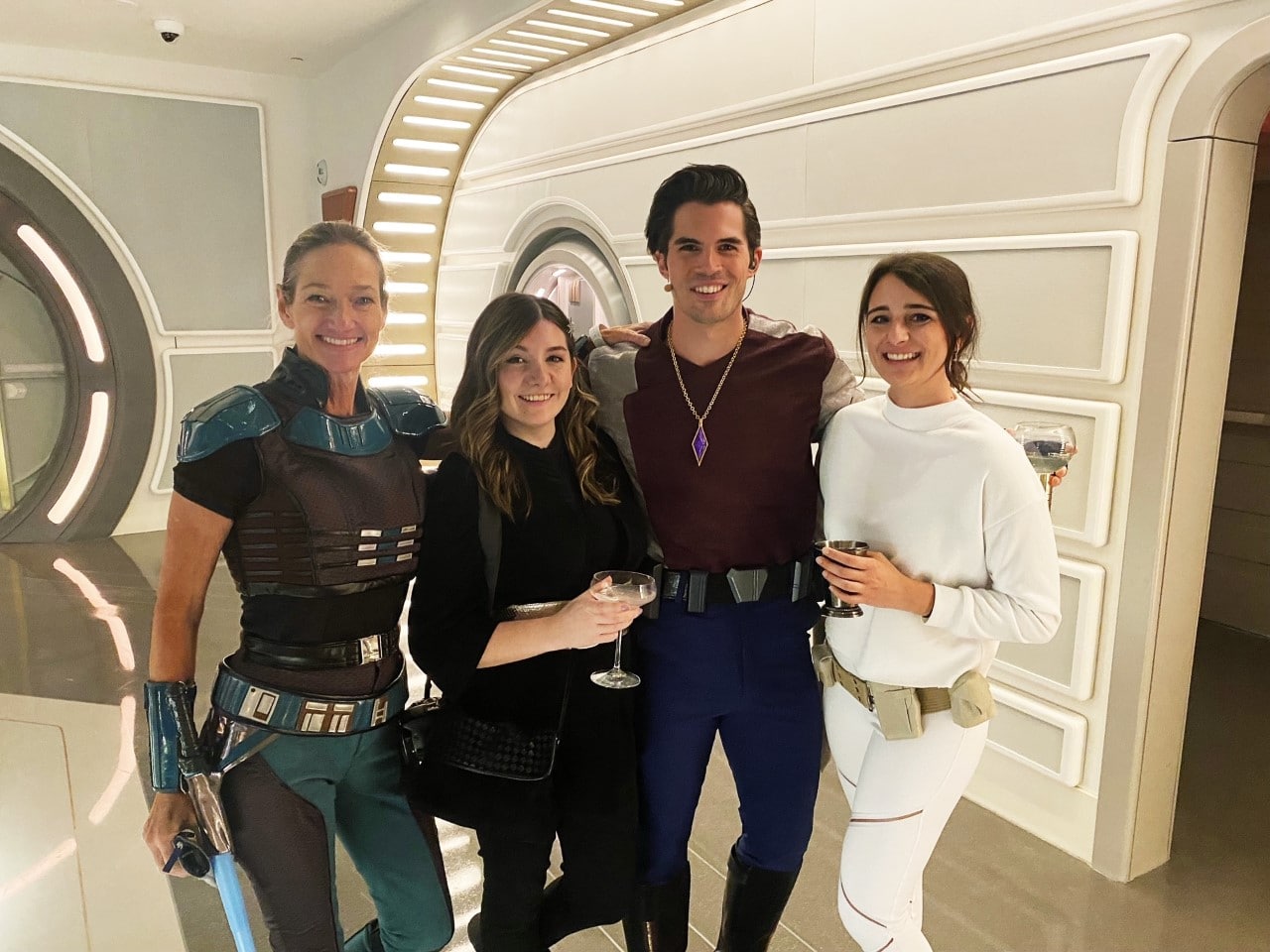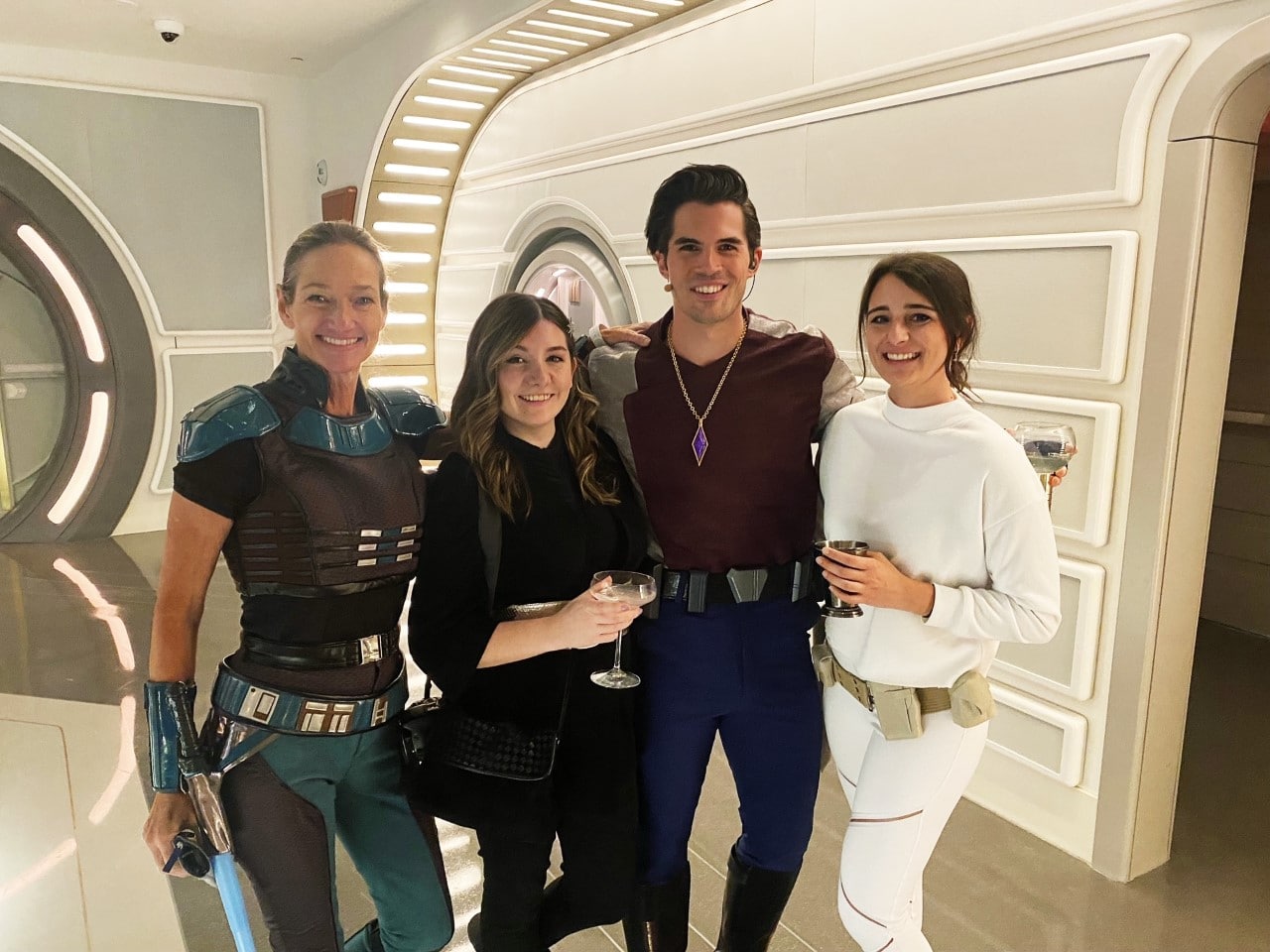 Our biggest advice for those who are planning on visiting the Star Wars Galactic Starcruiser hotel is to get involved. This journey is as fun as you let it be! By interacting with the characters and fully immersing yourself in the storyline, you will have such a fun time. If you choose to dress in theme, you can really feel like you are a character in the story of the Halcyon. Of course, dressing up isn't necessary and won't change your story, but it really helped us feel fully immersed in our missions. Depending on the character type you are dressing up for will also draw the attention of some of the characters on board as well. Resistance-style garb may even land you with a lecture from Lieutenant Croy from the First Order!
Another way to ensure that you will have a great experience on the Star Wars Galactic Starcruiser is by using your datapad. This is where you'll find your daily agendas, talk to the characters about the missions, and even solve some puzzles. If you need help figuring out how to use the datapad, ask one of the crew members on day one. It is super important to utilize the datapad because you won't want to miss any important events or missions.
Something else that is unique to the Halcyon and totally worth checking out is Sabacc. You'll find an electronic Sabacc table in the Sublight Lounge and will notice that the seats are almost always filled. This card game is similar to blackjack and is unique to the Star Wars universe. Again, if you need help learning the game, there are crew members (and even some of the characters) who are happy to teach guests or give them pointers. Playing a game of Sabacc with other guests is a great way to meet people and maybe even form some alliances.
What To Know Before You Go
It's important to know that a visit to the Star Wars Galactic Starcruiser Hotel is essentially a long-form role-playing game. This is not a resort where you go to hang by the pool or spend all day in your room. The point of this experience is to get involved, meet new people, and most importantly have fun!
Speaking of the excursion to Batuu, make sure you pack a suitable outfit for your day at the theme park. Of course, you are encouraged to dress up in Star Wars-inspired outfits, but you'll want to pack something comfortable. Check the weather forecast before your trip so you're aware of how to be weather-appropriate. You will also be walking a lot, so be sure to pack some comfy shoes.
Another important tip is to be aware of the timing of your activities. Unfortunately, you may not always be able to adjust the time of your training sessions. This may lead to you missing some portions of your mission. Luckily, since your mission leader will recognize you when you arrive, you will be caught right up. Then you can jump straight back into the fun!
Is Star Wars Galactic Starcruiser Hotel Worth It?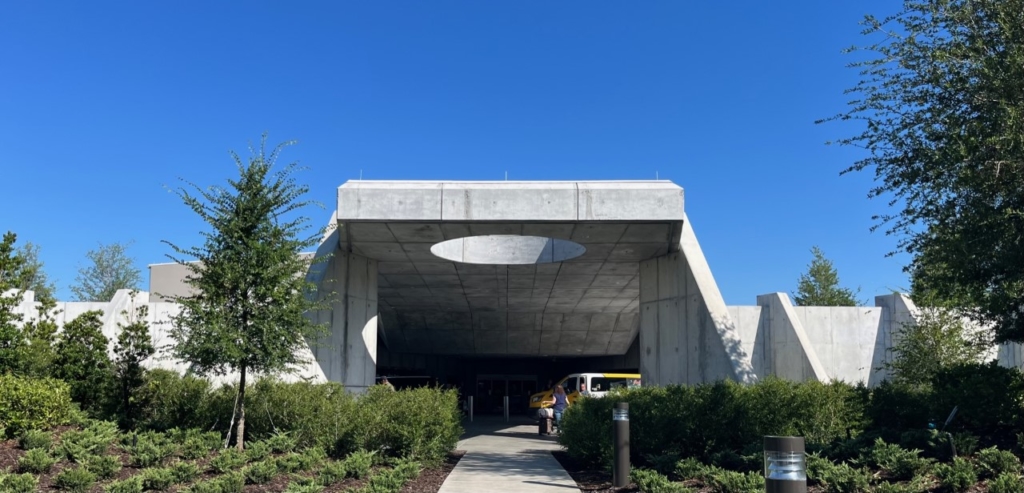 So, the question that everyone has been asking… "is Star Wars Galactic Starcruiser worth it?" In our honest opinion, yes. We had such a fun time dressing up, playing along with the missions, and enjoying all of the flavors of the galaxy. If you're a big Star Wars fan, we think that you'll love the truly immersive storyline. Taking part in all of the activities and allowing yourself to become a part of the story will help make this experience feel worth it. This is a completely unique experience and we are so glad that we got to take part.
Of course, a trip to the Star Wars Galactic Starcruiser is expensive. If it's out of your budget, you can get your Star Wars fix at Hollywood Studios. Guests of the hotel can use the Play Disney app to participate in missions and scan cargo. You can ride the Star Wars attractions, meet characters, and try some intergalactic snacks. If you can't justify the price tag of the Star Wars Galactic Starcruiser, you can still have an immersive experience at Galaxy's Edge.
Another question is if there is any replay value of the Star Wars Galactic Starcruiser. Will guests experience a totally different journey if they return to the Halcyon? As of now, the finale for every journey remains the same. However, depending on which missions you decide to take, the path to the finale will be different.
Have you gotten the chance to visit the Star Wars Galactic Starcruiser Hotel? Did you find it worth it? If you haven't taken the journey yet, would you consider it? We'd love to hear your thoughts in the comment section below!