Our team had the pleasure of experiencing the Star Wars: Galactic Starcruiser hotel on Walt Disney World property and had an incredible experience. Guests aboard the Halycon ship are fully immersed in the Star Wars experience as if they are real Resistance fighters or members of the First Order. You can find our full review of the Star Wars Galactic Starcruiser hotel on the blog, but in this post, we're talking all about the food! For those with restrictions, food allergies, or who are curious about the full-course meals you'll be served aboard the Halcyon, we'll cover all you need to know.
About The Star Wars Galactic Starcruiser Hotel
Since its opening in early 2022, the Star Wars Galactic Starcruiser has been dazzling guests with an out-of-this-world experience. Disney Vacation Club owners are also able This one-of-a-kind hotel experience provides Star Wars fans with a chance to travel to a new galaxy. As the story goes, hotel guests will join the crew of The Halcyon as they celebrate the 275th anniversary of the ship's maiden voyage. The main purpose of the guest's stay, or cruise, is simply just a leisurely celebration. Of course, as you may expect, things take a turn and a full-on galactic adventure starts to unravel
Is The Food Included On the Galactic Starcruiser?
The price tag of a journey aboard the Star Wars Galactic Starcruiser includes all of the ship's activities, meals, and admission to Hollywood Studios. The price also includes two breakfast buffets, two lunches, two multi-course meals with included gratuity, and a dessert party. Guests have the option to eat lunch within the Galaxy's Edge area, which includes an entree and dessert or alcoholic beverage. So, although the price tag of the experience may seem high, food, snacks, and non-alcoholic beverages are all included in your stay.
The Crown of Corellia Dining Room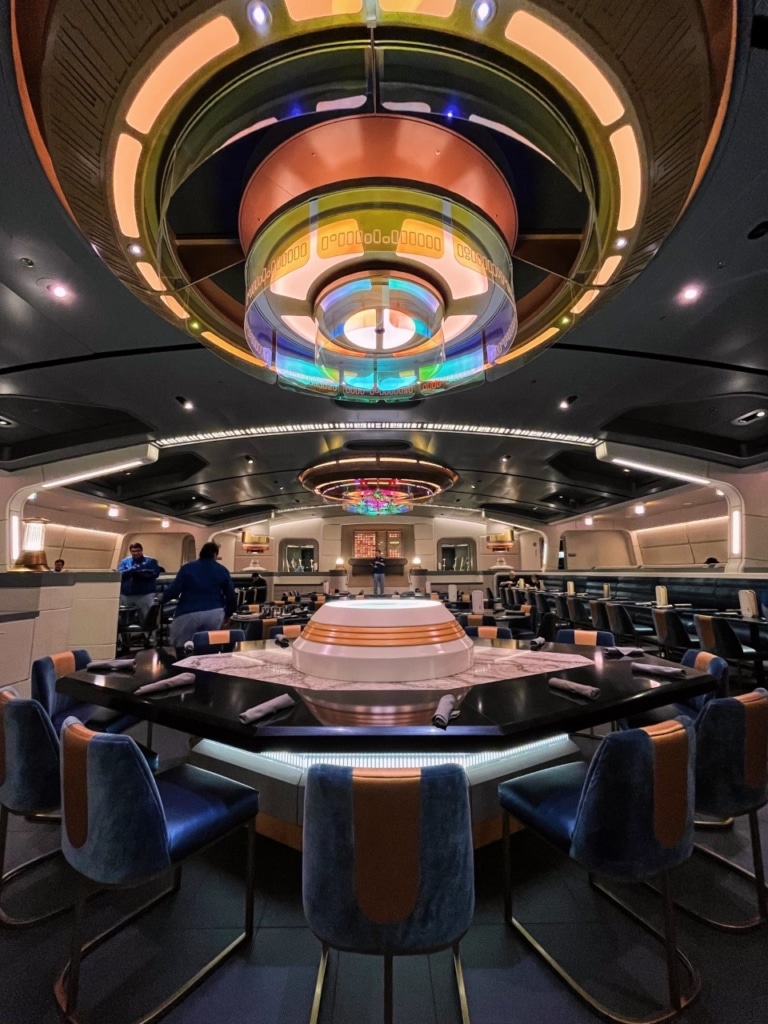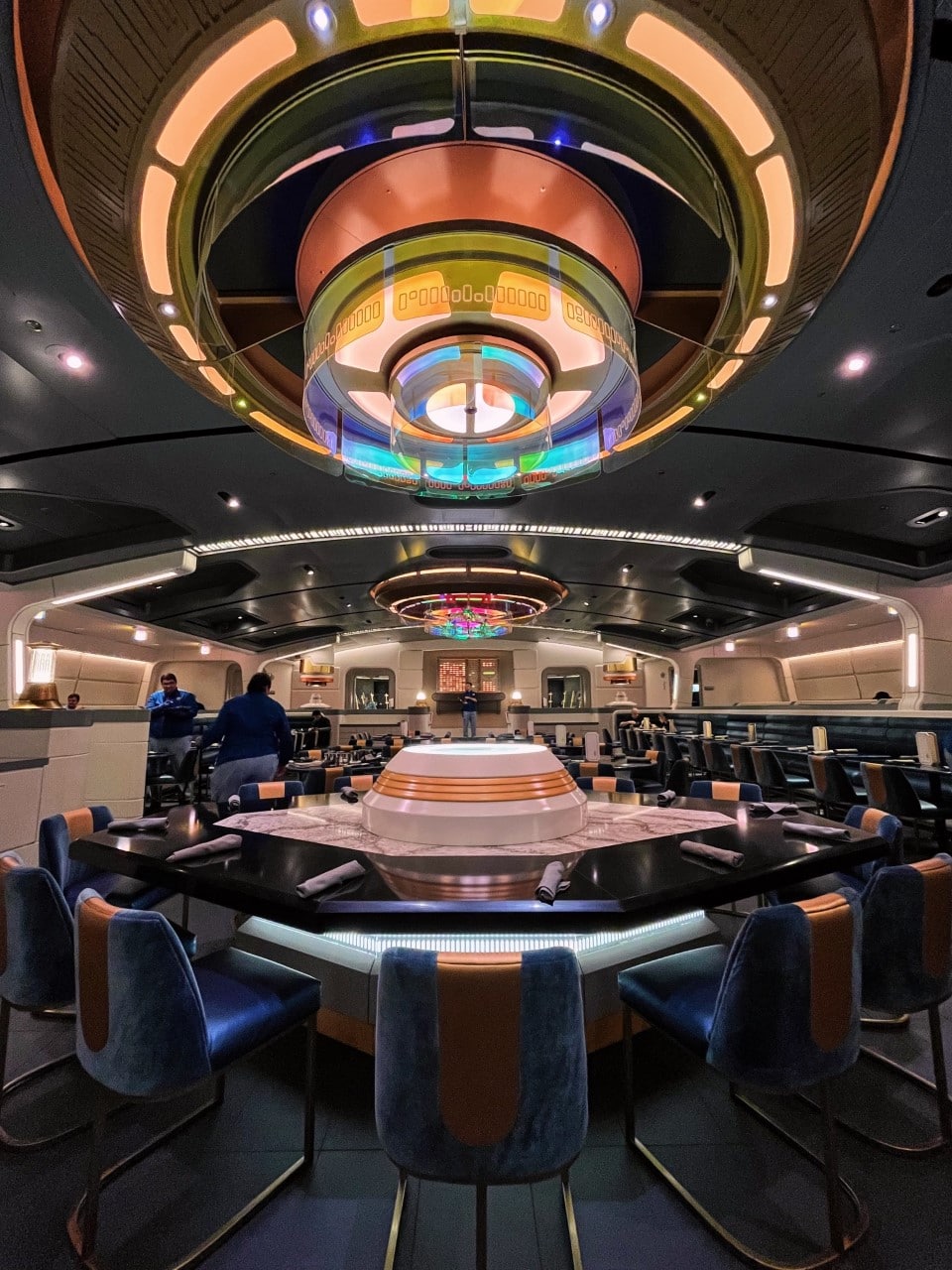 The Crown of Corellia Dining Room is where guests will eat most of their meals when visiting Star Wars Galactic Starcruiser. Breakfasts and lunches served here are all buffet-style. Every meal here offers dishes that you'd expect to find in the Star Wars universe. So, you might find odd-looking items like blue shrimp or purple dumplings! But don't worry, every plate is even more delicious than it looks.
Dinners are served family-style, with multi-course meals of appetizers, entrees, and desserts. You can even enjoy a full live-music performance during dinner on night one, or a cozy show during the dessert party on night two.
The Sublight Lounge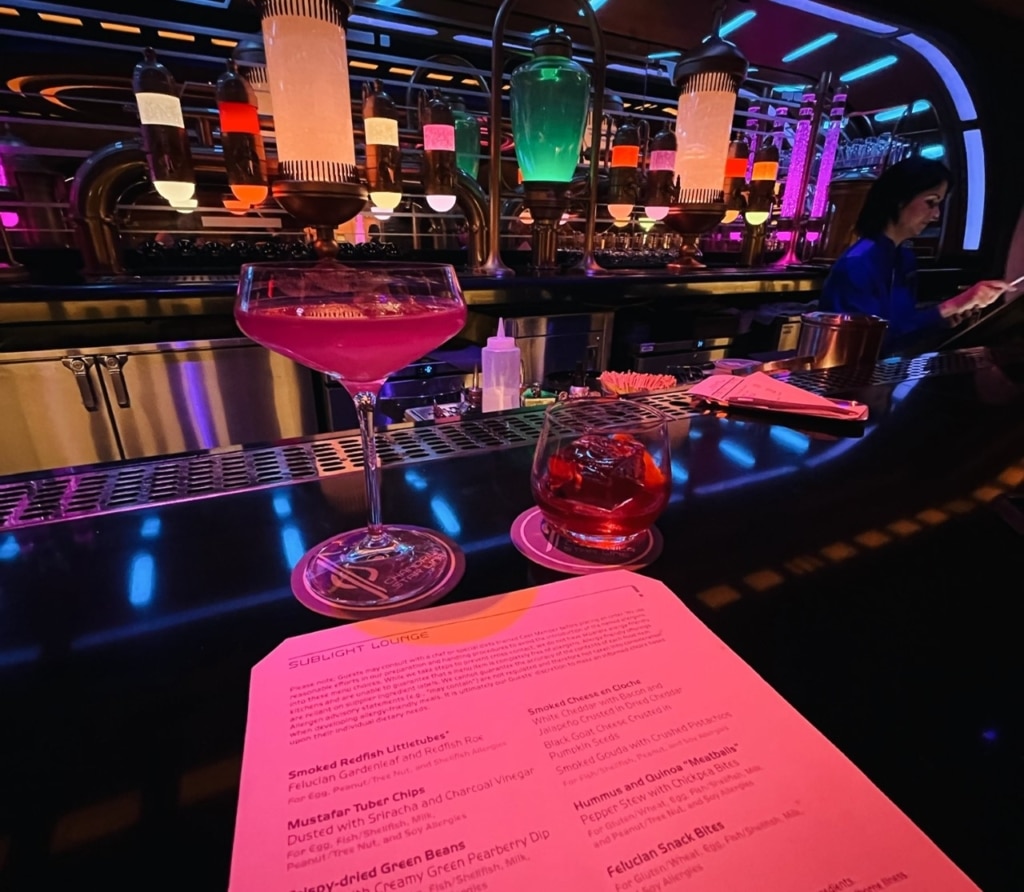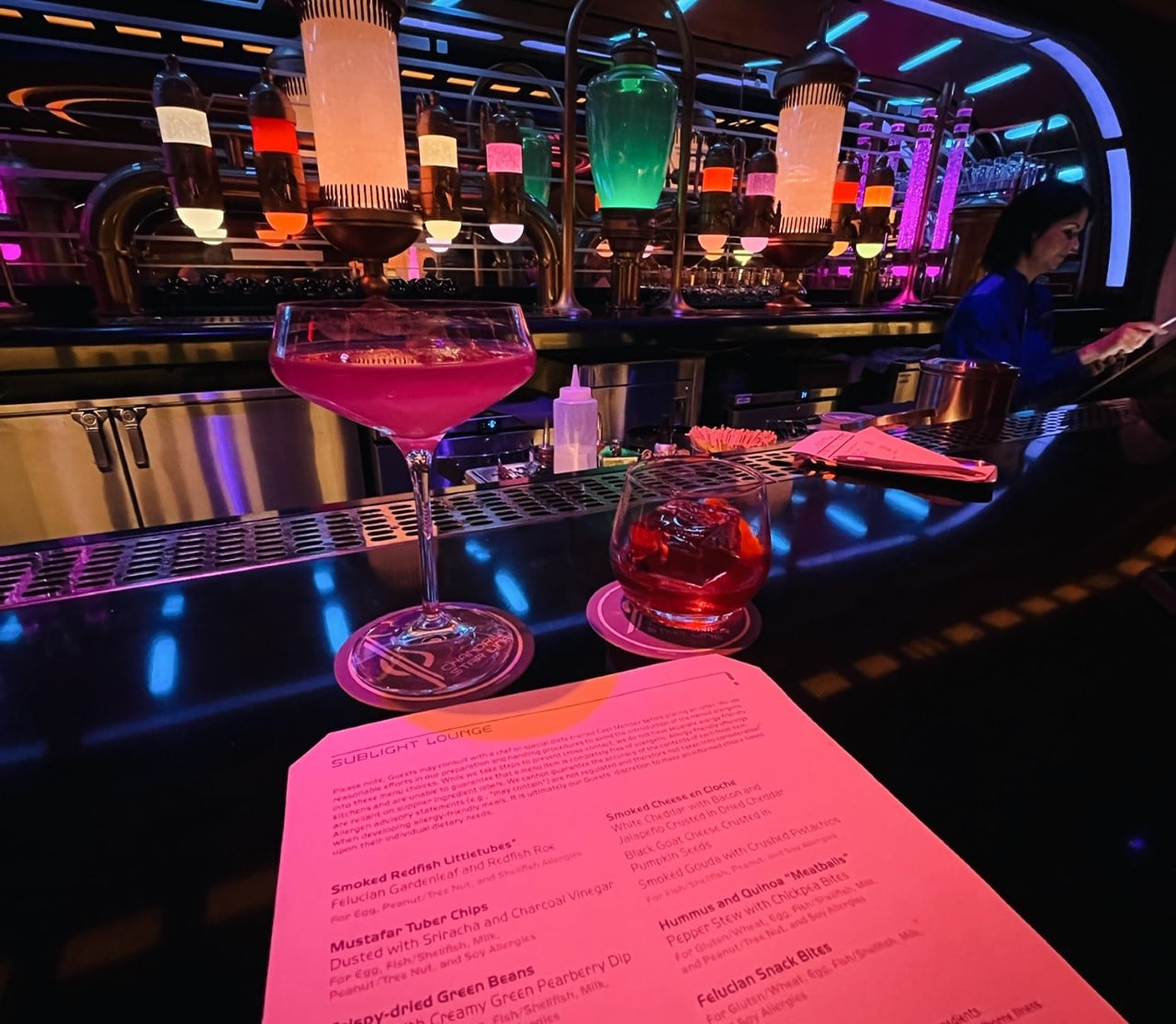 The Sublight Lounge, the ship's bar area, is also located off the Atrium. Guests can order complimentary snacks at the bar or uniquely-themed cocktails for an extra charge. You'll often see many of the main story characters in The Sublight Lounge interacting with guests. This is also where you can play Sabacc, a popular game from the Star Wars Universe.
Star Wars Galactic Starcruiser Hotel Food Items and Menus
One of the most fun things to do while visiting the Star Wars Galactic Starcruiser hotel is trying all of the unique foods! While some of the flavors may be unfamiliar to you, picky eaters shouldn't worry too much. Lots of the food options are pretty common dishes presented in uncommon ways. For example, one of the choices at lunch is Tip Yip with Noodle Cheese, which is basically just chicken nuggets with mac and cheese. The out-of-this-world-looking blue shrimp that everyone has been talking about is essentially just naturally-dyed cocktail shrimp. Trying new things is one of the best things you can do while on the Halcyon.
Breakfast – Grab & Go or Buffet Style
There are two options for breakfast on days two and three of your journey. You can either head to the Crown of Corellia Dining Room for a full buffet or to the Sublight Lounge for a grab-and-go breakfast selection. The buffet offers a variety of dishes like waffles, omelets, and fruit. The buffet option is great for those looking to try everything that Crown of Corellia's kitchen has to offer! The grab-and-go option is perfect for those who are heading out the door but want something to snack on. The pre-packed breakfast boxes included yogurt, fruit, and assorted pastries. A self-serve coffee and tea bar are available at both breakfast locations.
Lunch On the Ship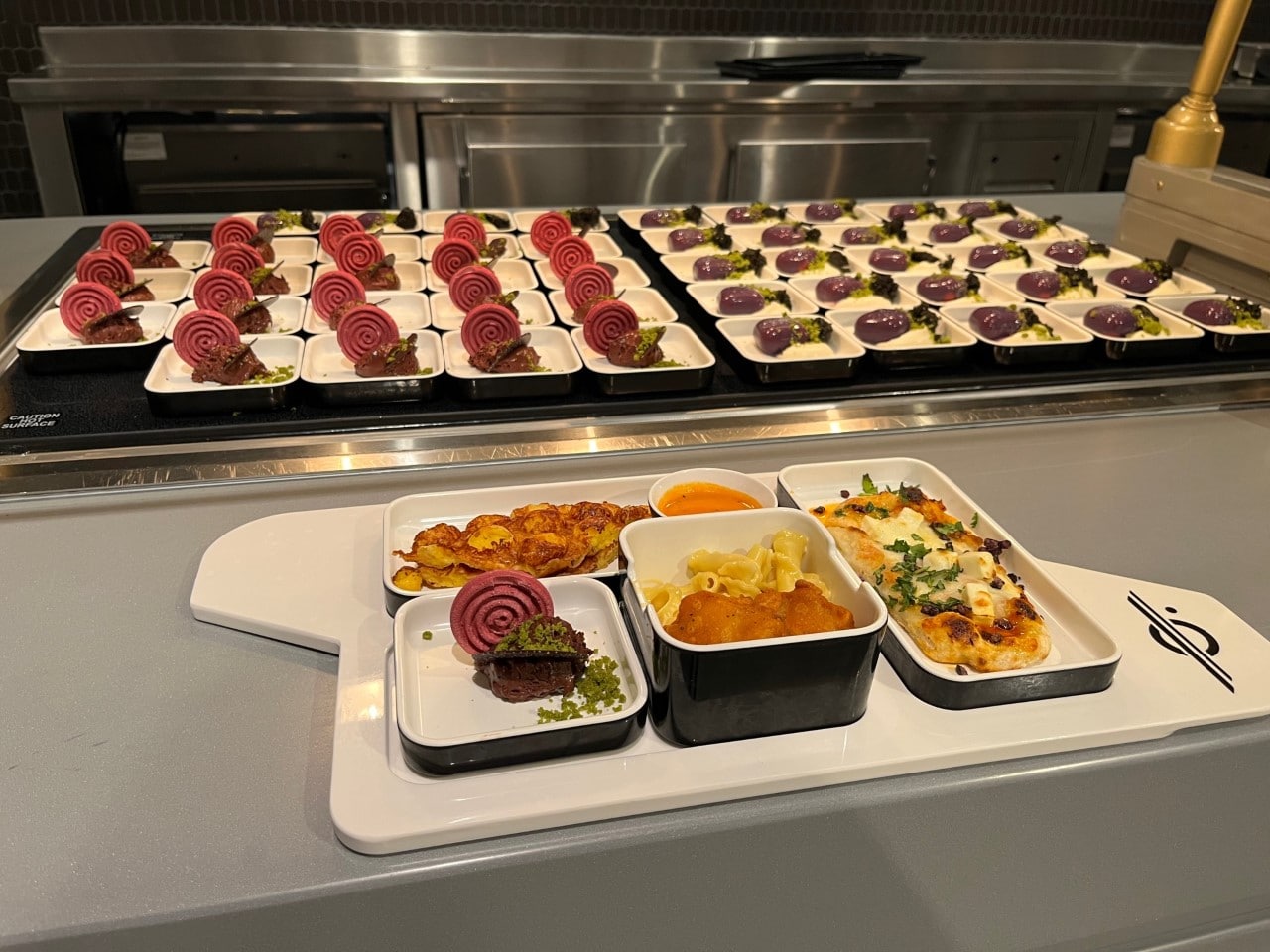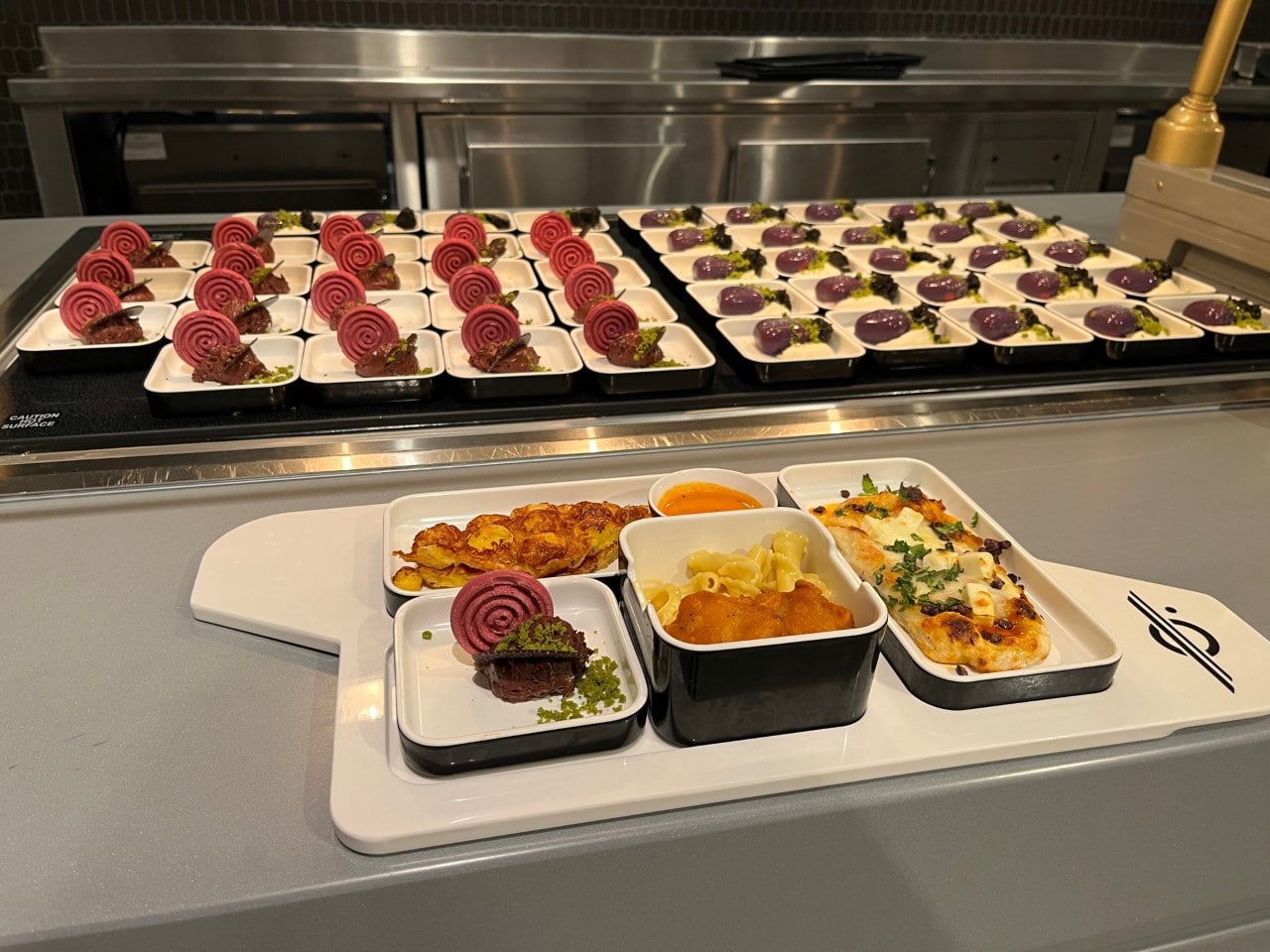 The lunch buffet on day one had some delicious options including a fresh pizza made in the kitchen's wood-fired oven and fried cheese with tomato soup. The dessert offerings were delicious as they were unique! Guests can also help themselves to beverages like soft drinks, coffee, and even blue milk!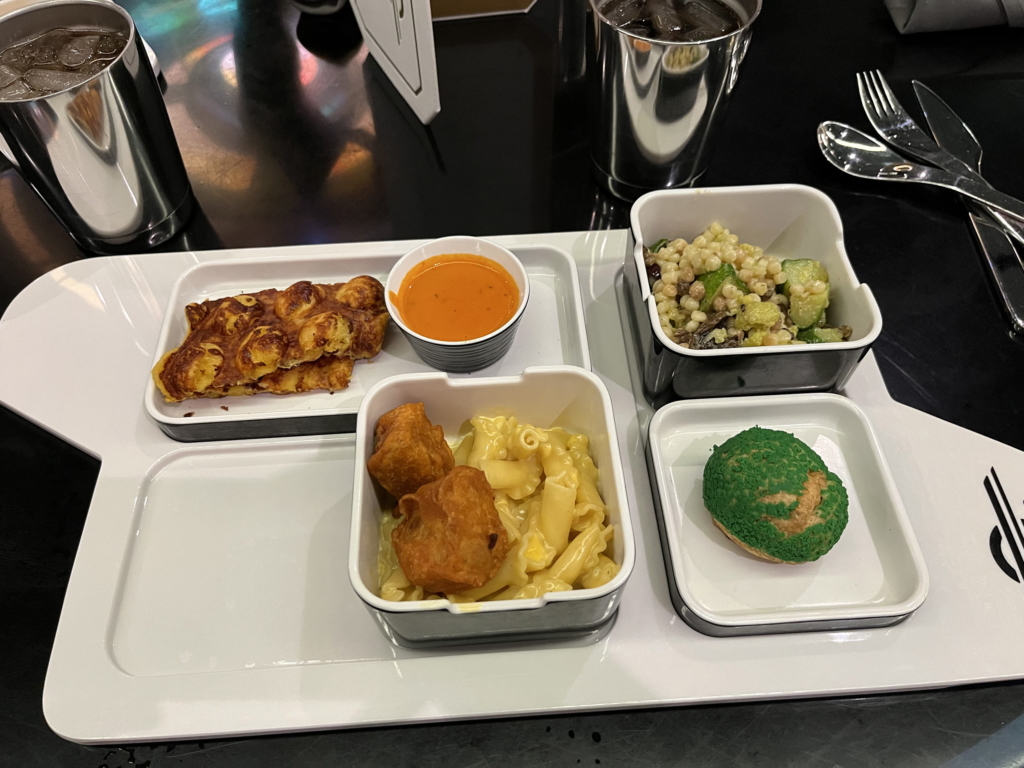 The fried cheese "waffle" with tomato soup was a light choice and super delicious. Fried cheese? Who wouldn't like that? There were multiple salad options available in the buffet line, and the Chandrilan Salad did not disappoint. The blend of couscous with mushrooms and other veggies made for a perfect vegetarian option (or vegan if you are also dairy-free!) For kids (although it's a crowd-pleaser for adults too), the Dipped Tip Yip Chicken with Noodle Cheese is basically just mac and cheese, but so yummy. The nuggets are made from thick chicken breast, and each bite is massive.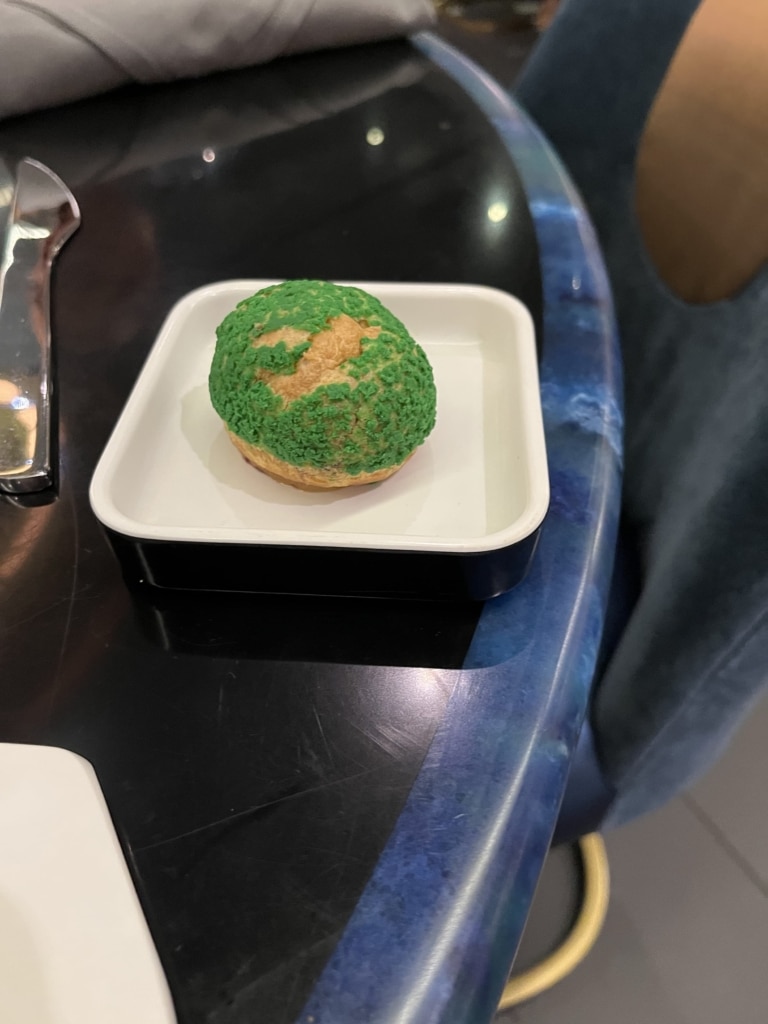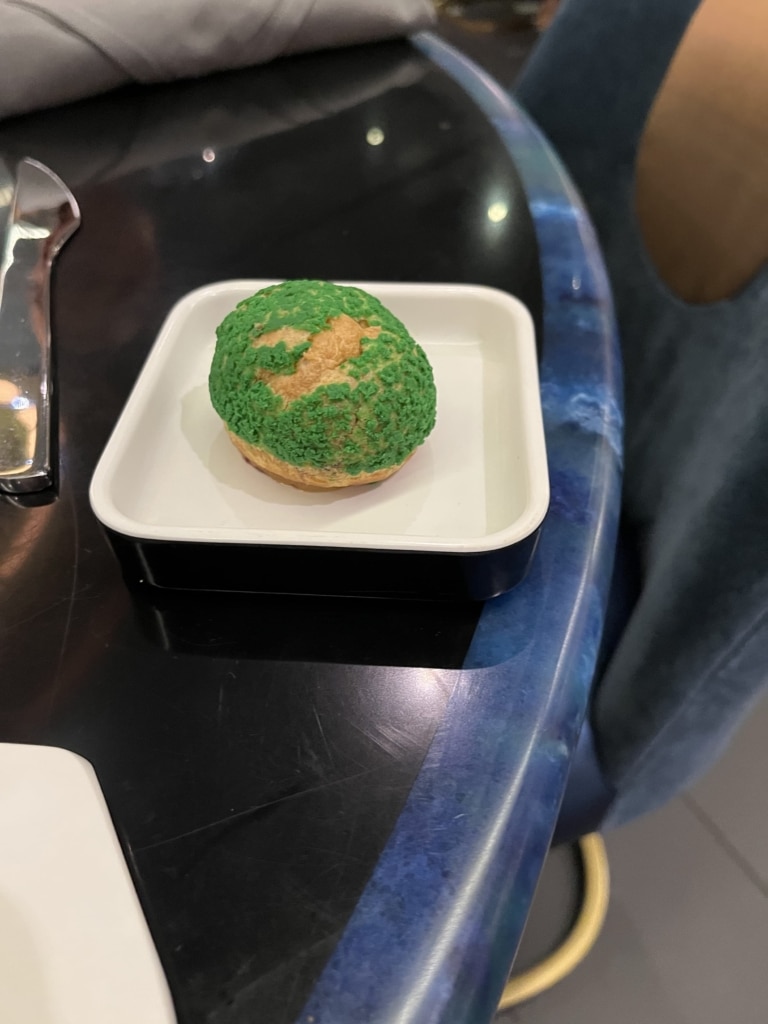 The sunflower-butter and jelly pods are quite interesting looking, with crackling green layered on top. The bread tasted a little stale and chewy, but the kids in your travel party may not mind the difference. Should someone have a peanut allergy, not to worry! The sunflower butter is nut-free and tastes just a little different than a normal PB&J.
Day 2 Lunch on Batuu
We didn't have lunch at the hotel on day two, but the offerings looked just as tasty as on day one! We took advantage of the fact that we could enjoy a complimentary lunch while visiting Batuu. Not having to travel back to the hotel from Hollywood Studios was convenient for us since we had more missions to complete. Our group decided to order from Docking Bay 7 because it has indoor seating and it was quite warm during our excursion. We were able to order three meals and three cocktails with our M-Bands. We tried the Hot Tip Yip chicken, a tuna poke bowl, and a vegan meatball pita with hummus. The drinks were especially refreshing since it was so hot out!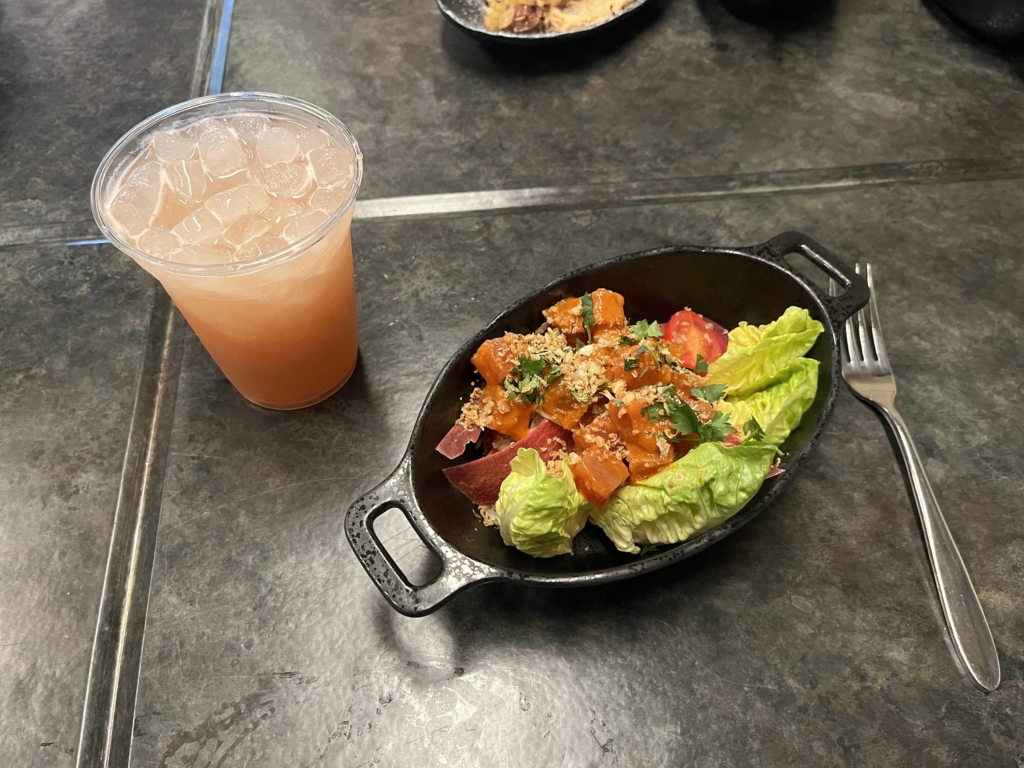 Pro tip: If you do decide to enjoy your lunch from Docking Bay 7 at Galaxy's Edge, your meal is of course credited. However, adults over 21+ can choose either an alcoholic beverage or dessert with their main entre meal, free of charge! While aboard the Halcyon, all alcoholic beverages are served at an additional cost.
Full-Course Dining Aboard the Halcyon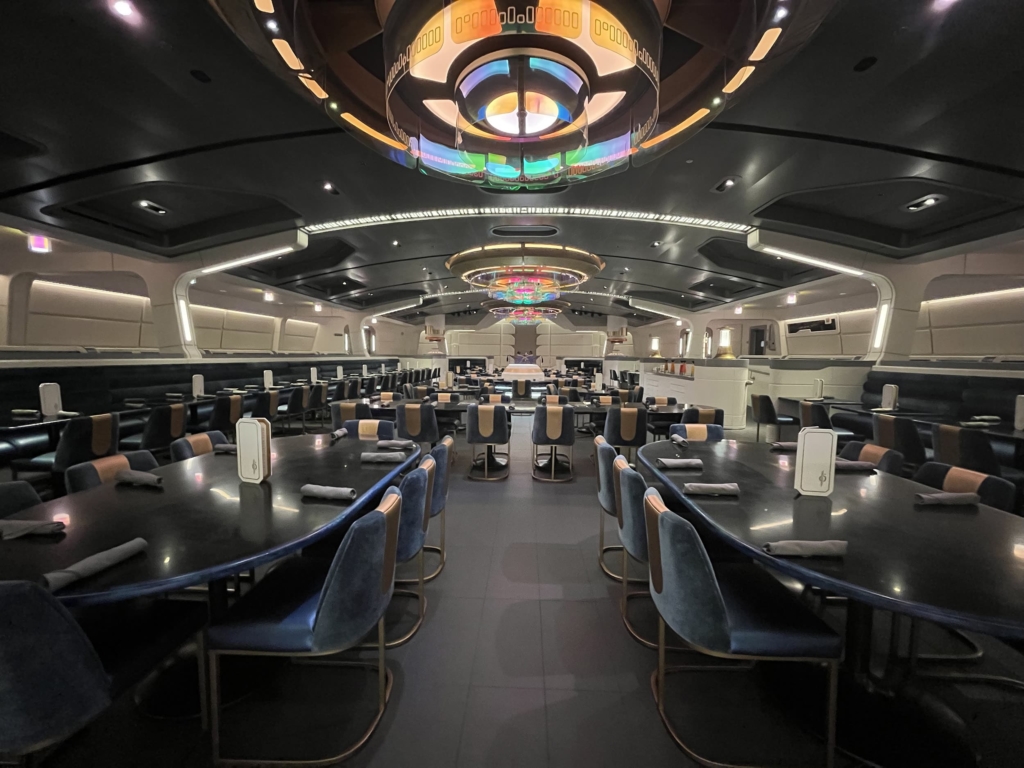 Just like on a cruise, there are two seating times for dinner at the Star Wars Galactic Starcruiser hotel. Guests will be assigned a dinner reservation at either 5:30 or 8:00 and will sit at the same table both nights with the same server. If you have any food restrictions or preferences while on the Star Wars Galactic Starcruiser ship, let your server know. You can also ask your server for a modified meal or for another serving of a specific item. For example, we had someone with a shellfish allergy in our group, so our server brought out another portion of chicken for them instead.
The seating time can be adjusted to your preference, but it is important to note that dinner on night two will be interrupted for those with a later reservation For us, this exciting interruption came just a few minutes after we finished dessert. The biggest event of the journey begins right at the end of the later seating, so you may feel a bit rushed by that. A great thing about the dinner services is that they are family-style, so you can try a little bit of everything!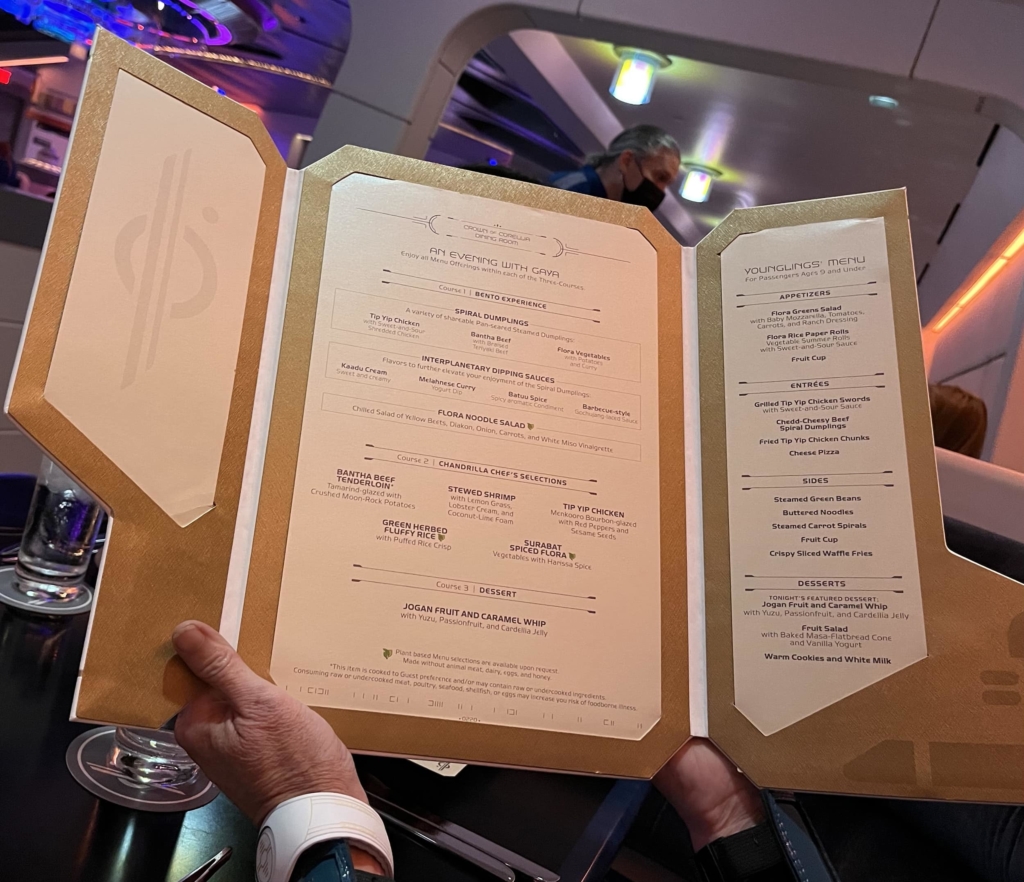 Our favorite meal was hands-down dinner on night one. Not only was there an entertaining live performance, but the three-course meal was delicious! We loved the colorful pan-seared Spiral Dumplings and the Bantha Beef Tenderloin.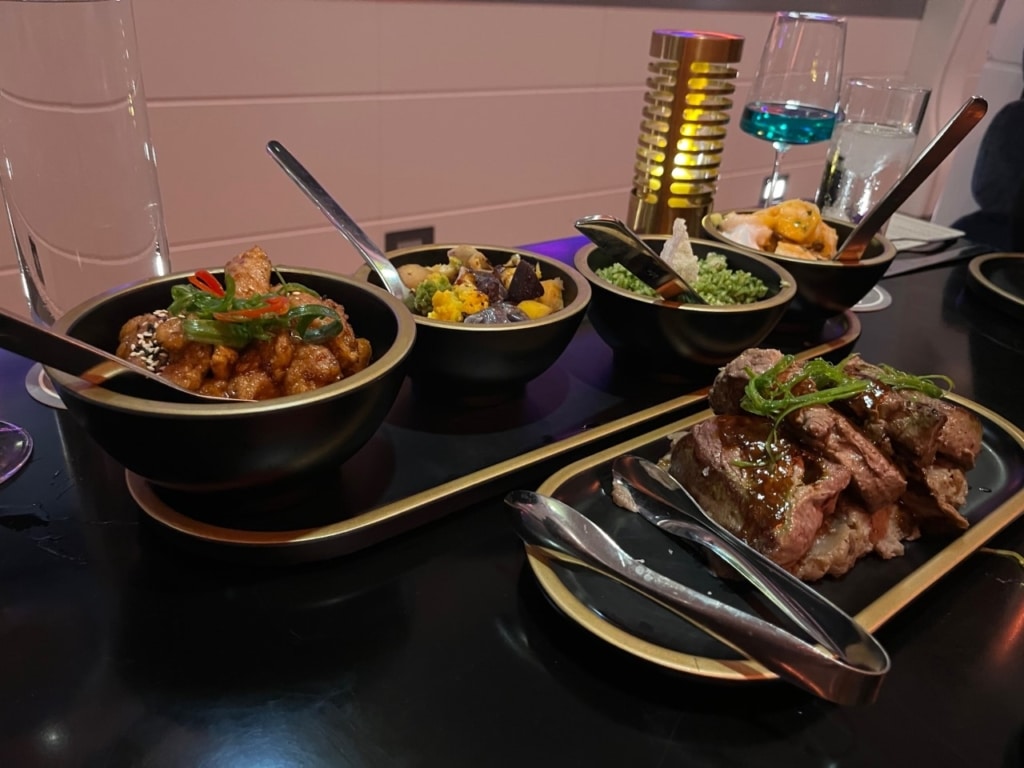 The Tip Yip Chicken had an Asian-style glaze that had us popping one after the other in our mouths. It was a perfect pairing with the fluffy green rice, which tasted delicious and light.
The Shrimp Really Is Blue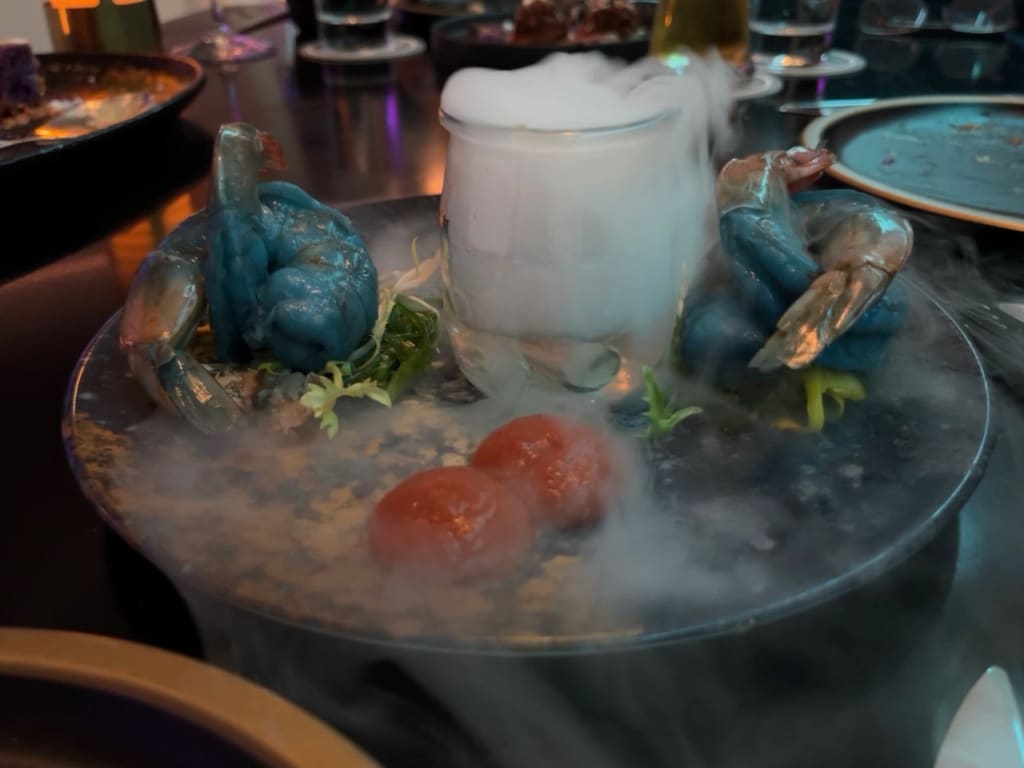 Night two's dinner was instead a four-course meal that was called "A Taste Around The Galaxy." These dishes were presented in a more artistic way than night one's meal. We were first presented with various bread and a cheese dip that our server called "space-o queso." Next up was the most unique dish that we ate during our journey, Iced Felucian Shrimp Cocktail A.K.A. "blue shrimp."
The shrimp is shockingly blue, but that does not affect its taste at all. As a fan of shrimp cocktail, this dish was a hit with me!
Desserts & Snacks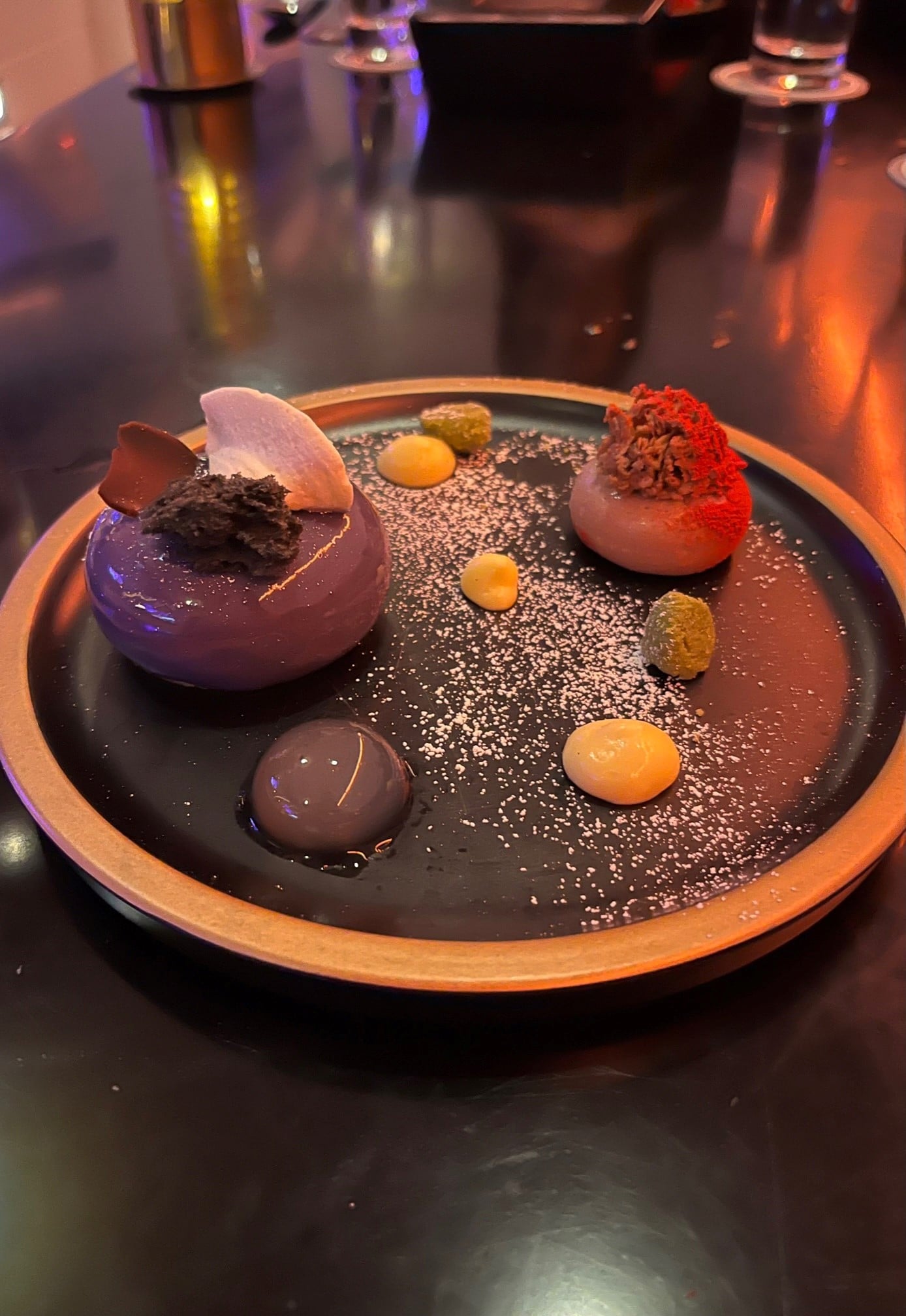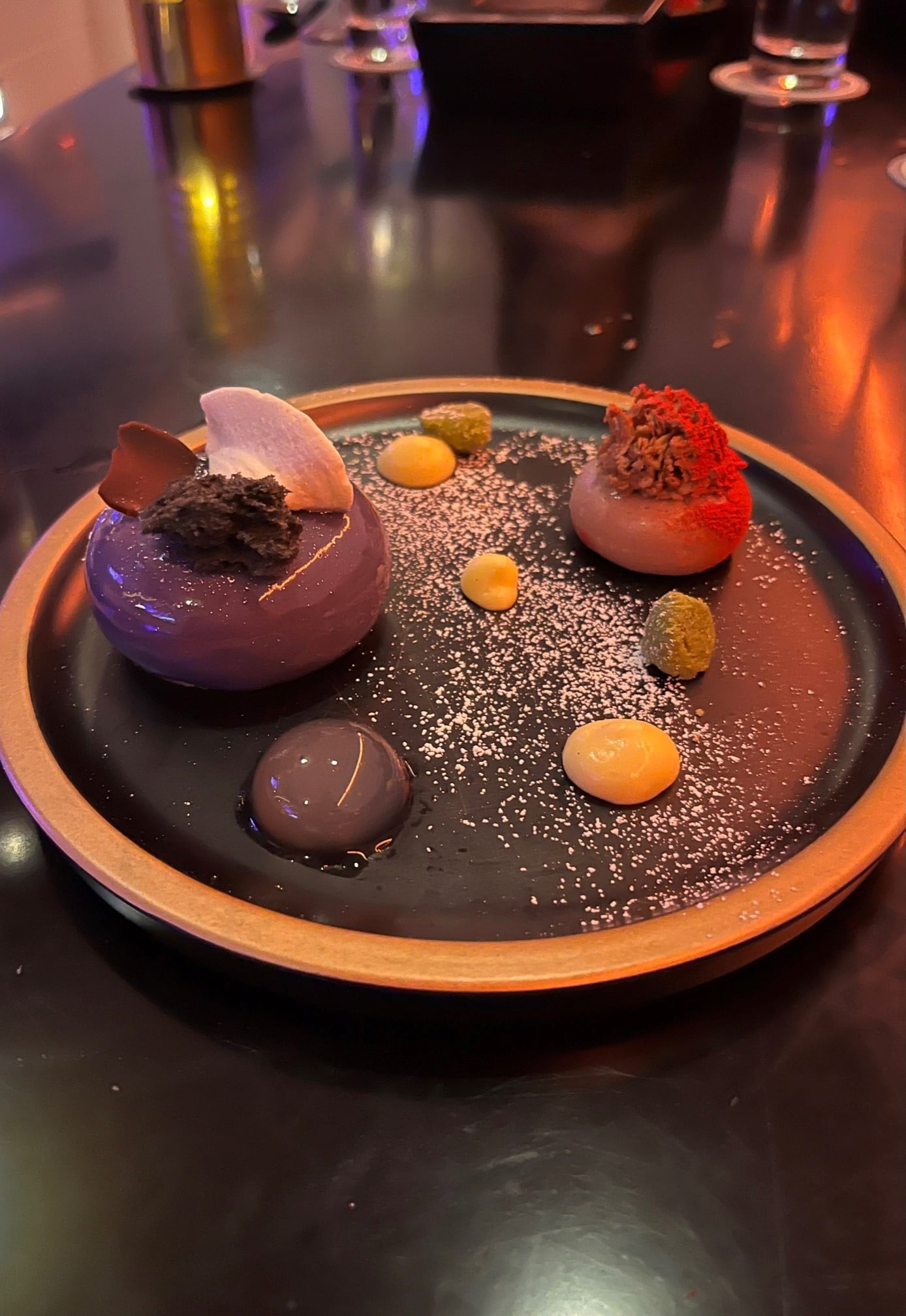 Each night's sit-down meal came with delicious desserts that were presented in unique ways. The first night's dessert plate had a fruit mousse, a caramel whip, and some tasty jellies. Night two's dessert was a chocolate cake that looks like the Chandrilan Star Line logo. Plus, if that wasn't enough, there was a dessert party on night two with an all-you-care-to-enjoy dessert bar. Yum!
Just because there were breakfast and lunch buffets, as well as multi-course dinners, doesn't mean guests don't want a little snack. Throughout the day, there were a variety of snacks available to passengers at the guest services counter in the Atrium. These snacks included fruit, crackers, popcorn, cake pops, and other tasty treats. There is also a full snack menu including cheese boards and flatbreads available at the Sublight Lounge.
Are Drinks Included On the Galactic Starcruiser?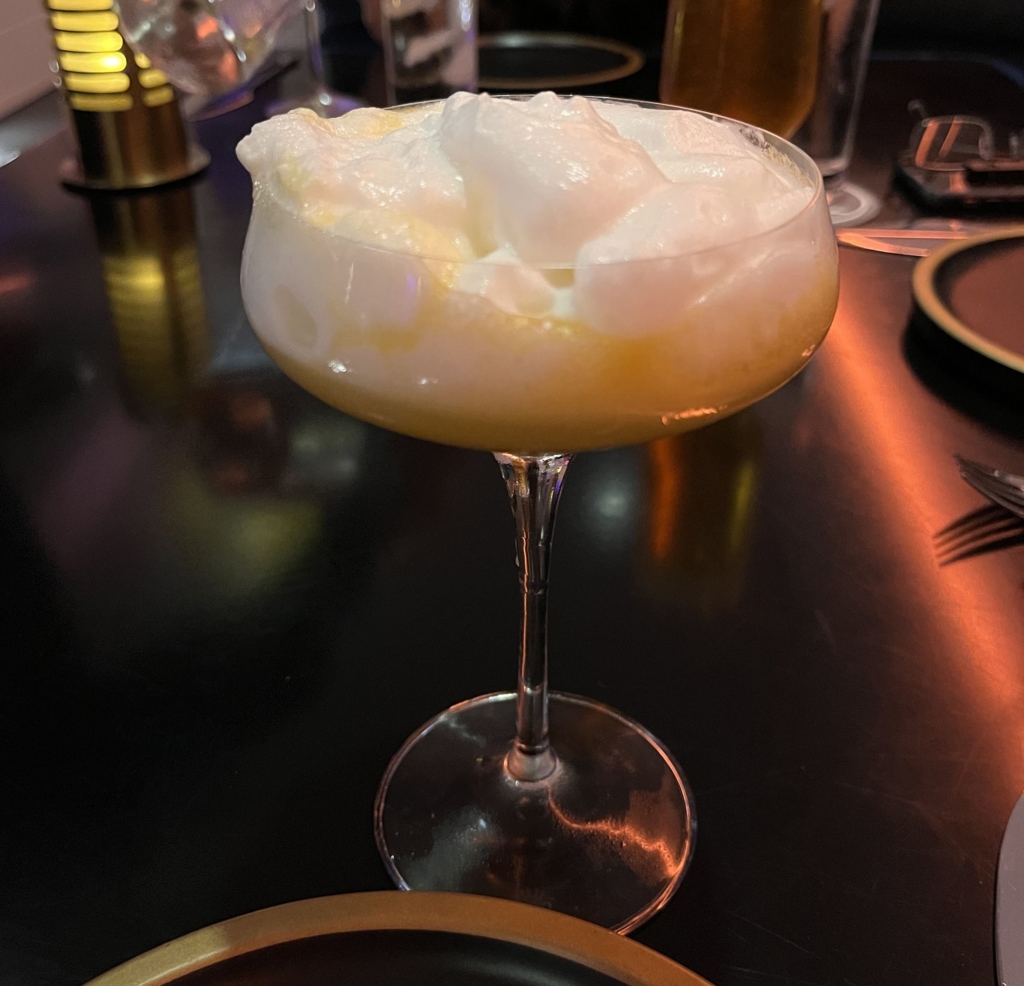 When you stay on the Galactic Starcruiser, all food is included. However, it's important to note that any alcoholic beverage is not included in the cost of your trip. There is an extensive drink menu that is available for guests to purchase alcoholic beverages, which include a range of colorful, glittery, and foamy options.
Our favorite drinks that we tried were the glittery Silver Sea Martini, the fluffy Cloud of Bespin, and the Pod Chaser Old Fashioned. Here's another pro-tip: You can probably ask for just about any of the adult beverages to be made "sparkly." The Silver Sea Martini is a gorgeous pinky/purple color with glitter in it. If you opt for a different cocktail and ask nicely, you may be able to get some sparkles added to something else you order on the menu. Alcoholic drinks are available for purchase in the Sublight Lounge and at the Crown of Corellia Dining Room.
You may notice some of the characters walking around with specialty glasses and a drink in hand (we presume characters are drinking non-alcoholic versions!) If items in the gift shop aren't suiting your fancy for take-home souvenirs, you can also purchase two specialty drink glasses from the Sublight Lounge. One is the same glass that Raithe Kole walks around with. The other glass is a unique orb-shaped vessel that mimics the shape of the Death Star and comes with its own pedestal to sit upon.
Galactic Starcruiser Food Options: Yay or Nay?
Our group found the buffet selections and full-course meals provided on the Galactic Starcruiser to be overall delicious! With the buffet-style of breakfast and lunch, you can eat as many of your favorite dishes as you want or try a variety of foods. The unique presentations make even the plainest options more enticing. Even with the dinner entrees, the serving sizes made for ample opportunity to try a bit of everything or hog a dish all to yourself if you wanted!
There was a great variety of comfort dishes, as well as fun selections, so picky eaters can definitely find something and leave satisfied. For the most part, most dishes are common food items you'd find anywhere.
Eating on Batuu is also a great option for some other selections, and your meal at Galaxy's Edge is credited! Plus, you won't miss out on valuable time doing missions and other excursions at Hollywood Studios.