Timeshares in Destin, Florida are definitely a hidden gem. This gorgeous and quaint piece of paradise is perfect for your next vacation. Below we're talking all about the great Wyndham timeshares in Destin, Florida.
Visiting Timeshares in Destin, Florida
Destin, Florida is a small beach town on Northern Florida's Panhandle. Destin is on the shores of The Gulf of Mexico and is famous for its emerald waters. The soft, sugary sand is perfect for spending days in the Florida sunshine. The beach's motto? Leave Only Footprints. The city of Destin strives to keep the beach environment clean, safe and beautiful for visitors, locals, and wildlife. That means no glass bottle or campfires are allowed, but there is still plenty of exciting things to do. Who doesn't love a clean beach?
Attractions in Destin
Locals and visitors alike enjoy great shopping, boating, crabbing, and fishing experiences in Destin. Destin is known as the "World's Luckiest Fishing Village," so if you love to fish then maybe this is the vacation spot for you! As a result of the luck of the local fisherman, you definitely won't be hard-pressed to find fresh seafood.
There are some local companies that offer beach picnics for two or dolphin day cruises. This is a great way to enjoy time with your loved ones while taking in the beauty of Destin. There is also an adventure water park in Destin waiting for you when you take a day off from the beach.
Where to Stay in Destin Florida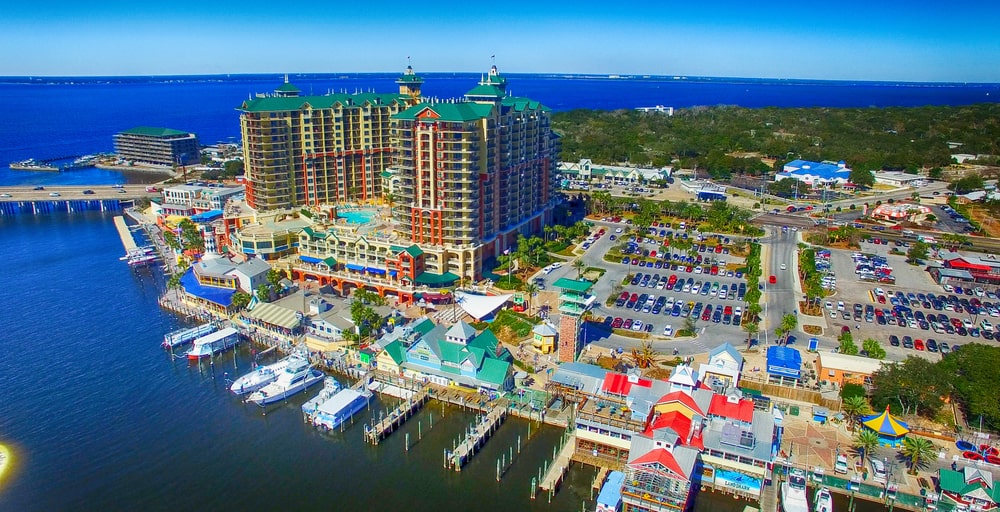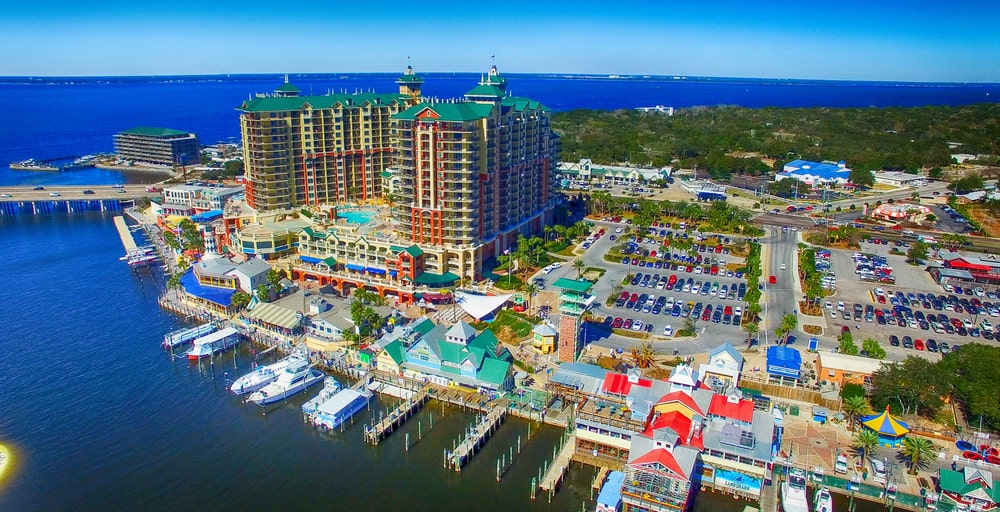 Not only does Destin have great beaches, but it also has great places to stay. As you're planning your next trip to the beach, consider buying a timeshare. There are plenty of luxurious vacation properties in Destin that are available for sale on the resale market. Buying resale can generally save you money off the initial price of a timeshare. The great thing about resale timeshares is that even though they're not retail, they are still managed and maintained as well as the ones on the retail market, but you're saving money. You can find weeks and points-based timeshares on the resale market at a wide variety of locations, so there really is something for every traveler.
Wyndham Timeshare Resales in Destin, Florida
Ready to see timeshares for sale in Destin, Florida? Taking a timeshare vacation is a great way to have maximum comfort for everyone in your travel troupe! Wyndham is a top timeshare brand with Destin locations ready to welcome you on your next timeshare vacation. When you visit Destin, be sure to bring the family and check out these timeshares for sale.
As a worldwide timeshare brand, Wyndham is renowned for offering beautiful and luxurious accommodations consistently all over the world. There are a few Club Wyndham properties in Destin, all of which are situated on prime property near the beach. So, you won't have to go far to spend your days on the beach admiring Destin's famous emerald waters.
Club Wyndham Emerald Grande at Destin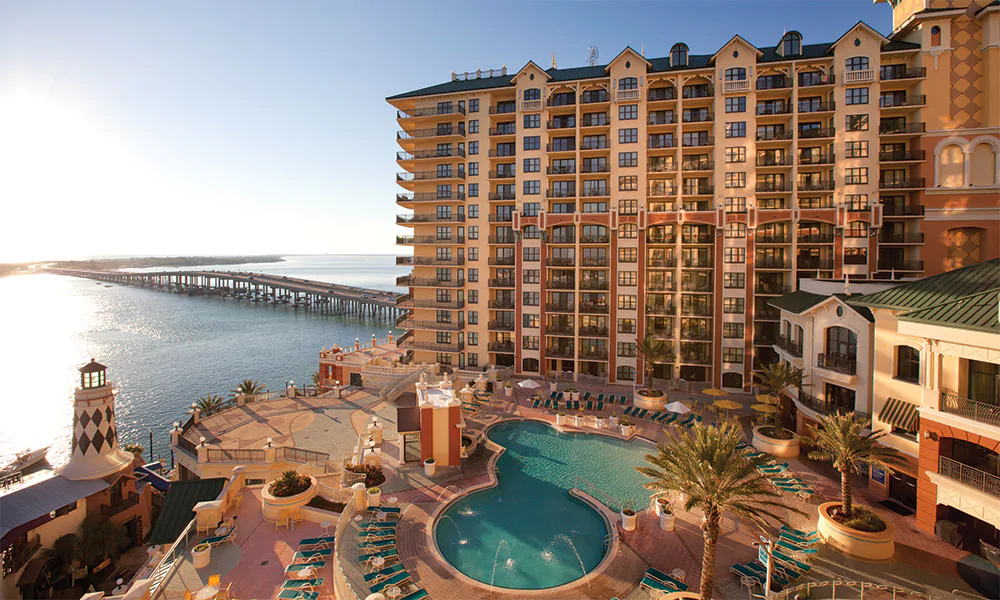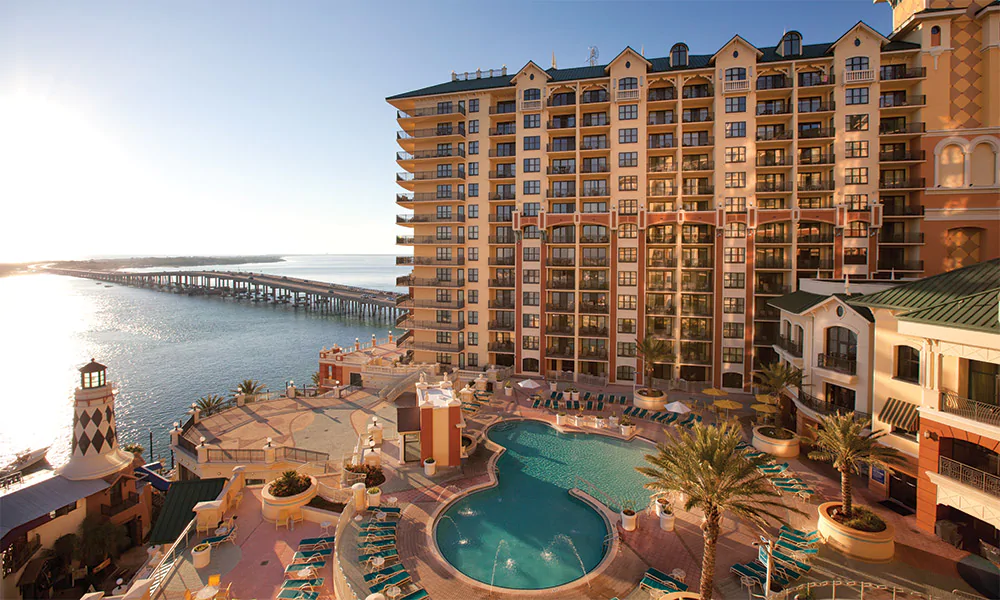 Club Wyndham Emerald Grande at Destin is one of the best Wyndham resorts in Florida! This waterfront resort offers unforgettable views of the sparkling Gulf of Mexico. Guests will find many opportunities to unwind while visiting this resort. Guests can spend their days lounging by the oceanfront pool or joining in on one of the many watersports offered on-site.
The suites at this resort feature all of the comforts of home, including a full kitchen and laundry units. This resort offers one-, two-, three-, or four-bedroom accommodations, so there is plenty of room for everyone. Traveling parties of up to ten will enjoy spending time in these spacious suites!
Club Wyndham Beach Street Cottages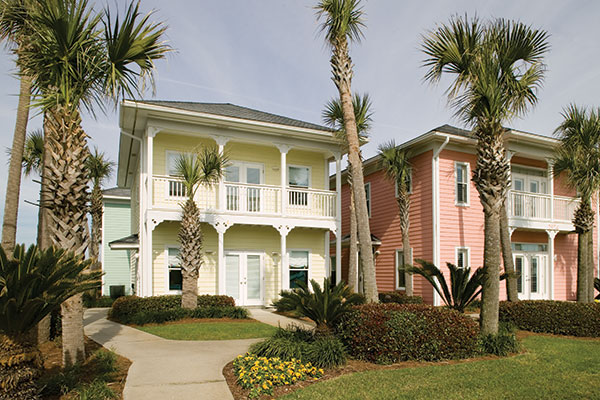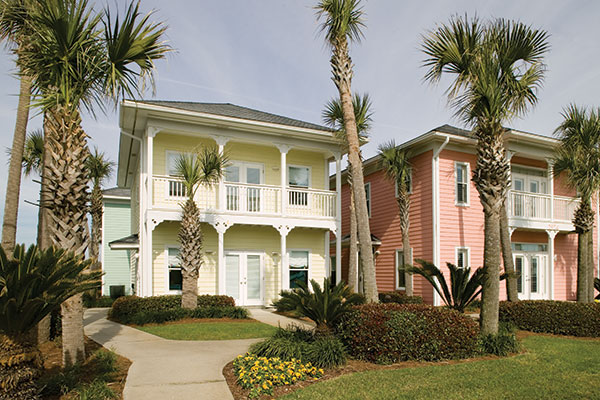 Club Wyndham Beach Street Cottages are quaint accommodations with direct beach access. You'll find that this resort offers a quiet serenity that you don't always find at beach resorts. You'll be surrounded by swaying palm trees while you relax poolside. Spend your days on the beach, then walk home and relax in the heated pool. The resort is just minutes from delicious restaurants and unique shopping!
The spacious one-bedroom suites at Club Wyndham Beach Street Cottages can comfortably sleep up to six guests. Guests will love spending time taking in the views of the Gulf from their private balconies. The suites have amenities that will make every guest feel right at home.
Wyndham Destin Bay Club


Wyndham Destin Bay Club is a beach lover's favorite. On-site activities include 45 holes of championship golf, over ten tennis courts, and great pools for swimming. Additionally, there is a fitness center and spa on-site so you can stick to your workout routine or pamper yourself while on vacation. You and the family will have a great time exploring this beautiful resort.
With historic sights nearby and gorgeous sunsets every evening, this timeshare resort offers its owners a lot of beauty and relaxation. Not to mention, the club's location on the Emerald Coast makes for amazing sightseeing and water-skiing opportunities. Another great thing about this ownership is that it's eligible for affiliation with a vacation exchange network meaning you can travel to other locations for vacation.
Wyndham Majestic Sun


Wyndham Majestic Sun will put you just 100 yards from the sugar sands and turquoise waters. Featuring rooms with private balconies and Gulf coast views, this is a Gold Crown resort worth visiting. Not to mention, you'll feel right at home with great amenities including kitchenettes or full kitchens, private bedrooms, washers and dryers, and a comfortably sized living area. The five on-site pools are perfect for swimming and lounging when you're not visiting the beach. With tennis, golf, and a playground for the kids, this resort has amazing accommodations for a great stay in Destin.
Wyndham Majestic Sun is located a few minutes down the road from Destin in Miramar Beach. The resort is still conveniently located near all of the wonderful attractions in Destin, which is why it's worth mentioning!
Timeshares For Sale in Destin, Florida
If you're looking to purchase a Wyndham timeshare in Destin, Florida, be sure to check the timeshare resale market first. You can find Wyndham timeshare resales available at a fraction of the cost as opposed to when you buy directly from Wyndham. Check out timeshares for sale in Destin, Florida, and make an offer online today. Need help? Contact one of our licensed real estate agents when you call us at 407-465-5188 or email team@fidelityresales.com.