There are over nine million households in the U.S. that have timeshare ownership. This means that millions of people across the country know about the benefits of owning a timeshare. Timeshares offer unbeatable amenities, spacious accommodations, incredible savings, and much more! If you're looking to buy a timeshare or are a current owner looking to enhance your ownership, then you'll want to know about all of the amazing benefits timeshares can offer. Let's discuss how owning a timeshare can provide amazing vacations for a lifetime!
Benefits of Timeshare Amenities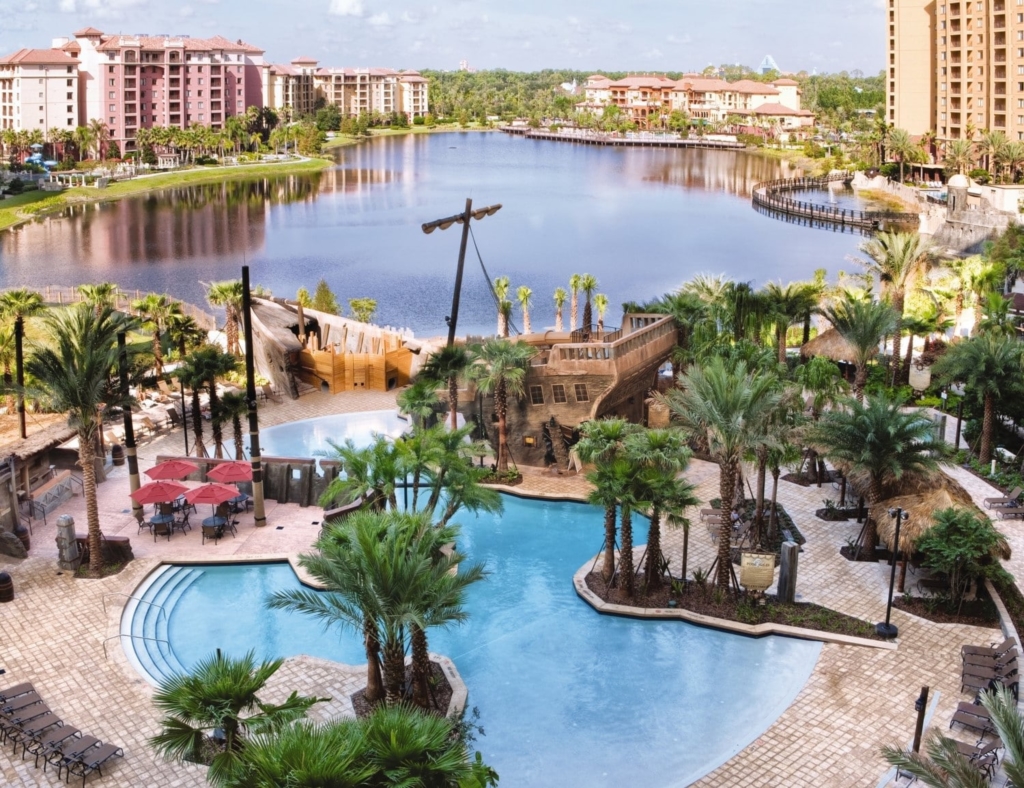 One of the benefits of staying at a timeshare resort is the vast selection of world-class amenities. Timeshare resorts around the world offer amenities that you may not find at a regular hotel. These amenities include waterparks, full-service spas, fine dining and more. You'll also get access to laundry facilities, whether that is within your villa or in a common area. This is an incredible amenity for long vacations with the whole family. Each resort has a unique offering of amenities, which is why flexible points-based timeshares are great! You can visit a new resort every year and enjoy its fabulous selection of amenities.
An example of a resort that has incredible amenities is Club Wyndham Bonnet Creek Resort. This resort is located in sunny Orlando and is just moments away from Walt Disney World resort. Not only does Bonnet Creek have an incredible location, but also has an extensive offering of amenities. Guests will love splashing around at the resort's pool area which includes water slides, two lazy rivers, a kid's area, and zero-entry pools. The resort has a miniature golf course on-site which is a great activity for the whole family. Other on-site amenities at Bonnet Creek resort include sports courts, a game room, an outdoor movie screen, and shuttles to the Disney parks. There are also a few restaurants for guests to choose from, so they don't even need to leave the resort to have a delicious meal.
Benefits of a Timeshare Villa
The standard size of a timeshare villa is quite a bit bigger than a normal hotel room, which is one of the biggest benefits of timeshares. Your family deserves to have a nice and comfortable vacation. Staying in a timeshare villa means that you have more space to stay and play!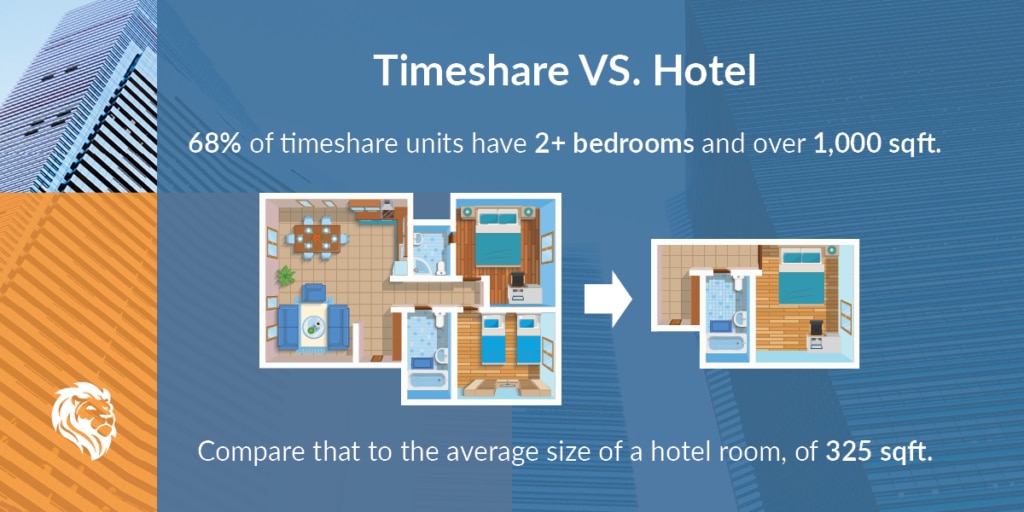 Timeshare villas often offer full kitchens which is a huge benefit to guests. Being able to prepare breakfast in the morning or make an afternoon snack, all from the comfort of your villa is an amazing option for families. Stock your shelves with food and keep cold drinks in your full-size fridge; whatever you may need, there is space! The kitchens are also usually equipped with upgraded appliances, such as dishwashers and microwaves. All the comforts of your home kitchen will be available to you whilst on vacation!
There is plenty of room in a timeshare villa for you to spend time with your family. A standard size villa will have a spacious living room for you to enjoy. Gather around the tv for a movie night or unwind on the couch and talk about your adventures from the day. Many villas come with a sizable balcony, so you can enjoy incredible views without leaving the comfort of your room. A major benefit of staying in a timeshare villa, besides the size of the room, is that it will truly feel like a home away from home.
The standard size of a timeshare villa is exponentially larger than the size of the average hotel room. Oftentimes, villas come with more bedrooms and more living space. Your family will all be able to relax comfortably in your villa, without feeling too crowded. Everybody needs some personal space and that is completely possible with a timeshare villa.
Savings Over A Lifetime With Timeshare Ownership
Over the years as a timeshare owner, you will be saving a ton of money on vacations. After the initial price to buy, all you need to pay each year is your membership fees. Rather than spending thousands of dollars every year on hotel rooms, you will spend less money on yearly dues. The current average yearly timeshare maintenance fees are about $1000, according to ARDA. While this sounds like a lot, consider that price compared to how much a hotel room costs each night. You'll be using your timeshare seven nights a year which, if you split your fees up seven ways, could cost less than $150 each night. Not only will you save money each year, but you'll be staying in luxurious accommodations and enjoying fabulous amenities.
If you vacation every year, then owning a timeshare may benefit you financially in the long run. Plus, if you buy a timeshare on the resale market, you can save even more money!
Enhance Your Ownership With Vacation Exchange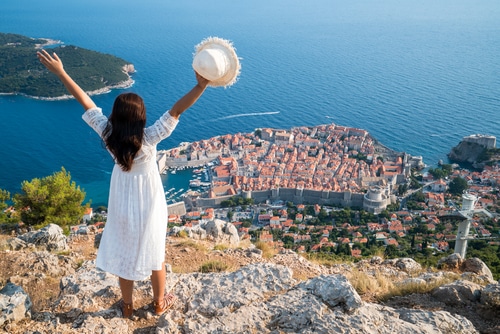 If you're thinking that if you buy a timeshare you'll be stuck going to the same resort every year, you're not quite right. Of course, if there is a resort that you love and want to spend time at each year, timeshare weeks are a great option! However, if you'd rather explore the world, then say hello to timeshare points. Most modern timeshare developers offer timeshare points programs, which allow owners to use their points at any of the brand's resorts. This means that someone with Hilton Grand Vacations Club points, for example, can use them at any HGVC resort. Timeshare point owners can easily travel to different destinations each year without needing to buy a new timeshare!
If you want to expand your vacation options even further, you can use a vacation exchange network. Vacation exchange networks, such as RCI and Interval International, allow owners to trade their timeshare points/weeks for stays at resorts outside of their developer's catalogs. For example, since both Marriott Vacation Club and Disney Vacation Club are affiliated with Interval International, a Marriott owner can trade their points to stay at a DVC resort. This means that even though they own a week at Marriott's Grand Chateau, they have the ability to spend a week at the Grand Floridian Resort. This additional flexibility is a huge benefit to timeshare owners because it allows them to choose from thousands of resorts worldwide.
Timeshare Brand Benefits Programs
Some timeshare developers offer additional benefits to owners in the form of loyalty programs. These programs, such as Hilton Honors or Marriott Bonvoy reward owners just for vacationing! By booking stays with their timeshare points, owners can earn rewards. Then, depending on the program they're enrolled in, they can use those rewards towards vacation perks. Some companies allow owners to book hotel stays with their rewards points. Some even allow guests to use their rewards points to save money on flights, car rentals, or vacation excursions. There are even brands that have rewards program members-exclusive events and parties! Be sure to contact your developer to see if they offer a loyalty program. Many are free to join, so why not reap the benefits of using your timeshare?
Ready To Buy a Timeshare Villa?
To sum up, the benefits of timeshare ownership are what make timeshare vacations amazing. The stress of vacation planning is significantly less when you own a timeshare. Owners can feel confident that everything they'll need will be waiting for them on vacation. If you're interested in buying a timeshare resale or finding out more about the process, give us a call at 1-800-465-5188 for a free, one-on-one consultation. Buying a timeshare can feel daunting, but our expert agents would love to help.
Fill out the form below to contact our team today. Don't forget to check us out on Instagram, Facebook, and Twitter.