No one wants to visit a place with nothing to do. While it's clear that Lake Tahoe is packed with fun activities, some of them might seem better for adventurous adults. Fortunately, there's more to both North and South Lake Tahoe than meets the eye! In fact, there are plenty of great Lake Tahoe kids activities to enjoy. From private lessons on the slopes to a thrill ride down the mountains, Lake Tahoe is a great year-round vacation spot because there are plenty of fun adventures in all seasons. So, whether you're planning a winter getaway or a summer vacation, this lakeside area offers endless adventures on both its California and Nevada side! Here are some of the best activities that will keep your kids talking about their Lake Tahoe vacation for years to come, as well as a Lake Tahoe resort or two to keep you comfy.
About Lake Tahoe
Lake Tahoe is North America's largest alpine lake, stretching 22 miles long and 12 miles wide. The lake is split by the Nevada-California border and sits 6,225 feet above sea level. The area around the lake is referred to as North Lake Tahoe and Tahoe South. Tahoe South is where you'll find the more touristy areas including live music, shops, bars, casinos, and more. Don't worry if you're visiting Tahoe South with kids, there are plenty of activities for the whole family to enjoy. North Lake Tahoe has a bit more of a laid-back, mountain village vibe. This is the perfect destination if you're looking for a quieter family vacation. Of course, there is still plenty of adventure to be discovered in North Lake Tahoe!
No matter which region of Lake Tahoe's shores you visit, you can be confident that there will be plenty of fun for the whole family. Plus, there are plenty of opportunities to spend the day enjoying the beauty of the lake. Whether you're looking for water-based fun or want to explore the shores of Lake Tahoe, you and your kids will find tons of incredible activities!
Kids Activities in North Lake Tahoe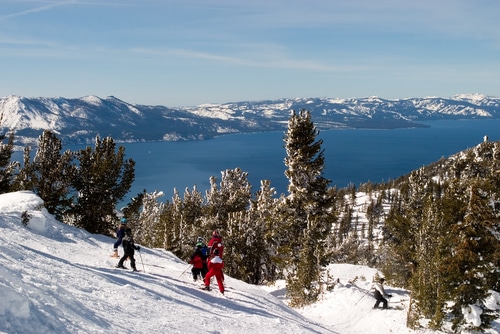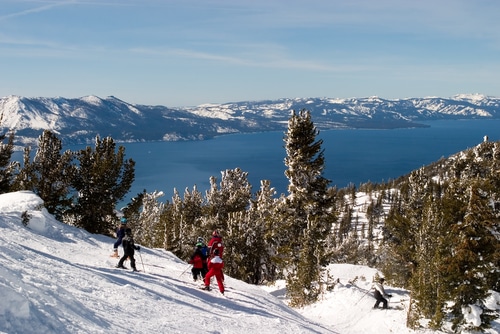 Kings Beach is a great spot in North Lake Tahoe for the whole family, especially in the summer. This unique beach town is on the California side of North Lake Tahoe. Kings Beach sits along the shores of the lake's crystal blue waters. Kids will love splashing around in the water or building sandcastles on the beach. The town also has tons of restaurants, so you'll be spoiled for choice when your children need a mid-day meal. Kings Beach also has scenic hiking trails that the whole family can enjoy.
Olympic Valley of Lake Tahoe's northern shores is an absolute must-visit destination in the winter. It's one of the premier alpine settings in Palisades Tahoe famous for its world-class ski resort. There are over 3,600 acres of ski slopes across six peaks in Olympic Valley. If your kids have skied before, they can hit the slopes and take on whichever trail suits their skill level. However, if they are just beginners, they can take ski lessons on the mountain. They'll be racing down the slopes in no time!
Kidzone Museum is a great spot for kids' activities year-round in North Lake Tahoe. This children's museum in Truckee offers creative ways for kids to learn and play. Some of the current exhibits include a train ride on the Transcontinental Railroad, an art studio, and a science lab. The museum focuses on learning through play, so your kids will have both a fun and educational time!
Kids Activities in Lake Tahoe South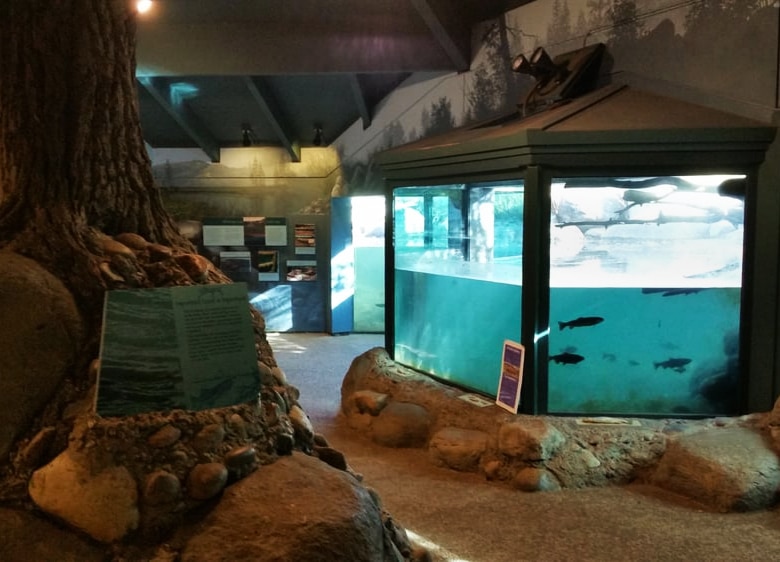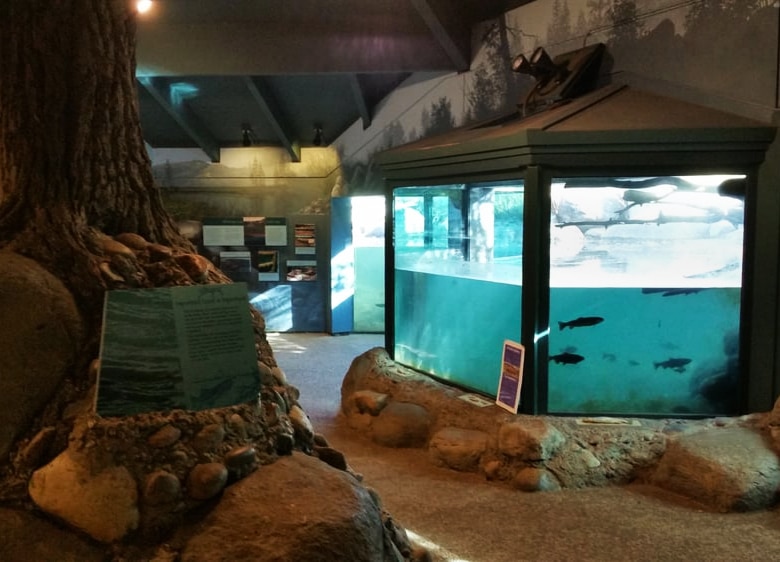 Taylor Creek Visitor Center in South Lake Tahoe is a great way for kids to learn about the local ecosystem. The center has paved walking trails that allow guests to get up close to the local flora and fauna. These stroller-friendly paths wind through Lake Tahoe's diverse landscapes. The center also has an underground aquarium where you can look into Taylor Creek through large glass windows. Kids will love pointing out the different types of underwater creatures that swim by!
For some wintertime fun, head to South Lake Tahoe Ice Arena. This is the area's only Olympic-size rink and offers public skating times for the whole family. Plus, there is black light skating events on the weekends that the kids will love. There are skates available to rent and skating lessons on-site, so beginners will have no problem joining in on the fun. There is also a snack bar, so it's easy to grab a quick bite to eat!
Epic Discovery is one of the most unique activities for kids in Lake Tahoe South. This mountaintop adventure park offers a mountain coaster, zip lines, ropes courses, tubing, and more! To get to the park you take a glass cabin gondola 2.4 miles up the side of a mountain. Not only will you take in incredible views of Lake Tahoe during the gondola ride, but you'll catch scenic views from all over the park. You won't want to miss the Ridge Rider mountain coaster, which twists and turns through the mountain's forests.
Best Activities Everywhere in Lake Tahoe
While some things are best experienced on one side of the lake or the other, there are plenty of Lake Tahoe kids activities all over the area. Lake Tahoe is filled with breathtaking environments, and there's no better way to see them than from a hot air balloon. These special tours are great for the entire family, and will offer you a view you'll never forget. You can also enjoy sleigh rides that will take you all over the forests in the area. Lastly, if you plan to visit in the Summer and have an interest in theatre, there's one last experience you won't want to miss. From July to late August, Sand Harbor State Park hosts the Lake Tahoe Shakespeare Festival. You'll be able to enjoy a classic play (or plays) outdoors. This festival is the perfect way to end your day after exploring the mountains.
Spend The Day on Lake Tahoe With The Kids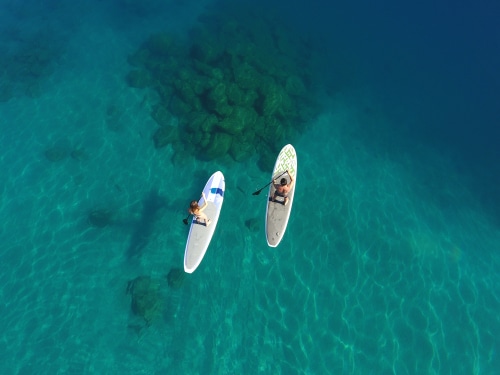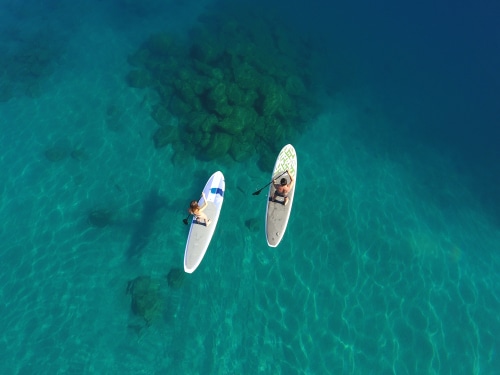 Of course, Lake Tahoe is the perfect spot for a summer day out on the water! When the water is calm, paddle boarding is a great activity for little ones. Paddleboarding can be as relaxed or intense as you want, which is why it's a fun time for the whole family. Kayaking and canoeing are other great ways for kids to enjoy the open water. Since the boats are big enough for multiple people, an adult can paddle while a child enjoys the ride. Alternatively, older kids can paddle their own boats for a fun dose of independent exploration. Speed boat sports, such as water skiing and tubing, are great for older kids as well! Those who prefer a quieter, calmer experience can take a leisurely raft ride and take in the peace of the clear water.
Resorts in Lake Tahoe
While there are plenty of great kids' activities in Lake Tahoe, at the end of the day, you'll need to find a place to stay to enjoy them. Fortunately, we're here to help! Here are some of the best resorts to help you and your family experience these fun activities.
Olympic Village Inn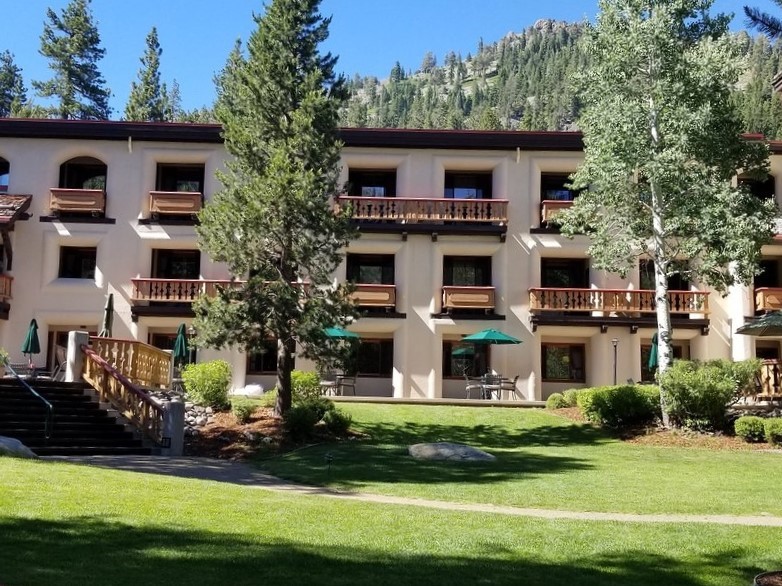 If you'd like to live at a piece of Olympic history, there's nowhere better to go than Olympic Village Inn. This Lake Tahoe resort is home to the site of the 1960 Winter Olympic Games, which were the first to be televised live! Here, you and your family can enjoy world-class skiing. Due to these slopes' legendary reputation, you might think that they're designed for only the best skiers. In reality, there's plenty to enjoy for younger or new skiers too! In fact, 25% of the trails are designed for new skiers. As a result, the slopes are very family-friendly, and you'll be able to hone your skills in a variety of areas. Even in the summer, there's plenty to do here with plenty of hiking trails that are easily accessible from this Lake Tahoe resort.
Learn more: Experience California in Luxury With Olympic Village Inn!
Hyatt High Sierra Lodge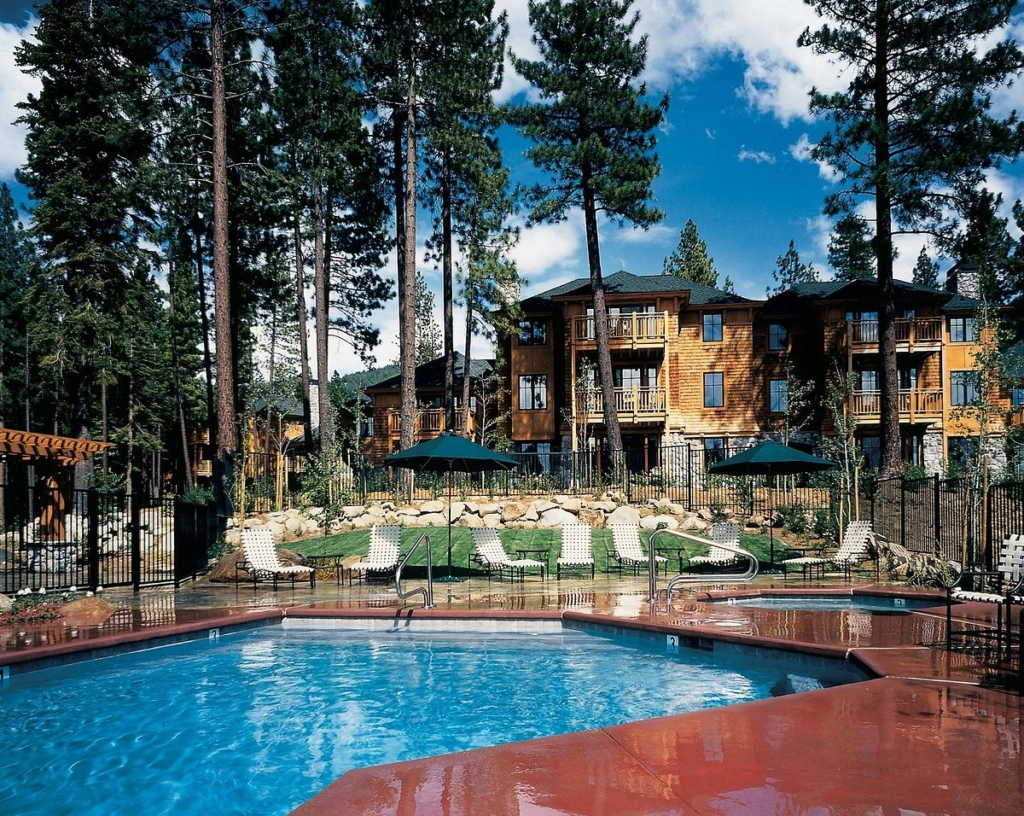 Are you interested in exploring Lake Tahoe? Then you can't go wrong with Hyatt High Sierra Lodge! Located just minutes away from the North Shore, visitors will find themselves surrounded by the natural wonders of the Sierra Nevada. Families will love being close to skiing, horseback riding, local beaches, and top-notch dining. You'll also be able to hike up the nearby mountains from this Lake Tahoe resort. Additionally, you can take a dip in the on-site pool and spa or relax at the clubhouse, which boasts a pool table, barbecue area, and even a fire pit.
Marriott Grand Residence Club, Lake Tahoe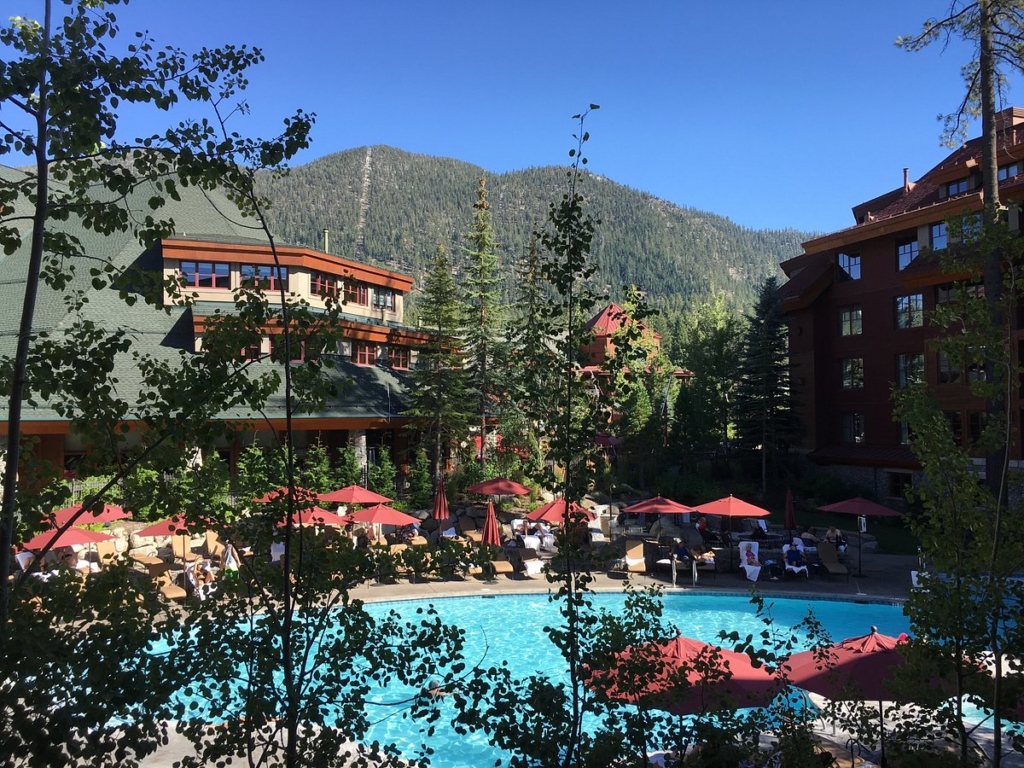 If you'd rather stay near the South Shore, it doesn't get better than Marriott Grand Residence Club, Lake Tahoe. Located in Heavenly Village, the entire family will love the theaters, shops, and restaurants that are within arm's reach. Not to mention, you'll be able to hit the slopes and ski to your heart's content. You'll also be only 14 miles away from Emerald Bay State Park. This park is perfect for plenty of family-friendly activities while getting some fresh air. Of course, there's also plenty of fun for older teens and adults as well with a mountain biking trail and many paths for hiking. If you want a bit of extra luxury, this Heavenly Mountain resort is perfect for you.
Buy a Timeshare in Lake Tahoe
Whether you're visiting a Lake Tahoe resort in summer or winter, you'll be surrounded by fun! If you'd like to unwind in luxury while making a new tradition of traveling to this scenic destination, consider buying a timeshare there. A timeshare is a great way to help you and your family return to your favorite vacation spot year after year, so you'll be able to enjoy these great Lake Tahoe activities again and again. At Fidelity Real Estate, we have listings from plenty of great Lake Tahoe Resorts, alongside other listings from top developers like Hyatt, Marriott, and Westgate. If you have any questions, please give us a call at 1-800-410-8326 or email us at team@fidelityresales.com. Our licensed agents are always happy to help!