When it comes to vacations, sometimes the most important thing you can have is balance. Being close enough to popular attractions for an easy drive but just far enough away that you can get some peace and quiet. If you want to strike that perfect balance between excitement and relaxation, you can't go wrong with Kissimmee, Florida. Just 20 miles from Orlando, this town offers a quick drive to the state's biggest theme parks while still giving you a quiet retreat from all the hustle and bustle. Speaking of retreats, when you're looking for relaxation, it doesn't get better than Silver Lake Resort. From its wide variety of amenities to its luxurious accommodations, this resort gives guests just what they need to unwind. Here's what makes Silver Lake Resort a fantastic home away from home.
Amenities at Silver Lake Resort
Amenities are an important part of any resort. After all, sooner or later, you're going to be spending some time on-site. Fortunately, Silver Lake Resort delivers plenty to enjoy! The resort features three swimming pools for guests to cool off and refresh themselves throughout the day. There's also a fully-equipped fitness center that's ideal for getting a good workout in before setting off for the day. Visitors can melt their stress away with a relaxing soak in the hot tub or unwind in the sauna. Either way, you'll be able to soothe your tired muscles on a rest day after exploring Orlando. Speaking of rest days, what better way is there to relax than watching a movie? Silver Lake Resort is home to a movie theater where you can do just that. Finally, enjoy tennis, shuffleboard, or basketball at the resort's various courts for outdoor fun.
Accommodations at Silver Lake Resort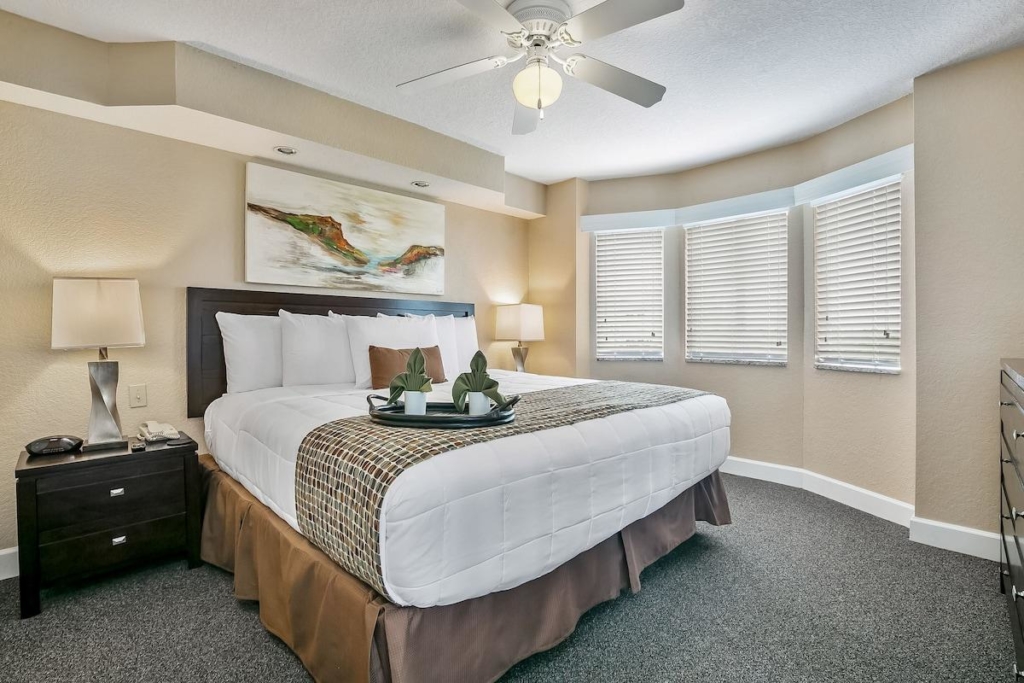 After your adventures outside, it's good to come back to a cozy space to relax. At Silver Lake Resort, guests have their choice of a studio, one, or two-bedroom villa. No matter which you choose, you'll enjoy premium bedding, complimentary Wi-Fi, a full kitchen, and a furnished balcony. The studio comes with a queen-sized bed and queen-sized sofa bed to accommodate four people. Next, the one-bedroom villa features everything found in the studio, along with a king-sized bed to house four guests. Finally, the two-bedroom villa boasts a king-sized bed, queen-sized bed, and queen-sized sofa bed. Overall, this villa can accommodate up to eight guests. As a bonus, the two-bedroom villa also comes with a spa tub!
Things to Do Near Silver Lake Resort
As we mentioned before, there are plenty of things to do near Silver Lake Resort. Here are just a few of the exciting attractions nearby.
Disney World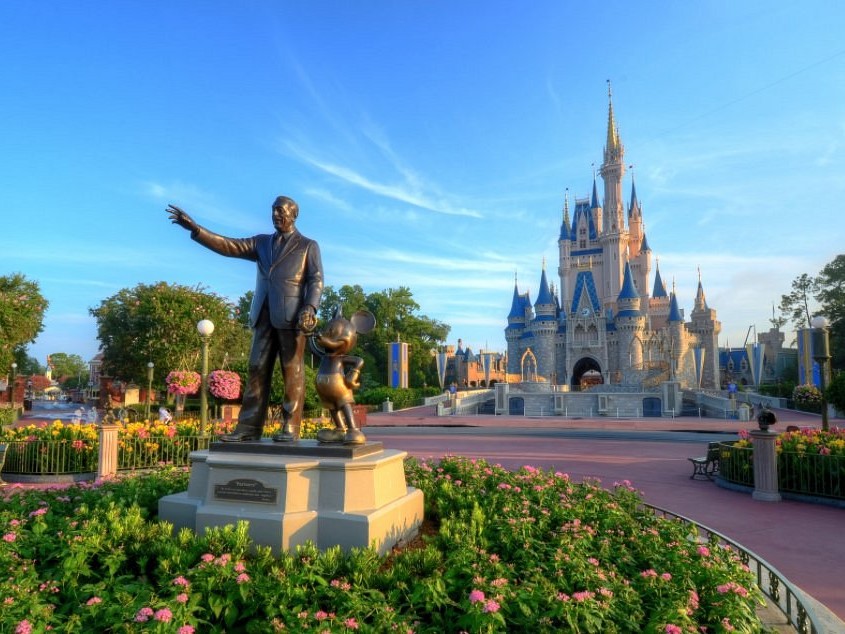 If you're going to Orlando, you're probably going to Disney World. It's the largest amusement park in the world, so it's safe to say there's something to enjoy there for everyone. Magic Kingdom offers visitors the "classic" Disney experience with iconic attractions like Space Mountain, the Haunted Mansion, and Pirates of the Caribbean. Meanwhile, Epcot has more of an international flair, with its attractions taking visitors on a tour of the world. Epcot is also the site of many different seasonal fairs, so keep an eye out for anything special happening there when you go. Animal Kingdom is a must-see for any animal lovers, as it features incredible creatures from all over the planet. Plus, this park is home to the world of Pandora from Avatar and the iconic Expedition Everest. Finally, Disney's Hollywood Studios feature some of Disney's biggest film hits, like Star Wars and Toy Story.
Universal Studios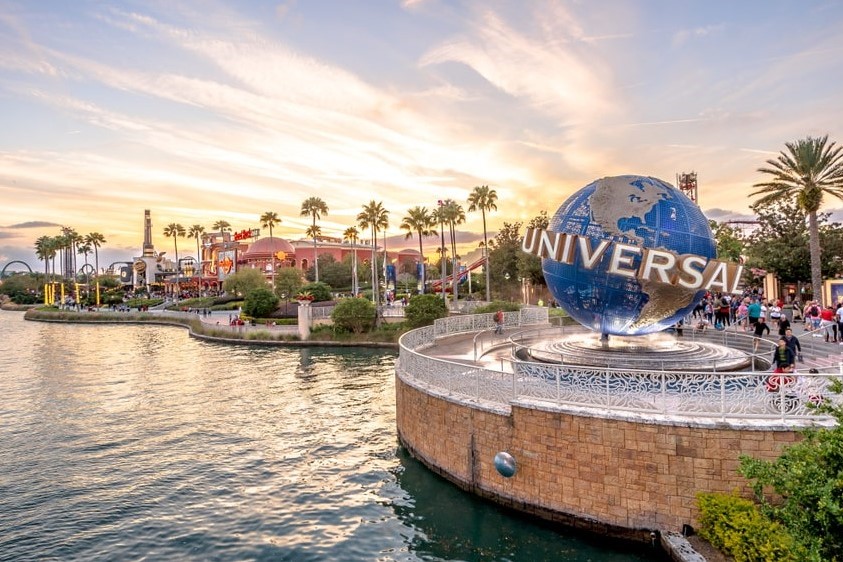 Universal Studios features three (soon to be four) parks. The original Universal Studios is home to plenty of attractions themed after beloved tv shows and movies like Despicable Me, The Simpsons, Transformers, and more! Universal Studios is also home to Diagon Alley, which hosts half of the Harry Potter attractions found at Universal. Islands of Adventure is even more action-packed, with thrill rides like The Incredible Hulk Coaster, Jurassic World Velocicoaster, and Doctor Doom's Fearfall. This park also has a number of Harry Potter rides, like Hagrid's Magical Creatures Motorbike Adventure. Finally, despite its name, Volcano Bay is the perfect place to cool off. This water park has massive waterslides, a winding river, and even a whitewater ride that takes you through the heart of a volcano. Universal is just a little over 15 miles from Silver Lake Resort, so you'll enjoy an easy ride there.
Learn more: Best Orlando Theme Parks That Aren't Disney
Old Town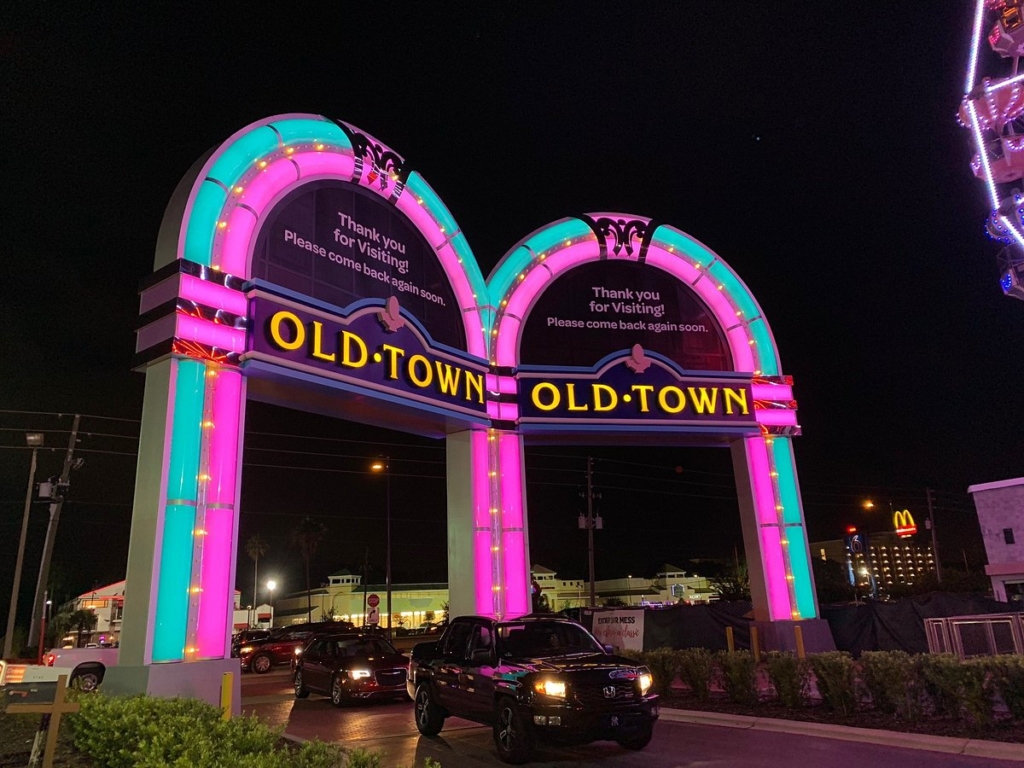 While the parks in Orlando are great, there are plenty of things to enjoy in Kissimmee itself. Old Town is probably the best example of this. Located just five miles from Silver Lake Resort, Old Town is a family-friendly entertainment district. When you visit Old Town, you'll feel like you've traveled back in time thanks to its classic attractions like a carousel, Ferris wheel, and hurricane roller coaster. If you want souvenirs for your trip, Old Town is a great place to get some. Old Town Leather features high-quality leather goods, the Extreme Woodcrafts Gift Shop sells hand-carved wood wares, and Wound N' Around has plenty of 1950s memorabilia. The town even has delicious food! Enjoy brick oven pizza at Flippers Pizzeria, a variety of sushi at Mr. Sushi, and legendary hot dogs at Nathan's Famous.
Buy a Timeshare at Silver Lake Resort
Whether you want peace and quiet or unforgettable excitement, Silver Lake Resort is here for you! This resort offers both comfort and ease of access to great entertainment. Tons of amenities, spacious accommodations, and a fantastic location. What's not to love? If you want to visit Silver Lake year after year, consider buying a timeshare there. Timeshares are a great way to go back to a destination you love year after year. If you'd like to make visiting Florida a yearly tradition, then this is a great option for you. Our marketplace features plenty of great resorts from brands like Westgate, Marriott, and Hilton Grand Vacations, so there's bound to be a timeshare you'll love. Want to get started? Then give us a call at 1-800-410-8326 or email us at team@fidelityresales.com. Our licensed agents are always happy to help!