With the upcoming roll-out of our updated website, we're happy to introduce Live Chat. This feature is currently running and will be an integral part of enhancing our customer service experience.
Frequently Asked Questions
We understand the timeshare resale process can feel daunting. That's why you'll have live support to answer all of your questions. You'll have access to expert help anywhere on the site during our Live Chat hours.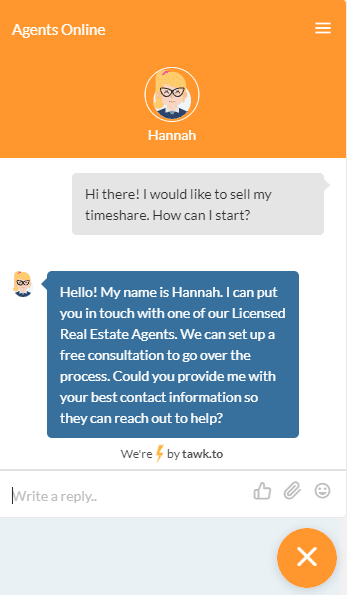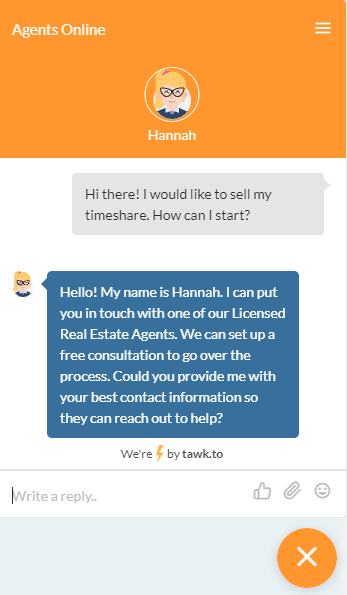 As we continue to improve our online experience for our customers, we are always open to comments, suggestions and concerns. We are here for you, to make the timeshare resale process simple, safe and successful.
If you have questions about a listing, brand or anything in between, we're here to listen and help. By getting in touch with us, we can direct you to the best course of action to help you succeed. Not to mention, listing with us is always free and all our agents are Licensed Real Estate Agents who specialize in resales.
Live Chat Hours
Our live support specialists are available Monday through Friday from 8 am to 4:30 pm. For us to best support you, enter your name and your best form of contact. That way we can quickly direct you to the right agent or resource.
What If I Ask A Question After Hours?
If you need to ask a question after hours on Monday through Thursday, you'll hear back from us the next business day. If you send a question on Friday after hours or over the weekend, we'll get back to you on Monday when we open.
Can I Make An Offer Via Live Chat?
If you'd like to make an offer on a listing, you can do so by simply filling out the form on the listings page. Our specialists are available to answer any questions you have regarding making an offer!
Learn How To Buy A Timeshare From Fidelity
Is The Live Chat A Real Person?
Yes! Whenever you contact us on our live chat, you will be connected with someone from our team in real-time. All of our specialists are experts in timeshare resale and if there is a question we can't answer immediately, we will do the digging and get you the resources you need.
Ready to Get Started?
We are a Licensed Real Estate Brokerage that specializes in timeshare resales. We have been in business for over 20 years and take pride in our leadership. With the upcoming launch of our new website, we strive to fortify our position as the largest and best timeshare resale company in the industry. For more information call 1-800-410-8326 or email team@fidelityresales.com, or send us a message on the new Live Chat!