If you love Disney and find yourself wanting to visit the theme parks often, there's no better resort brand than Disney Vacation Club. With 15 resorts around the United States, each with a sparkle of Disney magic, DVC members enjoy luxurious stays with plenty of amenities and easy access to those beloved parks. While the resorts themselves are great, this points-based vacation club is more than just timeshare vacations. Dining, shopping, and park perks make DVC member benefits some of the best. Interested in becoming a member? Then here are ten of the perks you should be sure to take advantage of.
Benefits of Joining Disney Vacation Club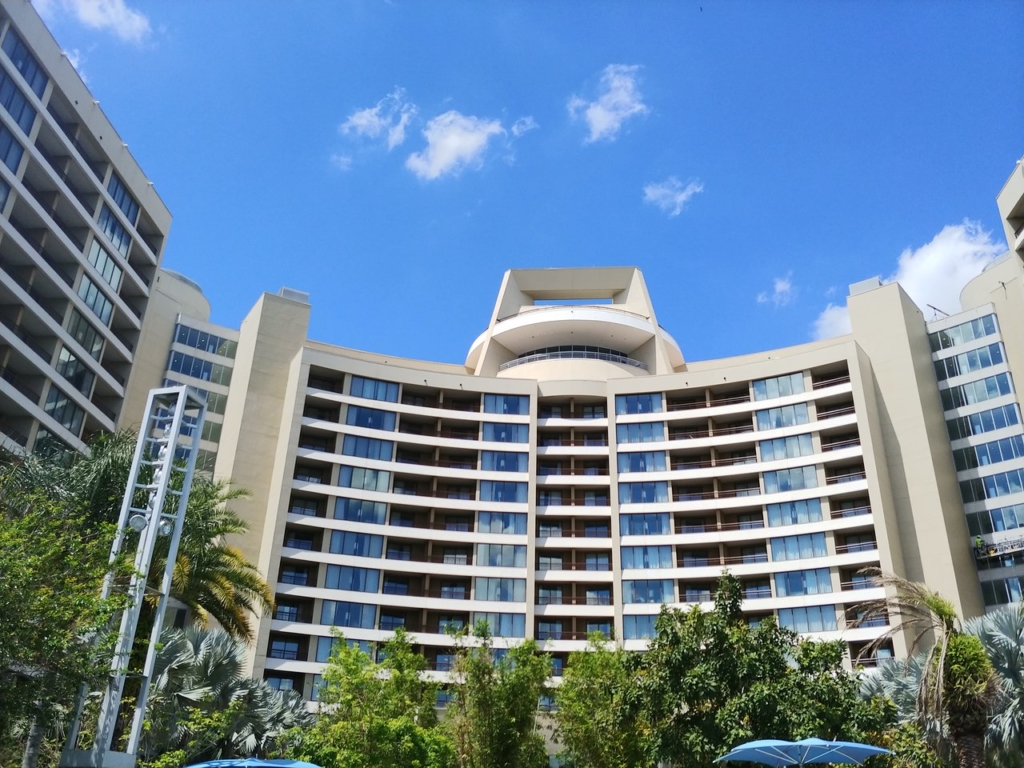 If you're considering buying DVC points, be ready for exceptional resorts and vacations at their top destinations. Currently, there are fifteen DVC resorts in the United States. Disney Vacation Club gives owners an annual allotment of points that can be banked, borrowed, and spent at any of their properties. While your DVC Home resort gives you priority booking access, you can use your Bay Lake Tower points for a stay at Aulani instead, for example. One of the main benefits of Disney Vacation Club is flexibility and freedom. Every resort has its own unique "personality" and charm, and you can experience them all. But, besides the basics of vacation ownership, DVC Member benefits expand outside of just your vacations! Let's take a look at all of the Disney Vacation Club benefits that make DVC so great.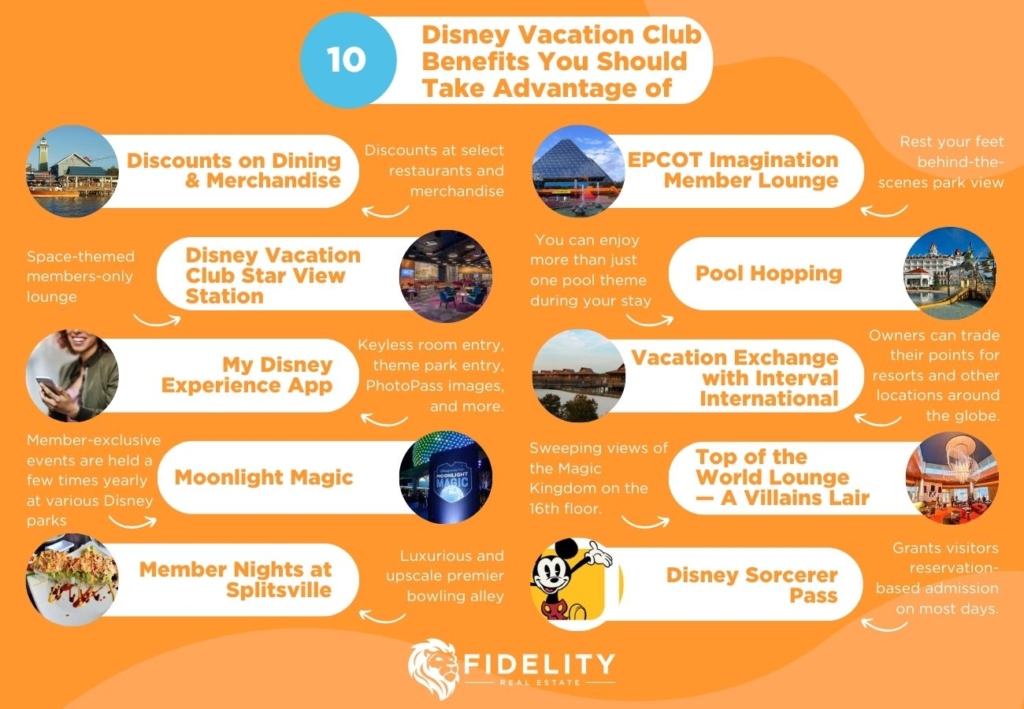 A List of Disney Vacation Club Member Benefits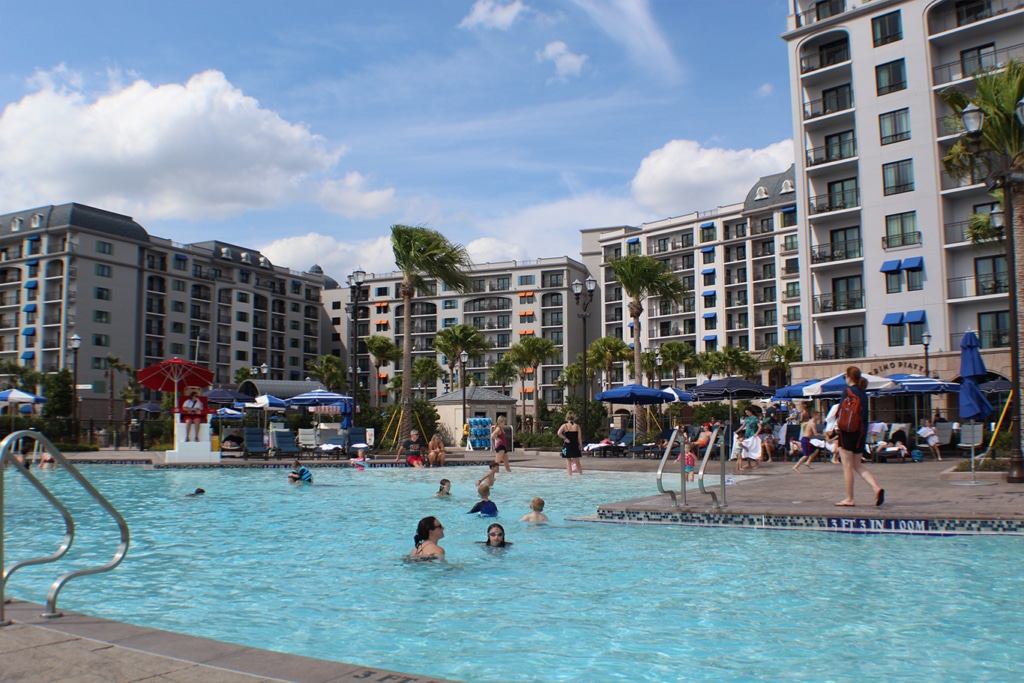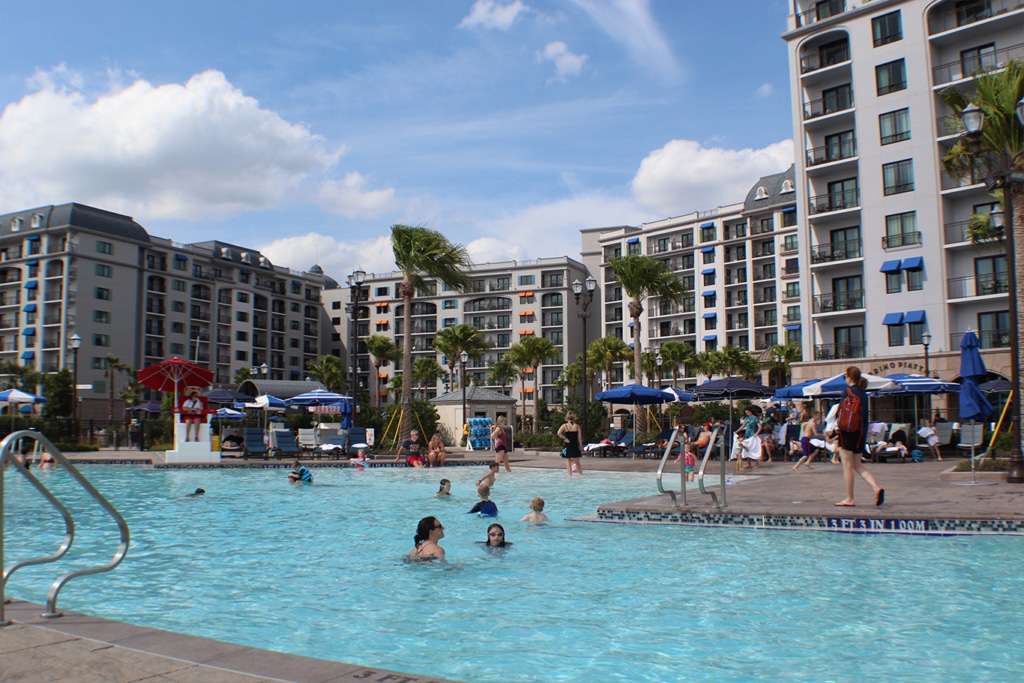 Please note: Disney Vacation Club benefits are subject to change at any time. Please use this guide as a reference for the possibilities of DVC Member benefits!
1. DVC Member Discounts on Dining & Merchandise
Disney Vacation Club benefits include discounts at select restaurants and merchandise shops on Disney properties. When you show your DVC Blue Membership ID card at almost any Walt Disney World restaurant, cafe, or merchandise store on the property, you can get up to 10-20% off your purchase. Disney Vacation Club owners receive a Blue Membership card when they purchase up to 150 DVC points directly from Disney Vacation Club. One of the best Disney Vacation Club benefits (besides owning!) is the discounts on eating at some of the most popular restaurants. When you visit a DVC resort in Orlando, Disney Springs is especially great for redeeming this incredible perk. Just remember to have your membership card handy because these discounts are exclusively for DVC members.
Park Savers is an excellent source for finding discounts at Disney. They're dedicated to giving you the very best deals online, focusing on savings, customer service, and insider tips. Visit Park Savers to stay up to date on the latest news on discounts at the parks.
2. EPCOT Imagination Member Lounge
Unwind while you're at EPCOT in the Imagination Member Lounge, located in the Imagination! Pavilion. Rest your feet and check out the excellent behind-the-scenes park view, where only DVC members are allowed in! Open daily from 11 AM to 6 PM, enjoy complimentary soft drinks, wifi, and charging stations for your devices. A DVC Membership Card and valid photo ID are required to enter the lounge, as well as theme park admission and reservations.
4. Disney Vacation Club Star View Station
If you're a DVC member visiting Disneyland in California, you can relax in style at Disney Vacation Club Star View Station. This space-themed members-only lounge is set to open in early 2023. The lounge will be located in Disneyland's Tomorrowland, on the second floor of the Star Wars: Launch Bay building. DVC owners with a valid Membership Card, ID, park admission, and park reservation will be able to enjoy this out-of-this-world lounge daily.
4. Pool Hopping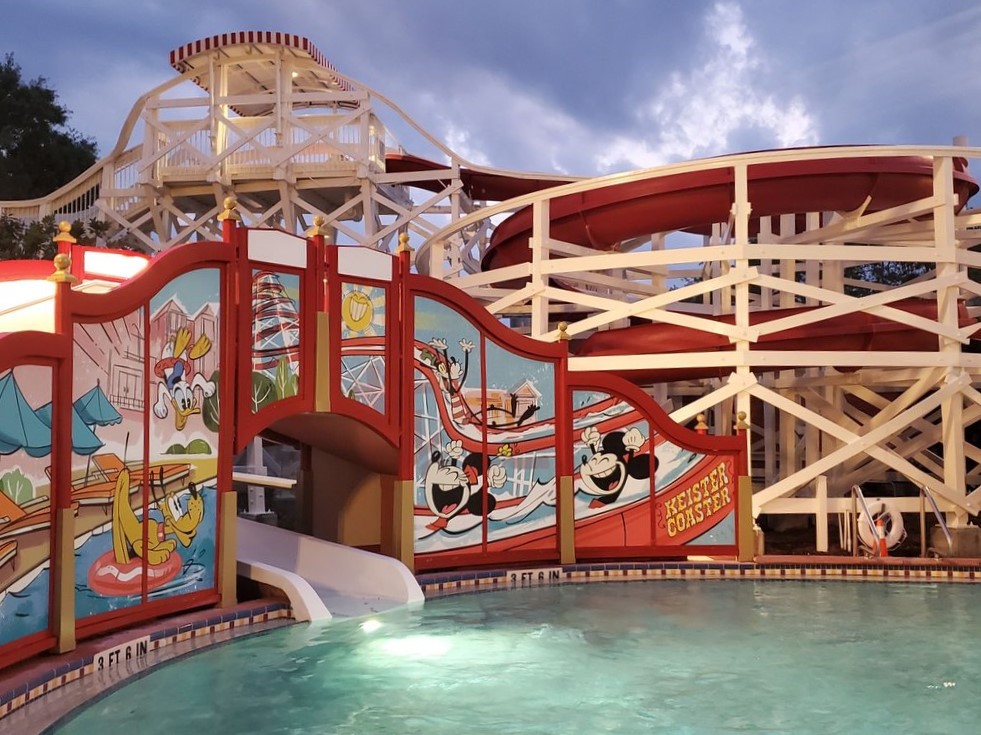 A favorite DVC member benefit includes pool hopping at select DVC resorts and hotels. Every DVC resort has its own themed pool with water features and poolside cafes—but you can enjoy more than just one during your stay! While visiting an Orlando DVC resort, make sure to check out the other pools for a fun-filled day. Keep in mind that some DVC resort pools do not allow pool-hopping guests. You can check in with the resort host/hostess at check-in to inquire before heading to an off-limits pool. Blockout dates do apply, and if the pool reaches capacity, you may be asked to make room for resort guests.
The following pools do not allow pool hopping at any time:
Bay Cove Pool at Bay Lake Tower
Disney's Art of Animation Resort pools
Leisure pool at Disney's Beach Club Villas
Disney's Grand Floridian pools
The Lava Pool and leisure pool at the Polynesian
The Riviera Pool and Beau Soleil Pool at the Riviera Resort
Boulder Ridge Cove Pool and Copper Creek Springs Pool at the Wilderness Lodge
Stormalong Bay at Disney's Beach Club
5. My Disney Experience App
Use the My Disney Experience app for keyless room entry, theme park entry, PhotoPass images, and more. MagicBands are no longer complimentary for Disney resort guests. Guests are encouraged to use the My Disney Experience app if they do not want to purchase a MagicBand. With the My Disney Experience app, you will have keyless entry into your hotel room or villa. Plus, your theme park entry tickets can be connected to the app. Access to Disney PhotoPass, Genie+, dining reservations, and more are all within the app. Of course, DVC guests are still welcome to purchase and use a MagicBand, but they will no longer be complimentary with reservations. Guests can also connect future reservations to MagicBands they already own.
6. Vacation Exchange with Interval International
A huge benefit that DVC members can participate in is the ability to exchange through Interval International. DVC recently announced they were switching from RCI to Interval International. With Interval International, DVC owners can trade their points for resorts and destinations around the globe. II is one of the largest vacation exchange programs for timeshare owners, giving you additional freedom and flexibility to travel whenever and wherever you want. Resort brands that are affiliated with Interval International include Marriott Vacation Club and Hyatt Residence Club, among others.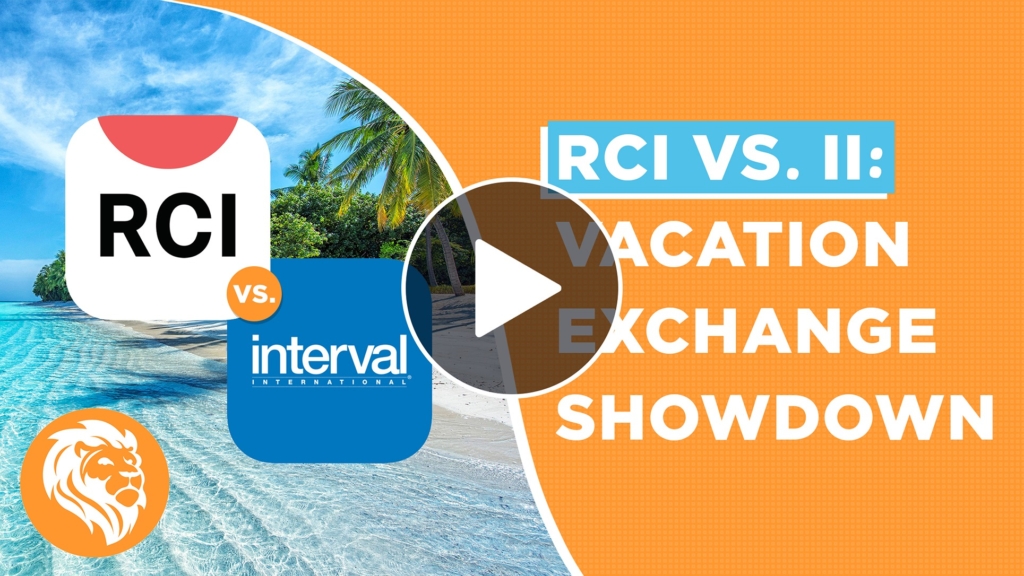 If you'd like to know more about Interval International, take a look at our video, "RCI vs Interval International: Vacation Exchange Showdown."
7. Moonlight Magic
Moonlight Magic is one of the most anticipated events for every DVC owner's vacation. These free DVC member-exclusive events are held a few times yearly at various Disney parks. Members can enjoy shorter than usual wait times, complimentary beverages and snacks, character meet & greets, as well as fun dance parties. Keep in mind that these events require valid Membership Cards.
8. Top of the World Lounge — A Villains Lair
There's no view of the Walt Disney World Resort quite like the Top of the World Lounge—A Villains Lair. Located atop Bay Lake Tower at Disney's Contemporary Resort, this newly-renovated Members Only lounge gives visitors sweeping views of the Magic Kingdom on the 16th floor. Space is limited and is based on a first-come, first-serve basis. What's more, the Top of the World Lounge is now themed to pay homage to your favorite Disney Villains. The lounge has a menu of wickedly delicious cocktails and light bites to eat while you enjoy the incredible scenery. Make sure to get in early if you want to see the fireworks from the "top of the world."
9. Member Nights at Splitsville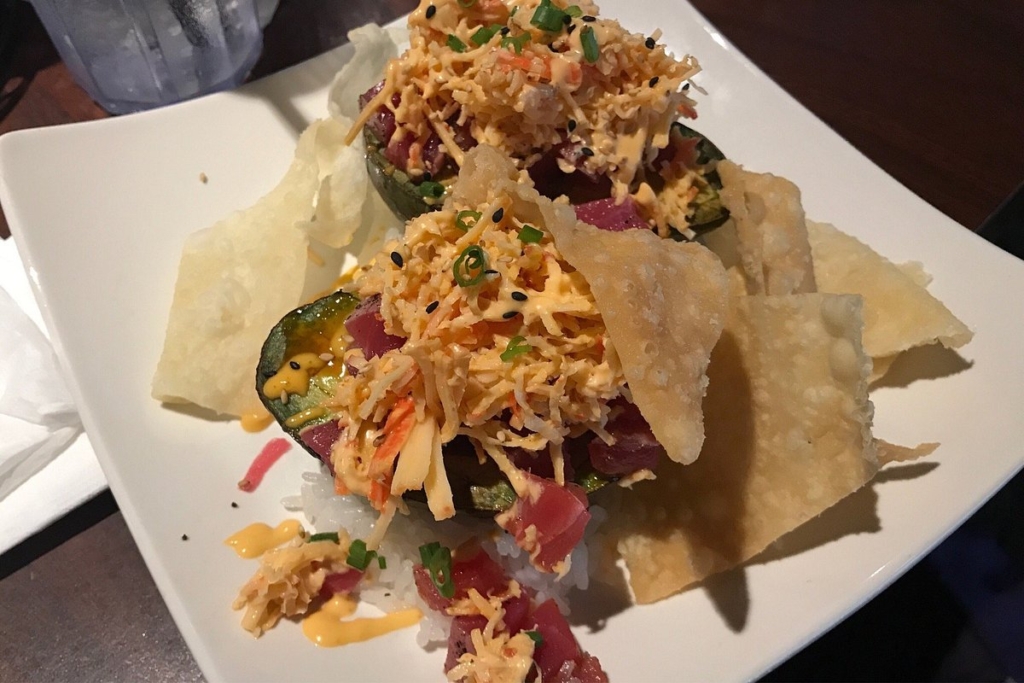 If you haven't been to Splitsville yet on your Orlando DVC vacation, you're missing out on a unique family experience! Splitsville is no ordinary bowling alley. This luxurious and upscale premier bowling alley has an extensive food and beverage menu with your own waiter or waitress while you knock down some pins! Spanning two floors and 30 bowling lanes, DVC owners can come in for the exclusive Members Night. Bypass general entrance queues and enjoy 1.5 hours of bowling time, as well as a shared appetizer, select entree, and a special gift. Reservations are required and are available on a first-come, first-served basis for this paid event. If you're an avid bowler, you won't want to miss this DVC member benefit.
10. Disney Sorcerer Pass
You'll feel like a wizard with our final Disney Vacation Club benefit. Disney members are able to purchase the Disney Sorcerer Pass, which grants visitors reservation-based admission on most days. What makes the Sorcerer Pass stand out is the fact that it's the only Disney Pass of its kind that non-Florida residents can access at all. As a result, if you want to experience the magic of Disney multiple times a year, the best way to do it is through the Disney Sorcerer Pass.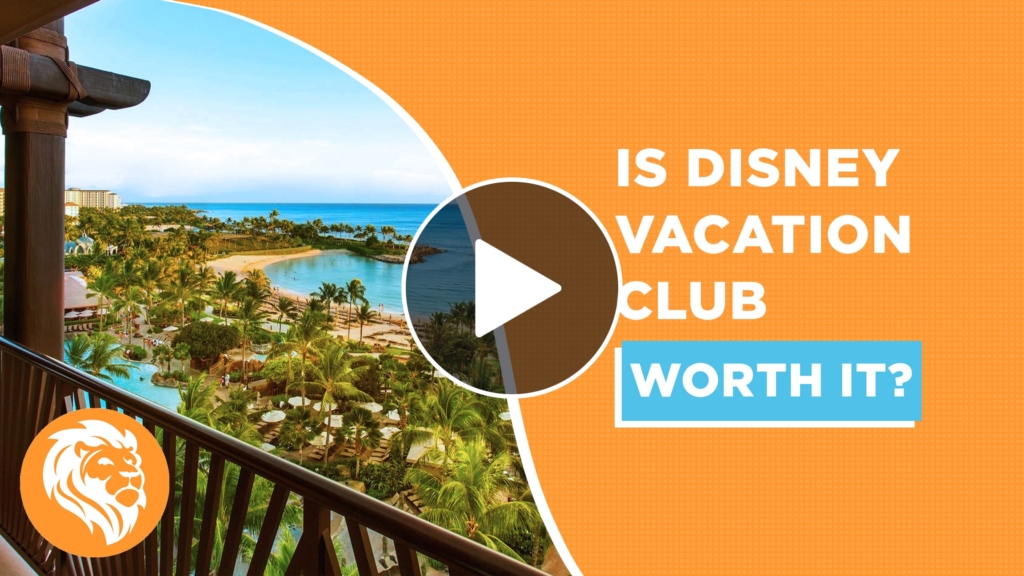 Still on the fence about Disney Vacation Club? Then check out our video, "Is Disney Vacation Club Worth it?" We cover everything you need to know about the brand, from beloved resorts to the benefits of ownership.
Do DVC Resales Get the Same Disney Vacation Club Benefits?
Now that you learned all about the perks of joining DVC it is probably easy to see why this is one of the best timeshare companies as well as the best vacation clubs. But, when you buy directly from Disney there is a steep price tag. Buying DVC resale can save you hundreds of dollars on DVC points for sale. However, there are certain DVC resale restrictions in place that you must know if you are considering buying DVC points from the secondary market. Make sure to understand these limitations before purchasing, and remember that restrictions are subject to change. Many DVC owners will also combine their points purchased directly from DVC with DVC resales to experience all of the perks and benefits while also adding onto their ownership at a cheaper rate.
Learn More: What You Need to Know About Buying DVC Resale vs. Retail!
Get the Most Out of Disney Vacation Club Benefits, Exclusive to Members
It's no secret that DVC's cost per point is on the pricier end. So it's especially important to take advantage of all the additional perks you receive as an owner! Make the most of your Disney Vacation Club benefits every year so you don't miss out on once-in-a-lifetime experiences and memories. If you'd like to buy a DVC timeshare on the resale market, then check out our marketplace! We have plenty of great Disney Vacation Club listings to help you save on vacation ownership, or add DVC points to your existing membership! Make sure you are aware of which DVC Use Year you want before buying. If you have any questions, feel free to give us a call at 1-800-410-8326 or email us at team@fidelityresales.com. Our licensed agents are always happy to help!