When you think of Disney vacations, what's the first thing that comes to mind? Is it a big trip with kids and the whole family? These kinds of trips are great, but there's more to Disney than meets the eye. While it's true that kids love Disney, there's plenty to do for adults too! In fact, lots of the DVC resorts on Disney's various properties have a ton of amenities and activities for adults to enjoy. From spa services to unique bars, Disney resorts have a lot to offer. If you've been looking to take a trip to a Disney resort, whether it's in Orlando, Hawaii, or California, you've come to the right place. Here are our top picks for the best Disney Vacation Club resorts for adults!
Disney's BoardWalk Resort – Best Adult's Night Out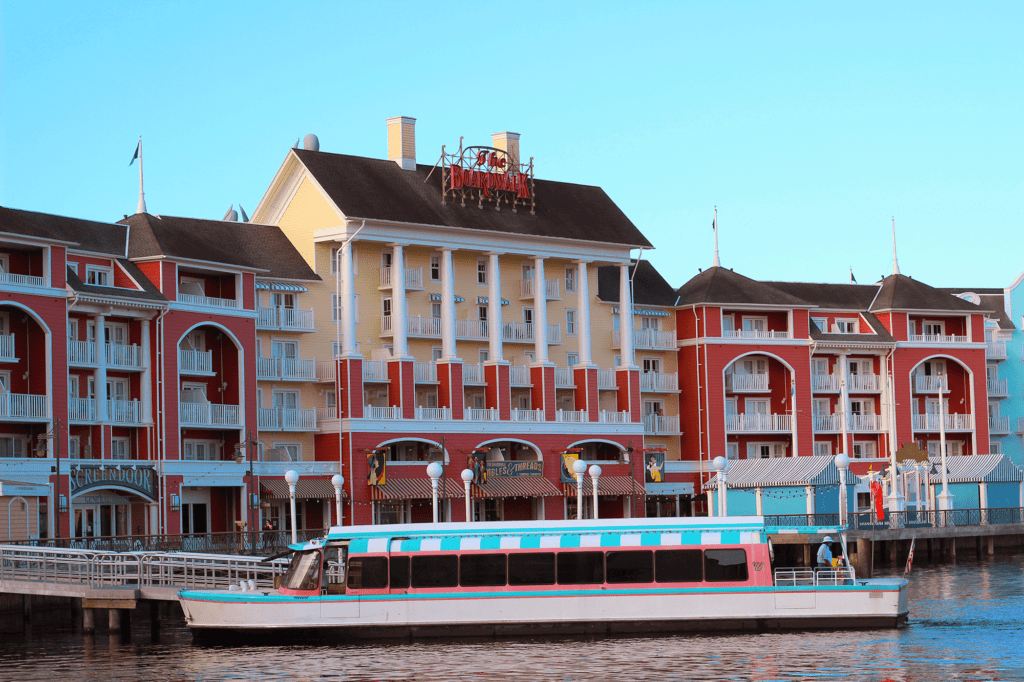 To us, Disney's BoardWalk Villas seems like an obvious choice for one of the best resorts for adults who love a night out. This DVC resort has the best selection of on-site bars and lounges of any resort on Walt Disney World property! A crowd favorite is the dueling piano bar, Jellyrolls, where the fun lasts way past park hours. Whether you're looking for a cold beer or want to belt out your favorite Disney tune, this is the spot for you! Another fun spot for adults at the Boardwalk Resort is Abracadabar. This cocktail bar is inspired by the Boardwalk magicians of the 1940s. Abracadabar serves up enchanting elixirs, some of which come with a little extra magic performed by the bartenders.
This Disney Resort in Orlando is one of the resorts that are within walking distance of Epcot's World Showcase. Whether you're a foodie or are looking to try a new drink from a different culture, Epcot is the spot for you! Epcot thrives during the many festivals that are put on throughout the year. One of the most popular festivals is Food & Wine, where guests get the chance to try delicacies from even more countries around the globe. So, if you've spent your night "drinking around the world," your comfy bed won't be too far away. Epcot is one of the most fun Disney parks for adults, which is why Disney BoardWalk is so popular!
Learn more: Can't Miss Restaurants at BoardWalk Disney!
Disney's Grand Floridian Resort & Spa – Most Romantic Spot For Adults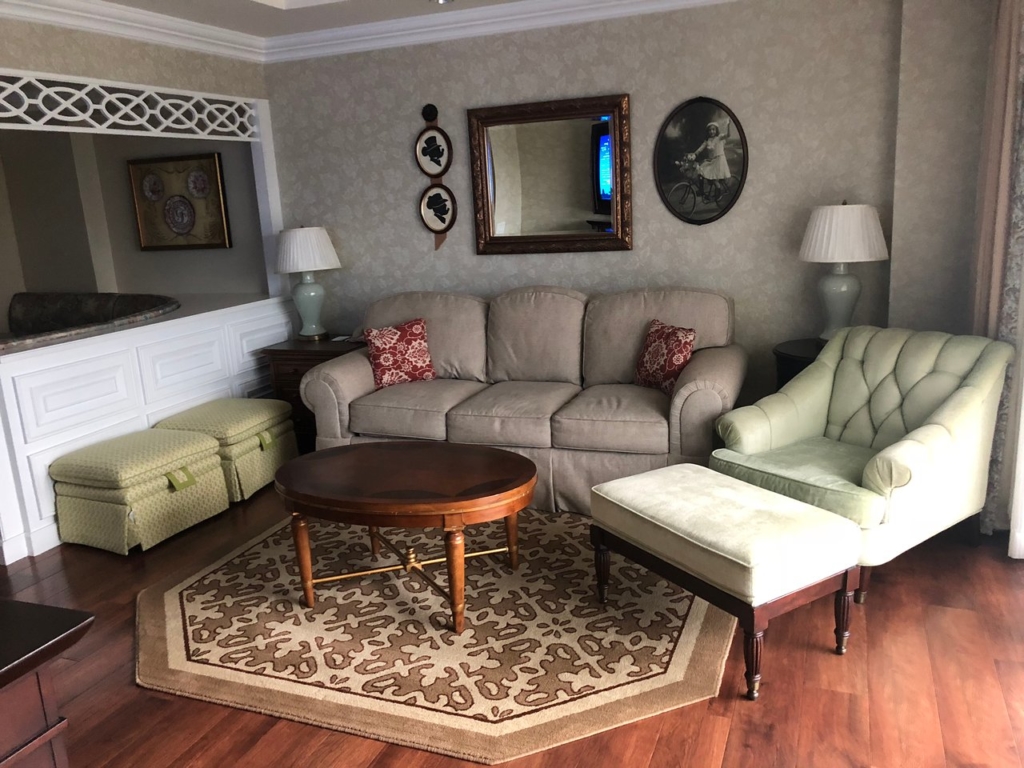 As soon as you arrive at Disney's Grand Floridan Resort & Spa, you'll see why we think it's one of the most romantic Disney resorts. Inspired by the Victorian-era beach resorts of the late 1800s, this Disney resort in Orlando feels like an escape from the real world. This is why it's one of the best Disney resorts for adults! You can just relax and spend your whole trip relaxing with your loved one.
Disney's Grand Floridian is home to one of the most exclusive restaurants in Florida, Victoria and Albert's. This AAA five-diamond restaurant is the perfect place to celebrate a special occasion or to have a super-luxe date night. This restaurant offers multi-course meals that are personalized to each guest. The restaurant only seats a handful of guests each night, so be sure to make your reservations well in advance! Another romantic spot for a date at the Grand Floridian is The Enchanted Rose. This cocktail lounge is inspired by the romance of Disney's Beauty and The Beast. Here you'll find signature cocktails inspired by the film and delicious small plates. Enjoy your evening under the golden glow of a beautiful chandelier.
Of course, if we're talking about romance, we must mention the Disney Wedding Pavilion! This stunning wedding venue is right on the shores of Seven Seas Lagoon and offers amazing views of Cinderella's Castle. The Grand Floridian the popular choice for newlyweds at Disney, which makes it one of the best romantic resorts for adults!
Disney's Riviera Resort – Most Stylish Spot for Adults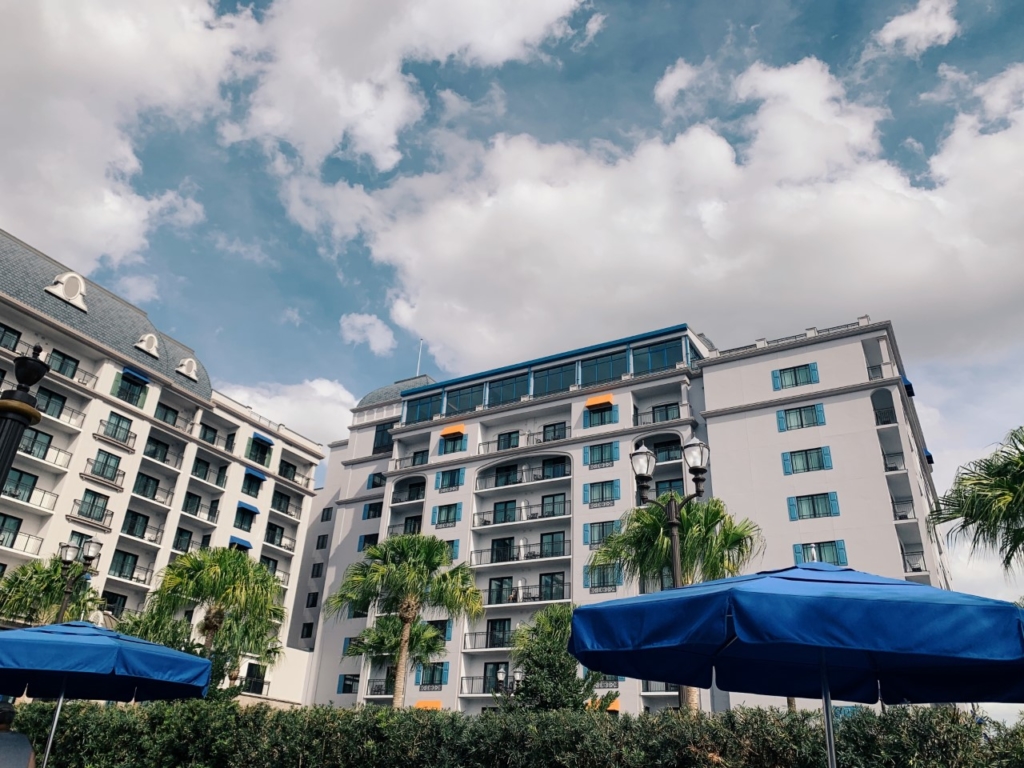 No adult wants to stay somewhere with drab decor or a bland atmosphere. While all of the best Disney resorts for adults excel in this area, Disney's Riviera Resort stands out especially well. Inspired by Europe, this Disney resort in Orlando greets you with grand archways and terraces that draw on the influences of the Mediterranean. Inside, you'll discover a unique art collection celebrating beloved Disney icons. As you step outside, you'll find beautiful gardens, bubbling fountains, and a serene waterfront. Perfect for a scenic stroll with your significant other!
Much like the rest of Disney's resorts in Orlando, the dining does not disappoint! Topolino's Terrace offers rooftop breakfast and dinner inspired by Europe's cliffside restaurants. Plus, you'll be a short stroll away from Disney's Skyliners when staying at Disney's Riviera Resort. This system of floating gondolas will take you on a sky-high cruise around Disney World, and they're a great way to reach Disney's Hollywood Studios.
Disney's Aulani Resort & Spa – Best Place For Adults To Relax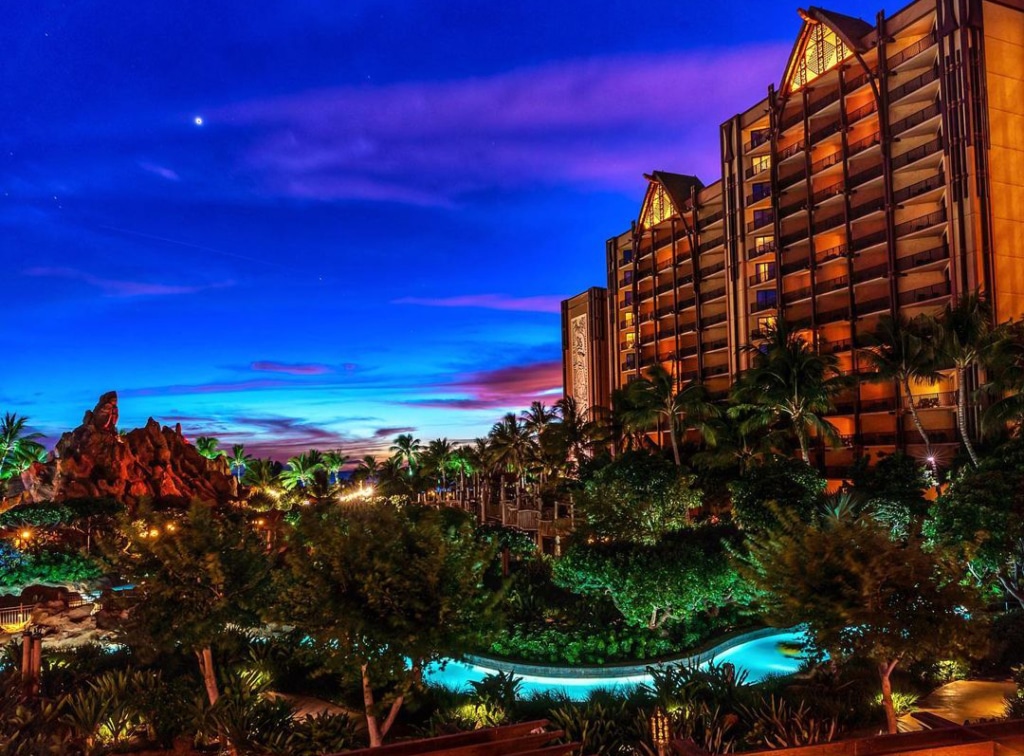 Hawaii is the perfect vacation destination for adults looking for a tranquil escape, so of course, Disney's Aulani Resort & Spa is a popular choice. This Disney Hawaii resort is definitely popular with families, but there are a lot of special amenities at Aulani just for adults. It's one of the best Disney resorts for adults looking to fully relax and be pampered while on vacation.
Aulani is on the beautiful island of Oahu, so of course, one of the best features of the resort is the beach! The golden sands of Ko Olina Lagoon are the perfect spot to spend a whole day of complete bliss. Whether you're just soaking up some sun or watching a stunning sunset, your worries will simply melt away. If your idea of total relaxation includes a round of golf, you're in luck! Aulani is right next door to Ko Olina Golf Club, a championship 18-hole course. The course's clubhouse also has plenty of amenities to help you unwind, like steam rooms and jacuzzis.
For an even more relaxing experience, Aulani is home to one of the best spas of any Disney resort property. Laniwai is a full-service spa and salon where you'll find a vast selection of amazing services. They offer massages, facials, exfoliation treatments, and even couples treatment packages. Guests can also treat themselves to a manicure or pedicure, so they can look fresh all vacation long. Aulani Resort & Spa is a little slice of paradise!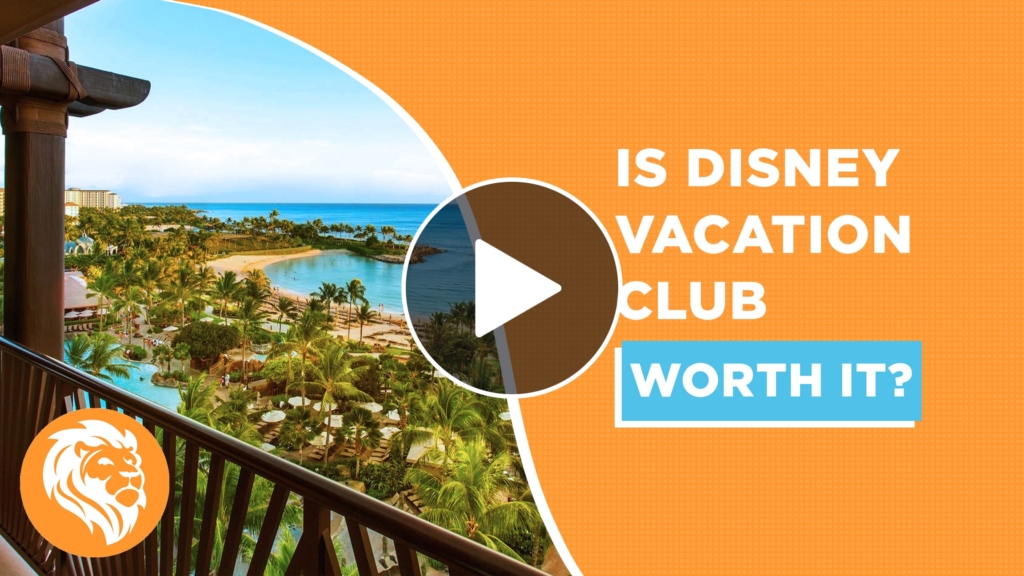 Honorable Mentions
Lots of Disney resorts can be great for adult-only trips! Some of the other resorts that have amenities that we think adults will enjoy are Disney's Polynesian Village Resort and Disney's Grand Californian Hotel & Spa.
Disney's Polynesian Village & Bungalows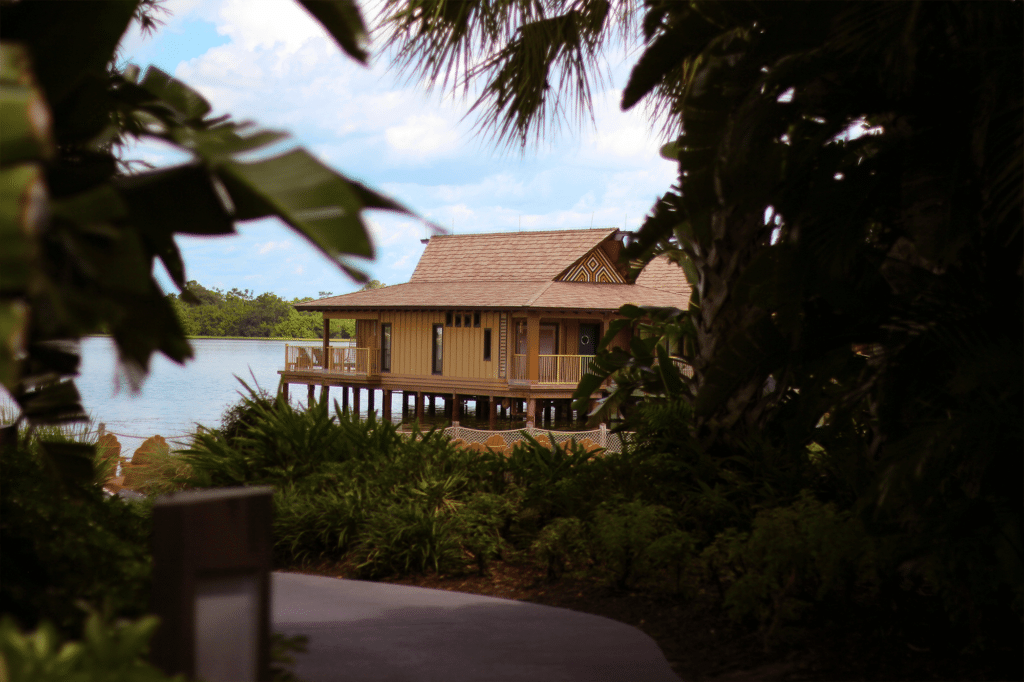 Disney's Polynesian Resort is special in so many ways. For starters, it offers a sense of escapism that no other resort on Walt Disney World property has. The lush greenery and white sand beach make guests feel like they're on a tropical vacation, all without leaving WDW property! The resort's private bungalows offer guests a peaceful residence atop the sparkling waters of the Seven Seas Lagoon. Those bungalows even have private plunge pools, which is the perfect spot for adults to watch Magic Kingdom's fireworks with a glass of wine in hand.
Obviously, if we're talking about why adults love the Polynesian Resort, we have to mention Trader Sam's! Trader Sam's Grog Grotto and Tiki Bar is one of the most popular bars on Disney property. The bar has a unique collection of vintage tropical decor, and some of the specialty tiki drinks come in funky glasses. Of course, you're still at Disney, so there are some magical effects that come along with some of the drinks. Some drinks cause a tropical storm to take over the bar, while others will set off the volcano right outside the bar's window. Trader Sam's is definitely a can't-miss stop for adults at Disney!
Learn more: DVC Resorts Ranked: Fidelity's Top Picks!
Disney's Grand Californian Hotel & Spa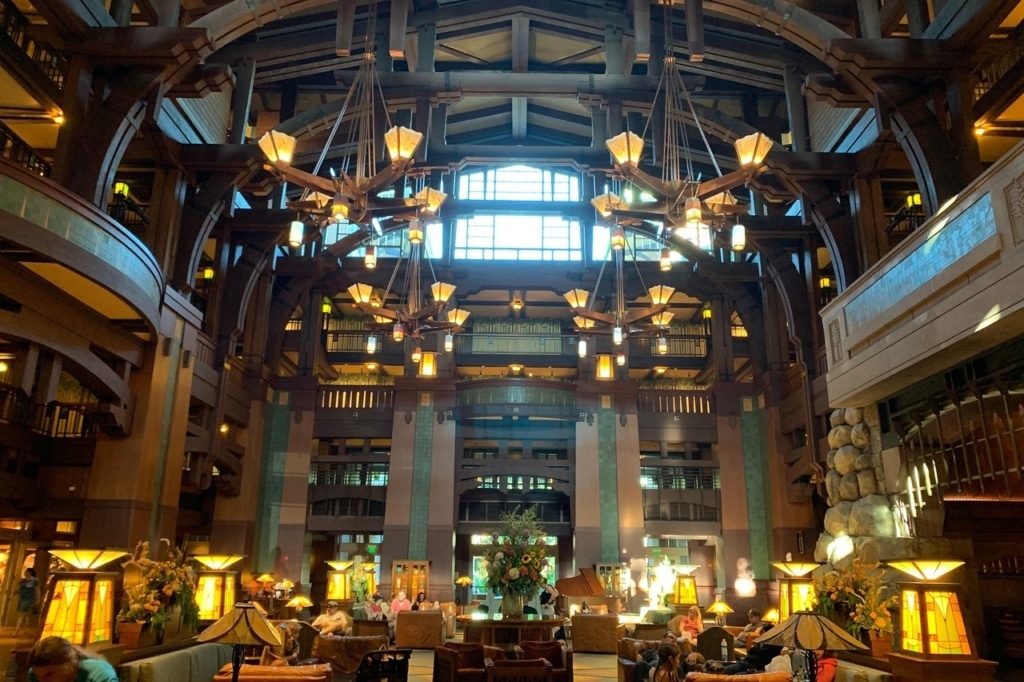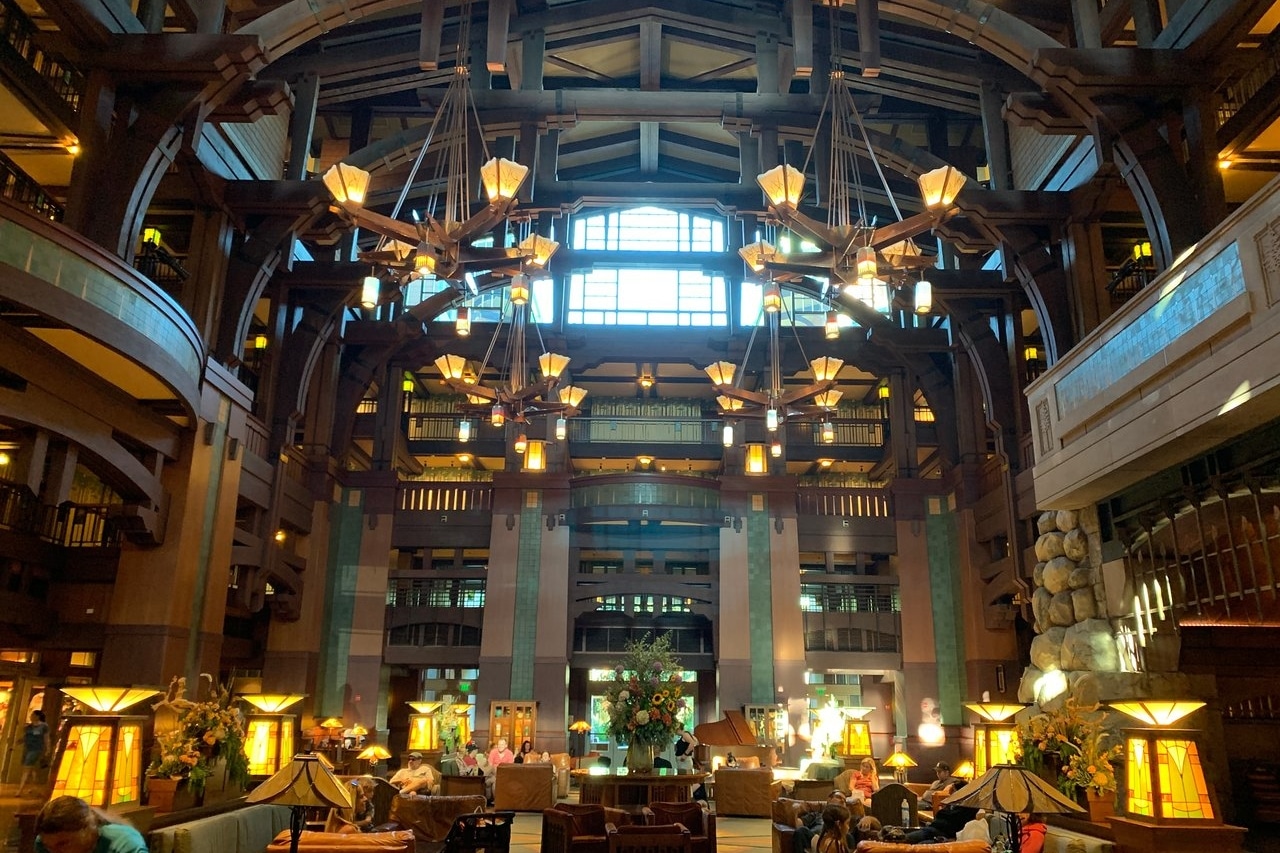 Disney's Grand Californian Hotel & Spa is at Disneyland, right outside of Disney's California Adventure. This resort is well-rounded, with amenities that adults will certainly love. The convenience of the hotel's location is one of its top features. The hotel is within walking distance of Downtown Disney, where there are plenty of bars, restaurants, and live entertainment options. The hotel even has a private entry straight into California Adventure, which is amazing for guests!
However, adult guests don't even have to leave Disney's Grand Californian resort to enjoy some of the best amenities! The Grand Californian is home to some incredible restaurants, including Napa Rose. This restaurant is widely considered one of the best restaurants in the country, offering great ambiance and delicious cuisine. There is also an extensive wine list for adults to enjoy. The Grand Californian also has the Hearthstone Lounge, which is a cozy fireside bar serving drinks and snacks. This hotel has one of the best pools of any Disney resort. You'll probably want to spend all day poolside! The hotel has private cabanas available for rent, so guests can enjoy a relaxing day at the pool. There is even full food and drink service! Not to mention, you can save a bunch of money by buying DVC Grand Californian resale.
Disney's Beach Club Resort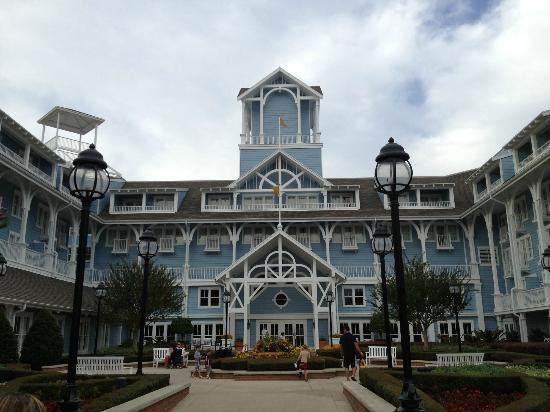 Another Disney resort in Orlando, Disney's Beach Club Resort, has the formal grace of a New England style lakeside club. If you're looking to stay somewhere as luxurious as it is classy, this is one of the best Disney resorts for adults. You'll find a massive, 3-acre pool area called Stormalong Bay. You can race down the 230-foot-long waterslide, float down the lazy river, and or take a spin in the whirlpool. You'll love being able to rent a poolside cabana while enjoying cocktail service right by the water. Speaking of the water, you'll be able to sail through the water in your own rented motorboat from the Bayside Marina. Perfect for a romantic afternoon between you and your significant other.
Adult guests are sure to savor an experience at the Yachtsman Steakhouse. Here, you'll dine on mouthwatering steaks and delicious seafood in a luxurious, upscale restaurant. You can also unwind with a glass of wine at Martha's Vineyard, a casual lounge reminiscent of a New England beach house. As a bonus, Disney's Beach Club Resort is just a short walk away from Epcot, one of the best Disney parks for adults. Plus, with a quick boat ride, you'll be right in front of Disney's Hollywood Studios.
Learn more: 10 Disney Vacation Club Benefits You Should Take Advantage of!
Disney Vacation Club Resales
If you're ready to book a trip to one of the best Disney resorts for adults, check out DVC resale listings from Fidelity. As Disney Vacation Club's Recommended Resale Brokerage since 2005, our licensed real estate agents are experts on DVC. You can browse by resort, point allotment, Use Year, and more. If you can't find what you're looking for, make sure to create an account on our website and create a saved search. This will ensure you get all of our latest listings that match your preferences. We know that deciding to buy a timeshare can be daunting, but we're here to help. Contact us today at 1-800-410-8326 or team@fidelityresales.com.
Do you want to sell your Disney Vacation Club timeshare? If so, fill out the form below for a free consultation. Our team of licensed real estate agents is highly knowledgeable about DVC and has a proven track record of selling more DVC points than any other company within the past decade.