Disney Vacation Club is one of the best timeshare companies in the world. With most of its locations near the iconic Disney World and Disneyland theme parks, these resorts are in a prime spot for any amusement park fans. If you've been thinking about visiting one of these beloved resorts but aren't sure which to pick, this is the guide for you! We've put together a list of the top five Disney timeshare resorts to help you plan the vacation of your dreams.
Timeshares From Disney in Florida
Disney's Beach Club Villas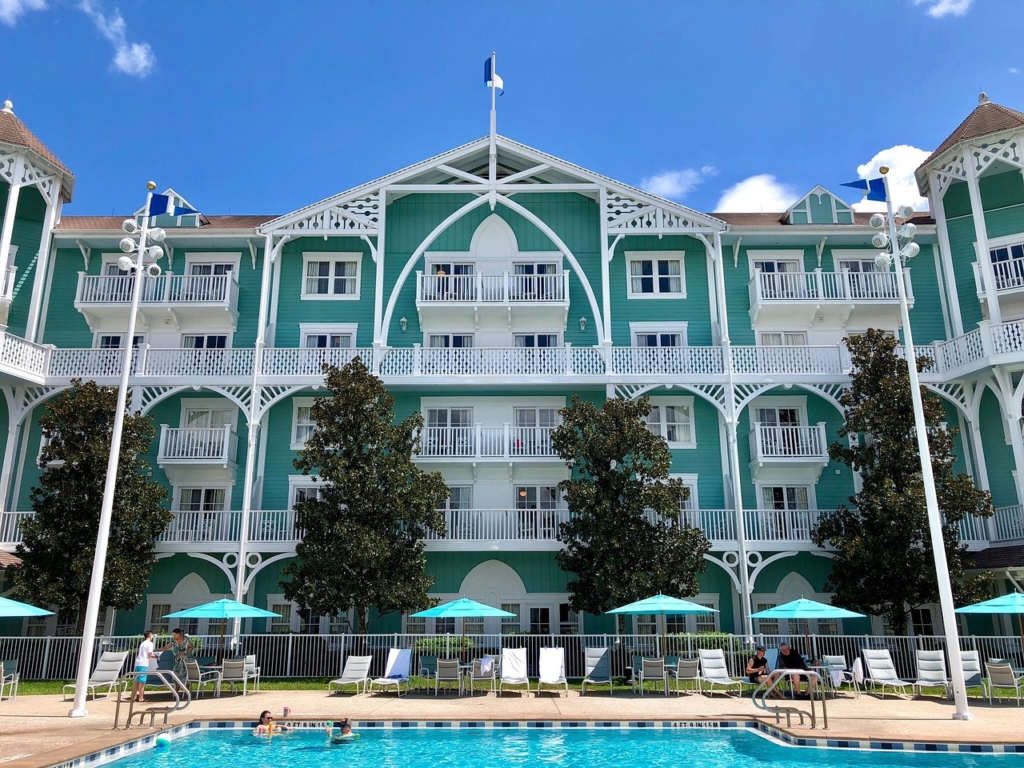 Starting off our list is Disney's Beach Club Villas. This New England-style resort is just a short walk away from Epcot. You'll find the Fantasia Gardens and Fairways mini-golf course nearby, which features 36 whimsical yet challenging holes. The resort also features three leisure pools, though they're not what Beach Club is really known for. The true highlight of Disney's Beach Club Villas is Stormalong Bay. This three-acre mini-waterpark is triple the size of the average football field and packed with plenty of opportunities for fun in the water. Enjoy the 230-foot-long water slide, lazy river, and whirlpool spas. It's safe to say that a timeshare from Disney here will guarantee plenty of aquatic fun.
For dining, you'll be able to enjoy 10 different options, from bars to quick-service snacks to luxurious steak dinners. While all of these options are great, the real highlight of Disney's Beach Club Villas isn't a proper meal, it's dessert. Beaches and Cream Soda Shop is a 1950s-themed dessert diner. While this restaurant serves burgers, fries, and other American classics, the real stars of the show are the sweets. From flavored sodas to souvenir milkshakes, there's plenty of sugary goodies to enjoy. Make sure to check out the Kitchen Sink: a sundae with 8 scoops of ice cream covered with every topping in the restaurant. When you're finally ready to call it a night, rest and unwind in a one or two-bedroom villa with king-sized beds and a balcony or patio.
Disney's Polynesian Villas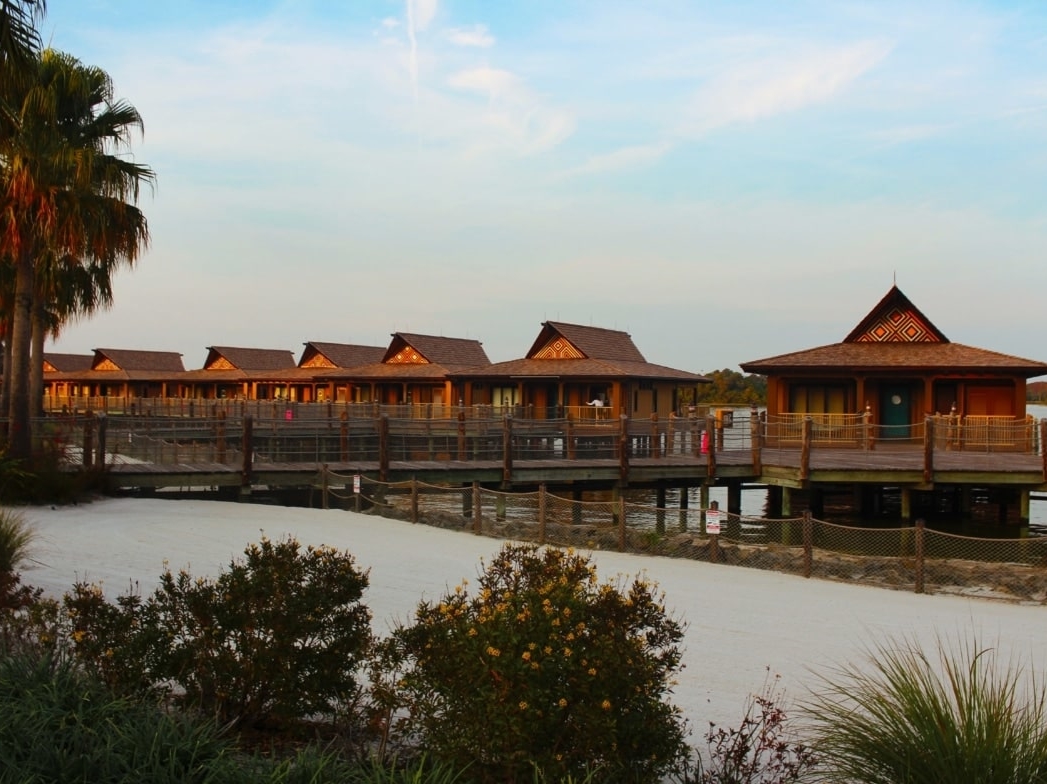 Of all the resorts to buy a Disney timeshare from on this list, Disney's Polynesian Villas has some of the strongest theming. Everything at this resort, from the aesthetics to the food, sticks to a distinct Polynesian theme that helps it stand out. You'll be surrounded by tropical palms and lush vegetation all around the resort. The on-site lava pool features a massive volcano, a waterfall, and a 142-foot-long water slide. You can also work out some knots at Senses, a full-service spa offering massages, body treatments, and more.
That theme continues at the resort's restaurants. Of all of them, the standout pick is 'Ohana, which offers family-style Polynesian-themed dinners. Additionally, 'Ohana offers a best friend's breakfast in the morning featuring Lilo and Stitch. Perfect for the little ones! The studio and one-bedroom suites don't disappoint with queen-sized beds and a balcony or patio. Plus, the one-bedroom suite gives guests access to the Kamehameha Club. This club serves continental breakfast in the morning before transitioning later on to appetizers and evening desserts. You'll also have a great view of the Seven Seas Lagoon from this suite, so it's definitely worth checking out. Overall, this is a great place to buy a Disney timeshare if you'd like the spirit of the Polynesian Islands without having to travel overseas.
Disney's Riviera Resort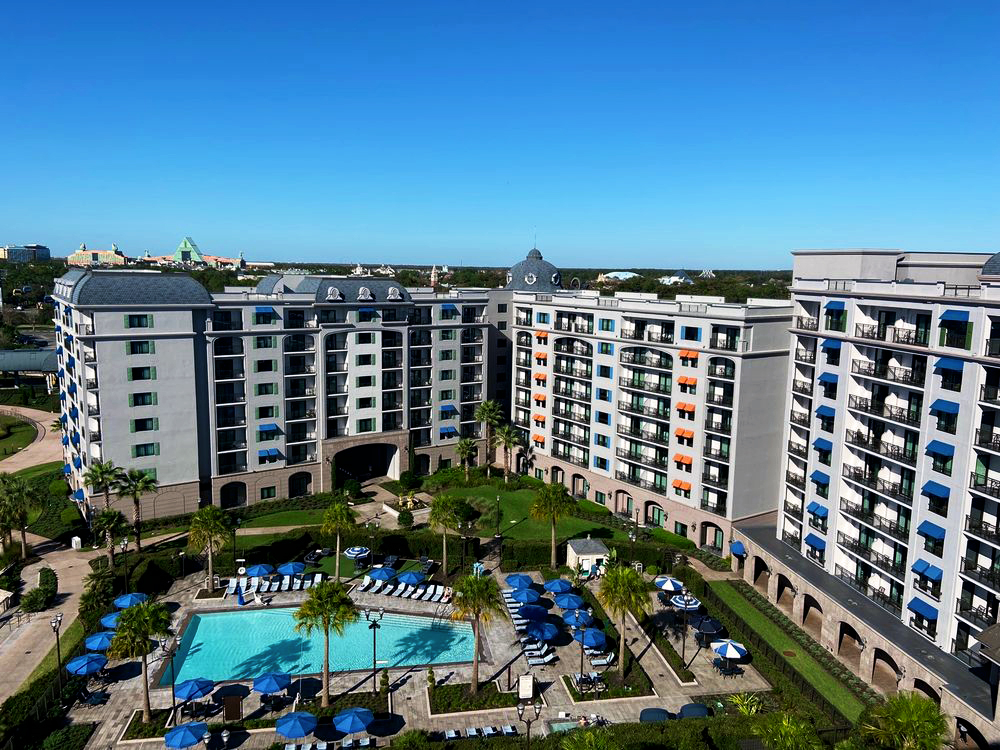 Looking for a stylish, European-style resort? Then look no further than Disney's Riviera resort! At this resort, you'll be just a short stroll from Disney's Skyliners, which will take you right to Disney's Hollywood Studios. Take a dip in the Riviera pool, which features a pool slide that winds around a stately column tower. For younger children, S'il Vous Play is an interactive water play area that's inspired by the grand public fountains of Europe. For a quieter experience, stop by the Beau Soleil Pool, which offers a much more soothing setting. Finally, anyone hoping to keep up with their workout routines can stop by the Athletique Fitness Center, which has everything you'll need for a good workout.
Disney's Riviera boasts four charming dining options like an open-air pool bar or a Parisian-styled cafe, but the highlight is Topolino's Terrace – Flavors of the Riviera. At Topolino's, you'll savor exquisite French and Italian cuisine from the roof of the resort. Plus, if you go for breakfast, you and your family can enjoy breakfast with Mickey, Minnie, Donald, and Daisy. This resort boasts studio, one, two, and three-bedroom suites, which means that no matter what timeshare you buy from this Disney resort, you'll have plenty of space to accommodate your group. These suites feature king and queen-sized beds along with views of the courtyard, lake, or skyliner.
Learn more: 10 Disney Vacation Club Benefits You Should Take Advantage of
Timeshares From Disney Outside of Florida
Disney's Villas at the Grand Californian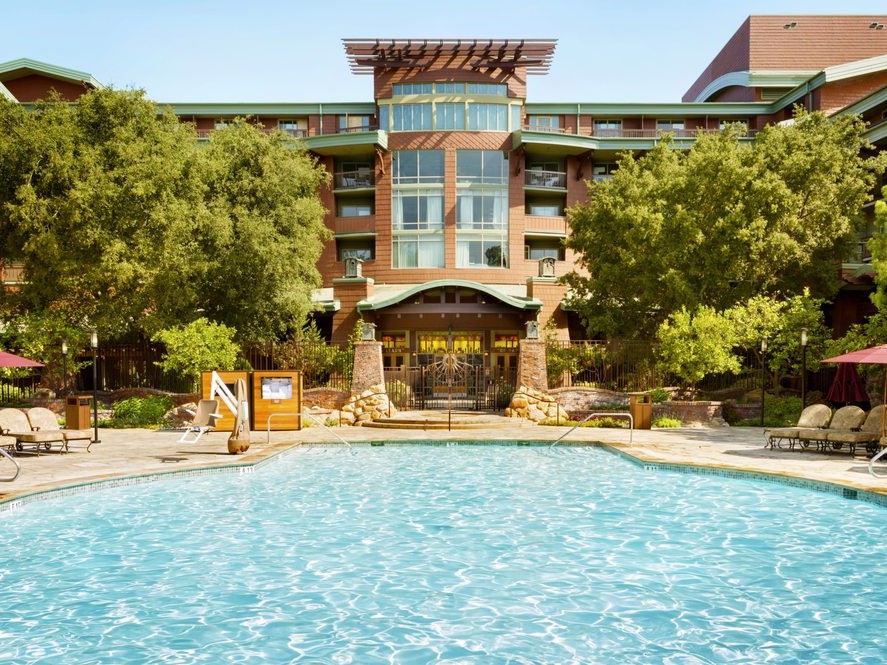 Moving away from Florida, our next resort to get a timeshare from Disney is Disney's Villas at the Grand Californian. If you want to be close to Disneyland or Disney's California Adventure, it doesn't get better than this! You'll be right at either park after just a few minutes of walking, and Downtown Disney is right next door. So if you want to catch a movie, shop, or enjoy a delicious meal, you'll have all of it within arm's reach. The three swimming pools here have private cabanas that are sure to enhance your experience. Not to mention, this resort even has pet care services.
At the Grand Californian, you'll feast on California-inspired fare and tasty home-cooking classics amid a rustic setting that pays tribute to the Arts and Crafts movement of the early 20th century. From three-course breakfasts with Disney princesses to rare regional wines, there's no shortage of tasty meals. If you'd like some especially upscale eating, sit down for dinner at the Napa Rose, which features exemplary service to go along with its award-winning food. Of course, the most important part of any resort is going to be the accommodations, and you won't be disappointed by a Disney timeshare here! The one, two, and three-bedroom suites all feature spacious rooms with multiple queen-sized beds, a wet bar, and gorgeous views from a balcony or patio.
Aulani, a Disney Resort From Spa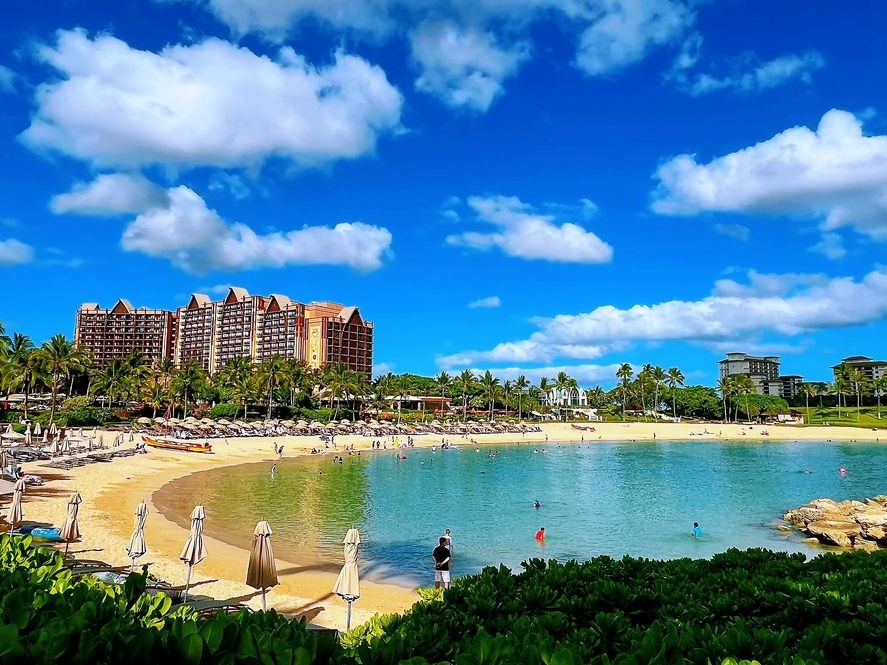 While all of Disney's resorts are great if you want to buy a timeshare from Disney outside the continental U.S., look no further than Aulani, a Disney Resort and Spa. Located on the island of Oahu, this resort was built from scratch to provide a unique mix of Disney-inspired imagineering and Native Hawaiian culture. Unwind at the hydrotherapy garden, which offers private vitality pools in an outdoor oasis. Or explore the Rainbow Reef, a 3,800 square-foot saltwater private snorkeling lagoon filled with colorful fish. Finally, you can end the day at the Ka Wa'A Luau, which celebrates the legends, people, and natural wonders of Hawaii.
The Luau offers delicious food, but aside from it, there are plenty of other options at Aulani. From full meals to simpler treats like shaved ice, the resort has you covered! No stay at Aulani is complete without visiting 'Ama 'Ama, a dinner-only, open-air restaurant right in front of the ocean. You'll dine on contemporary Hawaiian cuisine and end the night with a decadent selection of local desserts. As the night comes to a close, stretch out in one, two, or three-bedroom villas with all the comforts you've come to expect from Disney Vacation Club.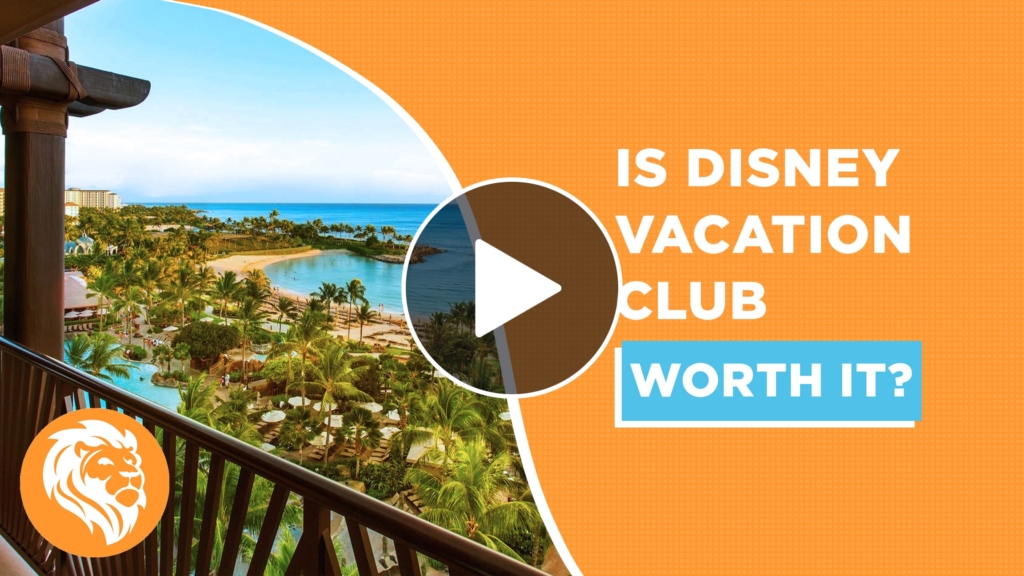 Buy a Timeshare at a Disney Vacation Club Resort
Whether you want to get right to Disney's famous parks or enjoy the waves in Oahu, there's a DVC resort out there for you. If you'd like to buy a timeshare at one of these resorts on the DVC secondary market, check out our marketplace! We have plenty of listings to choose from across Disney's properties. Once you find one you like, just make an offer, and our licensed agents will be happy to handle the rest. If you have any questions, please give us a call at 1-800-410-8326 or email us at team@fidelityresales.com.