For many people, the beach is their happy place. For them, there is no better feeling in the world than sinking their toes in the sand, feeling the warmth on their skin, and hearing the sounds of the crashing waves. Florida is home to some of the best beaches in the United States. Narrowing down where to go might feel overwhelming, but we are here to help! Keep reading to get a better understanding of the best beaches in Florida.
Overview of Best Beaches in Florida
Clearwater Beach, Clearwater
Cocoa Beach Pier, Cocoa Beach
Daytona Beach
Hugh Taylor Birch State Park Beach, Fort Lauderdale
Fort Zachary Taylor Historic State Park, Key West
South Beach Park, Vero Beach
Lummus Park Beach, Miami Beach
7 Best Beaches in Florida
Clearwater Beach, Clearwater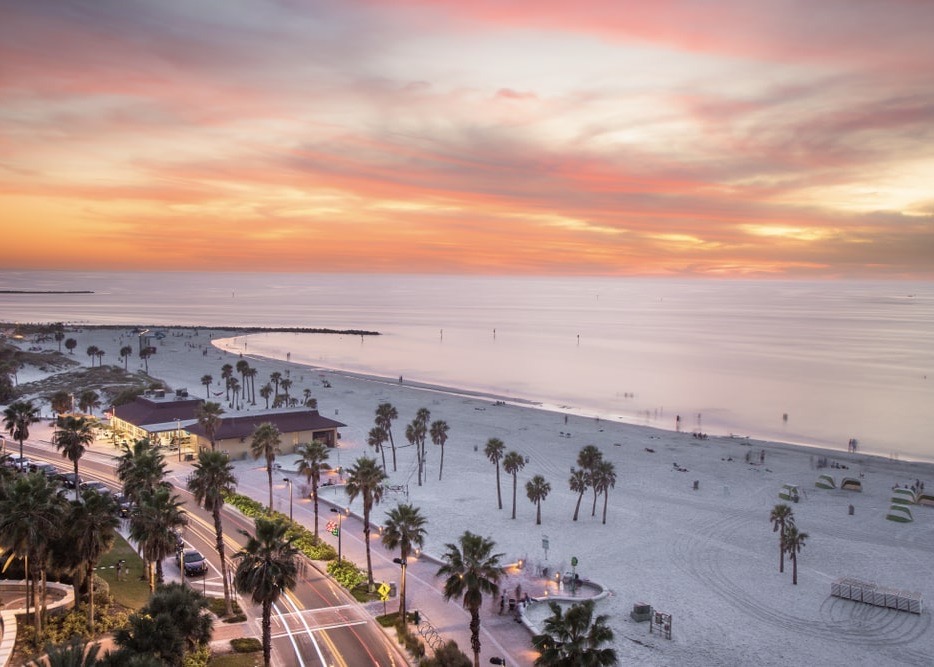 In 2019, 2018, and 2016, Clearwater Beach has rated the #1 Beach in the U.S. Hotels and restaurants line the beach's white sand and turquoise waters. Located south of Clearwater Pass, Sand Key Park offers acres of undeveloped beachfront for a serene, natural beach experience. Although the beach is the main attraction, there are literally hundreds of other things to do as well. Throughout the day, sightseeing and dolphin cruises are available. At Clearwater Marine Aquarium, kids will enjoy seeing the rescued sea turtles, dolphins, and other sea life. Or, take the whole family on a pirate adventure with Captain Memo's Pirate Cruise. If you are looking to step away for the kids for a bit, check out the cocktail or dinner cruises. Paddleboards, kayaks, and parasailing are also available for rent.
Wyndham Clearwater Beach Resort is an exceptional destination for travelers seeking a luxurious and comfortable stay on Clearwater Beach. This Wyndham resort offers top-notch amenities, stunning ocean views, and a prime location close to popular attractions.
Cocoa Beach Pier, Cocoa Beach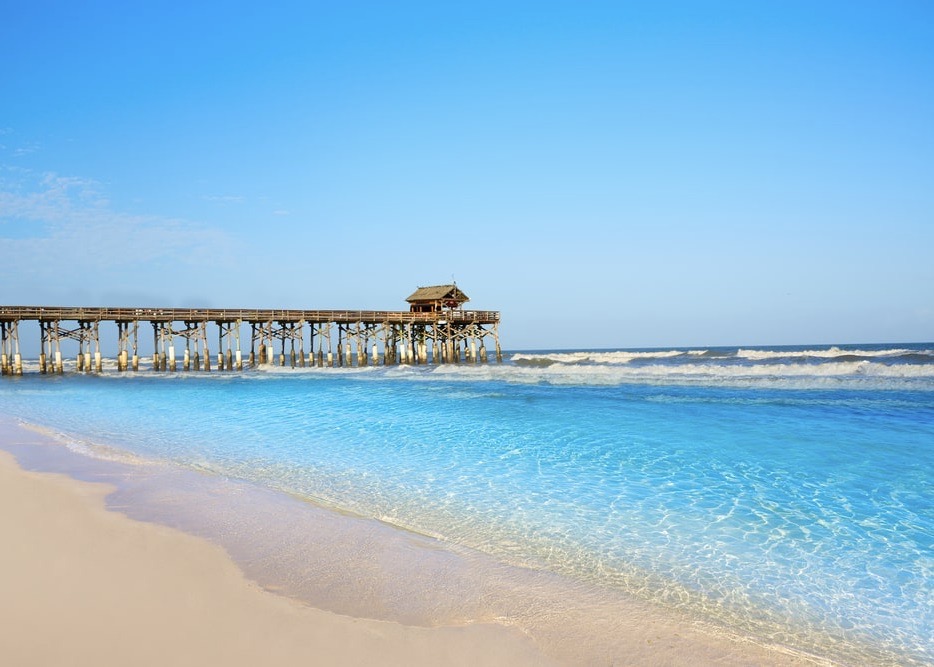 Cocoa Beach and a 72-mile stretch of coastline offer plenty of exciting attractions and beautiful beaches for an adventure getaway. The beaches in the area are some of the best beaches in Florida and are perfect for fun in the sun. Cocoa Beach Pier, a historical landmark and famous for its surfing conditions, is a must-visit. The Pier offers plenty of space on the beach to lay out, soak up the Florida sun, and watch professional surfers ride the waves. There have been several big-name surfers born in Cocoa Beach, including Robert Kelly Slater, who has won 11 world surfing championships. Visitors can also join them on the water or explore several shops and restaurants at the Pier. An adventure-filled beach vacation awaits you at Cocoa Beach. There is so much to see and do here.
Westgate Cocoa Beach Resort is an excellent choice for vacationers looking for a luxurious and comfortable stay on Cocoa Beach. This Westgate resort offers a wide range of on-site activities, such as a water park, mini-golf course, and beach volleyball courts, making it an ideal destination for families and groups.
Daytona Beach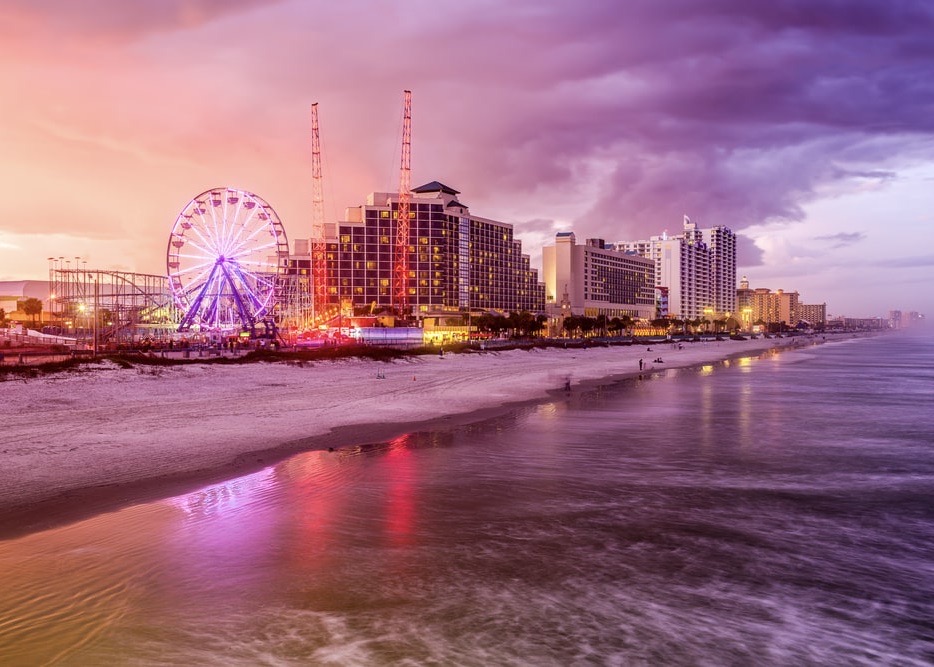 Known as the "World's Most Famous Beach," Daytona Beach offers the iconic beach experience just five minutes from downtown. There are a lot of attractions and activities along this stretch of coast, as well as a lot of shops and restaurants for entertainment off the beach. Daytona Beach offers everything you could possibly want, from beach volleyball to body-boarding in the surf or just a relaxing day of sunbathing. Daytona Beach, Florida, is a popular beach destination for people from all over the world. With its white sandy beaches and crystal clear blue waters, it's no wonder why it is one of the best beaches in Florida. During peak season, this beach can get extremely crowded due to its popularity. To maximize your beach time, you should get there early, then hit the restaurants and shops as the day progresses on.
Indulge in the ultimate luxury on one of the world's most iconic beaches at Harbour Beach Resort. This elegant Westgate resort features a wide array of planned family activities and a prime location for endless entertainment.
Hugh Taylor Birch State Park Beach, Fort Lauderdale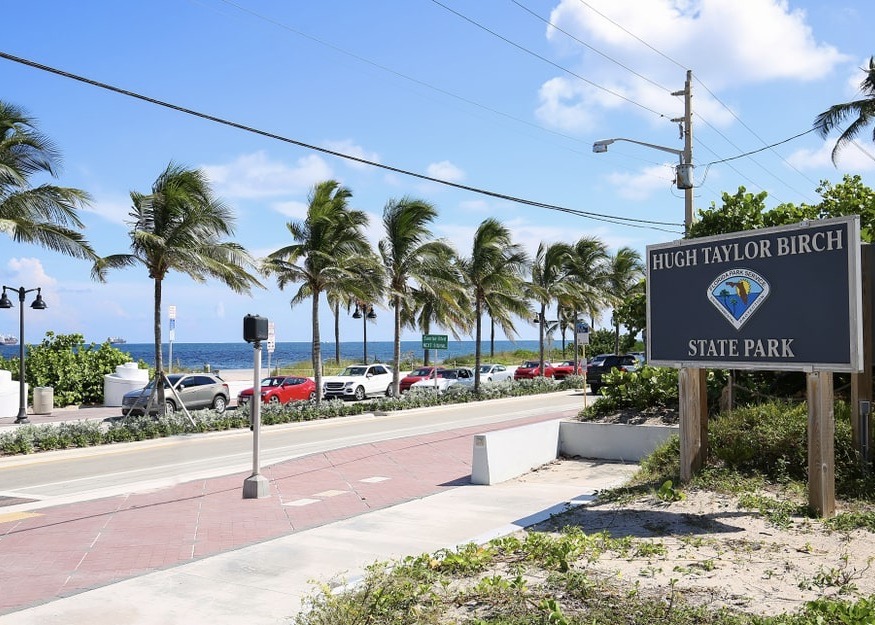 The Hugh Taylor Birch State Park in Fort Lauderdale has become known as the city's Central Park because of its similarities to the park in New York City. Hugh Taylor Birch State Park is an oasis of natural beauty amidst the bustle and crowds of Fort Lauderdale. This park sits between the Atlantic Ocean and Fort Lauderdale's Intracoastal waterways, making it an ideal spot for exploring both. The Hugh Taylor Birch State Park beach is a popular destination for outdoor activities like swimming, snorkeling, and kayaking. It is also a great spot for picnicking and enjoying the beauty of nature. You'll find plenty of opportunities to fish and paddle in both the cerulean ocean waters and Intracoastal waterways for those who prefer to be on the water.
Marriott's Beachplace Towers offers a unique experience, with stunning views of the Gulf of Mexico. This Marriott resort is also close to some of the best attractions in Fort Lauderdale. With so many activities and amenities, it's the perfect destination for a relaxing and enjoyable vacation.
Fort Zachary Taylor Historic State Park, Key West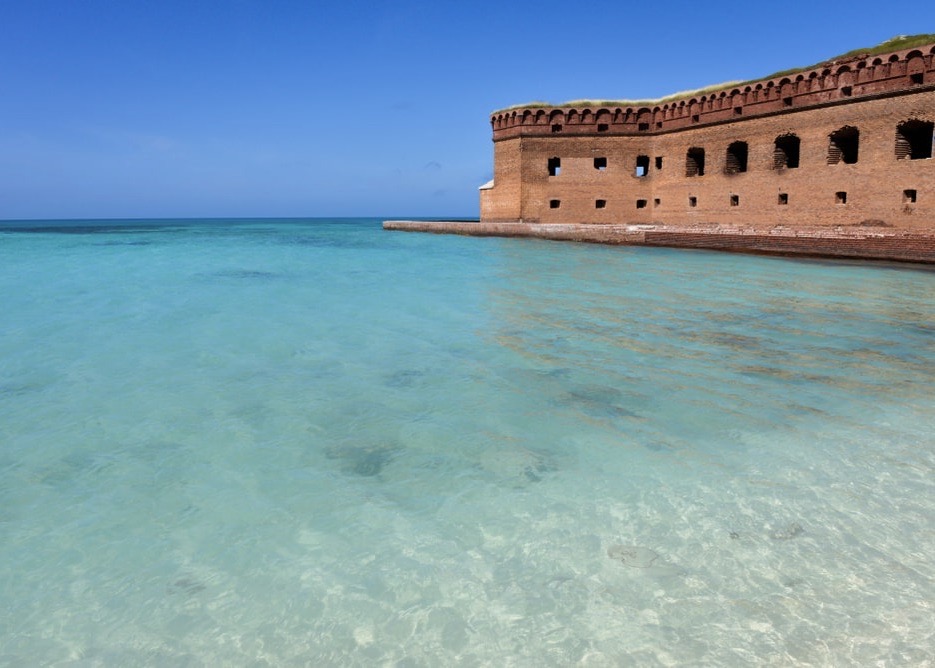 The beaches of Key West, the southernmost point of the state, offer sunny days and temperate waters. Fort Zachary Taylor Historic State Park is one of the best beaches in Florida because it offers a wide range of activities for visitors to enjoy. It also has a rich history, making it a great spot for those looking to learn more about the area. Fort Zachary was the first line of defense against adversaries attacking Florida's southern coast when our nation was young and particularly vulnerable to attack. During the Civil War and the Spanish-American War, the fort served as a stronghold against Confederacy ships and as a deterrent for Confederate ships. Plus, the calm waters make it a great spot to relax and enjoy the scenery. Nature trails and snorkel rentals are available on-site for those who can't sit still.
Hyatt Sunset Harbor offers the perfect retreat for families looking for a tropical getaway. With stunning views, luxury amenities, and a variety of activities, there is something for everyone at this Hyatt timeshare resort in Key West.
South Beach Park, Vero Beach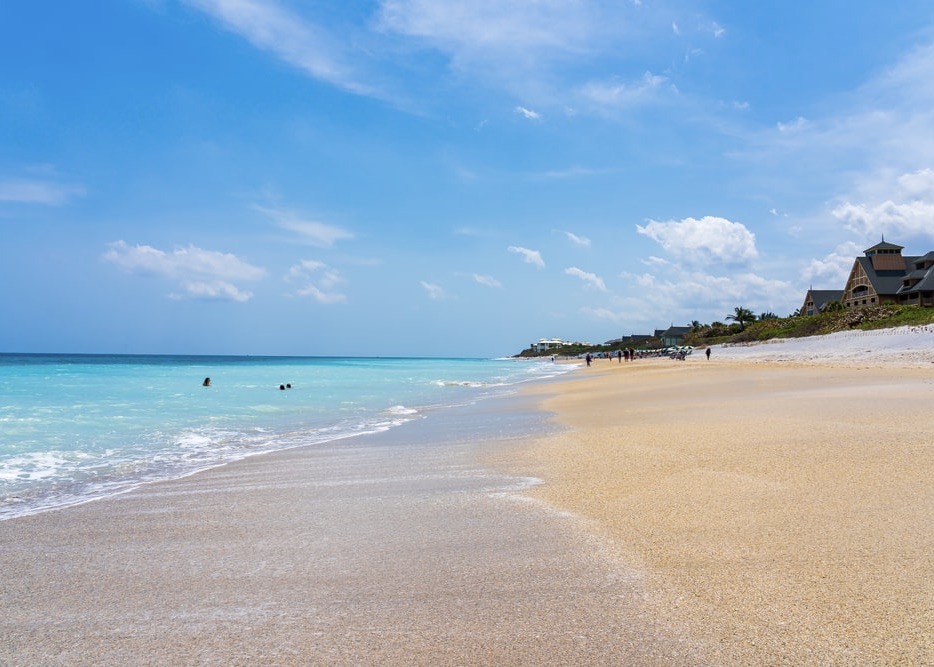 Located on some of the world's most beautiful beaches, Vero Beach caters to a wide range of interests. South Beach Park is wide and open, and the sand is soft and inviting. The view is breathtaking, with the bluest of waters and the most perfect shades of sky blue. There are many trees and flowers in South Beach Park, making it feel romantic and private. It is a perfect place to relax and get away from it all. It also is known for hidden treasure. A hurricane in the early 18th century sank several Spanish ships along Florida's Treasure Coast, which attracts treasure hunters from all over each year that search for the missing treasures.
When you think of Florida, you might think of Disney and some of the best beaches in the US. Well, when you stay at Disney's Vero Beach Resort, you get the best of both worlds. This fabulous resort offers all the fabulous amenities and accommodations that make Disney Vacation Club one of the best timeshare brands to own with.
Lummus Park Beach, Miami Beach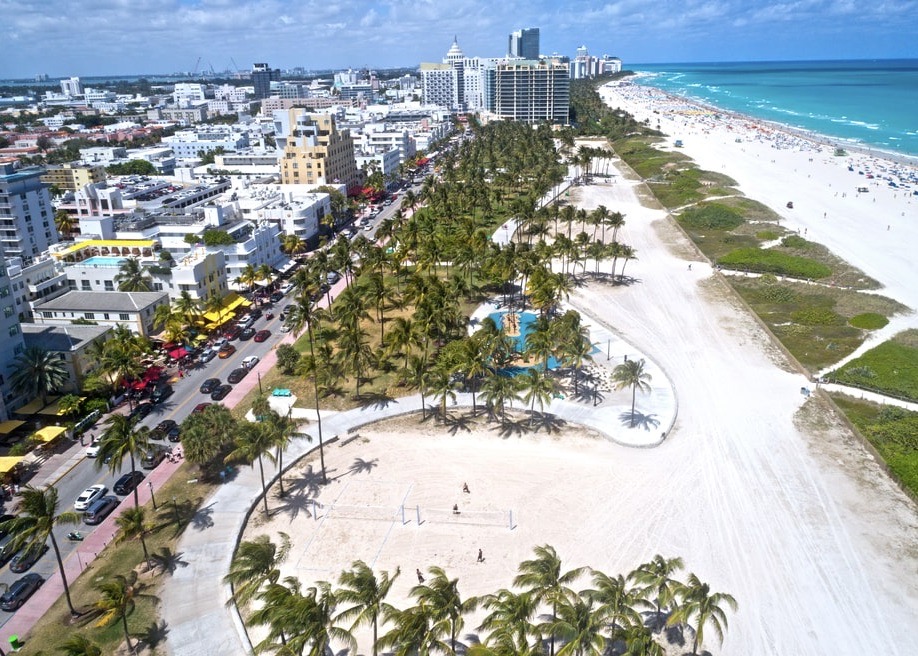 Lummus Park Beach is a beautiful destination located in Miami Beach, Florida. It is an ideal spot for swimming, sunbathing, and having fun with friends and family. The beach is also a great place to relax and take in the views. It offers stunning views of the Atlantic Ocean, as well as the nearby skyline of Miami. As a result of an '80s redesign, you now have the option of sitting on the sand or on the shaded grassy area of the park. Keep an eye out for movie stars or film crews. You never know who you might see. There are also plenty of activities to do at the beach, such as beach volleyball and other beach games. All in all, Lummus Park Beach offers some of the best beaches Florida has to offer.
In the heart of Miami Beach's most popular attractions, this luxurious Hilton Grand Vacations Club resort overlooks the Art Deco district. Guests will enjoy a private kitchen in their unit at Hilton Grand Vacations Club At Mcalpin Ocean Plaza to make themselves at home in South Florida's most stylish city.
Buy a Timeshare Near the Best Beaches in Florida
We have timeshares for sale near all the best beaches in Florida. Timeshares allow multiple people to share ownership of a vacation property. With a timeshare, you can enjoy your vacation without having to shoulder the full burden of owning a second house. They also provide the opportunity for vacationers to enjoy a variety of destinations through vacation exchange. Vacation exchange is a way for timeshare owners to trade their weeks or points for another vacation property anywhere in the world. So, you can make one resort your home away from home or visit a different resort each year.
Contact us at 1 (800) 410-8326 if you are interested in buying a timeshare but don't know where to begin. The experts on our team are licensed real estate agents, so they can help you save money by buying timeshare resales.