Disney Vacation Club isn't cheap, especially after looking at DVC cost per point for 2015. Between the initial cost and annual dues, DVC members easily end up spending thousands over the course of ownership. More than anything though, it is the initial purchase price that concerns interested buyers. It's a valid concern, especially considering the rapidly depreciating value of many non-Disney vacation ownership properties. However, after extensive research, we had some surprising discoveries. Not only do DVC points generally retain their value, but some have also appreciated overtime at some resorts.
Click here to see the updated DVC Cost Per Point Research that we conducted!
Setting the Record Straight On DVC
Before diving into the numbers, it's important for us to clarify some very important points. Disney Vacation Club is not a financial investment. It is not a real estate investment. DVC members should not expect to make a profit on their purchase. Instead, consider Disney Vacation Club ownership as an investment in quality family vacations, fond memories, or even mental well-being. If magical family vacations are what you are looking for, you'll probably be extremely satisfied with the "investment."
That being said, the emergence of the resale market has added new dimensions to the value of DVC points. Savvy buyers are already aware that DVC points can be purchased on the resale market at savings over buying directly from Disney. However, surprising new data reveals that selling DVC points on the resale market can actually earn back the initial expense of joining Disney Vacation Club.
Evaluating the Growth of DVC Cost Per Point Since 2015
Our research first began with a simple question: does DVC points value depreciate at a rate similar to less popular vacation ownership programs? We had a few different hypotheses, but in order to find a legitimate answer based on factual data, we first took a look at the original Disney Vacation Club prices.
As expected, we saw that Disney generally charged more per point as time passed. This makes sense, even if you choose to ignore inflation because the DVC program grew in both popularity and size. As more DVC resorts opened, the value of membership increased. Yes, it would cost more points to stay at certain resorts than others, but there were also more vacation opportunities available.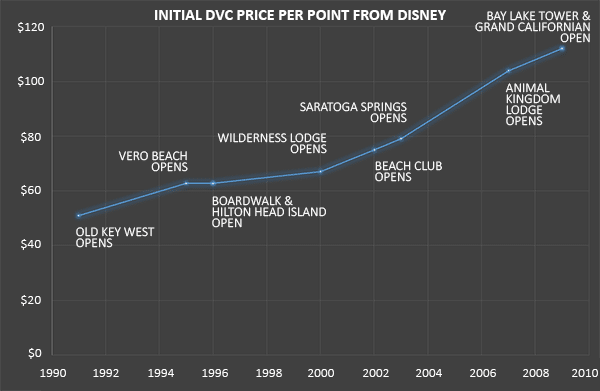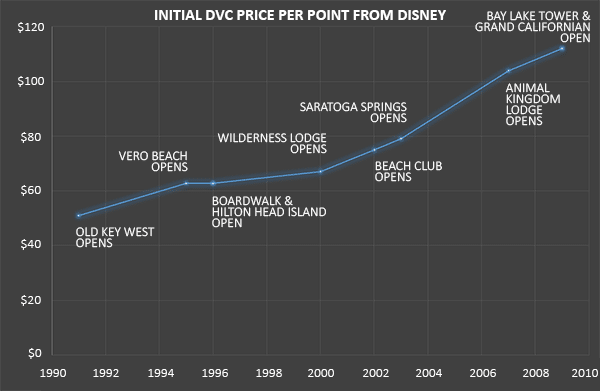 Note that the chart above doesn't account for special discounts or promotions, but the trends remain unchanged. The dates indicate when the resort opened villas for DVC members, not when the resort opened to the public. We also excluded Aulani, Grand Floridian, and Polynesian from our research due to the lack of historical data. These resorts have been open for fewer than five years.
How the DVC Resale Market Changed Everything
Meeting a dissatisfied Disney Vacation Club owner is rare. The void of negative reviews across the web is a testament to the quality of DVC the services they provide. However, life-altering events and changing lifestyles sometimes prompt DVC members to sell their vacation ownership. This gave rise to the DVC resale market which enables current owners to sell their DVC points.
As the market developed, Disney continued to raise the cost of ownership, and the price of DVC resales kept pace. Awareness of the DVC resale market grew. With it, demand and prices also rose. This eventually eclipsed the original purchase prices at some resorts.
Comparing 2014 DVC Resale Cost Per Point to Initial Purchase Costs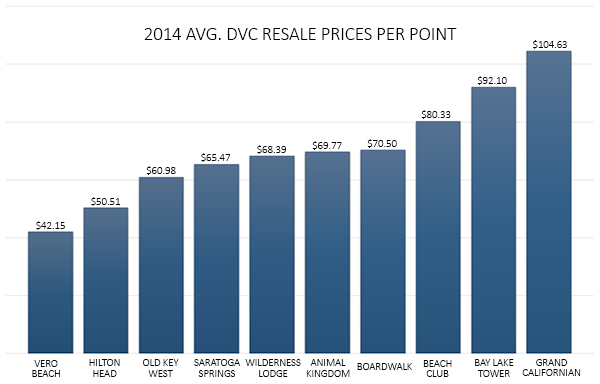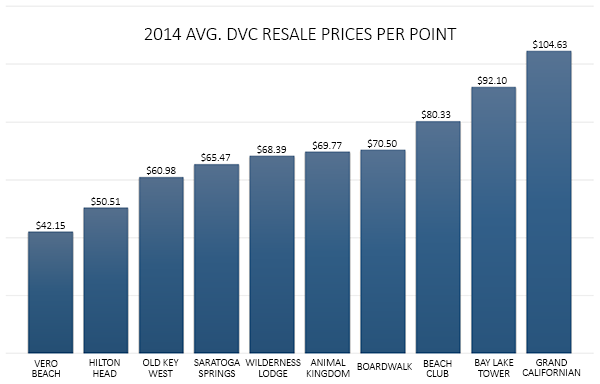 When Old Key West villas first opened in 1991, Disney sold points at $51.00 each. By examining Fidelity's DVC resale purchase prices for 2014, we found that Old Key West sold for an average of $60.98 per point last year. That means that someone who first bought into Disney Vacation Club in 1991 could sell DVC points today for around 120% of the initial purchase price! To put it in perspective, imagine purchasing a brand new car for $25,000 and selling it 23 years later for $30,000.
Differences in DVC Cost Per Point 2015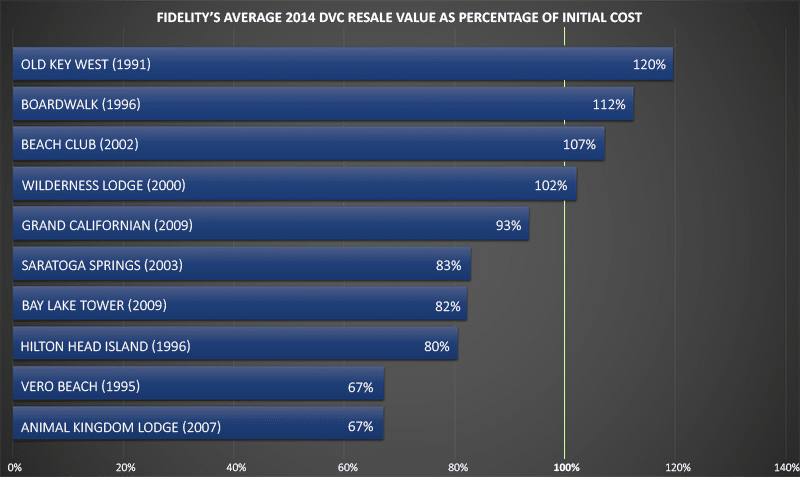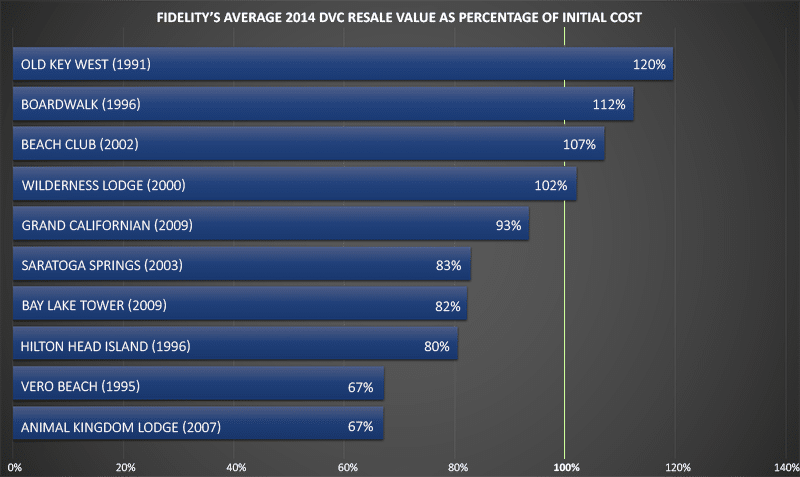 Those familiar with the DVC resale market know that not all resorts are equal in cost. A 200 point package at the Grand Floridian sells for substantially more than 200 points at Vero Beach. Similarly, DVC points at certain resorts have more worth over time than others.
As you can see from the chart above, our research shows that Old Key West, Boardwalk, Beach Club, and Wilderness Lodge have not only retained their value but have actually appreciated since first opening to DVC owners. The rest of the resorts that we examined did not appreciate but are still worth up to 93% of their original purchase price. We were surprised to see Animal Kingdom so low on the list, but it is still worth an impressive 67% of the initial cost.
So why do some resorts retain their worth so much better than others? The opening date does not appear to have any direct correlation to the value. Nor do the expiration dates. Annual dues don't appear to play a meaningful role either. Dues for Old Key West were $5.54 per point in 2014, just about in the middle range of DVC resorts included in our research. Boardwalk dues were at the higher end of the spectrum at $6.07 per point, which is more than the $5.97 per point dues for Animal Kingdom Lodge.
There is no smoking gun, but long-term value appears to be determined by the desirability of the resort. Boardwalk and Beach Club are particularly sought after due to their unique amenities and proximity to EPCOT. Old Key West villas are slightly larger than the units at the other resorts. Grand Californian is set apart as the only DVC resort at Disneyland and availability is extremely limited.
Can I Make Money Investing in the Disney Vacation Club Resale Market?
An expectation of financial returns is not a wise reason for purchasing Disney Vacation Club ownership. Disney may extend expiration dates to buoy the value of DVC membership, but there's a great deal of uncertainty about what the future holds. Selling DVC membership requires a licensed real estate broker, so you'll pay commission charges and closing fees. Clearly, Disney Vacation Club resales are not a financial investment, but it's good to know that after enjoying years of terrific family vacations, a large portion of the initial purchase price may be recovered down the line.