Get ready to go tropical, Disney vacationers; today we're exploring the soothing balance of comfort and luxury that only Disney can provide at Old Key West Resort. Nestled between Disney's Lake Buena Vista Golf Course fairways and glistening waterways, this one-of-a-kind resort offers the kind of recreation and inspiration that Hemingway himself would admire.
#5 – Fitness Center at R.E.S.T. Beach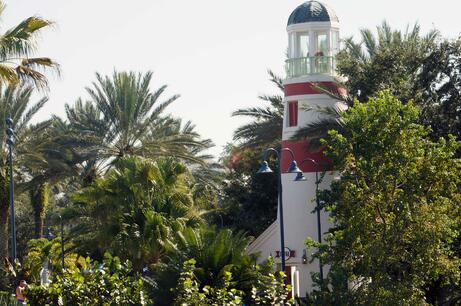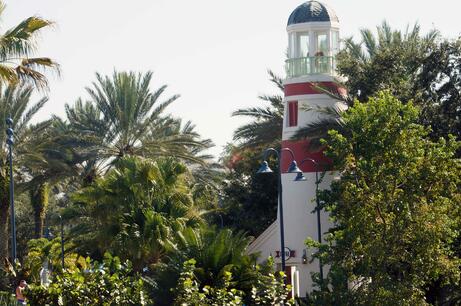 If a few hours trekking around the parks doesn't fulfill your fitness fix, you'll want to head to Old Key West's state-of-the-art exercise center which is open 24 hours every day. Work up a sweat on treadmills, ellipticals, bicycles, and stair climbers or pump some iron with free weights and weight machines. Afterward, you can relax at the lighthouse which doubles as a sauna!
#4 – Swimming Pools

With 4 aquatic experiences to choose from, taking a dip in one of the Old Key West pools is a great way to cool off and have some fun when not at the parks. The main pool features a 125-foot waterslide and white sand beach, making it the preferred swimming hole for many families. The three additional leisure pools around the resort are ideal for lounging, tanning, and cooling off in a less lively environment.

#3 – Fishing at Disney's Old Key West
Aspiring anglers can enjoy guided fishing excursions with an experienced guide. All of the equipment necessary for a successful fishing trip is available for rent, so don't worry about lugging your tackle box around.If you're a Disney Vacation Club member you can get 10% off the cost of your fishing trip, so be sure to mention DVC when booking which can be done up to 180 days in advance. A good rule of thumb is to always ask about DVC member discounts whenever making a purchase; you never know where savings could be lurking!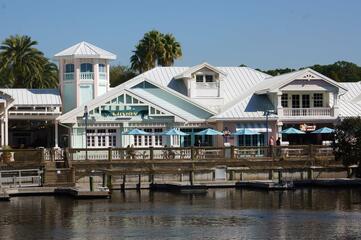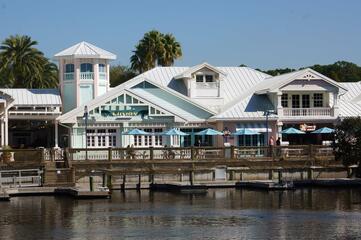 #2 – Community Hall

Don't let a rainy day ruin your vacation, the community hall is the perfect place for families to unwind during poor weather or after a long day at the parks. Enjoy games like foosball, air hockey, pool, ping pong, and darts, or let your creative juices flow with some crafts.
#1 – DVC Villas
The villas at Old Key West are perhaps the most underrated of all Disney World accommodations. For this reason, we're recognizing them as our #1 reason to stay at Old Key West. This spacious 2-bedroom is substantially larger than its counterparts at other Disney resorts.
It sleeps 9 and comfortably accommodates large families who value personal space. The fully-equipped kitchen makes preparing meals a breeze and the master bathroom is a relaxation oasis.
---
Looking for more information about Disney's Old Key West and the entire Disney Vacation Club program? download our ebook: 'A Family Guide to Disney Vacation Club.'
This free resource provides everything that you need to know about becoming a DVC member. Maximizing the value of membership should be easy.  For those already familiar with Disney Vacation Club and the resale market, Fidelity can help you get the perfect point package for your family.