Hyatt is a brand established on a foundation of exemplary customer service delivered at world-class luxury resorts. These resorts are located in some of the most desirable destinations across the United States and Mexico, and Hyatt owners have the opportunity to visit them all. That's because one of the greatest benefits of Hyatt Vacation Club or Hyatt Residence Club ownership is the ability to convert a deeded week to Hyatt points.
This process can be a bit confusing for new Hyatt members, but once mastered, allows for flexibility unrivaled by many other prominent vacation ownership programs.
Here's what you should know:
Hyatt Points Can Partially or Fully Replace Your Week for the Year
Every deeded week has an equivalent point value determined by the unit size and season of the ownership. Owners can view a point chart, like the one below, to see how many points their deeded week is worth. This point value will be applied to the Hyatt owner's account exactly 12 months prior to the first day of the owned week.
Once the points are available, they can be used to reserve the deeded week/unit, but that's only one option. The owner can also opt to reserve only a few days of the deeded week, or no days at all. The leftover points (or, in some cases, all of the points) can be applied to a reservation at a different Hyatt resort. Or, traded on the Interval International (II) exchange. If the owner fails to make a reservation during the first six months of the points becoming available–referred to as the Home Resort Preference Period (HRPP)–the deeded week becomes open to any Hyatt Vacation Club member, and the owner must use points to make a club reservation.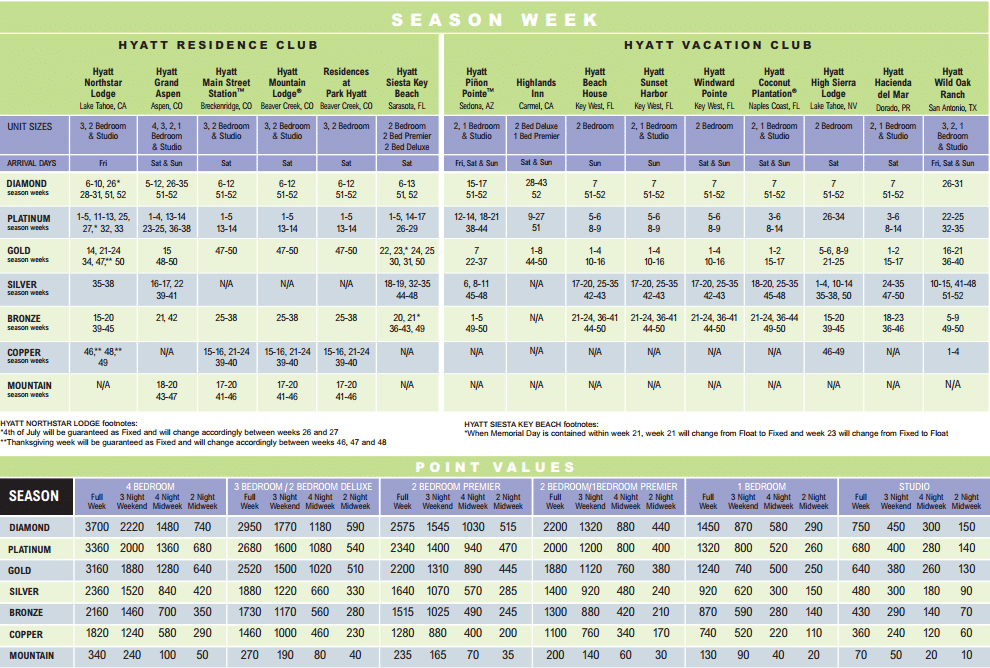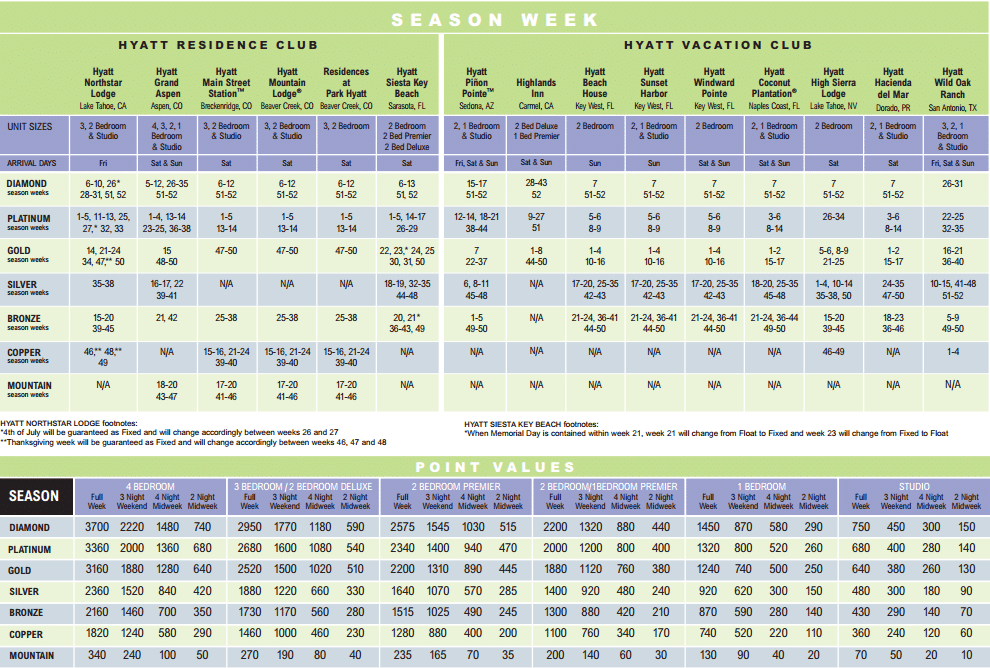 Here's a quick example:
Harry and his wife purchased a Week 52 (Diamond Season) two-bedroom unit at the Hyatt Beach House Resort. But, this year they are only interested in spending a few days there. During the HRPP, Harry reserves a 3 night weekend of his deeded week at Beach House. Thereby deducting 1,320 points of the total 2,200 that he has available on his account. He and his wife love skiing.
So, they decide to use the remainder of their Hyatt points to book 4 nights midweek in a two-bedroom unit at Hyatt Grand Aspen during Diamond Season. Due to the flexibility of Hyatt's reservation system, Harry and his wife manage to enjoy two great vacations in unique destinations using their single vacation ownership.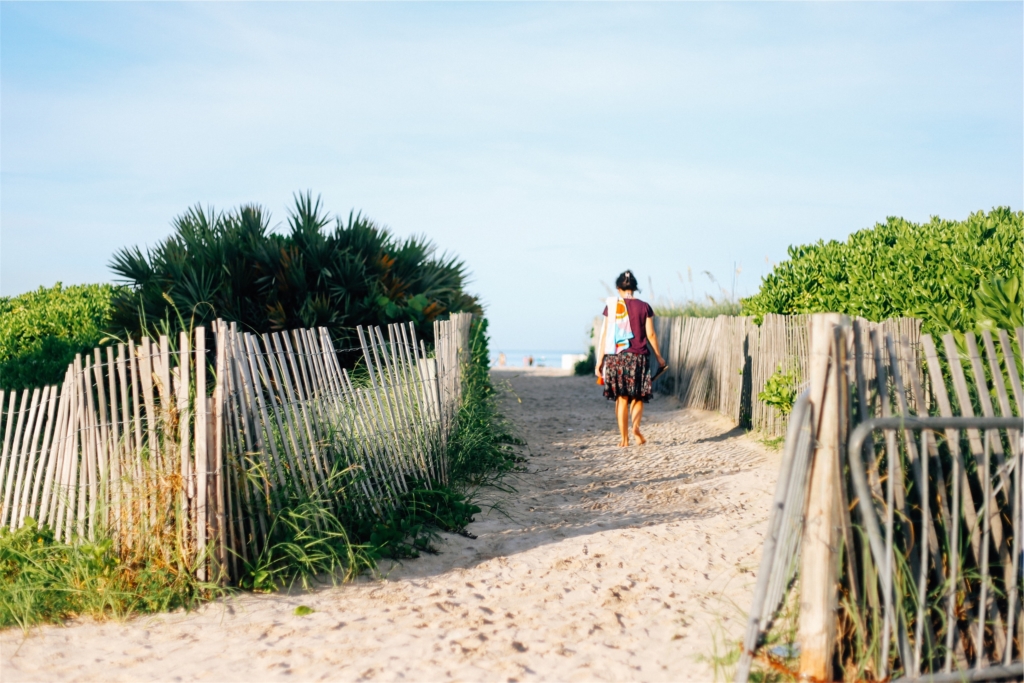 Making Reservations with Hyatt Points is Very Simple
All it takes for an owner to make a reservation using Hyatt points is a phone call to member services. If the unit requested in unavailable, the owner will be placed on a wait list and offered a reservation on a first-come-first-served basis as units become available.
Hyatt owners ought to keep in mind that demand varies among resorts. A room at Hyatt Siesta Key can be very difficult to book if it's not your home resort. Hyatt Wild Oak Ranch in San Antonio, Texas is not nearly as competitive. The best thing to do is to try and make a reservation as early as possible within the HRPP.
Where do I go for Help?
Hyatt Vacation Club is an outstanding program for frequent vacationers. However, it does require a certain amount of research to be used properly. At Fidelity, we love vacation as much as you do. That's why we work hard to develop resources like this to help current and prospective Hyatt owners make the most of their vacation ownership. If you have any questions, thoughts, concerns, or suggestions about the information you just read, let us know in the comments section below.
Don't forget, if you're still considering a Hyatt Vacation Club purchase, Fidelity can help you get a great deal! Check out the current Hyatt listings to see our available inventory.