Las Vegas is a one-of-a-kind vacation destination. There is something for the whole family in Vegas! There is fun to be had for the thrillseekers, the foodies, the romantics, and beyond. Whether you're looking for a high-energy getaway or a relaxing oasis, WorldMark has resorts that fit your dream Las Vegas vacation. These three WorldMark by Wyndham resorts offer guests a chance to find a moment of serenity amongst the glitz and glamour of Vegas.
WorldMark By Wyndham
WorldMark is a vacation ownership program within Wyndham's brands of timeshare resorts. The WorldMark program runs on a points-based system, so planning vacations is simple! Owners can use their points at any one of WorldMark's resorts, including all three Las Vegas resorts. The flexibility of this program gives owners the freedom to tailor their vacations to their exact needs. WorldMark by Wyndham has resorts in over fifty locations including Hawaii, California, Mexico, and many more! Wolrd-class amenities and accommodations can be found within these resorts, which is to be expected from the Wyndham brand.
There are many perks for WorldMark owners. For example, since WorldMark is an RCI-affiliate, owners can register for RCI's incredible vacation exchange program. This means that owners have access to trading their time at their home resort for a stay at over 4,200 resorts worldwide. Depending on their owner status, owners have exclusive access to extra benefits like last-minute vacations and trading their points for plane tickets or cruises.
WorldMark Las Vegas Resorts
Escape to a quiet getaway at a WorldMark resort just minutes from the bustling Las Vegas Strip. The best part of owning a timeshare at a WorldMark resort in Las Vegas is that you get to come back every year! You'll definitely want to return to see and experience everything that Vegas has to offer! It's gonna take you a few visits to see it all! Each of these three resorts has spacious accommodations and incredible amenities for guests. These resorts will be a home away from home for guests and will be the place where unforgettable vacation memories will be made.
WorldMark Tropicana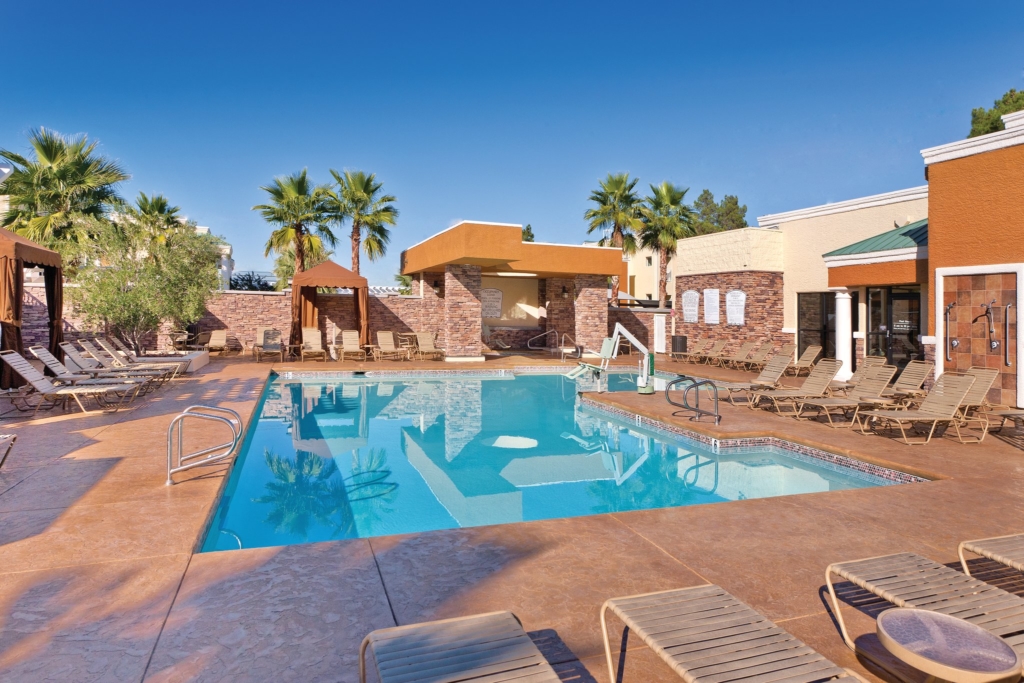 A stay at WorldMark Tropicana feels so much like a private desert oasis that you might forget that you're just two miles from the Las Vegas Strip. This sprawling nine-acre resort is WorldMark's closest to the downtown area of Vegas. The resort consists of twenty buildings of accommodations, so booking a stay here should be a breeze! The one- and two-bedroom villas have the amenities that you need and the privacy you desire. WorldMark Tropicana has a large pool area and four hot tubs! Relaxation at this resort will never be difficult to find. When you're ready to head down to the vibrant Vegas Strip, simply hop on the resort's complimentary shuttle service!
WorldMark Spencer Street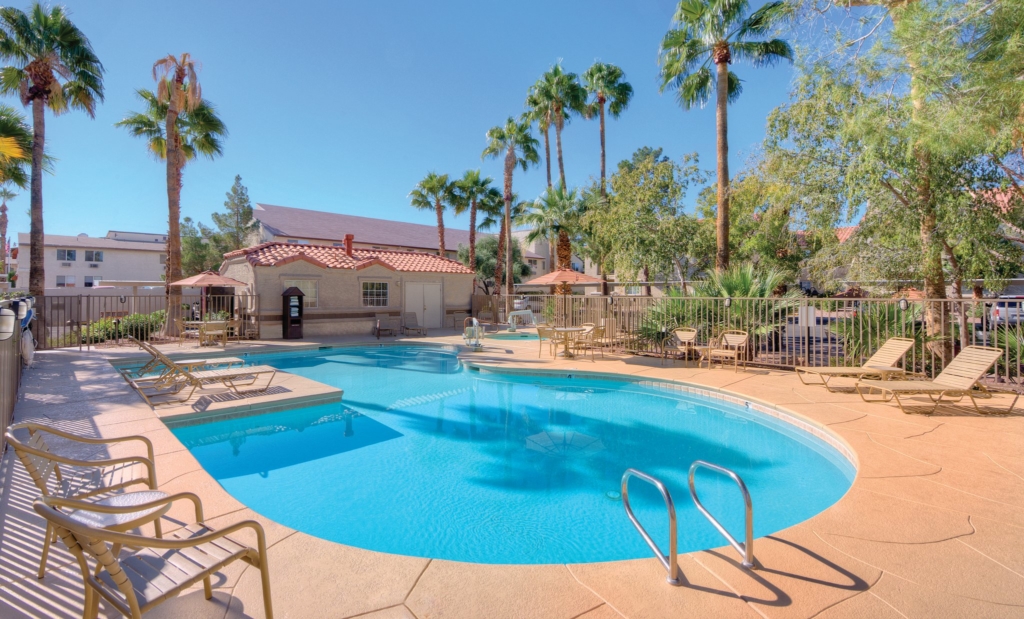 WorldMark Spencer Street is a resort with adobe-style accommodations in a quieter neighborhood of Las Vegas. This serene resort provides a rare quiet escape amongst the lively Las Vegas. Being able to have both exciting and relaxing days isn't always an option when staying in Sin City! Spencer Street has a great fitness center, a game room, a recreation center, a pool, a hot tub, and a barbeque area. However it is that you like to unwind on vacation, you'll find it at this resort. In addition to the great amenities, this resort also provides spacious one- and two-bedroom villas with everything to make you feel at home. Full kitchens and laundry units are just the beginning!
WorldMark Boulevard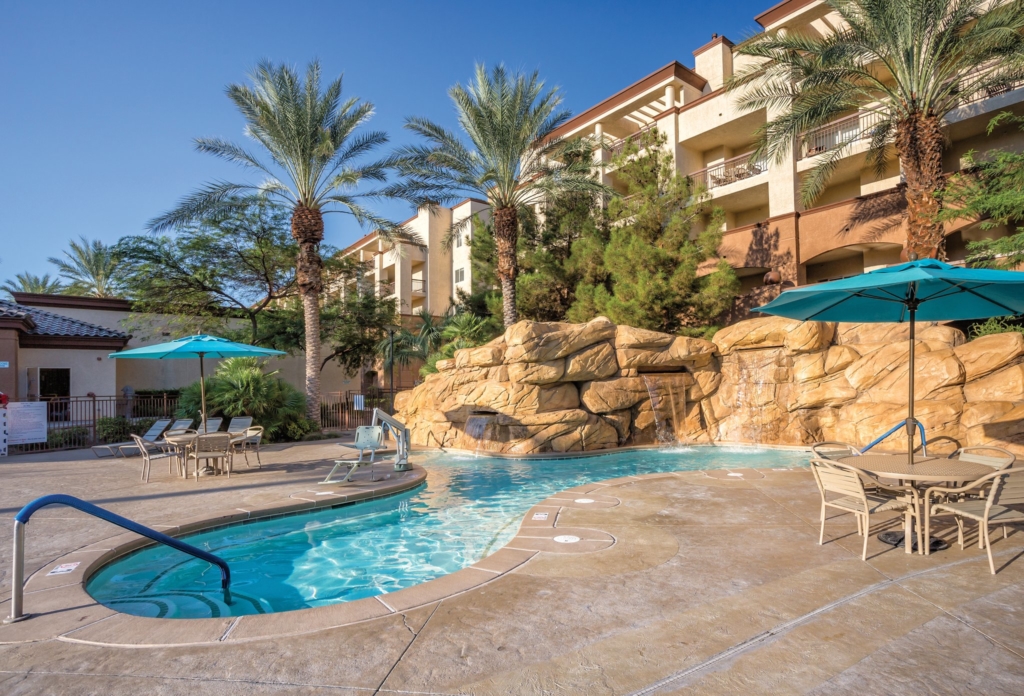 Less than five miles from the Las Vegas Strip sits your own personal oasis at WorldMark Boulevard. The resort offers one-, two-, and three-bedroom villas, so there is plenty of room for your entire travel party to relax. Each suite has a full kitchen and a fireplace, perfect for gathering with friends and family to make amazing vacation memories. Unlike a typical Las Vegas hotel, guests will enjoy the comforts of home right in their guest suite. The amenities found at this resort, including a putting green and a shuttle to The Strip, make guests want to return year after year. The resort has sprawling lush grounds that include multiple pools, hot tubs, and a lazy river.
Things To Do Near WorldMark Las Vegas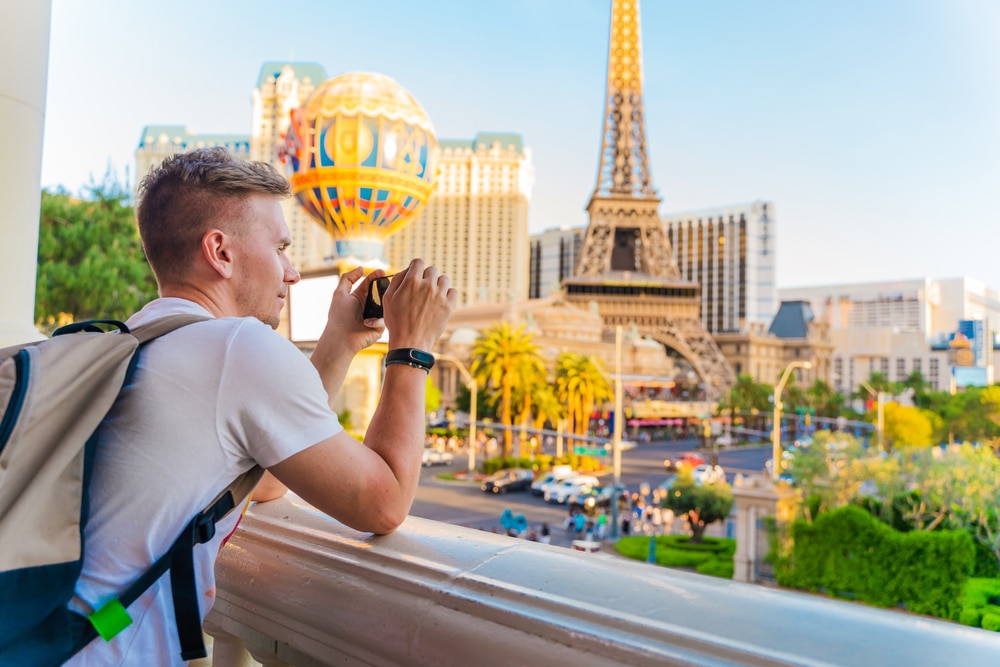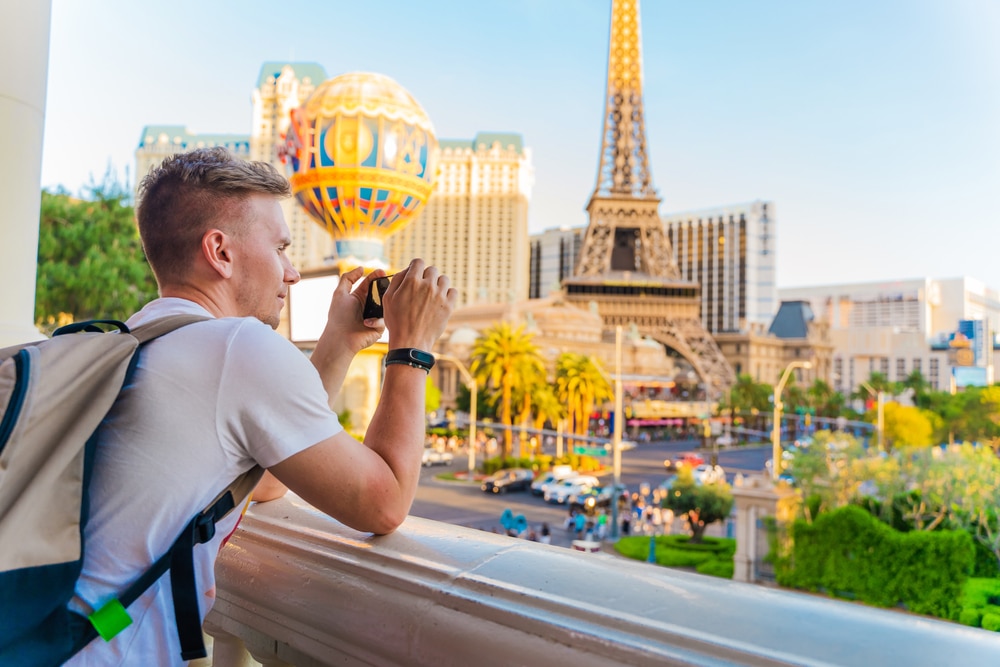 When you first think of Las Vegas you probably think of the casinos and the nightlife, but this city has so much more to offer! Las Vegas has been dazzling visitors of all ages for years! From world-class live shows and shopping to exploring the incredible natural beauty of the area, there is so much to see and do in Las Vegas!
One of the can't-miss shows in Las Vegas is Extravaganza, a larger-than-life show with magicians, showgirls, comedians, acrobats, and more! Prepare to be mesmerized by this unforgettable show filled with dancing, singing, stunts, and even holographic performances from Elvis! Blue Man Group is another iconic show that has entertained audiences in Las Vegas for decades! You won't want to forget your trip to Las Vegas, so don't forget to pick up a souvenir! Vegas has every budget and taste in mind with luxury shopping malls, outlet centers, and sprawling gift shops. A great way to see everything that Vegas has to offer is by taking a helicopter tour. You'll not only get an aerial view of the city, but you'll get an unforgettable look at the stunning red rocks and canyons that surround Vegas.
Of course, if you're interested in doing a little gambling then Sin City is a dream destination! MGM Grand Resort is home to a 170,000 square foot casino, considered to be one of the best in Vegas! The resort also has live entertainment, nightclubs, and three AAA Diamond restaurants. After seeing the hustle and bustle of this resort, you'll be glad to retreat to your quiet WorldMark Las Vegas resort.
WorldMark Las Vegas Timeshare For Sale
If you're ready to make a yearly trip to a WorldMark by Wyndham resort in Las Vegas, our Licensed Real Estate Agents can help. Firstly, browse our WorldMark timeshares for sale. Then, when you've found the right listing for you, simply make an offer! Becoming a vacation owner has never been so easy! Not to mention, the resale prices of timeshare are generally way lower than retail. We know that deciding to buy a timeshare can be daunting, but we're here to help. We can help you find the perfect vacation ownership for your family, without any pressure. You can contact our experienced team directly at (407) 465-5188 or team@fidelityresales.com.