Las Vegas is one of the most popular tourist destinations in the country. This desert oasis offers endless entertainment, world-class dining, shopping, and thrilling attractions to visitors. Some of the best timeshare brands have incredible resorts in Vegas, which means that it's easy to plan a yearly trip to Sin City. Diamond Resorts is amongst the top timeshare brands in Vegas, offering unforgettable exclusive events and luxury accommodations to guests. Diamond's three resorts in Las Vegas give visitors a chance to find peace and quiet amongst the buzzing excitement of The Strip.
About Diamond Resorts
It's all about the vacation experience with Diamond Resorts. From exclusive events and concerts to incredible accommodations, Diamond owners get some of the best timeshare benefits in the world. Diamond Resorts owners can attend Diamond Signature Experiences, including members-only parties and concerts. Owners are invited to VIP dinners, have access to Diamond owner-only tours, and can get discounts on various travel necessities. Since the company began in 2007, Diamond has offered owners world-class service and an incredibly flexible points-based program. Points are used as vacation currency and make vacation planning super simple! Owners can also use their points to go on cruises, book flights, rent cars, and more!
Another benefit for Diamond owners is the opportunity to use the vacation exchange network Interval International. By becoming an II member, owners can access any resort in their catalog. This means that even though you're a Diamond member, you will be able to stay at resorts from other brands all around the world! Vacation exchange is a huge perk for timeshare owners because it can keep your yearly vacation new and exciting! Gone are the days where you have to visit the same resort year after year! With Diamond Resorts, you have the opportunity to vacation around the world from Las Vegas and beyond!
Diamond Resorts in Las Vegas
Diamond Resorts in Las Vegas put guests right in the heart of the action! Las Vegas is known for its world-class entertainment and Diamond has its own calendar of sensational events. Diamond members will love the exclusive concerts and events that come with being an owner. They'll also love being able to escape to a quiet retreat when the party is over! These Diamond resorts in Las Vegas are conveniently located to The Strip but still give guests a chance to relax in Sin City.
Cancun Resort Las Vegas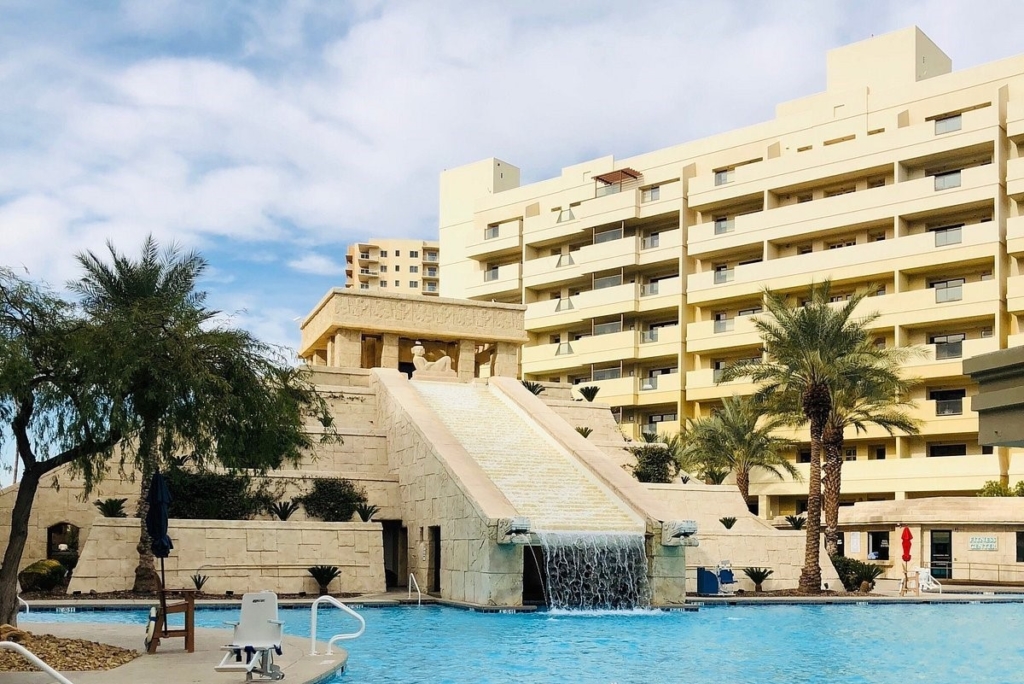 Cancun Resort Las Vegas is a Mayan-inspired Diamond property just south of The Strip. This resort is full of fun amenities for the whole family! The resort's pool has a waterfall and four water slides, which kids might just spend the whole day enjoying. Find relaxation by sitting in a shaded hammock by the pool or by being pampered at the on-site spa. Unwind in the hot tub, found in a cove behind the pool's waterfall. There is also a poolside restaurant, Caribe Lounge, where guests can grab a delicious meal or refreshing beverage. This resort is the perfect destination for family vacations, romantic getaways, and trips with friends. Guests might even forget that they're just minutes away from the exciting downtown Las Vegas at this desert oasis!
Accommodations at Cancun Resort Las Vegas are spacious and fully furnished, which is what you expect when you stay at a Diamond Resort. The resort offers one- and two-bedroom villas, including a 1,600 square foot Penthouse Suite. Each villa has the amenities to make guests feel right at home at Cancun Resort Las Vegas.
Desert Paradise Resort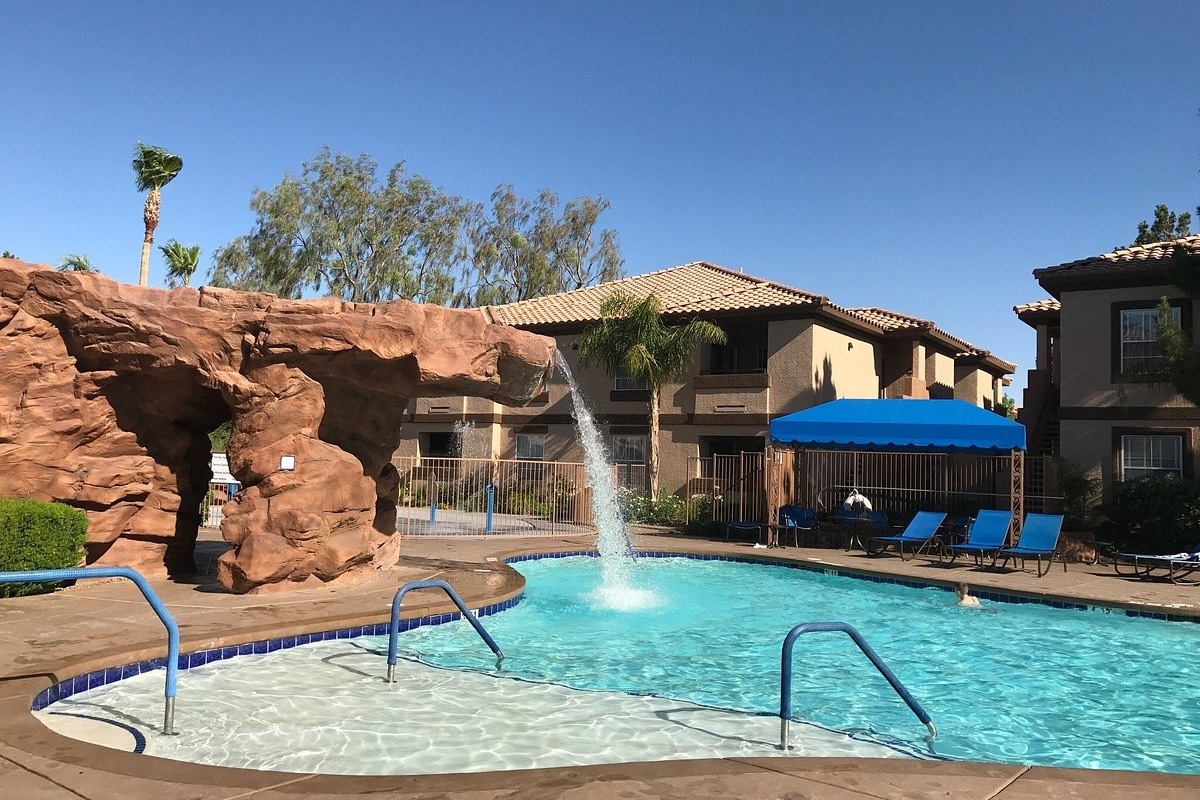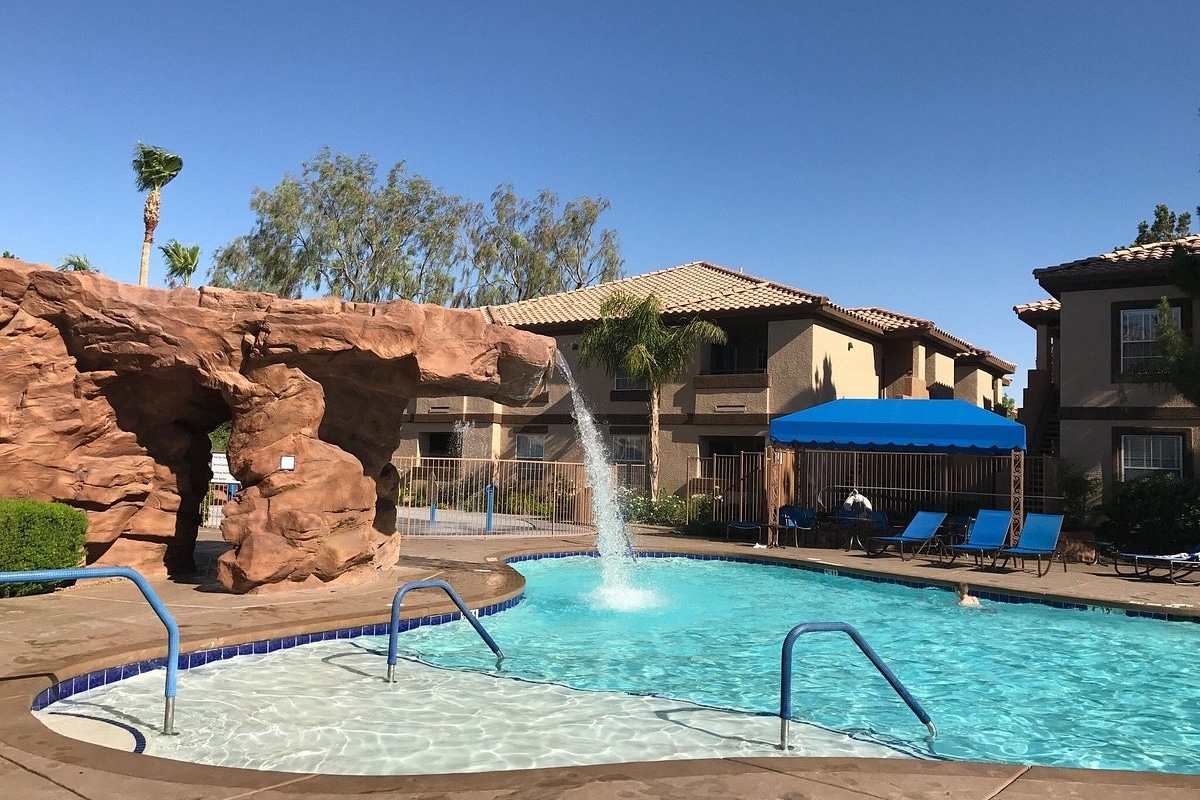 Desert Paradise is a Diamond Resort that is less than ten minutes from the heart of the Las Vegas Strip. As the resort's name suggests, this resort is a quiet oasis for guests with mountain views at the entrance. Of course, visitors will love heading right into the buzzing city but this resort is also a great jumping point for fun outside The Strip. Adventurous visitors can spend a day of fun on Lake Mead or hiking Red Rock Canyon. No matter how you choose to spend your days (and nights,) Desert Paradise will be the best place to unwind. This quiet resort has great relaxing amenities, including heated pools and hot tubs.
Guests will love how spacious the accommodations at Desert Paradise Resort are. The one- and two-bedroom villas include all of the comforts of home that guests desire. For example, each villa has a full kitchen, a dining room, and full laundry units.
Polo Towers Suites & Villas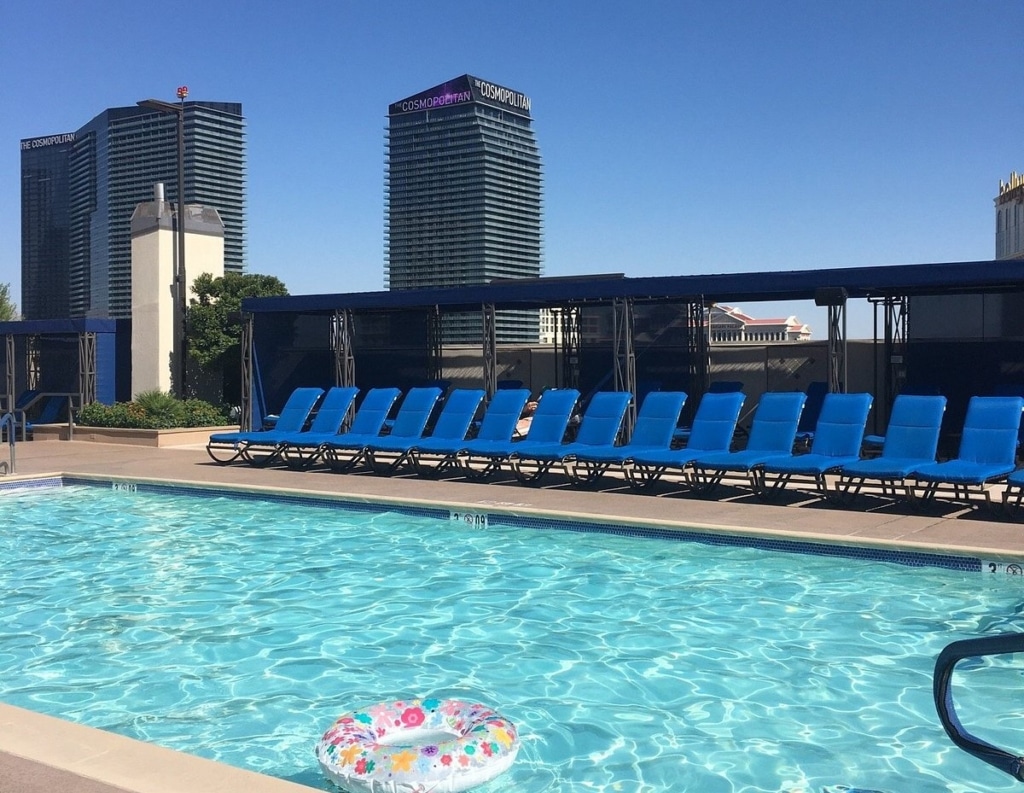 Polo Towers is Diamond's resort located right on the Las Vegas Strip. The convenience of this resort is unmatched! Everything you could want to see or do on The Strip is within walking distance. Of course, you don't even need to leave the resort to have a fun day! The amenities at Polo Towers include a rooftop pool, where you can cool off from the desert heat and enjoy a panoramic view of Las Vegas. Enjoy a day of pampering at the resort's spa or at Kathy's nail and hair studio. The resort's Pony Express Shop has snacks, drinks, freshly brewed coffees, and groceries to keep your villa's kitchen stocked.
Polo Towers has two towers, one with villas and the other with suites. All units include full kitchens and everything else you would need to feel comfortable on vacation. The villas at Polo Towers feature Mediterranean-inspired decor and modern amenities. Suites have a sleeker, more modern design. The towers may offer differently styled rooms, however, guests can expect the best no matter where they stay.
Things To Do Near Diamond Resorts in Las Vegas
There is truly an endless list of things to do in Las Vegas. Whether you're looking for an incredible live show or want to test your luck at the casinos, Vegas is the place for you. Although it isn't the first thing that people think of when planning a Vegas vacation, there is so much natural beauty to explore in the area as well! Las Vegas can be an incredible vacation destination for all types of travelers!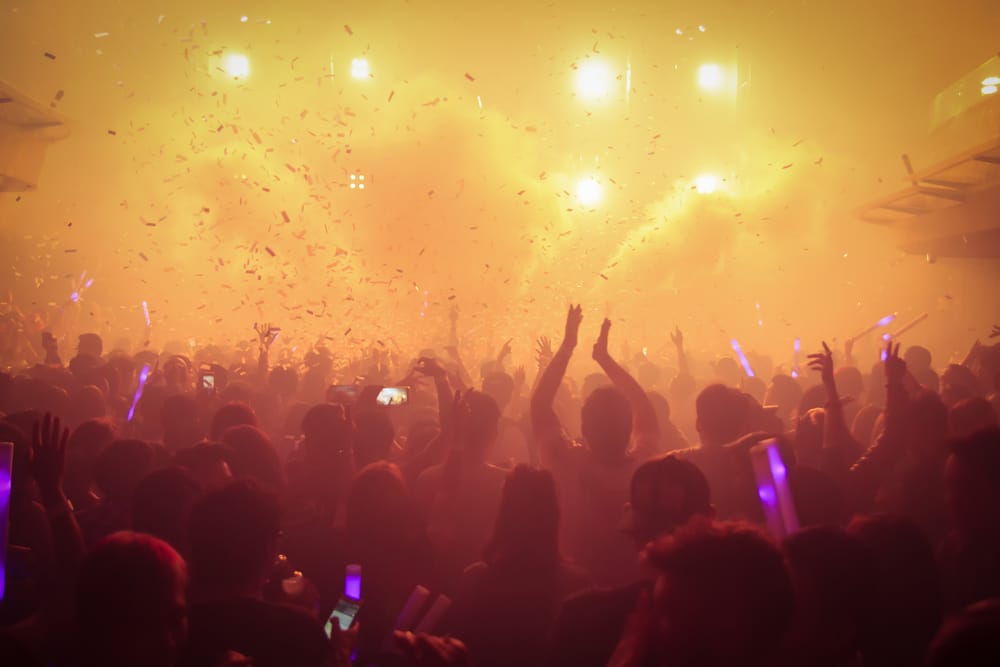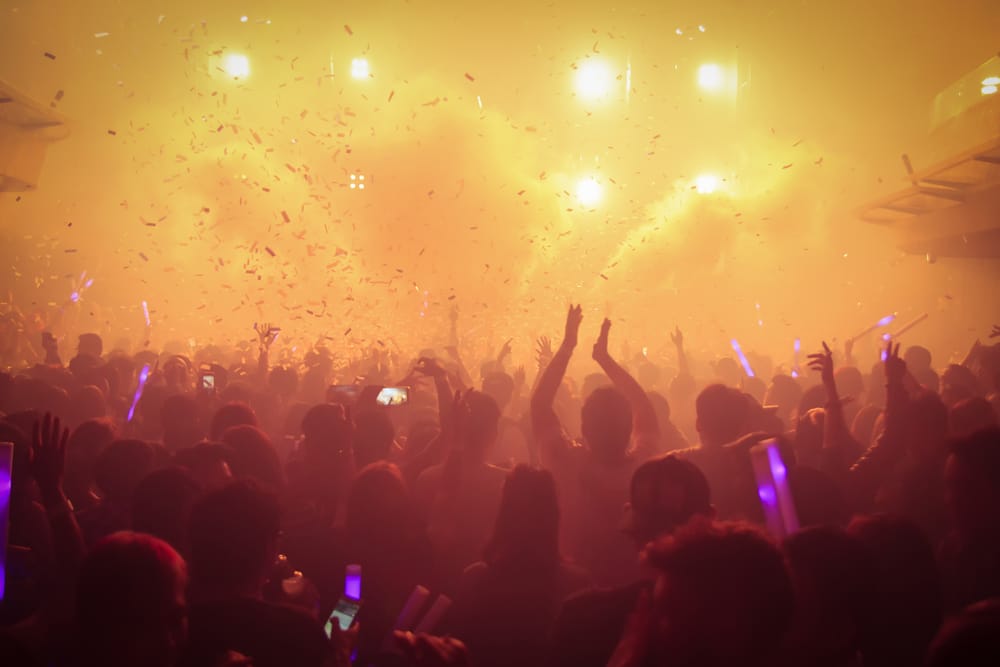 Beyond the Diamond member events, Las Vegas has entertainment for everyone! Some of the biggest names in music either visit Las Vegas whilst touring or have year-round residencies in town. Cher currently has a show at the Park MGM's theater. It's a dazzling music experience where you'll get to see a pop megastar perform her 50 years of hits! Las Vegas also has an extensive offering of other entertainment including comedy, magic, and acrobatics. There is always an opportunity to have the best night of your life in Las Vegas!
Outside of the neon lights of the Las Vegas Strip, there is so much to explore! The Red Rock Canyon is a scenic National Conservation Area, directly outside of the downtown area of Vegas. These beautiful red sandstone peaks can be seen from some areas of The Strip, but the best way to see them is by hiking the beautiful trails. Lake Mead is a nearby reservoir, America's largest reservoir in fact, where visitors can spend a day enjoying all sorts of watersports. The Lake Mead National Recreation Area is the nation's first and largest national recreation area. Guests can swim, hike, boat, and more at this scenic area on the Colorado River.
Timeshares For Sale at Diamond Resorts Las Vegas
If you're ready to make a yearly trip to one of the Diamond Resorts in Las Vegas, our Licensed Real Estate Agents can help. Firstly, browse our Diamond timeshares for sale. Then, when you've found the right listing for you, simply make an offer! Becoming a vacation owner has never been so easy! Not to mention, the resale prices of timeshare are generally way lower than retail. We know that deciding to buy a timeshare can be daunting, but we're here to help. We can help you find the perfect vacation ownership for your family, without any pressure. You can contact our experienced team directly at (407) 465-5188 or team@fidelityresales.com.