Everyone wants to know if there is a best time to buy DVC resale. There's a lot of speculation over when owners are most eager to sell or when points will depreciate. However, hard data can't prove these assumptions. To truly know when you should buy DVC resale, we should take a close look at the numbers.
Examining DVC Resale Volume and Cost
In order to find a legitimate answer, we analyzed transaction records of over 3,000 Disney Vacation Club resales between 2010-2013. Keep in mind that this is just our data. It does not take into account any market changes (like inflation).
We found that although there are usually more DVC resales in the summer, the cost per point is lower in the early months of the year. Many people suggest that sellers might drop prices as the due date for maintenance fees draws closer. Our data at least validates that hypothesis by revealing that February has the lowest average prices.
The data shows a sharp increase in the average cost per point in July. Though there are some fluctuations, average prices remained slightly elevated through the second half of the year. The variation between the highest and lowest cost per point is only $2.68.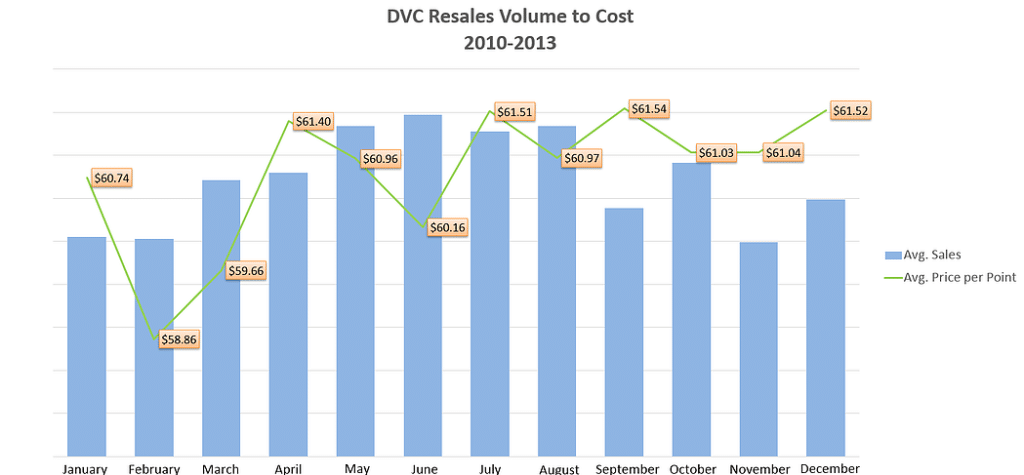 February is interestingly one of the least expensive months to buy a DVC resale. In addition, it's one of the best times to also purchase a larger amount of points. It's likely because larger point packages sell at a lower price per point. Our data doesn't conclusively prove this relationship being responsible for February's lower average cost per point. The number one month for large point packages appears to be July. However, this is historically one of the most expensive months by cost per point. May was the best month for small point packages.
Despite what owners have suggested on DVC forums, we didn't see a correlation between policy changes and cost per point. That's not to say that individual sellers won't be influenced by policy changes; there's just no indication from the data that these announcements have resulted in any meaningful trends in the past. A substantial change in the DVC market, such as the opening of Polynesian villas, may potentially cause short-term fluctuations in the future. Keep in mind we haven't seen any evidence to support that hypothesis.
Buying Particular Disney Vacation Club Resorts
When it comes to shopping for a specific home resort, Saratoga Springs was the most popular across the board. SSR even saw the most resales in June. Old Key West and Wilderness Lodge also had their highest number of resale transactions in June.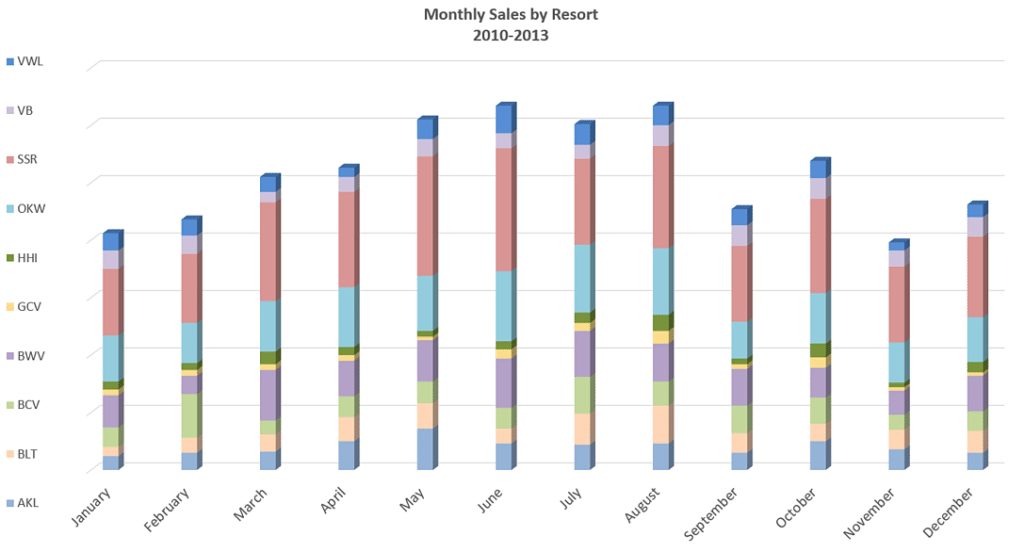 We also included Grand Floridian and Aulani in the data pool but the monthly sales could not draw meaningful conclusions.
August was shown to be an exceptional month for buying at Bay Lake Tower, Grand Californian, Hilton Head Island, and Vero Beach. Animal Kingdom saw its highest resales in May, Beach Club in February, and Boardwalk in March. While these statistics represent interesting trends in DVC resales, availability varies each year and buyers can often find a great point package for the home resort of their choice at any time of the year.
Conclusions
It's difficult to draw any definite conclusions that can be professed as "hard facts" but the data clearly indicates certain trends that are worth keeping in mind when planning a Disney Vacation Club resale purchase. For one thing, according to the data, prospective buyers have a better chance of paying a lower price per point in the first half of the year, particularly in February and March.
Demand for DVC resale properties is typically pretty consistent, so it is likely (though not proven) that the peak of Disney Vacation Club resales during the summer is the result of an increase in resale listings. If you have a very specific point package in mind, shopping May through August might be your best bet.
For more information about Disney Vacation Club, be sure to download our free ebook: A Family Guide to Disney Vacation Club.
Don't forget to leave thoughts and questions in the comments section below!