From its massive amusement parks to its thriving shopping and dining, there's a lot to love about Orlando, Florida. If you want to relax in a great spot that'll help you make the most of your time in Orlando, then check out the Westgate Town Center Orlando. This resort has all of the hallmarks of a great Westgate resort, like stellar amenities, great dining options, and a prime location. Once you stay at the Westgate, you may not want to leave!
Amenities at the Westgate Town Center Orlando
While there are plenty of things to do in Orlando, you'll probably want to rest at the resort from time to time. Fortunately, the Westgate Town Center Orlando has plenty of amenities to keep you entertained. If you'd like to stay active, there are three outdoor tennis courts, a volleyball court, and a fitness center to enjoy. The resort also has free bike rentals if you'd like to explore the city. Want to have a movie night? Well, you're in luck! The Westgate Town Center is home to a Disney Movie Theater showcasing a wide selection of films. Overall, the Disney Theater is fun for the whole family. For even more family-friendly fun, check out the 18-hole dinosaur-themed mini golf course. The relaxing lakeside setting offers scenic views of the tranquil waters and the Westgate Town Center.
Shipwreck Island Water Park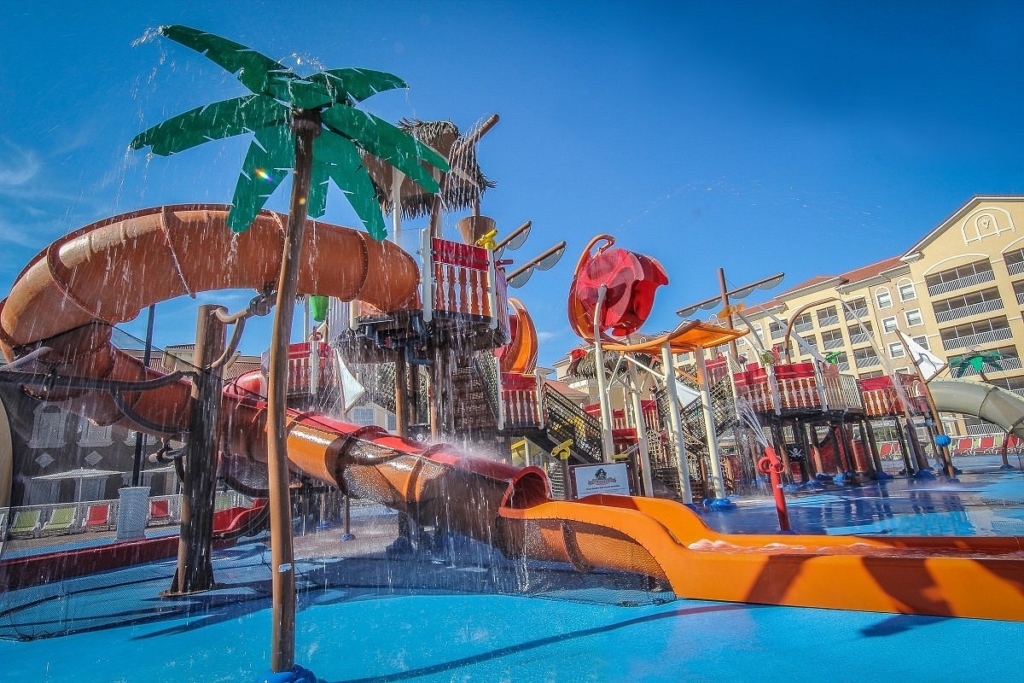 Guests staying at the Westgate Town Center Orlando can enjoy this amazing water park. Get soaked, cool down, and enjoy your favorite drink. There's plenty to enjoy just steps away from their room. Shipwreck Island features a pirate ship that fires water sprays from its cannons, a relaxing lazy river, and tons of water slides. One of the biggest highlights at the park is the Pirate's Plunge Drop Slide. This slide has adventurous guests walking the plank to plunge down a fully enclosed, see-through drop slide that shoots through Jolly Roger's Galley into the shallow waters below. Speaking of Jolly Roger's Galley, it's one of two options for poolside food and drinks. The Galley offers nachos, burgers, wings and more. Meanwhile, the Sea Dog's Bar has an extensive cocktail menu with popular specialty drinks like Pirate's Punch and Rum Runner, as well as ice-cold draft beers.
Accommodations at the Westgate Town Center Resort
A stay at Westgate Resorts Town Center comes with spacious and tastefully designed accommodations with all the comforts of home. Guests can unwind in a studio, one, two, three, or four-bedroom villa. The studio villa has a queen-sized sleeper sofa and a double bed. Next, the one-bedroom villa has a king-sized bed and queen-sized sleeper sofa. The two-bedroom villa has everything you'll find in the one-bedroom, alongside a double bed. Meanwhile, the three-bedroom villa adds two more double beds as well as another queen-sized sleeper sofa. Finally, the four-bedroom villa boasts a king-sized bed, three queen-sized sleeper sofas, and four double beds. No matter which villa you choose, you'll be staying in rooms with a perfect blend of contemporary elegance fused with a warm and cozy vibe that makes it feel like a private sanctuary.
On-Site Dining at the Westgate Town Center Orlando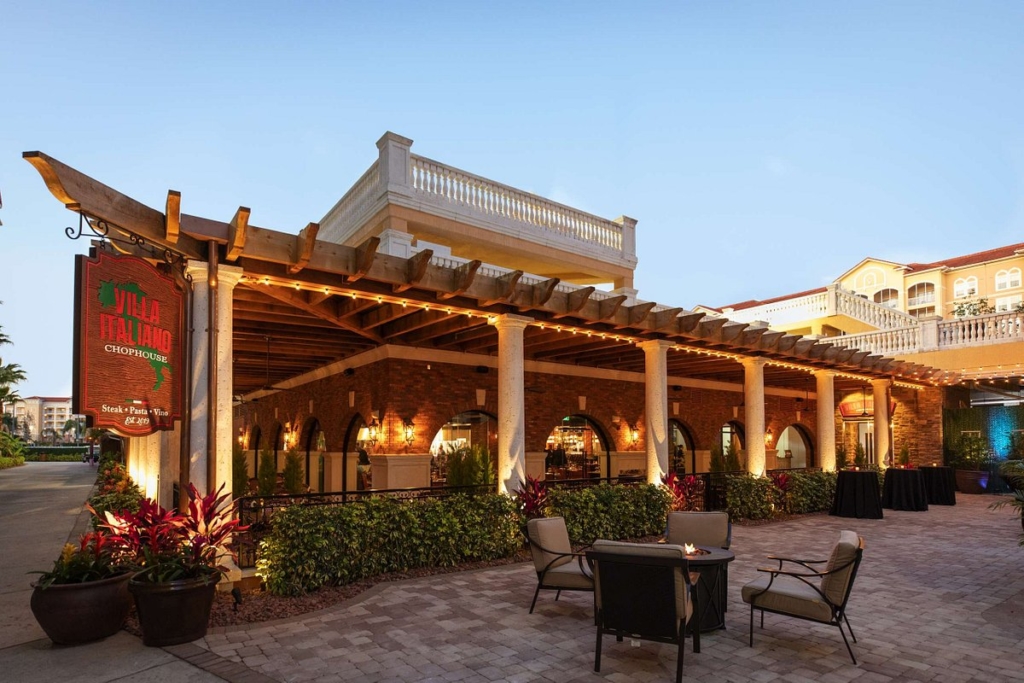 Good food is one of the most fun parts of any vacation, and the Westgate Town Center Orlando delivers. Los Amigos Mexican Grill and Tequila Bar is a dining experience that offers flavorful, authentic Mexican cuisine in a bright and festive atmosphere. For authentic Italian cuisine, check out the Villa Italiano Chophouse. This restaurant features fresh ingredients and chophouse specialties like rib-eye and top sirloin. There are also salads, pasta dishes, and an extensive wine menu. Cordovano Joe's Pizza is perfect for anyone craving a slice of New York pizza. For some classic American food, enjoy the Drafts Sports Bar and grill, which features burgers and classic appetizers along with a wide array of microbrews, draft, and bottled beers. It's safe to say this resort has something for just about everyone.
Things to Do Near the Westgate Town Center Orlando
While the amenities and accommodations are worth the price of the resort alone, the Westgate Town Center Orlando is also near several great attractions in the city. Here are just a few of the things you can do near the Westgate Town Center.
Visit Orlando's Many Theme Parks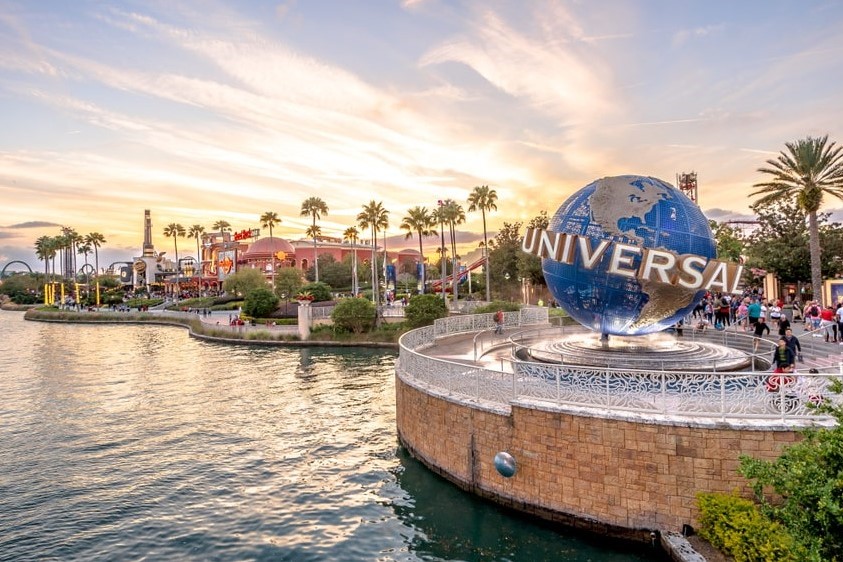 If you're visiting Orlando, you're probably interested in at least one amusement park. Fortunately, the Westgate Town Center Orlando is just a short drive from almost all of them. Walt Disney World resort is just under eight miles away from the resort. So if you'd like to enjoy Disney's many theme parks like the Magic Kingdom or Hollywood Studios, you'll be in a good spot to do so. Universal Orlando is only 15 miles away and is home to three parks, including a waterpark. Lastly, SeaWorld Orlando is just 11 miles out from Westgate Town Center. Whether it's meeting Mickey Mouse or braving the most iconic water park in the U.S. Westgate Town Center Orlando is perfect for you.
Check Out Icon Park
Located in a tourism corridor called the I-Drive, Icon Park is only 14 miles away from the Westgate Town Center Orlando. The park is home to over 50 restaurants, bars, and boutique shops to visit, so it's a great place to both shop and eat. Icon Park also features a Museum of Illusions and Madame Tussauds, a world-famous wax museum with statues of pop-culture icons. Do you love the sea? Then check out Sea Life Orlando! The aquarium features Florida's only 360 Ocean Tunnel, which gives guests a once-in-a-lifetime view of aquatic life! Here, you can watch as sealife swims all around you. It's as if you're walking underwater! This aquarium also hosts moon jellyfish and a coastal rockpool. For something even more high-tech, visit In the Game. This entertainment center houses a massive arcade, 7D motion theater, and breathtaking virtual reality experiences.
Explore Lake Louisa State Park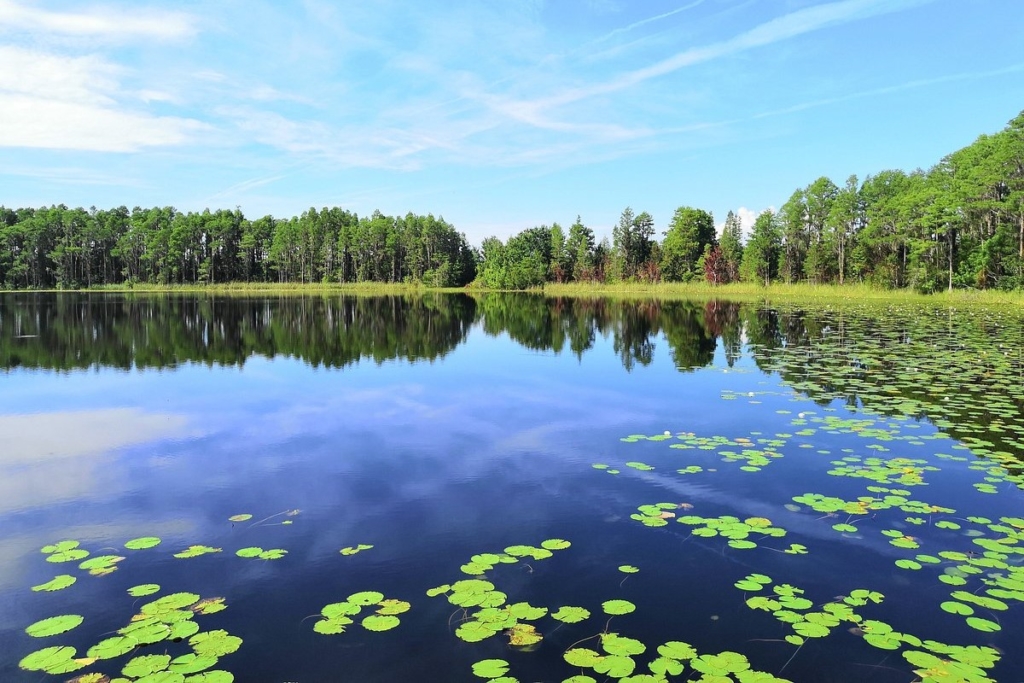 13 miles from Westgate Town Center Orlando is a quiet nature getaway. Lake Louisa State Park is home to three major lakes: Louisa, Hammond, and Dixie. These lakes offer travelers opportunities to canoe, kayak, and paddleboard. Bicycling is also popular on the park's seven miles of paved roads over rolling hills. There are also 20 miles of unpaved multi-use trails to enjoy. Remember those free bike rentals at the Westgate Town Center? They'll definitely come in handy here! You can even catch a glimpse of some diverse wildlife at the park, like bald eagles, osprey, and deer. Plus, Lake Louisa has 60 full-facility campsites, each with 30 and 50-amp hookups. If you want to go camping, this is an excellent place to do so.
Buy a Timeshare at the Westgate Town Center Orlando
The Westgate Town Center Orlando has tons of on-site dining, great amenities, and a fantastic location near all of the city's amusement parks. What's not to love? You can join the Westgate family today. If you'd like to buy a timeshare, just find a listing on our site and make an offer. It really is that simple! Do you still have questions? Feel free to give us a call at 1-800-410-8326 or email us at team@fidelityresales.com.