Buying a timeshare at Westgate's fabulous Orlando flagship resorts will provide unforgettable memories for years to come. With its conveniently located resorts and top-of-the-line hospitality, Westgate is a top choice when it comes to timeshares. Westgate's Orlando resorts will keep the fun going even after you leave the theme parks! Let's discuss what makes Westgate so special and why you should consider buying a timeshare at one of the Westgate resorts in Orlando.
About Westgate
Westgate is known for being the biggest privately-owned timeshare brand in the industry. The brand actually began in the heart of vacation fun and had its start in Orlando! Westgate started with a 16-unit resort and now has over 14,000 villas at 27 resorts. Westgate has successfully expanded into one of the largest and most sought-after timeshare brands. With its diverse range of travel destinations, Westgate provides premier vacation experiences to owners.
There are a wide variety of accommodation choices at Westgate resorts, with choices for every budget. From cozy studio units to 4-bedroom villas, there is something for every family's needs. Each villa is equipped with the comforts of home, including kitchens, sleeper sofas, and private balconies. After a long day of fun in Orlando, return to your resort, where you'll have plenty of space to relax in one of Westgate's family-sized villas.
Buy At These Westgate Timeshare Resorts In Orlando
There are five beautiful Westgate timeshare resorts to buy in Orlando. All of these fabulous resorts will put you near the best attractions in Orlando. Whether you're near the attractions on International Drive or right outside the gates of Disney World, you'll never be far from the fun. Choose from Westgate Lakes Resort & Spa, Westgate Town Center, Westgate Vacation Villas, Westgate Towers Resort, and Westgate Palace Resort.
Westgate Lakes Resort & Spa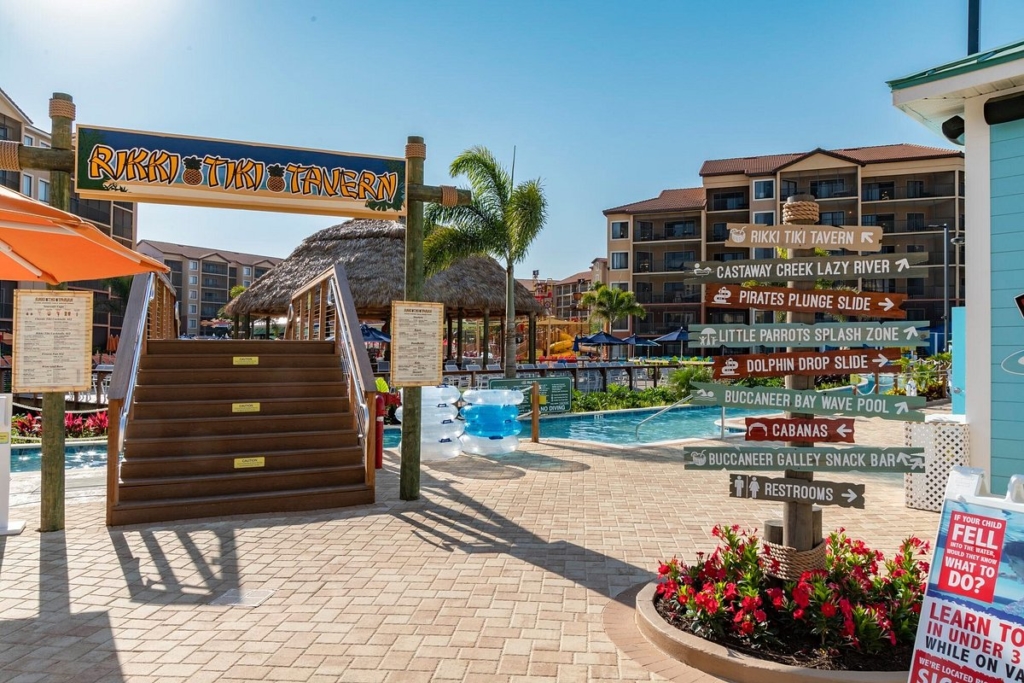 Westgate Lakes Resort & Spa is a lakeside resort that was designed with families in mind. This sprawling resort provides an almost unending amount of amenities to guests. One of the most exciting amenities found at this resort is the Treasure Cove Water Park. The state-of-the-art waterpark features a wave pool, lazy river, and thrilling water slides. There's also a tiki bar and snack bar, so everyone in the family will find something delicious to enjoy. In addition to the water park, there is more aquatic fun on-site including boat and kayak rentals from the lake's marina. That's not the end of the fun at Westgate Lakes! There are sports courts, mini-golf, fishing, a playground, and an arcade.
For a more relaxing vacation experience, head to Serenity Spa for a facial or massage. If you're looking to spend quality time over a good meal, then you're in luck! Unwind after a fun-filled day at Drafts Sports Bar & Grill, or grab a pizza from Cordovano Joe's. Westgate Lakes has a central location to many of Orlando's best attractions, including Universal and International Drive. The best place to relax after your day in Orlando is in your spacious Westgate resort timeshare villa. In the larger suites, you'll find full kitchens complete with dishes and utensils, as well as washer-dryer units. It's no surprise this is one of the top resorts in Orlando, Florida.
Westgate Town Center
Westgate Town Center is a beautiful resort that's right around the corner from the Disney World property. As expected with a Westgate resort, there is so much fun on-site that you won't need to leave the resort. This sprawling resort boasts fun and excitement for all. Enjoy a day at Shipwreck Island Water Park where you'll find Black Beard's Pirate Ship, a playground complete with fountains and slides. Shipwreck Island has two levels of fun, including a lazy river, waterslides, and a zero-entry pool. On the lower level, you'll be able to enjoy snacks and drinks at Jolly Roger's Galley or Sea Dog's Bar.
For more fun, cross over the bridge to Jurassic Mini Golf where you can play amongst giant prehistoric pals. For a peaceful time on the water, rent out a swan paddle boat and get a better view of the resort. Another great way to see the resort grounds is by biking along the paved pathways. In the evening, enjoy some Italian fine dining with the family at Villa Italiano Chophouse. When you're all worn out after a jam-packed day at the resort or around Orlando, retreat to your Westgate Town Center Orlando timeshare villa.
Westgate Vacation Villas Resort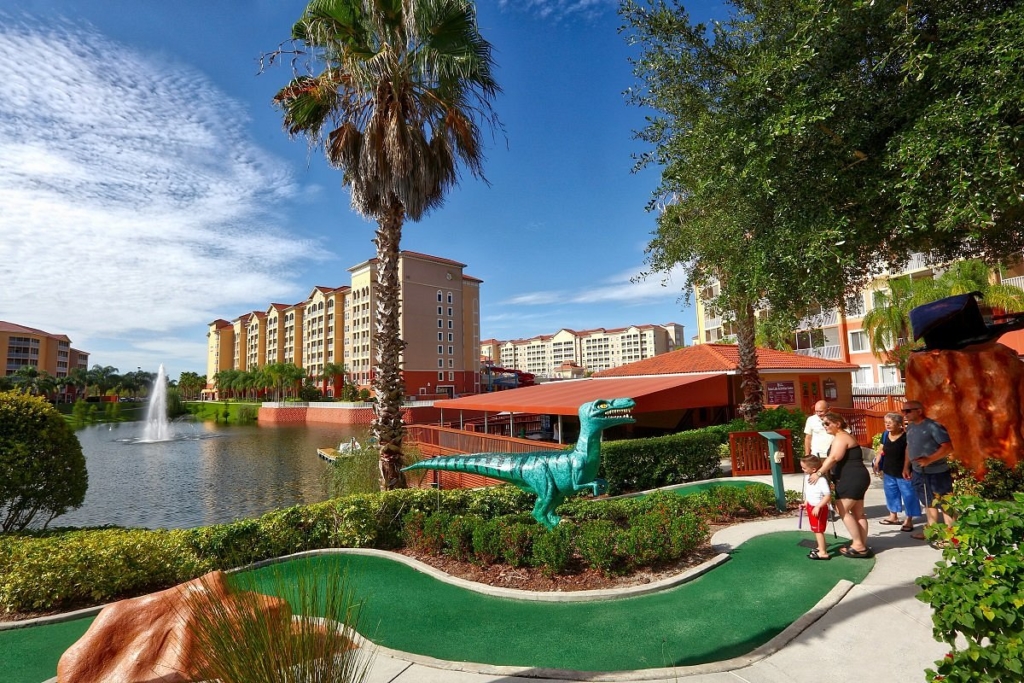 Westgate Vacation Villas Resort is just one mile from the main gates of Disney World. This resort is located directly next door to Westgate Town Center, so all of the incredible amenities are available to guests of both resorts. For the convenience of the guests, the resort offers shuttle services to theme parks. Come home from a long day at the parks and find complete serenity in your roomy villa. Whether you're spending your day at one of Orlando's theme parks or sticking around your Westgate timeshare resort, you're guaranteed to make unforgettable vacation memories.
To treat yourself to something sweet, the resort's Pavilion area is home to Hershey's Ice Cream Shop. Here you can enjoy a wide menu selection of ice cream, frozen yogurts, and other frozen creations. To start off your day, or if you just need an afternoon boost, you can head to Sid's Bistro. This is where you can find Starbucks coffees, Jamba Juice smoothies, and some freshly baked goods. To stock up your villa's kitchen for the week, Joe's Marketplace & Deli is a convenient shop full of grocery items as well as made-to-order sandwiches.
Westgate Towers Resort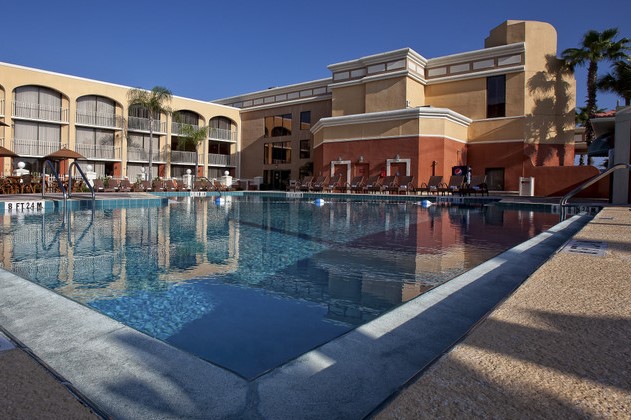 Westgate Towers Resort is the closest Westgate property to Disney World. You'll find that this resort is a nice way to escape from the theme park crowds. Westgate Towers is located near Kissimmee's long list of shopping and dining options. This peaceful property offers three heated outdoor pools, three hot tubs, and a children's wading pool. The resort also has a fitness center for those that want to keep on track of their health while on vacation. Guests of this resort are also welcome to head over and enjoy the amenities at Westgate Town Center Resort.
This resort is welcoming to every member of your party, including pets! You can take a load off and trust that your kids are in safe hands at Westgate Kid's Club. This fun and secure environment provides crafts, games, and more to your little ones while you're off enjoying the resort.
Westgate Palace Resort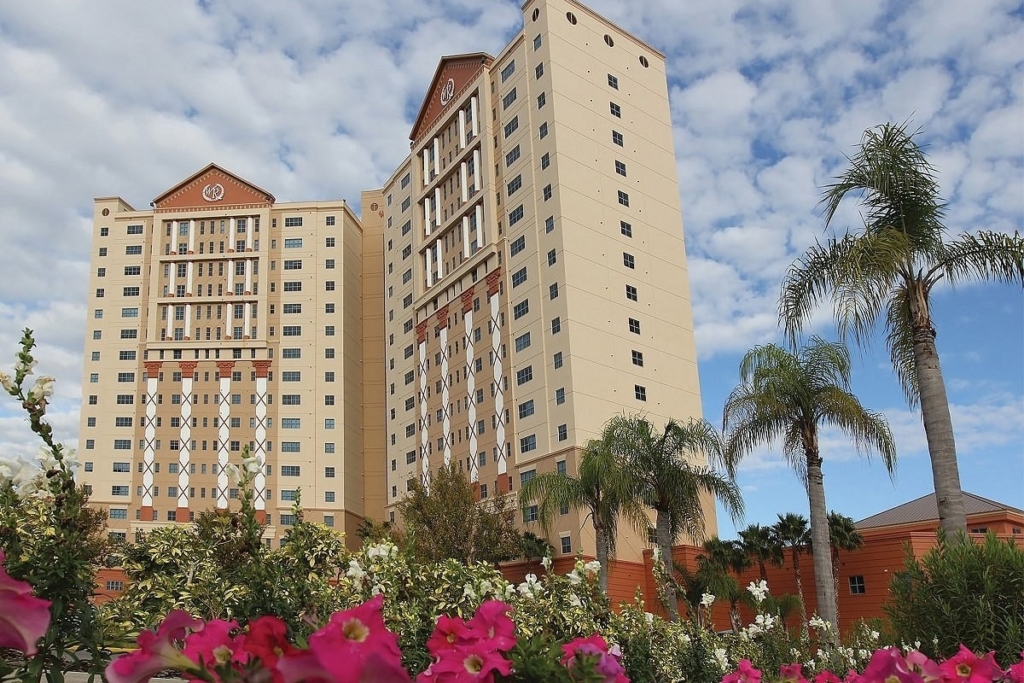 Westgate Palace Resort offers luxurious 2-bedroom villas in the heart of Orlando's most popular attractions. This resort overlooks a lake and will make you feel like royalty with its spacious accommodations. Spend an afternoon lounging by the lakeside pool, then take a quick ride over to International Drive for a fun night out. However, you don't have to leave the resort to have a good drink as the resort offers a pool bar and a Drafts Sports Bar. Westgate makes it so easy to relax at this stylish resort.
If you like to spend your vacations out and about, Westgate Palace Resort is the perfect jumping point. In fact, you can see some of Orlando's best attractions from your villa! In addition to Universal and Sea World both being within a fifteen-minute drive, this resort is close to SO many fun spots. On your trip, you should check out TopGolf, Icon Park, Dave & Buster's, and the Orlando International Premium Outlets.
Westgate Leisure Resort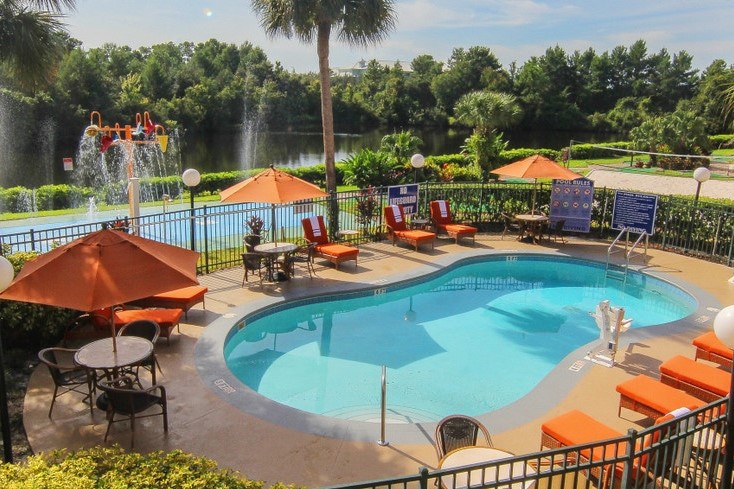 Many vacationers in the Orlando area choose Westgate Leisure Resort as their base of operations. At Westgate Leisure Resort, you can relax in the outdoor pool or hot tub after a day of sightseeing. Visit the games room for a break from the television, or take a stroll around the property for some peace and quiet. Within 10 minutes of Disney & Sea World, this Gold Crown resort is situated in the heart of Central Florida's attractions. Take in the theme parks during the day & party at Pleasure Island or CityWalk at night. There are beautiful beaches and some of the best golf courses in the world within an hour's drive. Whatever you decide to do on this vacation, you have it all at your fingertips.
One-bedroom and two-bedroom timeshare villas come with air conditioning, a full kitchen including a dishwasher and microwave, and a washer/dryer. There are one-bedroom villas that sleep four people and two-bedroom villas that sleep six people. Each villa has a queen bed in the master bedroom, two full-sized beds in the second bedroom, and a queen sleeper sofa in the living room.
Things To Do In Orlando
If you've ever visited Orlando, you'll know just how much there is to do! There are plenty of opportunities to hit the theme parks, go shopping, or get a taste of Orlando's unique food scene. Obviously, many people travel to Orlando to visit Walt Disney World, Universal Studios, and SeaWorld. There's a reason that millions of people return to theme parks each year. Of course, it's because they are an amazing way to spend an unforgettable day with your loved ones.
There are fabulous things to do in Orlando other than theme parks. If you're looking for something to do on a rainy day or just want to do some shopping, Orlando is the spot for you. Florida Mall and Mall at Millenia are fabulous malls, there are two outlet centers, and there are also so many independent shops and boutiques in the area. You'll also be spoiled for choice when you get hungry, as there is something for everyone's taste. Grab a quick bite at Portillo's, share some small plates at Santiago's Bodega, dine with princesses at Cinderella's Royal Table, or splurge on a meal at Knife & Spoon.
Orlando has almost endless fun to be had, so it's no wonder it's one of the most visited destinations in the world! You'll have to return to the area to experience it all! Buying a timeshare at one of Westgate's Orlando resorts will guarantee that you'll have a lifetime full of incredible vacation memories.
Westgate Timeshare Resorts Available To Buy
If you're ready to start looking at Westgate timeshares for sale in Orlando, you've come to the right place! Firstly, you should browse our marketplace of available Westgate Orlando timeshares. Then, when you find one you love, simply make an offer! If you need further assistance, feel free to contact us at (407) 465-5188 or at team@fidelityresales.com. Our team of licensed real estate agents has the experience and knowledge to make buying a Westgate timeshare in Orlando easy!