When people think of iconic cities in America, New York City is often at the top of the list. It's the setting for countless films, has tons of popular landmarks, and is packed with theaters and museums. As a result, it's safe to say there are a dozen exciting things around every corner in the big apple. With all of the options for fun in the city, choosing a place to stay is extra important. After all, who wants to spend most of their vacation just getting to the places they want to see? You also want to be sure you're staying somewhere comfy and fitted with good amenities, because after an exciting day out, being able to properly relax is important. Fortunately, the Hilton Club New York, a Hilton Grand Vacations resort, gives you everything you could ask for! This resort's well-equipped to make your vacation perfect.
Introducing the Hilton Club New York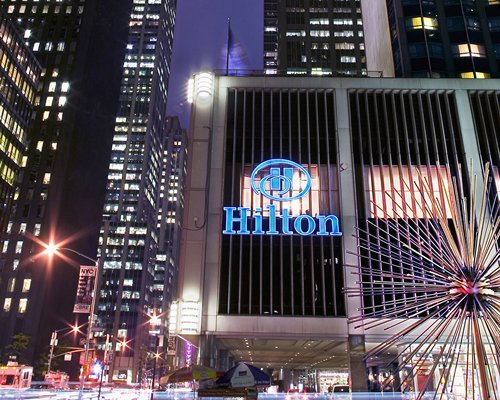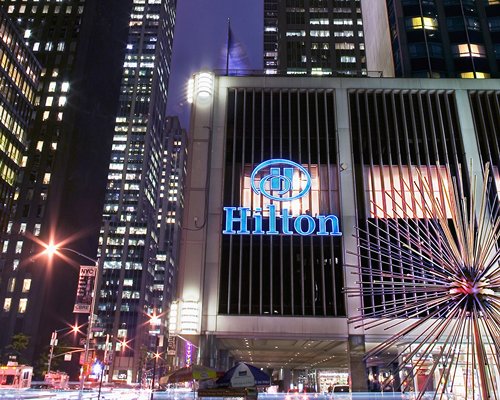 Located in the New York Hilton Midtown Hotel, the Hilton Club New York promises a sophisticated retreat. These timeshares are all located on either the 36th, 37th, or 38th floors of the hotel. Perfect for giving guests a view of the city! Amenities include a fitness center, lounge, and access to delicious dining options in the hotel. Those dining options begin with the Bridges Bar, a space that oozes luxury and boasts an ever-changing selection of fine regional wines. If you're looking for breakfast or lunch, check out the Herb N' Kitchen. They serve a breakfast buffet there each morning while offering sandwiches, salads, and pizza for lunch. A barista zone prepares specialty coffees for guests to enjoy either in the restaurant or on the go. Whatever you're looking for, the Hilton Club New York is sure to leave you satisfied without having to venture outside.
Accommodations at the Hilton Club New York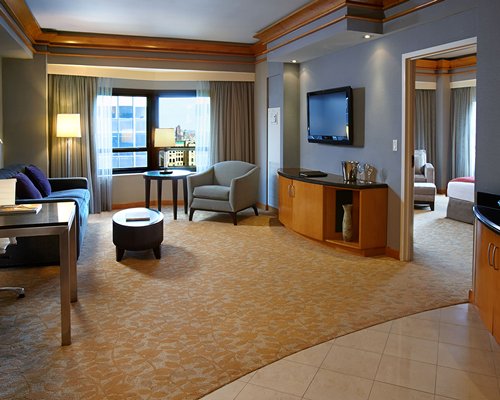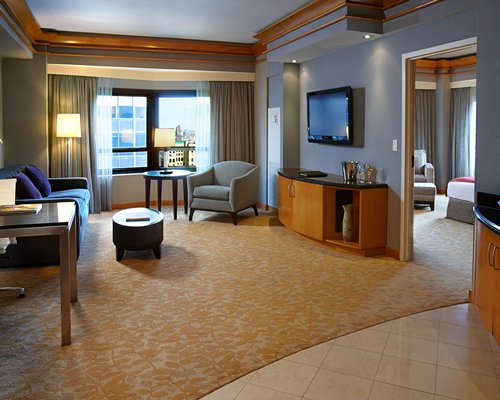 After a busy day out on the town, you can rest assured that you'll be coming back to spacious and comfortable accommodations. Guests can choose between a studio, one, or two-bedroom suite. No matter which you choose, you'll have access to a Euro king-size bed, 55-inch plasma tv, and coffeemaker. Additionally, the one-bedroom includes a separate living room with a spacious living area, queen-size sleeper sofa, club table, and chairs. Meanwhile, the two-bedroom suite has all the same accommodations as the one-bedroom suite alongside a bathroom with a free-standing shower and separate soaking tub. The second bedroom is furnished with another Euro king-size bed, a bathroom with a shower, and a cozy sitting area that can be separated from the main living area to create a relaxing element of privacy. The studio accommodates two guests, the one-bedroom accommodates four and the two-bedroom accommodates six.
Things to Do Nearby
With so much to do and see, it's only natural that you'd want to be as close to the action as possible. Fortunately, the Hilton Club New York is perfectly positioned to help you make the most of your time in the city. Let's take a look at some great attractions that are no more than half a mile from the resort.
The Rockefeller Center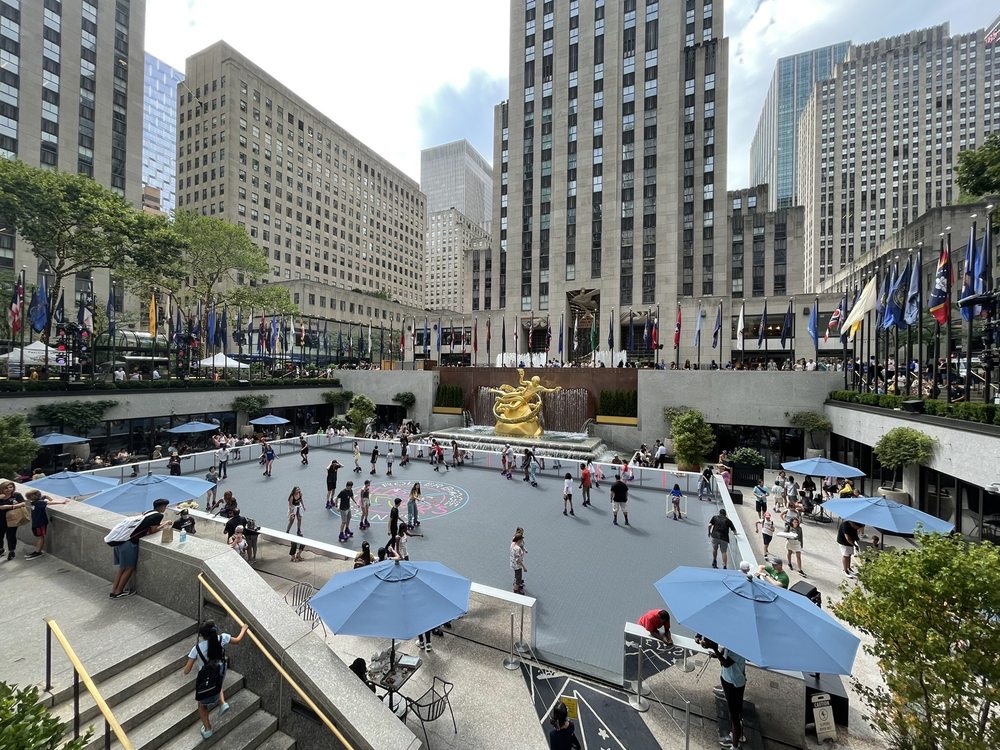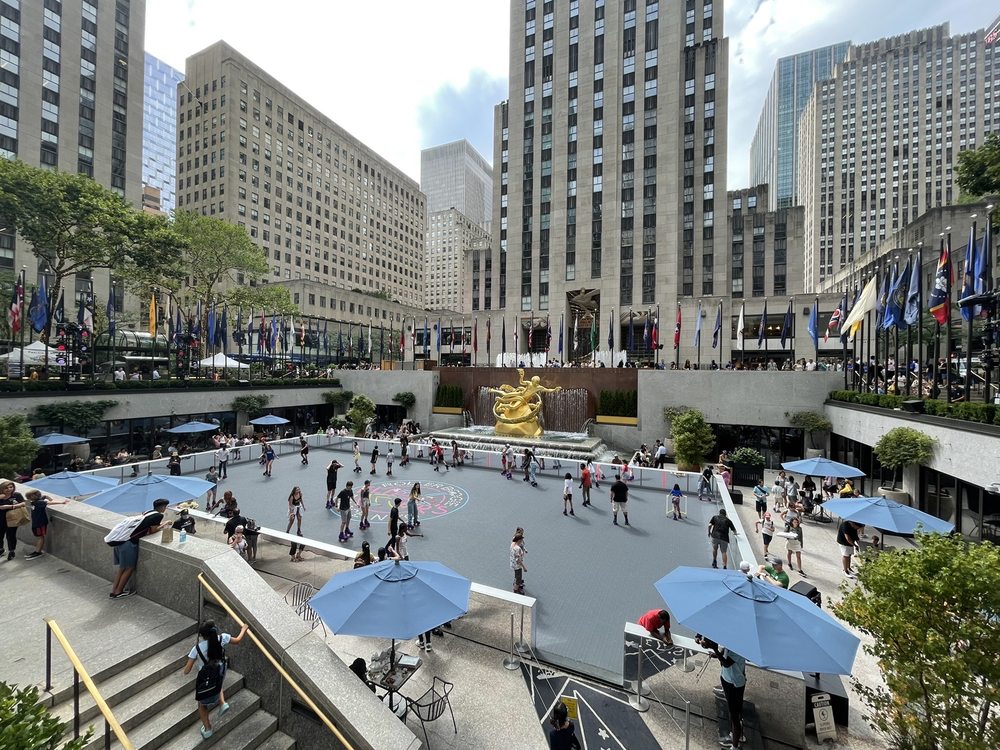 Over a century ago, John D. Rockefeller had a vision to create a "city within a city". Looking at the Rockefeller Center today, it's safe to say his vision came true. The center hosts a collection of art deco motifs and sculptures as well as 19 buildings filled with tv studios, food, and shopping. Some of the highlights include the Radio City Music Hall, home to the Radio City Rockettes. Just next door is the General Electric Building, where Saturday Night Live, Late Night with Jimmy Fallon, and the Today show are all filmed. In fact, you can buy tickets to watch the tapings in person! While the buildings are all great, no trip to the Rockefeller center is complete without seeing the iconic Rockefeller Plaza.
This plaza is home to the Rockefeller Center Christmas Tree that's lit yearly, and a beautiful ice skating rink in the winter. If you plan to stay at the Hilton Club New York, this city within a city is just a short walk away!
The Broadway Theater District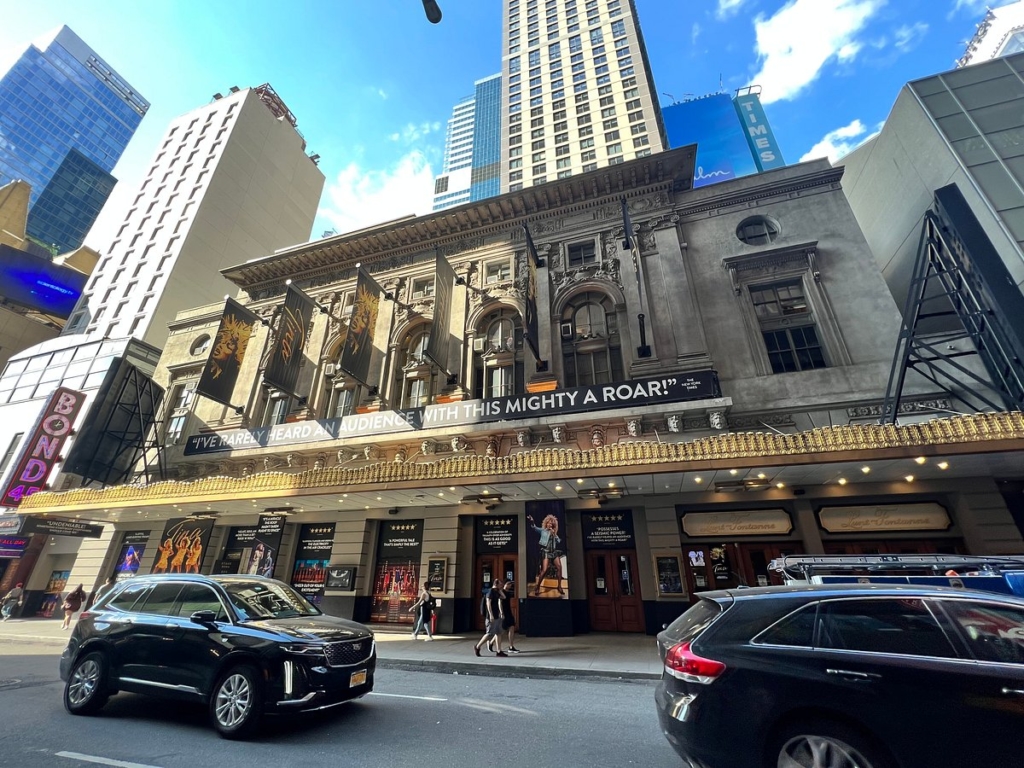 As the most influential theater district in the U.S., Broadway is a must-see spot for anyone with a love of the performing arts. Broadway is home to over 400 theaters, each of which seats 500 or more guests. From musicals like Hamilton and Hadestown, to stage plays like Good Night Oscar and Leopoldstadt, the theater district covers so many different genres that there's sure to be something for everyone to enjoy. Many of these plays are considered classics or contemporary masterpieces, and tickets for them are in high demand. If you want the theater experience of a lifetime, you have to check out Broadway.
Times Square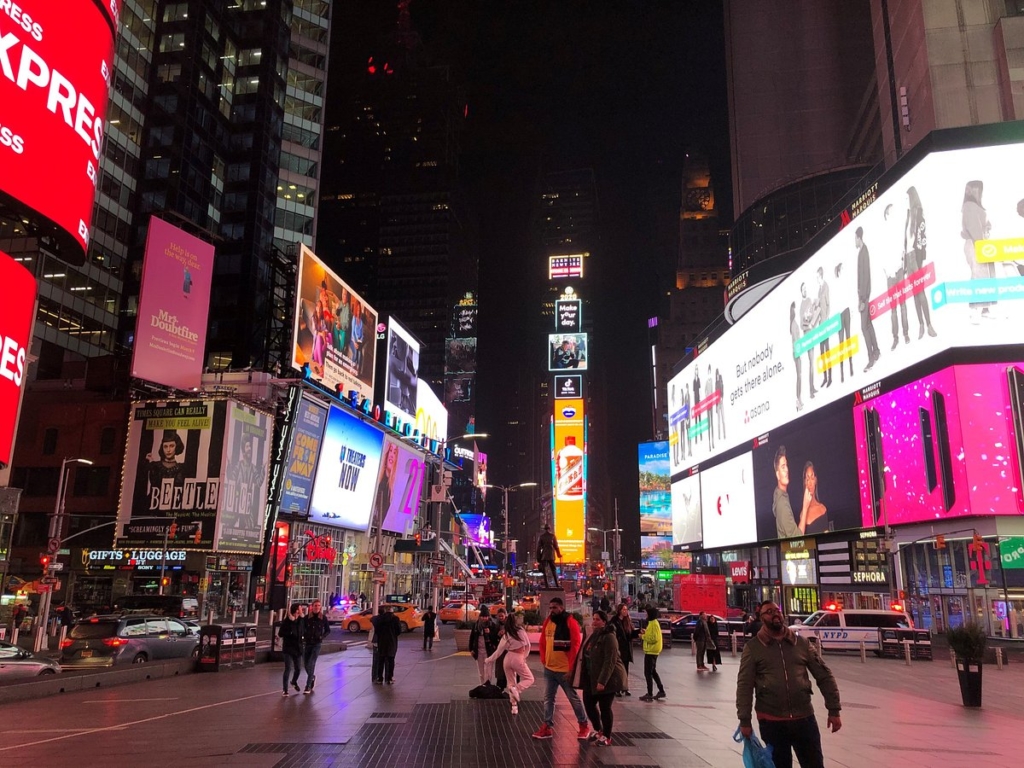 Last, but certainly not least, we have Times Square. Less than half a mile from the Hilton Club New York, Times Square is a major commercial intersection, tourist destination, and entertainment hub. Originally known as Long Acre Square, this area has dazzled tourists and residents alike with its bright, dazzling lights. The square is home to tons of restaurants with every kind of food you could want. Sushi, burgers, pizza, if you can name it, Times Square has it. Plus, if you're looking for some of the best milkshakes in town, be sure to check out Gayle's Broadway Rose. Times Square is also home to New York's Madame Tussaud's wax museum. There's so much to see at Times Square, so if you're visiting New York City, you have to stop by.
Buy or Rent a Timeshare at Hilton Club New York
Between its stellar amenities and excellent location in NYC, the Hilton Club New York is an excellent place to stay during your time in the Big Apple. Looking to buy or rent a timeshare at this resort? Then feel free to check out our Hilton Club New York listings! You can also call us at 1-800-410-8326 or email us at team@fidelityresales.com if you have any questions.