Fidelity Real Estate leaders were able to attend ARDA's Spring 2021 Conference this year at Marriott's Grande Lakes Orlando resort. It's the first time since the COVID-19 pandemic that industry leaders and stakeholders were able to be together again and discuss the timeshare space's monumental strides forward. Here's what you missed if you didn't get to attend!
Inspiring Speakers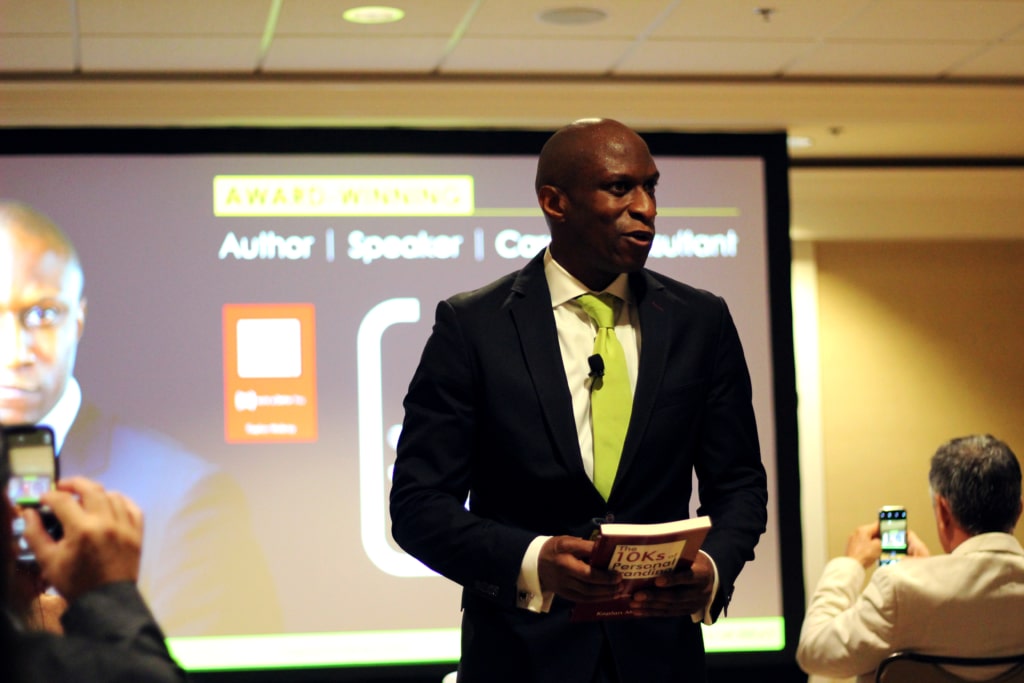 Kaplan Mobray
Kaplan Mobray's first session of the entire conference was highly energetic and encouraging. The career consultant and best-selling author focuses on defining your individual brand as a business professional. Mobray is no stranger to ARDA, as he was also a speaker during the TYPG's virtual conference earlier this year. Of course, his invigorating attitude is incredible to witness virtually, but in person it was palpable. "The 10Ks of Personal Branding: Create a Better You" is Mobray's guide on finding what makes each business professional unique, as well as how each of us can build our own personal brands in the workplace. From starting the show playing saxophone to traipsing around in a Spiderman mask, Mobray's dynamic session was a great way to kick off a series of incredible speakers.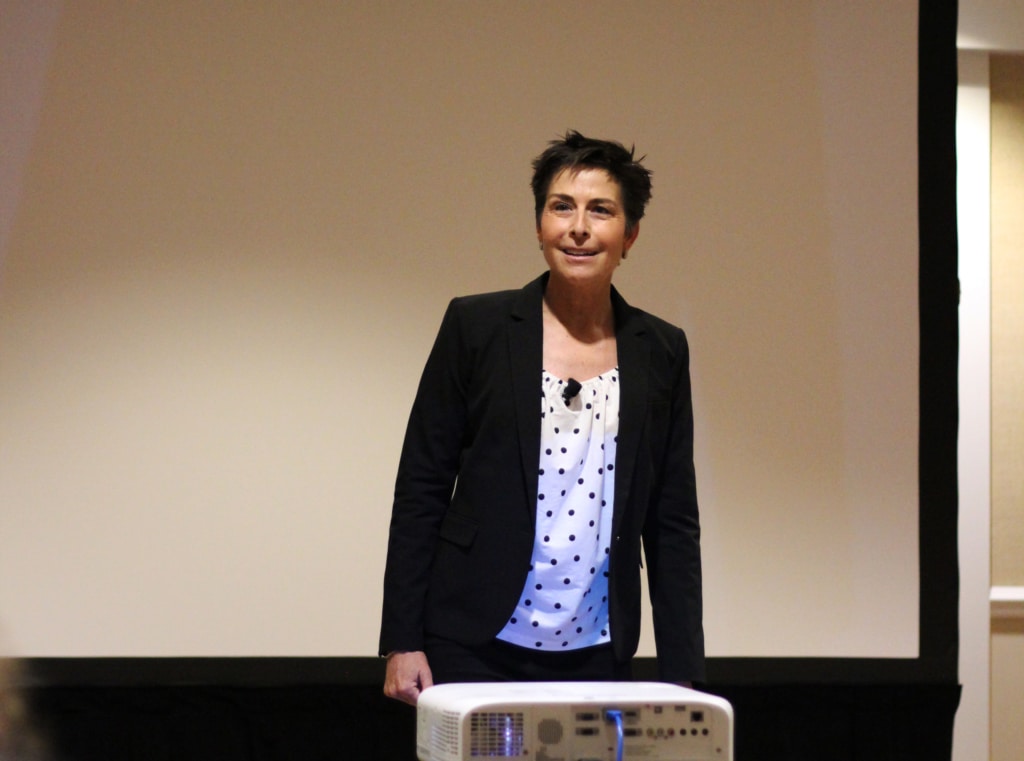 Siri Lindley
World champion triathlete and high-performance coach, Siri Lindley was hosted by the ARDA WIN chapter to give an influential speech. Lindley aspired to become a world champion triathlete, despite never competing in a triathlon or even being a strong swimmer. Not only is Lindley now a world champion athlete, but she is also a cancer survivor. Lindley proves that believing in yourself opens up a world of opportunity. She now rescues horses with her charitable organization, Believe Ranch & Rescue.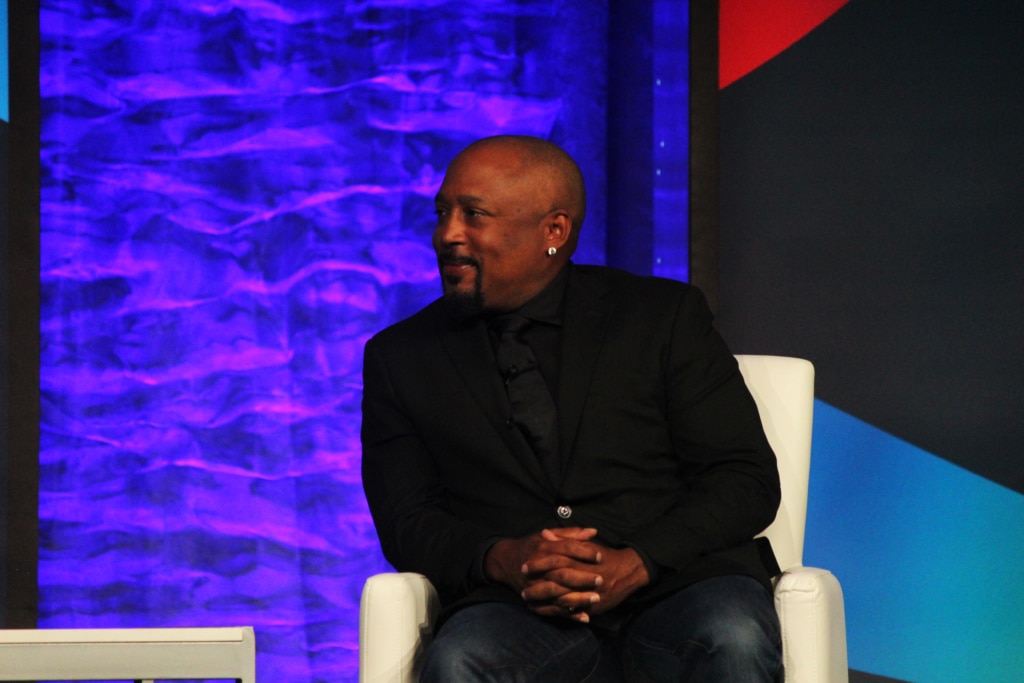 Daymond John
The final speaker of day one was an exciting and recognizable one. Daymond John, known for being an investor on the television show Shark Tank, has been a business mogul for almost 30 years. His inspiring journey began when he started making and selling hats from his mother's basement. That business turned into the highly successful fashion brand FUBU, which is an acronym of "For Us, By Us." He set out to create an authentic, hip-hop-inspired clothing brand. His small business turned into a multi-million dollar empire and now Daymond helps other small businesses get their start. As far as his opinion of the timeshare industry, John says "I think you guys are going to be on fire."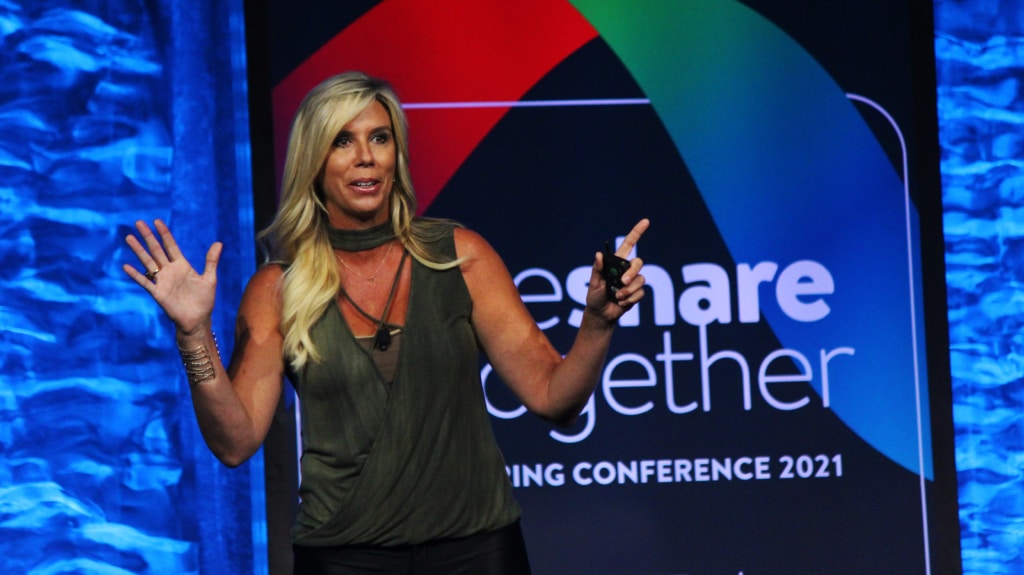 Sarah Thomas
Last but certainly not least, Sarah Thomas spoke to attendees as the first-ever female SuperBowl referee. Thomas is notably also the first woman to officiate a major college football game, the first to officiate a bowl game and the first to officiate in a Big Ten stadium. In 2015, she was hired as the first full-time female official in NFL history In February 2021, she became the first woman to officiate in a Super Bowl. Her impressive career comes after years of discrimination for being a female in a male-dominated position. Thomas discussed pushing through adversity, as well as the importance of sparking change. Her success story was paved by her own positivity and focus throughout her entire journey. Thomas encourages others not to do things just to prove others wrong, but to do them because you belong where you want to be.
Leadership Lineup with Jason Gamel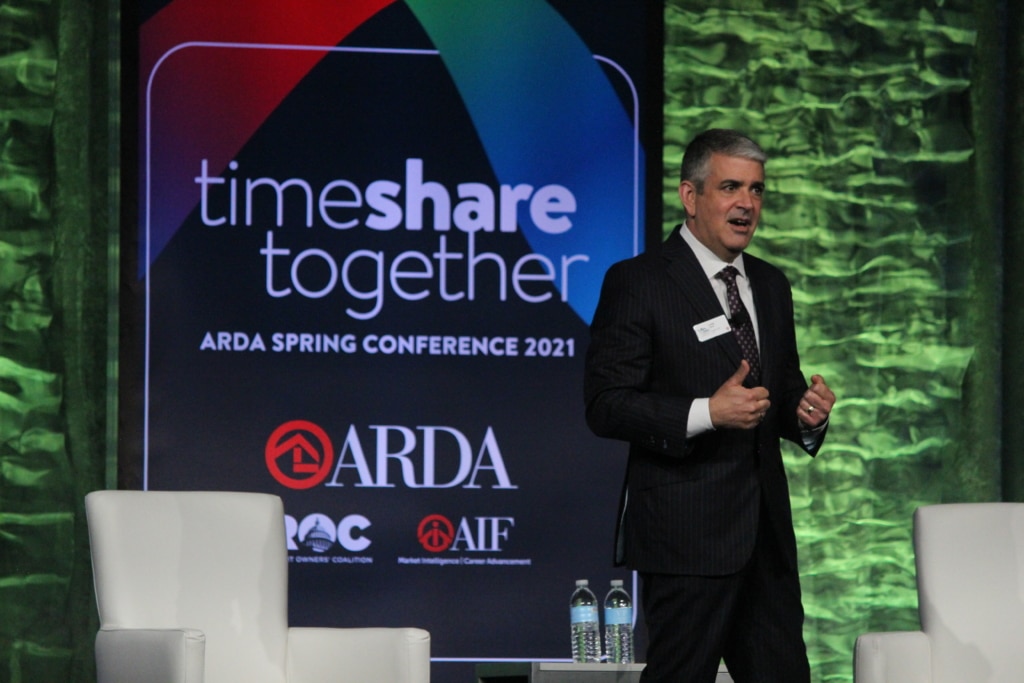 President of ARDA Jason Gamel sat down with leaders of the industry and probed them with questions on their next steps on the path moving forward. Gamel asked about hot-topics that we've all been curious about, such as Hilton Grand Vacations acquisition of Diamond Resorts, Wyndham Destinations' purchase of Travel + Leisure, as well as how industry leaders used the opportunity of COVID-19 to step up their sales and marketing tactics to meet the needs of their customers.
Mike Brown, CEO of Travel + Leisure Co. spoke of Wyndham's new ventures outside of timeshare. "This was our chance to rebrand from the top and say, look, 'We can deal with more people than just Wyndham,'" Brown cited, adding "The net effect six months later is our phone is ringing a lot more than we thought—on inbound. There's nothing more rewarding than purchasing what we view is the most trusted name in leisure travel."
Next to the stage was Mark Wang, and we were all eager to hear his insight into Hilton Grand Vacations purchase of Diamond Resorts. "There's so many strategic benefits. We looked at it from a scaling point of view, and we went from 62 properties to 154 properties." Wang also noted that the addition to Hilton was more drive-to markets, which proved to make a big impact on the vacation industry last year. Most exciting of all, the acquisition of Diamond will prop up a new brand under Hilton Grand Vacations—Hilton Vacation Club, which will offer luxury resorts in the form of trust point products.
Jason Gamel also spoke with Steve Weisz, President and CEO of Marriott Vacations Worldwide. Weisz stressed the importance of innovation and change during the challenges of COVID-19. "I think there's a silver lining in every dark cloud. We had to think about 'How can we do this, except in a different way?'" Guests at Marriott resorts were able to take virtual tours right from their villas, and Weisz noted that if the consumer is shifting towards digital sales, then "We should be able to give that to them."
Tom Nelson, Chief Executive Officer of Holiday Inn Club Vacations shared his opinion on the timeshare product itself, and how it has remained so resilient as timeshares have changed. "As we move forward, it's really going to be about the product itself. I see the product evolving, I think in the next 3 to 5 years. We'll see it be less permanent, and more flexible." He also concludes that the entire customer journey will soon be digitized in response to how customers prefer to be marketed and sold to.
Nelson's remarks about the growth and evolution of timeshare rang true as we listened to the last speaker of the panel, Mike Flaskey. CEO of Diamond Resorts, Flaskey shared some promising and exciting stats about how Diamond has been able to increase their capture of new customer segments. "I'm happy to say that the millennial demographic has been our fastest growing segment of our new member growth at 25% a year leading up to 2020." Flaskey also mentioned that Diamond was able to draw in new customers with more innovative products. "We now have a 10 year product in the market that the consumer can purchase, and walk away with no commitment to Diamond Resorts at the end of 10 years. Our team has done an amazing job of creating this product."
Florida's Economic Recovery: A Path Forward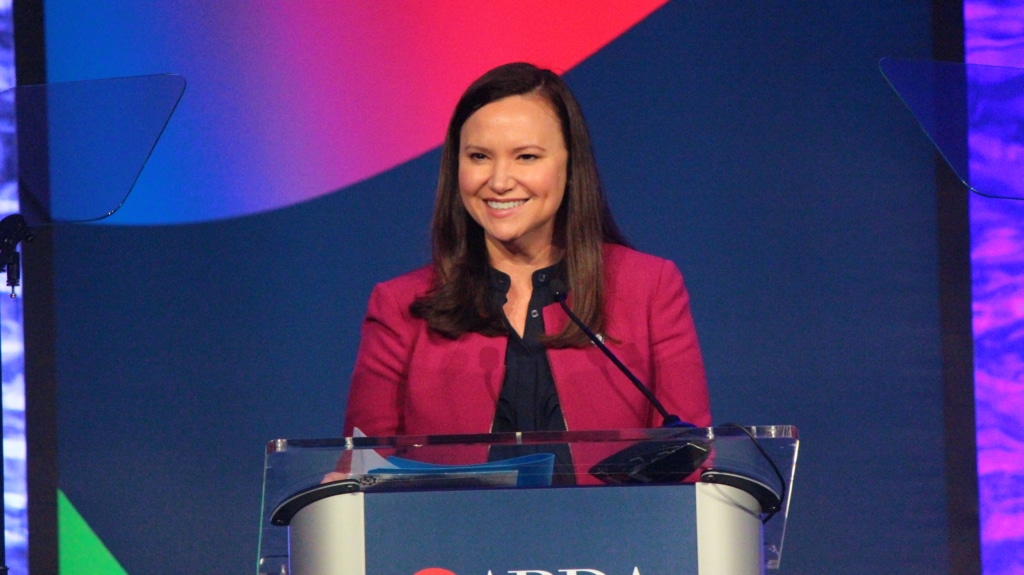 Attendees were honored to hear from Florida's Attorney General, Ashley Moody, as well as President of the Florida Senate, Wilton Simpson. They shared some steps forward that the Florida government is taking to ensure a safe and prosperous re-opening.
Moody expressed the importance of vacationing, not only on families but for the Florida economy as well. "When the pandemic hit and it threatened so many businesses across Florida's tourism industry, it was so disheartening because I know not only was our state missing out on the economic influx that makes us successful, but our families were missing out on those experiences."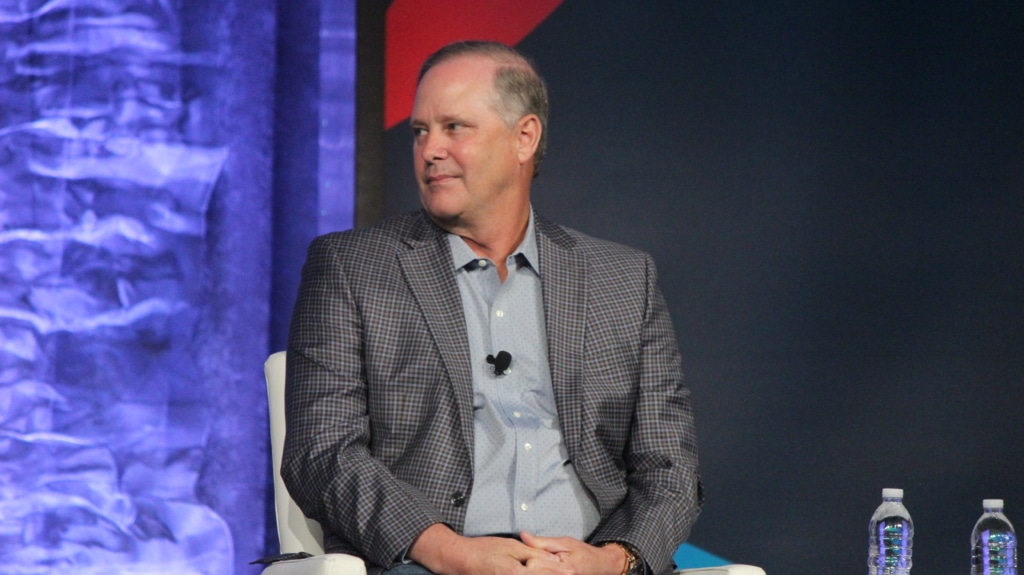 President of the Florida Senate, Wilton Simpson, shared details on budget increases to numerous sectors of the economy, most importantly Florida's tourism industry. "This year we did increase funding by $25 million for VisitFlorida. We want to make sure the rest of the world, and country, knows that we are open for business.
Chief Sales and Marketing Officers Session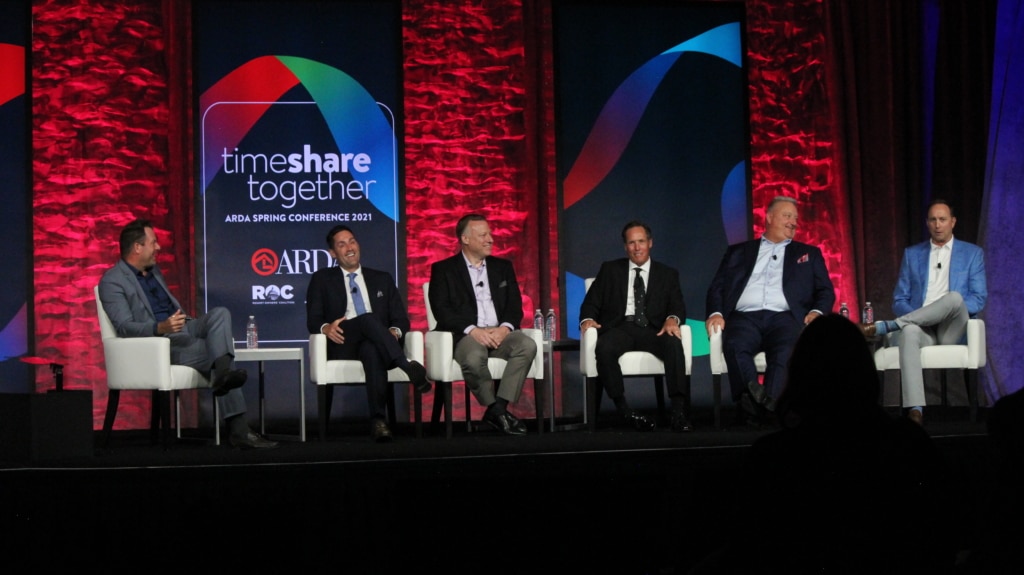 Diamond Resorts CEO Mike Flaskey invited industry leaders to discuss the trials and strides forward each grew through during the COVID-19 pandemic. Dusty Tonkin, Chief Sales and Marketing Officer of Bluegreen Vacations discussed how adaptable guests and sales teams were to the situation. "We're an incredibly adaptable industry, you don't ever want to bet against what we all do for a living." Tonkin also shared how he believes timeshare will always stick around, adding "We've always known our resorts are great places to spend time with your families. I think people are appreciating what they have with timeshare more today than ever before."
John Sutherland, EVP of Sales and Marketing for Holiday Inn Club Vacations, trailed with his remarks on the workforce weathering through the pandemic. "Here we are shutting down at the beginning with a staff size in the 2500 range, and then coming back for re-opening with 500. With the 500 we have left, I think they are going to get the job done. I think we're in a better place as an organization and company for what we've had to go through."
With the massive down-sizing of many brands in the timeshare space, leaders also discussed the latest war on talent as we are reopening. "In '08 and '09, we went through a similar impact but the business came back quicker than it went away. We were able to hire back lots of talent and new talent. The problem is we're all trying to hire them back now."
To continue on the topic of workforce changes in the face of the pandemic, John Fitzgerald, Senior Vice President of Marketing for Marriott Vacations Worldwide remarked that Marriott saw increases in efficiency. "We all believed you could never have a sales call center work from home, but in 10 days we had our entire call center working from home… they redefined what calls centers are and how they could operate."
Overall, the panelists each agreed that the biggest positive impact on the timeshare industry will continue to be product development and innovation. With each hurdle the timeshare industry has faced, we've stayed relevant, adaptable, and flexible to changes.
Timeshare Stories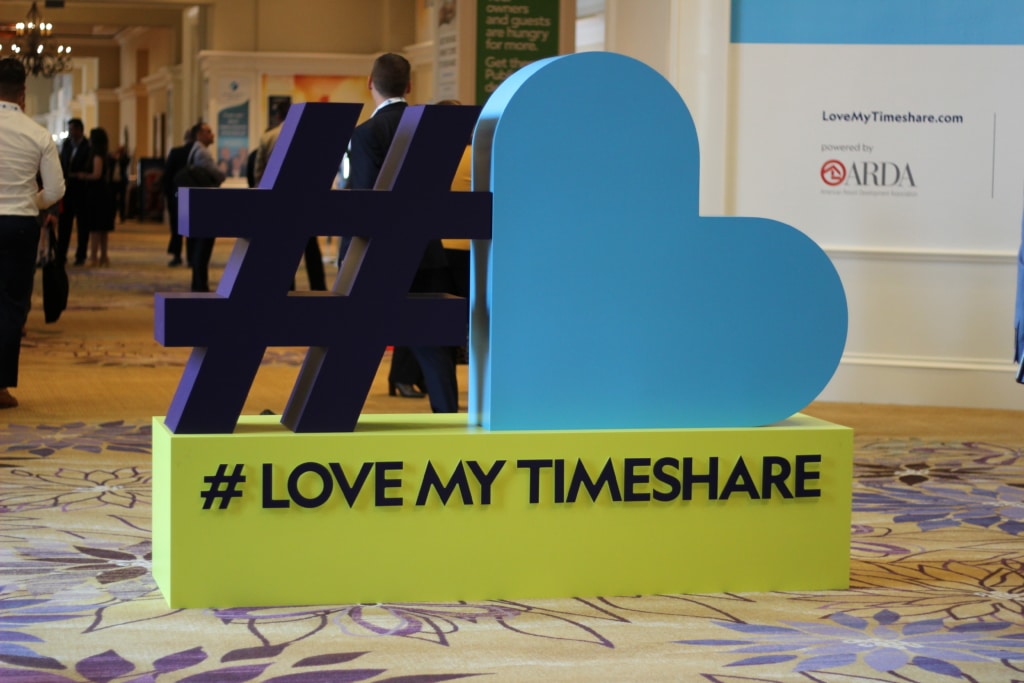 Moderated by Jenny Davlin, leaders from top developers shared their triumphs during the COVID-19 crisis and what made their brands stronger, with owners in mind. From new cleaning protocols, to state regulations and more, our leaders in the industry went over and above for their owners safety and well-being.
Check out #LoveMyTimeshare on instagram and give them a follow! Love is in the share.