Myrtle Beach is a vibrant oceanfront city in South Carolina with almost endless attractions. This is why it is one of the country's most popular beach vacation destinations. If you're planning a Myrtle Beach getaway, there are plenty of things to do in the area. Your vacation itinerary will be filled to the brim! There are so many sights and activities, so it may be overwhelming to figure out what you should do while visiting. We've compiled a list of some of the best things to do in Myrtle Beach, from the fabulous beaches and beyond!
Things To Do At Myrtle Beach's Beaches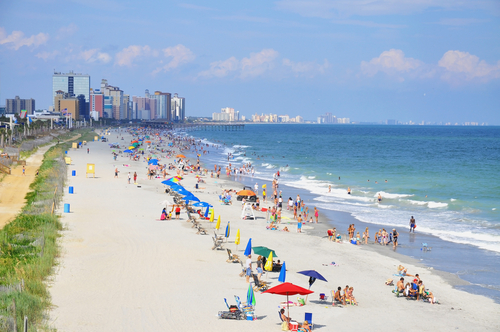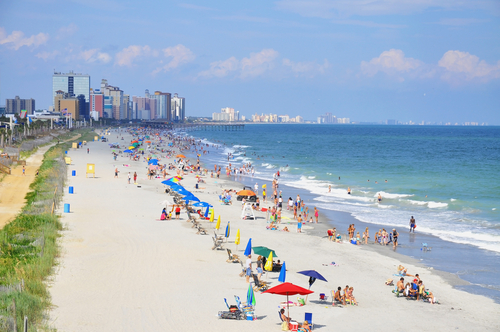 Of course, the beaches are what draw crowds to Myrtle Beach every year. Whether you want to just lay in the sand and soak up the sun or do something more adventurous, this beachfront destination has got you covered. There are so many fun things to do on the beach, no matter what time of year it is! Whether you're renting a beach chair or a watercraft, you will certainly have a fun day at the beach!
Boat Rentals
Many companies around Myrtle Beach offer boat rentals of all kinds! You can rent out a charter boat to take in the area's scenic coasts. Whether you're fishing or just cruising, you will see tons of wildlife when you're out on the boat. If you're more adventurous, you can also rent out paddleboards, jet skis, and more!
Parasailing
Going on a parasailing adventure is the best way to get a bird's-eye view of Myrtle Beach. Float across the shore from 500 feet in the air! From the air, you can spot dolphins or just scope out the beach and boardwalk. This is a great activity for the whole family since many companies offer double or triple riding!
Myrtle Beach Attractions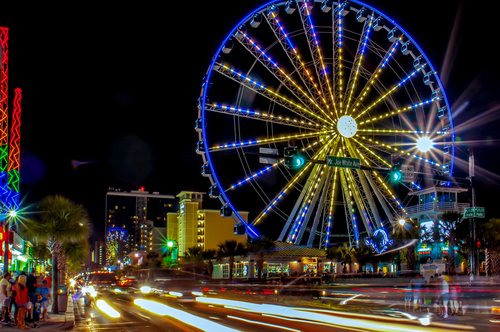 Myrtle Beach is known for its vast offering of attractions. From theme parks to unique museums, there are plenty of spots around town that will make your vacation unforgettable. Exploring the town's attractions is a great way to spend time with the whole family! You never know what kind of fun you'll find in Myrtle Beach. The young and the young-at-heart will enjoy fun attractions they will remember for years.
Broadway At The Beach
Broadway At The Beach is a large entertainment center in Myrtle Beach with tons of things to do! Three of the most popular attractions here are the Ripley's Aquarium, TopGolf, and WonderWorks. There are also tons of unique boutiques, which are perfect for grabbing a souvenir for yourself or a loved one.
Boardwalk
One of the most fun places to spend time in Myrtle Beach is at the boardwalk. This is where you find fun attractions like the SkyWheel, haunted houses, arcades, and more! The boardwalk also has small shops, dining, and fun bars. You'll definitely want to make time to visit while you're visiting.
Family Kingdom Amusement Park
If you want to spend a day enjoying thrilling rides in Myrtle Beach, head to Family Kingdom Amusement Park. There are more than 35 rides at this small theme park, ranging from kid-family buggies to more intense roller coasters. This is a great spot for the whole family to spend the day!
Myrtle Beach Dining and Entertainment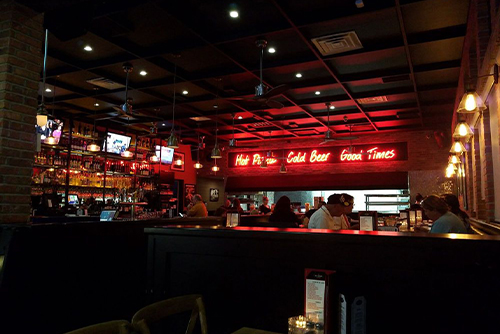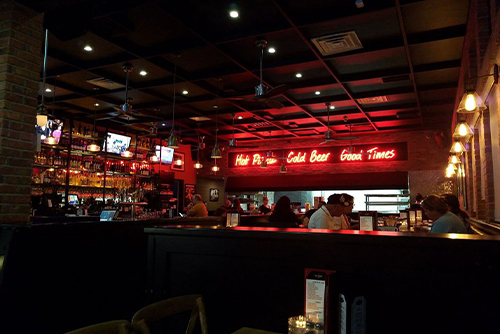 Along with incredible attractions, Myrtle Beach also has tons of delicious dining and dazzling entertainment. Many of the city's best restaurants are within or near the area's top attractions. So, when you've been out all day and have worked up a hunger, something yummy won't be too far away. There is also a huge variety of live entertainment options that range from kid-friendly to adults-only.
Restaurants
Myrtle Beach's dining options offer a taste of local flavors as well as some crowd-favorite dishes. There are plenty of options for dining at Broadway At The Beach and the boardwalk. You can choose from local restaurants and recognizable chains. Hard Rock Cafe, 42nd Bar & Grill, and Hot Tomato are some favorite spots.
Live Music
Many of the area's bars and restaurants will have nightly live music, which adds to the fun of dining out! A few local music venues also host some of the industry's top musical artists. Check the House of Blues Myrtle Beach schedule so that you don't miss any of your favorite acts while they're in town!
Dinner Shows
Why not combine dining and entertainment? Myrtle Beach has plenty of options for live dinner shows. Pirates Voyage Dinner & Show is a fun experience with acrobatics, sword fighting, and a delicious four-course meal! You can also enjoy a luau, dinner cruise, or murder mystery dinner show.
Enjoy The Natural Beauty Of Myrtle Beach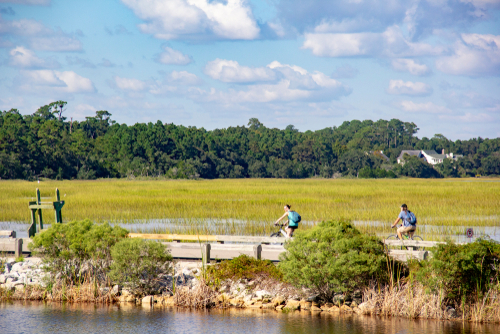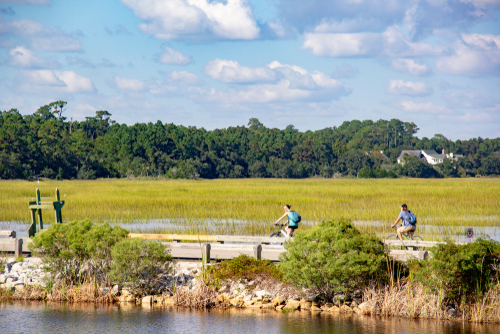 When you're visiting Myrtle Beach, you will be surrounded by beautiful beaches, woodlands, and lush wetlands. Of course, it's easy to get to the beach from most resorts in the area. However, you will be delighted by the area's natural beauty if you want to explore beyond the coast. Whether you explore by land or water, you'll see how beautiful Myrtle Beach is beyond the beach. The city has conservation areas, state parks, and biking trails that are just waiting to be explored.
Myrtle Beach State Park
Myrtle Beach State Park has more than 300 acres of land to explore. Visit the Nature Center to learn about the wildlife that lives in the area and how to protect their home. Walk through the dunes of the undeveloped coastline within the State Park's property. There are so many ways to connect with nature when visiting this park that is just a few minutes from the main tourist areas.
Biking
Biking is a great way to see the area's natural beauty. Whether you're biking on the boardwalk during sunrise or on the miles of trails in the area, you're bound to see some amazing scenery. If you're up for a challenge, head to the Horry County Bike & Run Park. Nicknamed "The Hulk," this mountain-biking trail winds through the thick terrain of Carolina Forest.
Buy A Timeshare Resale In Myrtle Beach
If you're interested in buying a timeshare in Myrtle Beach, then you've come to the right place. Some of the best Myrtle Beach timeshares to buy are from the top brands in the industry. There are fabulous resorts from brands like Marriott, Hilton Grand Vacations, and Wyndham. A licensed real estate agent from Fidelity can help you get the best deal on a timeshare resale. Choose from top resorts by the best vacation clubs to join. Plus, when you buy a timeshare resale, you can save hundreds, if not thousands of dollars as opposed to buying directly from the developer. Call us today at 407-465-5188 to help you find the perfect Myrtle Beach timeshare resale, or browse our timeshares for sale online now.