Las Vegas is an oasis in the middle of the Mojave Desert with plenty of entertainment, casinos, shopping, fine dining, and attractions. Just behind Orlando's tourism, Las Vegas timeshare is highly popular for frequent visitors. In fact, the best Las Vegas timeshare resorts are part of world-renowned vacation clubs and hospitality brands. Whether you're looking for unique things to do or where to stay in Vegas, keep reading for The Ultimate Guide to Las Vegas Timeshares.
About Las Vegas Timeshare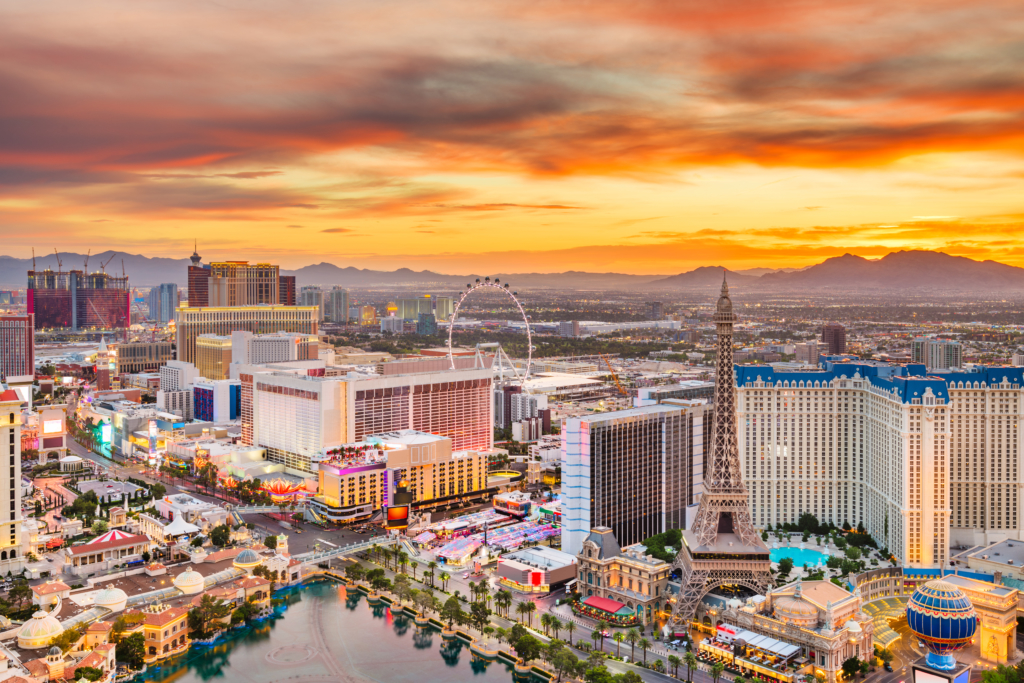 Many of the best vacation clubs and hospitality brands offer owners superb timeshare resorts in Las Vegas, right on The Strip or nearby. Visitors to the City of Lights can catch a show at Caesars Palace, try their luck at the Planet Hollywood Casino & Resort, or get some thrills at The Stratosphere Tower. What's more, there's more to do outside of the city too, like visiting the Hoover Dam or Lake Mead, the largest manmade lake in the U.S.
Both adults and families can experience all that Las Vegas has to offer with timeshare. Vegas timeshare resorts have spacious accommodations with fully-equipped kitchens, resort-style pools, on-site fine dining restaurants, and more.
What is the Best Timeshare in Las Vegas?
Looking for a Las Vegas timeshare for sale? Need some vacation inspiration for the timeshare you already own on the strip? We'll show you the best timeshares in Las Vegas from Wyndham, Diamond, Hilton and more. Not to mention, you can also check an interesting hotel for a Las Vegas hotel wedding package! Use your annual week or points to visit Vegas, or exchange them on a resort trade network like RCI or II.
If you're wondering what the best timeshare in Las Vegas is, it really is up to your personal preference. For big-name brands, there are Westgate, Wyndham, Holiday Inn, as well as Hilton resorts in and around the Strip. If you're looking for something family-friendly, Tahiti Village or Holiday Inn's Desert Club is for you. For adults only, we recommend the Elara by HGVC. Ultimately, it's up to you which Vegas timeshare resort is best.
Best Timeshare Resorts in Las Vegas
We've broken down our top picks of Las Vegas timeshare resorts that owners love. These are the top-searched, and top-rated Vegas timeshare properties that you can find for sale now. Take a look at what makes each of them so great.
Tahiti Village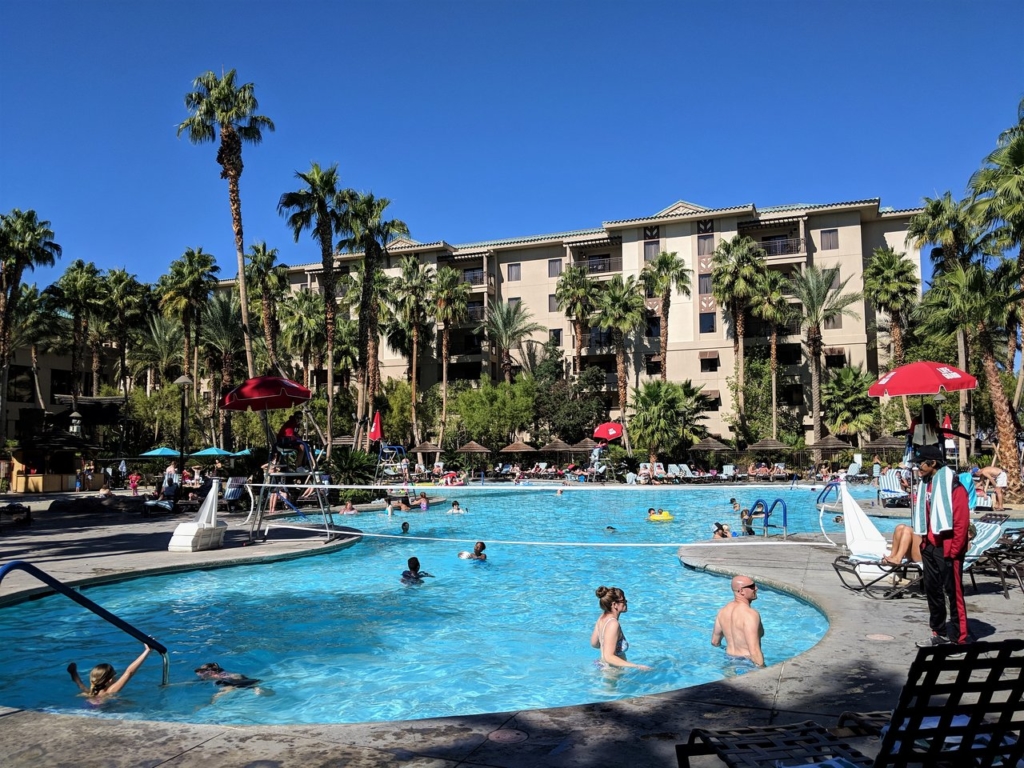 A tropical island in the middle of the Las Vegas desert, Tahiti Village is perfectly nestled just a few miles away from the strip. For vacationers that want to be close to the liveliness, but not too close, Tahiti Village is one of the best Vegas timeshare resorts for delivering top amenities and experiences.
On-site is a huge lazy river with a sandy beach entry, luau live entertainment, the Mahana Spa, two sit-down dining options, as well as a jam-packed activity calendar year-round. Join other families at the resort's movie nights, crafts, yoga and so much more.
Additionally, for the grown-ups, every day and night is "Social Hour" featuring specialty cocktails, brews, and apps from 2-5 PM or 10 PM-1 AM.
Stay carefree and enjoy one of the three styles of suites that Tahiti Village offers. What's more, the larger styles, Bora Bora and Royal Tahitian suites feature full-size kitchens and a washer/dryer. For shorter trips or smaller travel parties, the Moorea suite has a mini-fridge and kitchenette.
Tahiti Village Resort Highlights
Nearby The Strip
Lazy river
Activity calendar
Full-size kitchens and washer/dryers
Browse Tahiti Village Timeshares for Sale.
Cancun Resort Las Vegas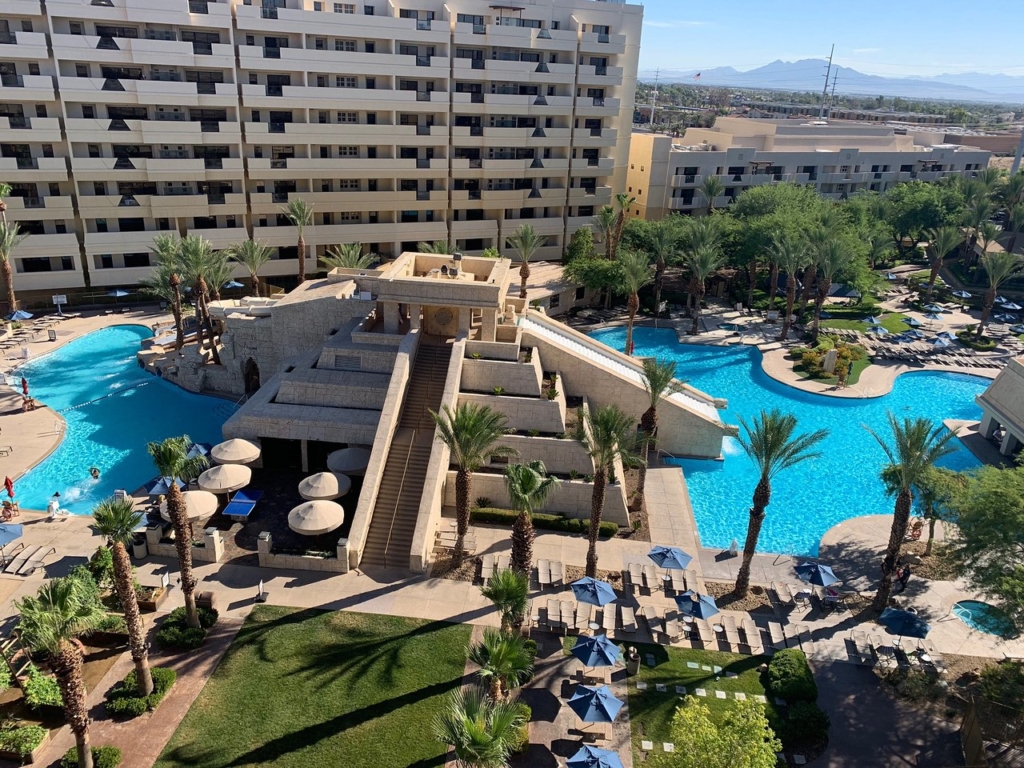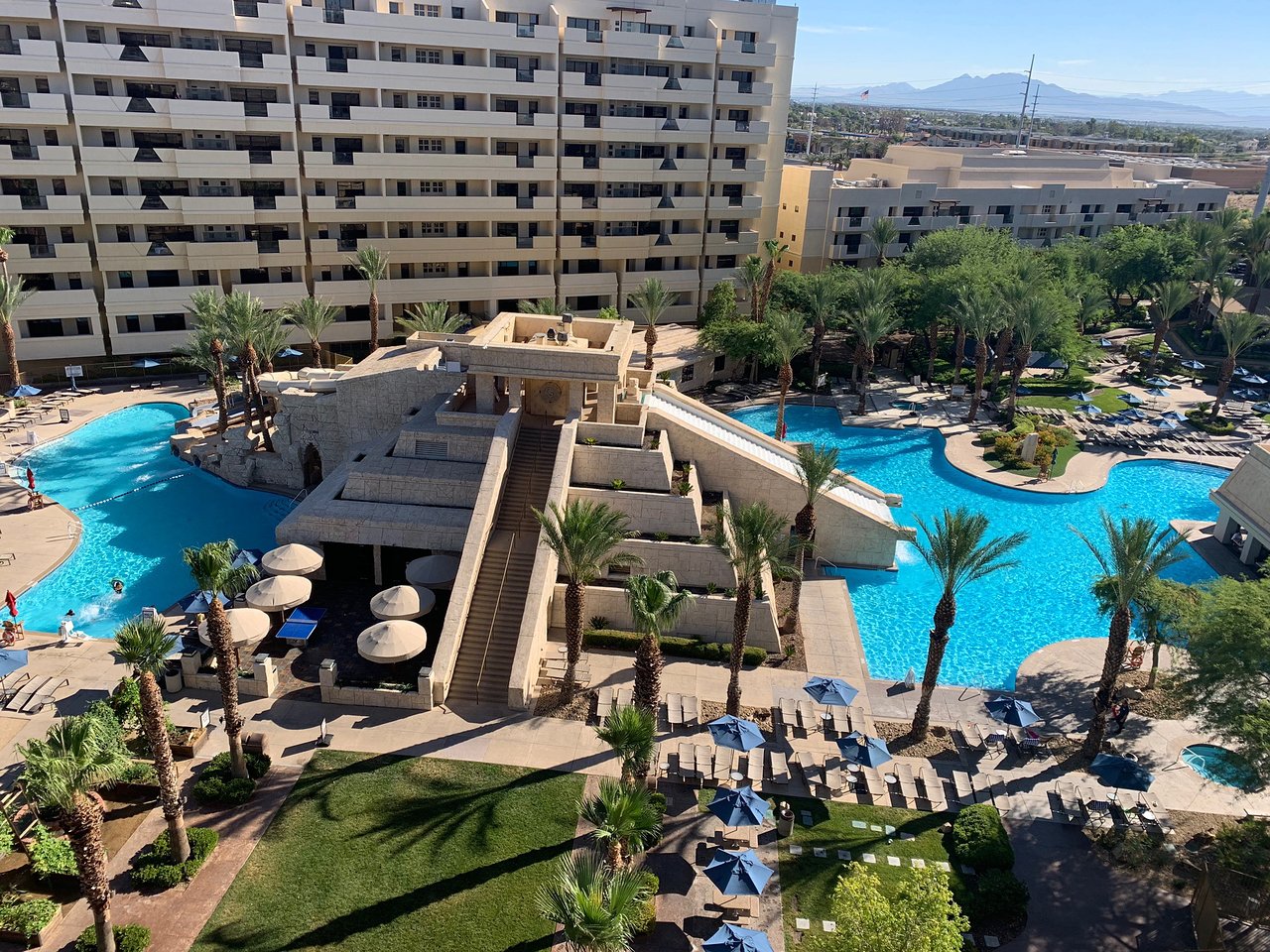 Diamond Resorts owners will love the Cancun Resort timeshare in Las Vegas. Recently acquired from Monarch Grand Vacations, the Cancun Resort in Las Vegas is perfect for Vegas vacationers with kids. With architecture that mimics that of an ancient Mayan ruin, the swimming area features a Mayan pyramid with a waterfall!
On-site the resort are four waterslides, a large swimming pool, poolside cafe, as well as spa services to enjoy. Accommodations include one and two-bedrooms, as well as a two-bedroom deluxe suite. Each suite includes king beds, two full bathrooms, sleeper sofa, full kitchen, and Wi-Fi.
Additionally, owning with Diamond Resorts also brings members incredible once-in-a-lifetime events to experience. When you book a reservation here, check to see if Diamond is offering and members-only events or experiences. You won't want to miss out on a Diamond Resorts event, especially at one of their Las Vegas timeshare properties.
Cancun Resort Highlights
Part of the Diamond Resorts portfolio
Family-friendly
Four waterslides
Spa services
One and two-bedroom accommodations
Browse Cancun Resort Las Vegas timeshares for sale.
Elara by Hilton Grand Vacations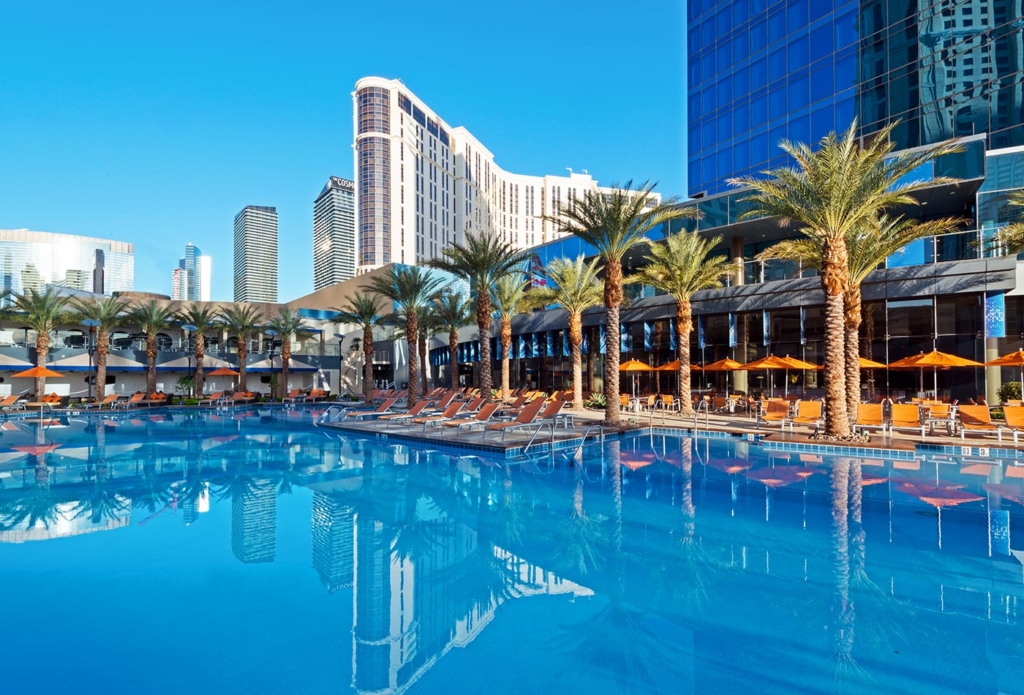 The resort that towers over Vegas, Elara by Hilton Grand Vacations on the strip has sleek and stylish amenities and accommodations. 52 stories of floor-to-ceiling windows give guests soaring views of the neon lights below. Conveniently close to the Planet Hollywood Resort & Casino, staying at Elara keeps vacationers busy all night long.
Luxurious studios and one-bedroom suites have kitchenettes for convenience, and the larger two and three-bedroom suites include full kitchens. On-site the resort is an outdoor pool with spa tubs and cabanas, as well as a poolside bar and grill available seasonally. Hilton Las Vegas resorts are top-tier, and Elara will blow you away.
Elara Resort Highlights
Located on The Strip
Adjacent to Planet Hollywood Resort & Casino
Studios, one, two, and three-bedroom accommodations
On-site pool and pool bar
Browse Elara by Hilton Grand Vacations timeshares for sale.
Grandview at Las Vegas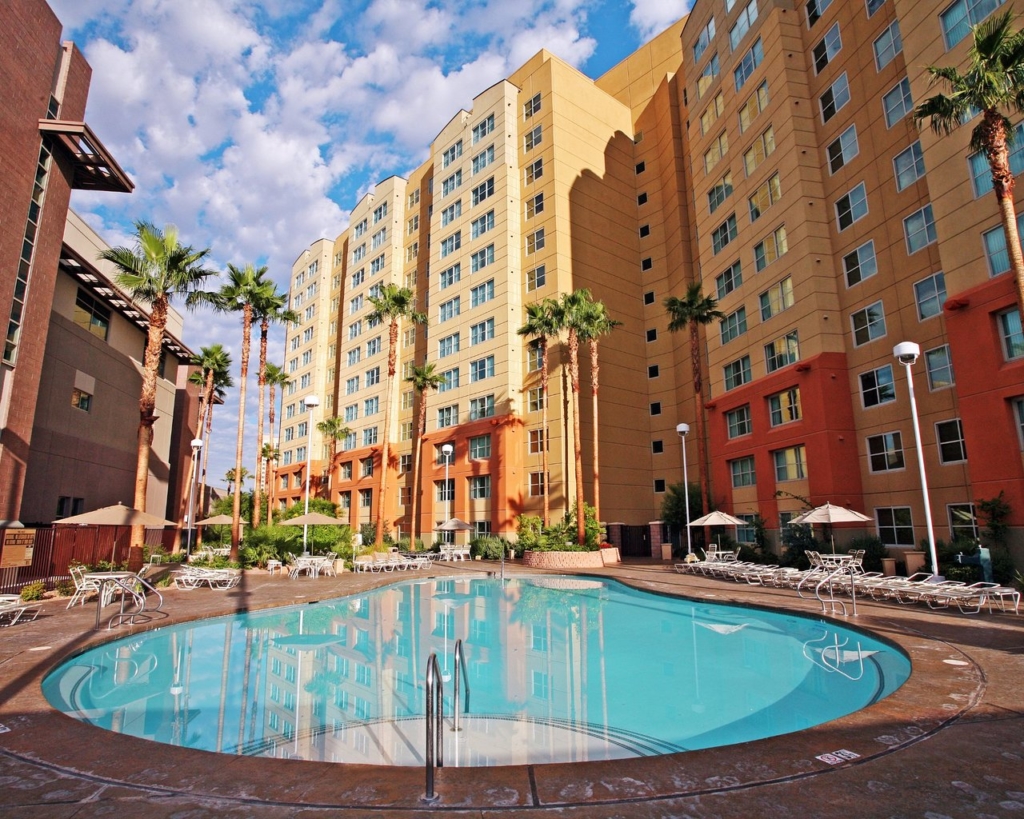 On the south end of the strip, Grandview at Las Vegas is a desert oasis for a perfect getaway. While we all know that Las Vegas is a hub of tourist attractions, the Grandview at Las Vegas takes vacations to the next level. On-site amenities include five heated swimming pools, including water features and activities for the kids, five hot tubs, a 9-hole mini golf course, fitness center, arcade and board game room and even a deli.
All suites at the resort include living and dining rooms, fully appointed kitchens, king-sized beds and a washer and dryer.
With 1,600 square feet of combined space in spacious one and two-bedroom accommodations bring guests ultimate comfort.
The Grandview at Las Vegas timeshare resort is part of Vacation Village and is an RCI Gold Crown Resort, giving owners the most benefits on the travel exchange platform. Owning a timeshare here brings amazing luxury and comfort, but it is also a highly popular resort for vacationers worldwide. It was also awarded TripAdvisor's Certificate of Excellence in 2018 and 2019.
Grandview at Las Vegas Highlights
Five heated swimming pools
Nine hole mini-golf course
Arcade
Family-friendly
RCI Gold Crown Resort
TripAdvisor Certificate of Excellence in 2018 and 2019
View Grandview at Las Vegas timeshares for sale.
Wyndham Grand Desert
The Wyndham Grand Desert is a mega-resort with three soaring towers that provide sweeping views of the mountains, city-scape or the courtyard and pool. With Mediterranean-style architecture and decor, perfect luxury awaits guests at the lagoon-style pool, spa services and hot tubs on the sundeck.
With a free shuttle service to the action on the strip, this is the perfect family-friendly resort. Wyndham Grand Desert doesn't have a casino on-site, giving guests a breather from the busy Las Vegas lights.
One-bedroom accommodations sleep up to four people and range from 612 to 855 square feet for extra space. The private master bedroom has a king bed, while the living area includes a queen-size sleep sofa. One-bedroom accommodations also include a kitchenette as well as a washer and dryer.
For larger travel parties, two-bedroom accommodations can sleep up to eight people and range in size from 1,060 square feet to 1,325 square feet. Enjoy the king bed in the master bedroom, two double beds in the second bedroom and an additional sleeper sofa in the living room. Two-bedroom accommodations have a full kitchen, dining area, two bathrooms, a whirlpool tub and a washer and dryer.
Wyndham Grand Desert Highlights
Part of the Wyndham Destinations portfolio
Free shuttle to the Strip
Family-friendly
One and two-bedroom accommodations
View Wyndham Grand Desert Timeshares for Sale.
Desert Club Resort by Holiday Inn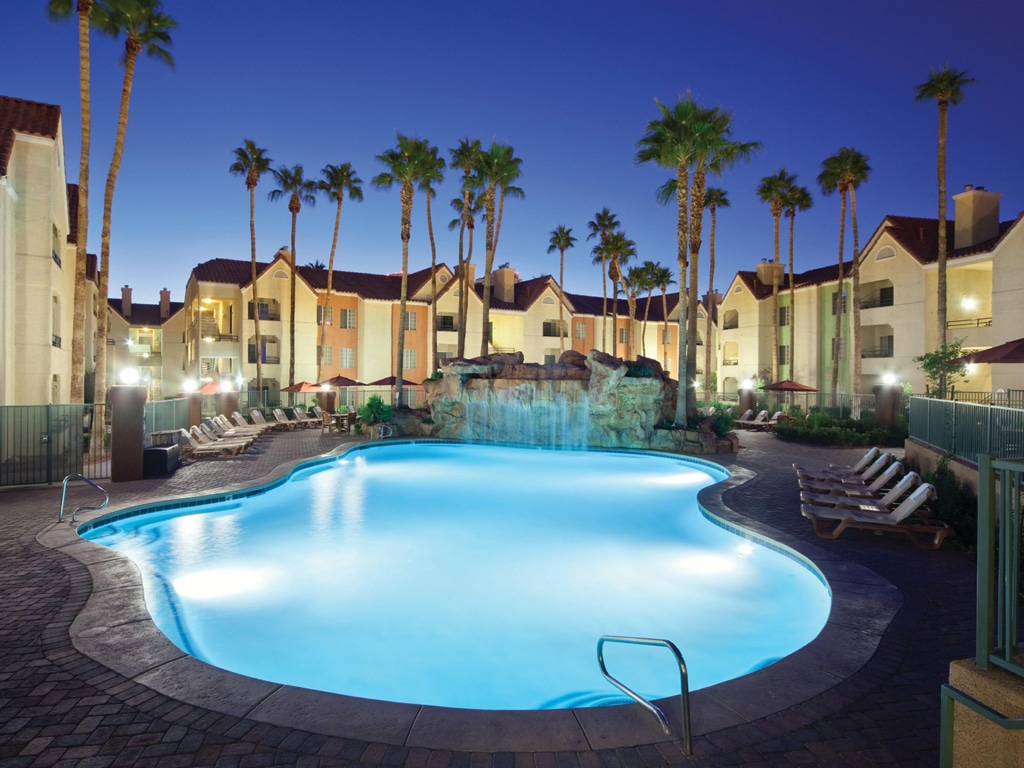 For the most affordable family vacations, Holiday Inn Club Vacations timeshare at Desert Club Resort is just far enough away from the strip to have a relaxing and enjoyable Vegas timeshare vacation. Funky and modern decor appeals to grown-ups looking for a quiet oasis away from the casinos and tourism down the street.
Five heated pools, hot tubs, an on-site restaurant, game room and two fitness centers complete the resort's incredible amenities. For afternoons or evenings when you're ready to go out on the town, a free shuttle will transport guests along the strip. One and two-bedroom condo-style villas are available, which each include a living room, washer and dryer, full kitchen and dining area.
Desert Club Resort Highlights
Part of the Holiday Inn Club Vacations portfolio
Five heated swimming pools
Free shuttle to the Strip
One and two-bedroom condo-style suites (complete with living and dining room areas, washer/dryer, as well as fully-equipped kitchens)
Browse Desert Club Resort timeshares for sale.
Hilton Grand Vacations at the Flamingo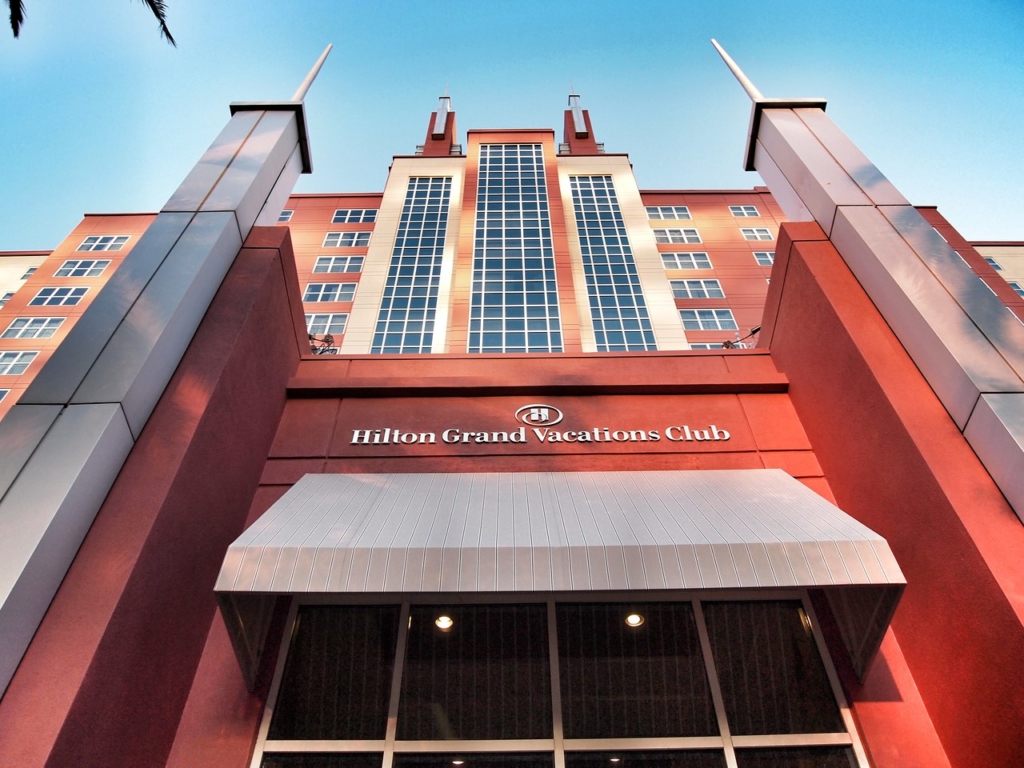 The Hilton Grand Vacations at the Flamingo is HGVC's flagship property and allows owners to experience what Las Vegas timeshare is all about. Situated within the 15-acre property, guests can relax in serenity while being in the middle of the exuberance beyond the Flamingo.
Featuring a heated swimming pool, whirlpool spa, sauna, owners lounge and casino right on the property, there is no better place Vegas experience. There are several dining options also available, from quick bites to upscale sit-down restaurants.
HGVC owners can choose from studios, one or two-bedroom suites which each feature a master bath and oversized tub. Every suite also has fully equipped kitchens, internet access as well as a washer and dryer.
HGVC at the Flamingo Highlights
Part of the Hilton Grand Vacations Club portfolio as the flagship property
Located on the Strip
Situated on the Flamingo property, including several dining options and casino
See Hilton Grand Vacations at the Flamingo timeshares for sale.
Polo Towers by Diamond Resorts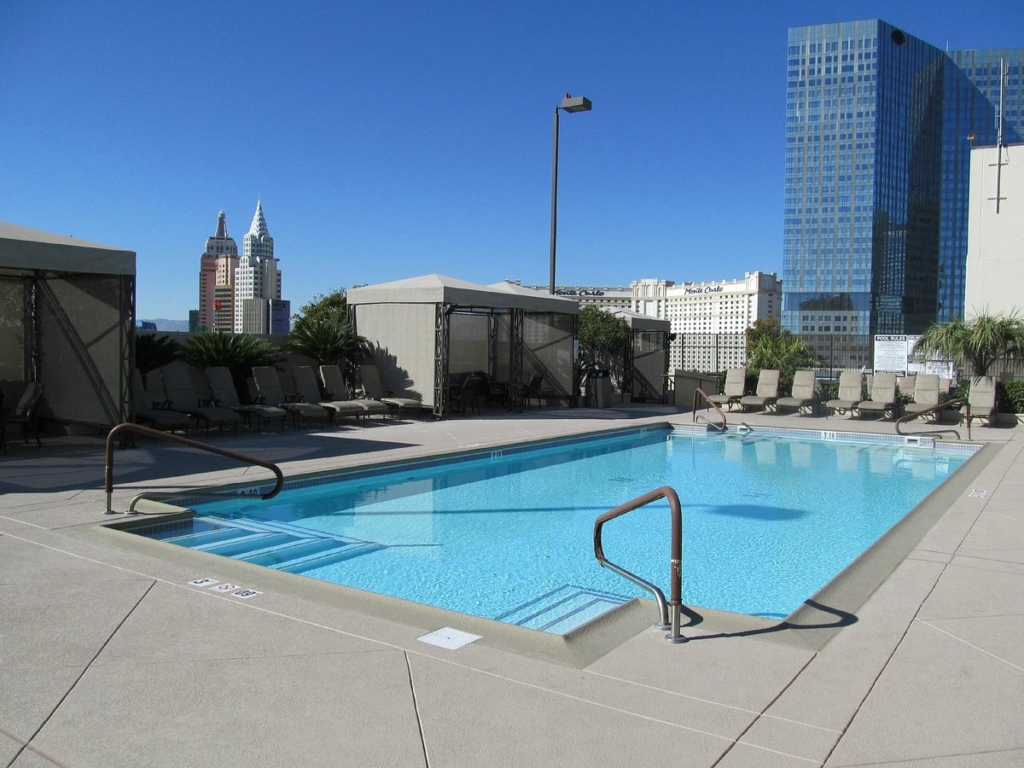 On the heart of the Las Vegas strip lies the Polo Towers by Diamond Resorts. Not to mention, an ideal resort for experiencing the best of Las Vegas and timeshare, amenities include a glamorous rooftop pool, Tuscan-inspired decor, fitness center and massage services.
Additionally, one or two-bedroom accommodations feature entertainment systems, as well as a living area, dining area and a balcony or terrace for gorgeous views of Sin City below.
Browse Diamond Resorts memberships for sale.
Las Vegas Timeshare for Sale
Looking to own vacations for life in the Mojave? Browse our Las Vegas timeshares for sale from top resorts and vacation clubs now. You can find a Vegas timeshare resale available for a fraction of the cost compared to a developer. Our licensed real estate agents are experts when it comes to every brand and resort. When you make an offer on one of our listings online, an agent will contact you to verify the details. For more information, feel free to contact us at 407-465-5188 or email team@fidelityresales.com.