Although on the smaller side, Somerpointe Resorts is one of the leading developers of vacation ownership. There are 12 resorts under the Somerpointe Resort umbrella in Las Vegas, Hawaii, and Florida. Each resort is luxurious and is in the most sought-after destinations, so you can't go wrong when choosing where to own. Without further ado, this is all you need to know about Somerpointe Resorts.
An Overview of Somerpointe Resorts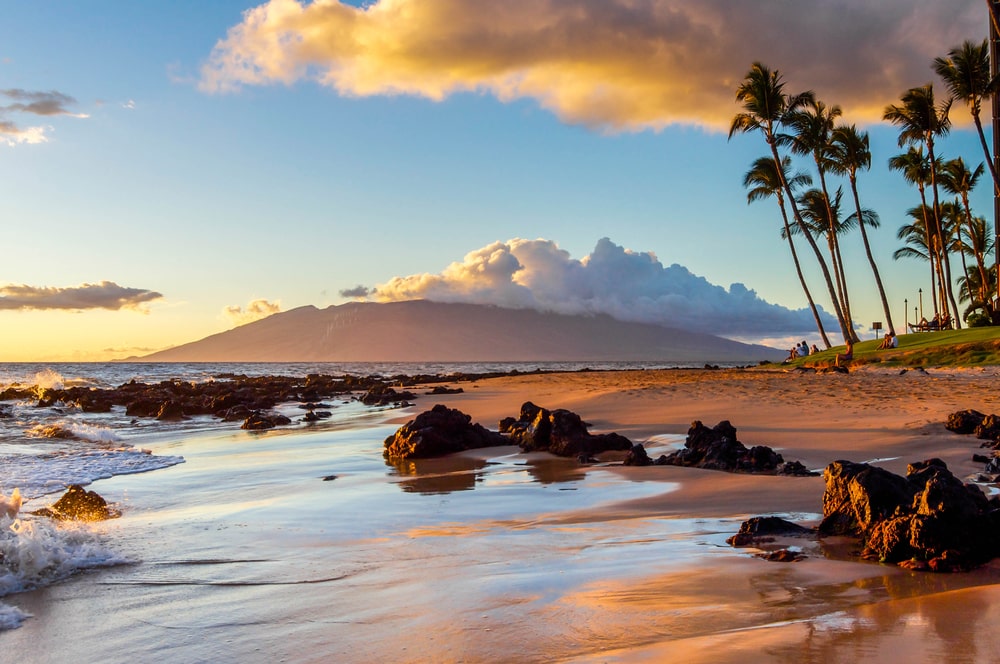 Somerpointe Resorts is a second-generation family business headquartered in Las Vegas, Nevada. More than 100,000 owners and 2,000 guestrooms make up the Somerpointe Resorts portfolio, with its flagship resort Tahiti Village. Somerpointe Resorts has created vacation memories for over 100,000 families around the world for more than 30 years, developing the majority of the resorts currently in the portfolio. 
As vacation ownership has transitioned, Somerpointe Resorts has as well by providing flexible-use products, premium service, and enhanced owner benefits to their clients. One of the main benefits is exchanging through RCI. RCI is the largest vacation exchange network in the world, and Somerpointe Resorts owners can become a member.
The 12 resorts include:
Hawaii Resorts
Sands of Kahana
Kahana Beach
Kahana Villa
Hono Koa
Maui Beach
Maui Banyan
The Garden at West Maui
Kona Islander
Las Vegas Resorts
Tahiti Village
Tahiti Resort
Club de Soléil
Florida Resorts
Top Somerpointe Resorts for Families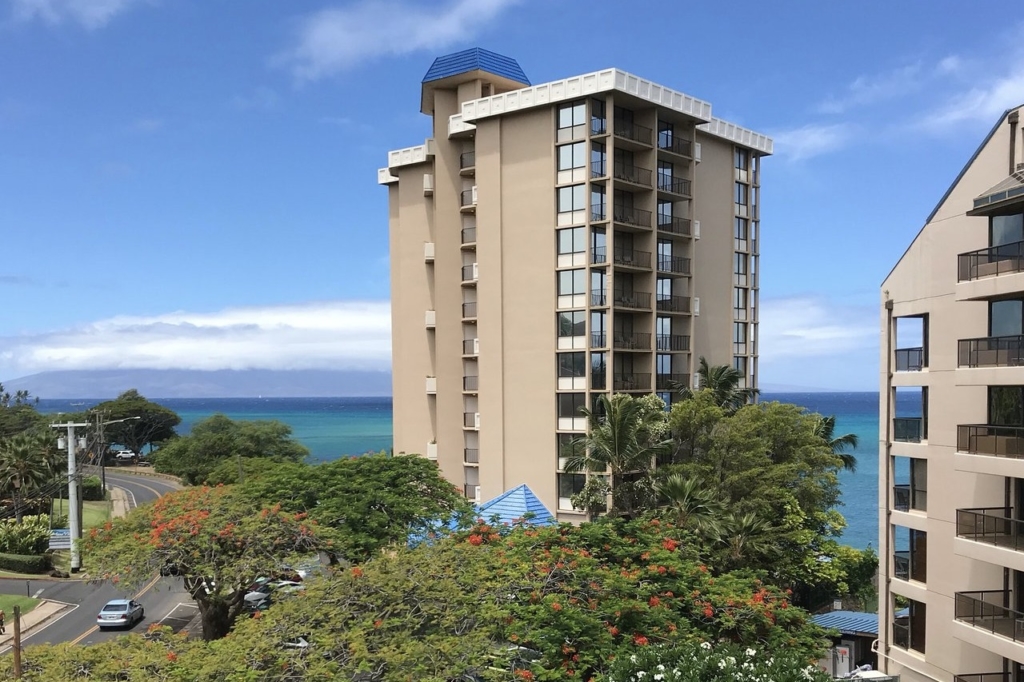 Sands Of Kahana Vacation Club — Maui
Situated on one of Hawaii's most beautiful beaches, Sands Of Kahana Vacation Club is a luxurious tropical paradise. The amenities are a major perk of this resort, including its tennis courts, private adult pool, family pool area, restaurant, bar, children's game room, and play areas, as well as a beach activity center. Not to mention, there are five championship golf courses nearby, making it a golfers' paradise.
Villas at Regal Palms — Orlando
In the heart of central Florida, Villas at Regal Palms features high-class amenities just minutes away from all of Orlando's attractions, including theme parks, shopping, dining, and nightlife. Swimming pools, water slides, lazy rivers, hot tubs, and lounge areas are some of the main features of the resort's pool area. In addition, on-site, there is a spa, fitness center, sauna, restaurant, clubhouse, game room, business center, and auto rentals.
Kahana Villa Vacation Club — Maui
Kahana Villa Vacation Club is located on the fabulous island of Maui, where sunny beach days are unforgettable. The location, the amenities on-site, and luxurious accommodations make this resort unlike any other. In addition, the surrounding areas are definitely worth exploring. Enjoy live entertainment, shopping, museums, art galleries, and fine dining at Old Lahaina, a historic whaling village nearby. Regardless of how you spend your time, you're in for a memorable island retreat.
Top Somerpointe Resorts for Adults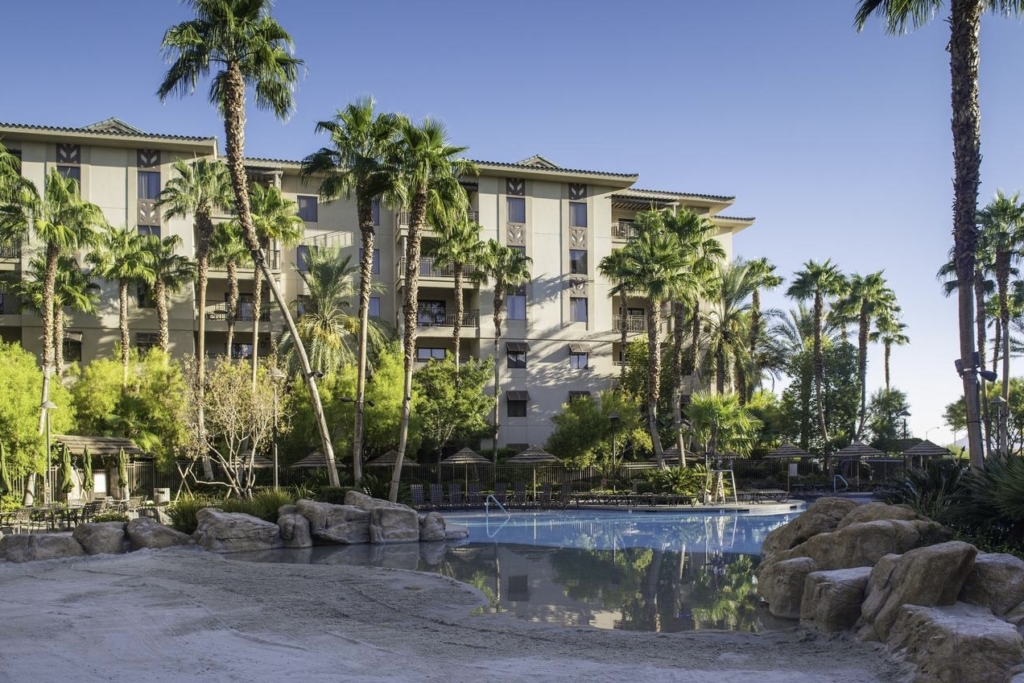 Tahiti Village — Las Vegas
As mentioned previously, Tahiti Village is the most beloved of all the resorts in the Somerpointe Resorts umbrella. Located less than two miles from the infamous Las Vegas Strip, this resort offers a romantic island-inspired oasis in the Entertainment Capital of the World. Among the many amenities across this 27-acre resort are pools, hot tubs, a lazy river, shaded cabanas, a sand volleyball court, and a putting green.
Tahiti Resort — Las Vegas
Guests at Tahiti Resort experience South Pacific vibes in the liveliest city in America, Las Vegas. Only minutes from the Strip, this gorgeous Somerpointe Resort allows you a comfortable two-bedroom villa to unwind in after a night out on the town. Every villa comes with a full kitchen, fireplace, whirlpool tubs as well as access to the amenities of the resort. Amenities include two swimming pools, a putting green, transportation services, and an activity desk.
Maui Beach Vacation Club — Maui
With convenient access to nearby beaches, vibrant nightlife, and fun activities, Maui Beach Vacation Club is the place to stay on Maui's southwest coast. Guests will feel right at home with the home-like amenities in each unit. While also enjoying a fun vacation due to the amenities, including a restaurant, live entertainment, bicycles, a pool, and tropical gardens. Make sure to explore the dormant volcano Mt. Haleakala and the Heavenly Road to Hana, two of the most visited attractions nearby.
Top Somerpointe Resorts For A Relaxing Getaway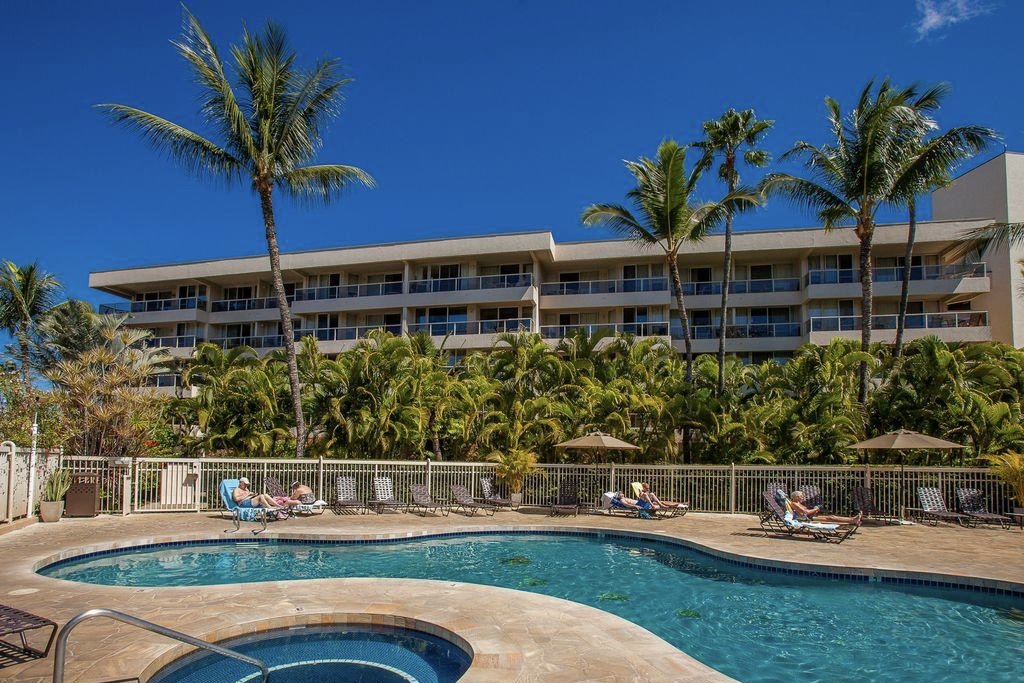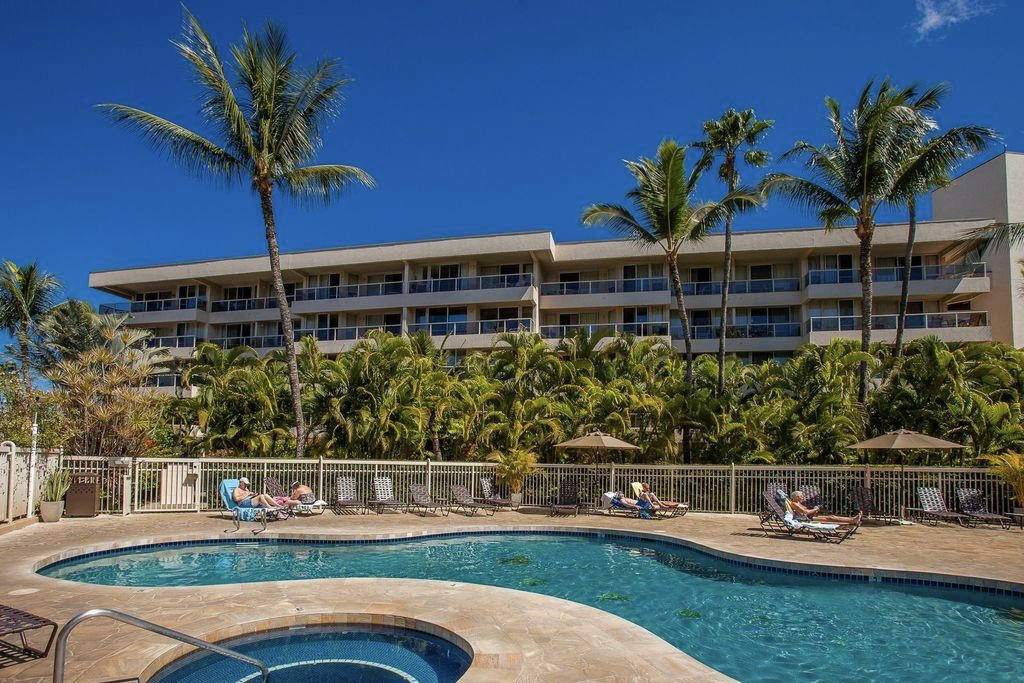 Maui Banyan Vacation Club — Maui
Beautifully decorated and set in Kihei, Maui, a tranquil oasis of relaxation and unlimited adventure awaits you at Maui Banyan Vacation Club. Accommodations come in one- and two-bedroom suite sizes. Each suite features a full kitchen, washer, and dryer. Enjoy a refreshing swim in the outdoor pool or play some tennis on the courts. Not to mention, the area also offers a wide selection of outstanding restaurants, the beach, and golf.
Club De Soleil — Las Vegas
If you want an escape from the fast-paced nightlife, Club De Soleil is the Vegas timeshare for you. This elegant yet tranquil resort allows you to be close enough to the action but far enough away so you can relax away from the crowds. You can enjoy the flowering garden and luxurious spa after a busy day at the casinos. Not to mention, all suites feature fully equipped kitchens, laundry facilities, fireplaces, multiple televisions, and whirlpool tubs.
Kahana Beach Resort — Maui
The majority of the beautifully constructed units at Kahana Beach Resort offer scenic views of the islands of Molokai and Lanai. From your lanai, you'll be able to admire breathtaking sunsets and see plenty of marine life, including sea turtles, monk seals, and migrating humpback whales during whale season. In addition, you are right next door to the Sands of Kahana Vacation Club and Kahana Villa Vacation Club so you can use the amenities of each resort.
Buy a Somerpointe Resorts Timeshare
You can't go wrong when it comes to purchasing a timeshare at any of these Somerpoint Resorts. When you buy a timeshare, you pay for a lifetime of vacations upfront. So, you lock in today's rates and beat inflation. A timeshare is a deal within itself, but when you buy on the resale market, you can save thousands of dollars. At Fidelity Real Estate, we are here to guide you through this process. Simply browse our marketplace, then make an offer on the timeshare for you. Feel free to call us at 1-800-410-8326 or email us at: team@fidelityresales.com.