There's a lot to love about Wyndham Destinations. From their status as one of the largest and best vacation clubs in the world to their affiliation with RCI, Wyndham is renowned for giving its members near-endless options. With that said, vacation ownership isn't for everyone. Whether you don't travel as often as you used to or simply aren't interested in the brand anymore, it may be time to move on. If that sounds like you, selling your timeshare may be your best option. While selling your timeshare can be a safe and convenient process, it's important to be aware of how it works to avoid any pitfalls. Fortunately, if you're looking to get started, you've come to the right place! Here's our step-by-step guide on selling your Wyndham timeshare.
Before Selling Your Wyndham Timeshare
If you're curious about the process of selling Wyndham timeshare, there are a few things that you'll need to consider. As the largest vacation ownership brand in the industry, Wyndham Destinations has a wealth of benefits and opportunities for owners. There are several brands under Wyndham's portfolio, each offering unique destinations and ownership types.
Before you sell your Wyndham timeshare, consider the reasons behind why you want to let it go. If you feel like you've seen all that the brand has to offer, it's important to remember your options. Don't forget that you can bank, borrow, and spend your Wyndham points however you like. This means you can save up to book a different kind of vacation from your usual. With internal exchange, Wyndham owners can use their points at thousands of other resorts outside of their Home resort. Plus, you can choose how long you want to stay and when you want to visit.
Did you know that Wyndham Destinations owns the world's first-ever vacation exchange platform? RCI allows timeshare owners to trade their points or weeks for thousands of destinations around the world. One major benefit of owning a Wyndham timeshare is the ability to join RCI and experience even more vacation opportunities. If you were to sell your Wyndham timeshare, you wouldn't be able to reap the rewards of RCI's exchange platform. RCI member perks even include discounts on airfare, car rentals, and cruises.
How to Sell Wyndham Timeshare: Review Your Options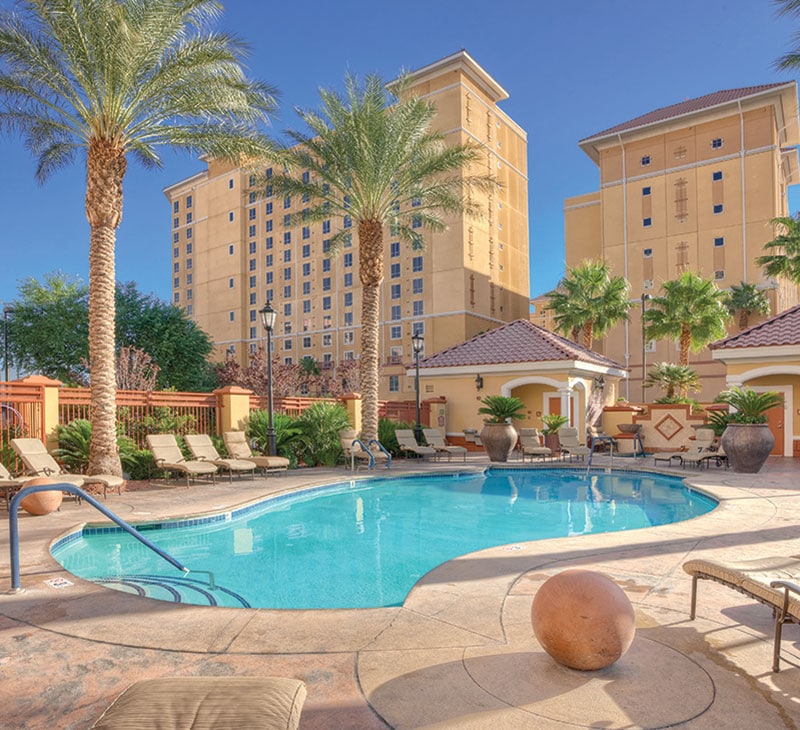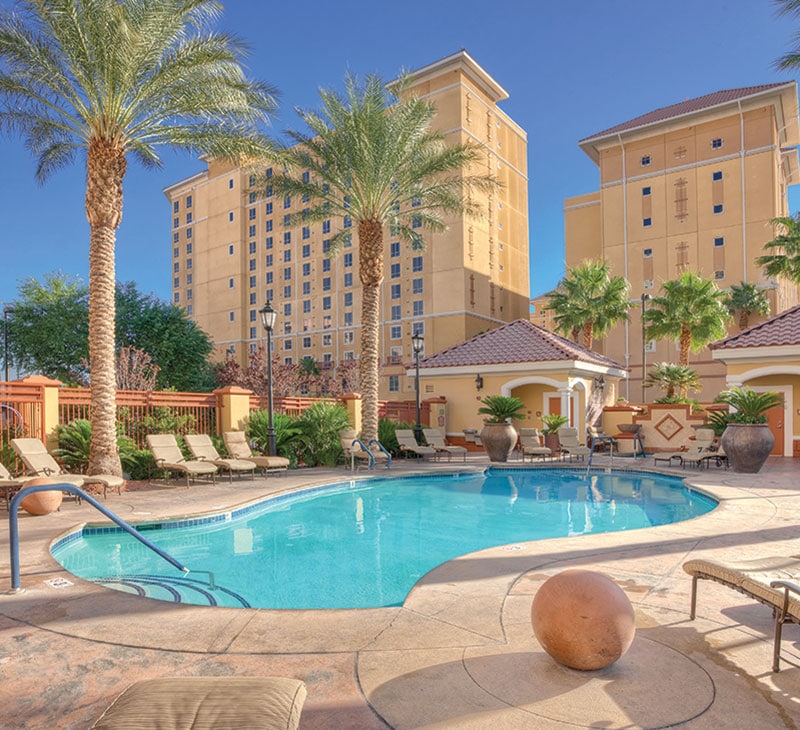 When you decide to sell your Wyndham timeshare, there are several options to consider. The first thing we always recommend is to contact Wyndham directly to review your options. As a Member of ARDA and participant in the Coalition for Responsible Exit, Wyndham provides in-house solutions for their owners.
Wyndham Cares
There is a lot more that goes into owning a Wyndham timeshare than you may realize. Whether you are struggling with getting the most use out of your ownership or considering if the timeshare is still right for you, Wyndham Cares can help guide you. This free service can help you plan and book vacations or answer questions related to exiting your timeshare.
If you aren't sure if you want to sell your Wyndham timeshare yet or you're just not using it this year, don't fret! Wyndham Cares can help you rent out your timeshare and put some money back into your pocket.
Certified Exit – backed by Wyndham
This program offers the best guidance to owners looking to sell or get out of their Wyndham timeshare. Replacing "Ovation," Certified Exit – backed by Wyndham, is the one-stop resource for all questions you may have about exiting. One of their representatives can offer guidance for each unique circumstance and offer solutions.
Furthermore, if your loan is completely paid off and you are up-to-date on all fees, Certified Exit allows you to return your ownership. While Wyndham will not outright buy back your timeshare, it is easiest and fastest to give it back to them. But, should you choose to sell instead, their program can refer you to a trusted and legitimate timeshare resale company.
Other options that Certified Exit can help with include:
Transfer your ownership to another family member, completely free!
Apply for a hardship exception for the personal tragedy that no longer allows you to afford your ownership.
Reduce the number of points in your contract.
Provide maintenance fee relief options.
Sell your Wyndham timeshare on the secondary market.
Common Resale Scams When You Sell Wyndham Timeshare
If you decide to sell your Club Wyndham timeshare, there are some common red flags to look out for. If you choose to use a resale company that is a partner with Wyndham, you can relax knowing you're in good hands. While you're reviewing all of your options, make sure you are aware of some of these timeshare resale scams.
Timeshare Exit or Cancellation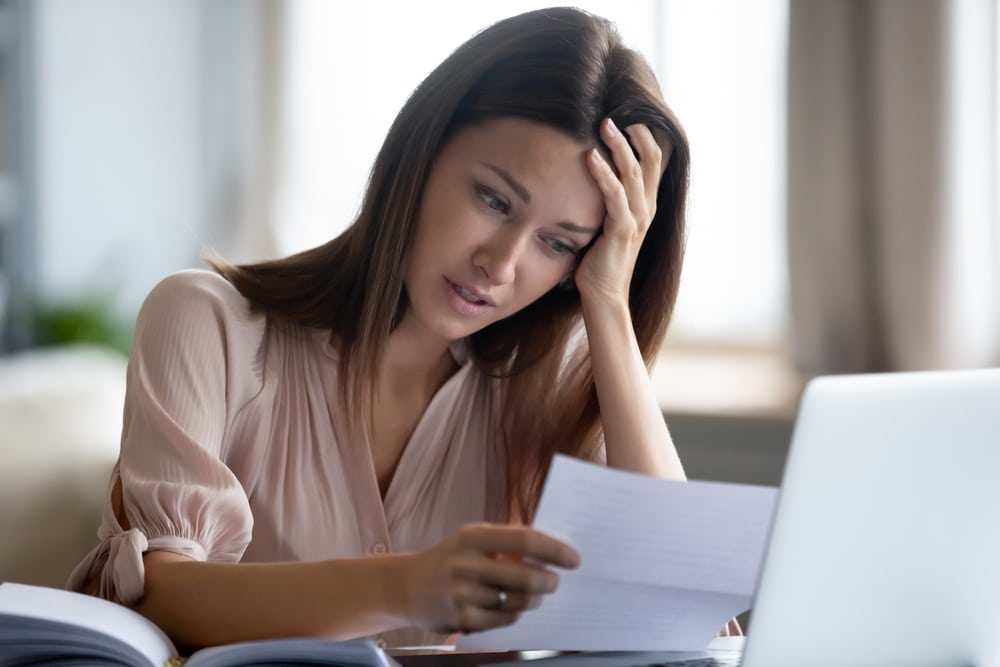 Unless you are within the rescission period for your Wyndham contract, you cannot simply cancel your Wyndham timeshare. The rescission period is the time period right after purchase in which you can "return" your timeshare. This period is determined by the developer or state and is stated within your contract. Timeshare exit companies and timeshare cancellation companies make false guarantees to trick owners that are susceptible to scams. What's more, they will demand a steep up-front fee (thousands of dollars) for a service that they really can't provide. A successful "exit" or cancellation is merely just foreclosing on your ownership. Not only do they demand extremely high up-front payments, but the result of their services can also harm your credit.
Learn more: Timeshare Exit Team Cost: Is it Worth it?
Out of the Blue Buyers
Whether you are currently selling your Club Wyndham timeshare or not, you may receive phone calls from unrecognized numbers. They will claim that they are a broker with a "buyer waiting" for your property. What's more, they may even offer you more than what you originally purchased your Wyndham timeshare for. Be aware that this is in all likelihood a scam. It's important to know that a legitimate resale company will never reach out to you unsolicited. This is actually illegal! What's more, they will likely ask for a "wiring" or "transfer" fee upfront. You should also take this as a sign that the caller is not legitimate.
Up-front Fees to Sell Your Wyndham Timeshare
Some owners will choose to use an advertising company that specializes in vacation ownership to market their timeshare for sale. They will ask for a nominal up-front fee, or what they call an advertising fee. Keep in mind that there is no guarantee that your timeshare will sell if you use one of these companies. Some owners decide to go this route so they have more control of the asking price and the sale. There are several timeshare resale advertising companies that are Members of ARDA and adhere to strict guidelines.
Timeshare cancellation attorneys or exit companies, as we mentioned before, will ask for exorbitant fees that are just not realistic. You should never have to pay to sell your Wyndham timeshare. In fact, usually, the buyer will take on all transfer fees, commissions, and closing costs at the time of sale. Unless the buyer wants to negotiate otherwise, you should not have any up-front costs.
Learn More: How to Sell Timeshare Without Upfront Fees
How Do I Sell My Wyndham Timeshare?


When you're ready to sell your Wyndham timeshare, Fidelity Real Estate can help. As Wyndham's Recommended Resale Brokerage and a Featured Reseller for the Coalition for Responsible Exit, we specialize in timeshare resales. What's more, our Licensed Real Estate Brokerage has been in business for over 20 years assisting Wyndham owners.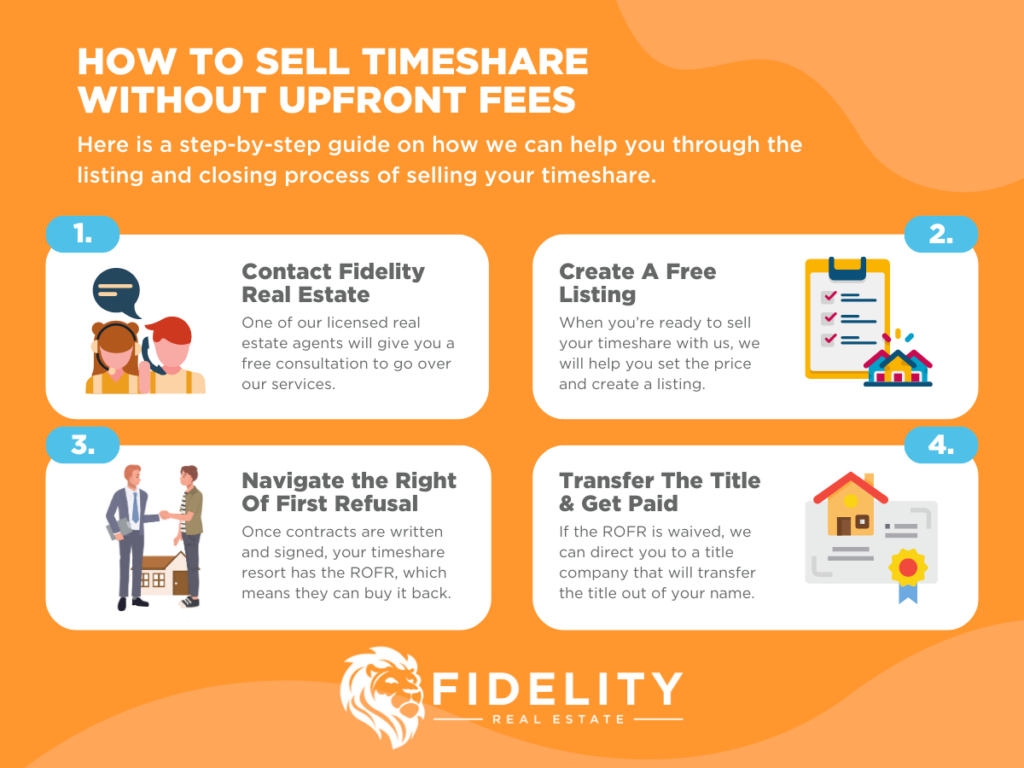 The Step by Step Guide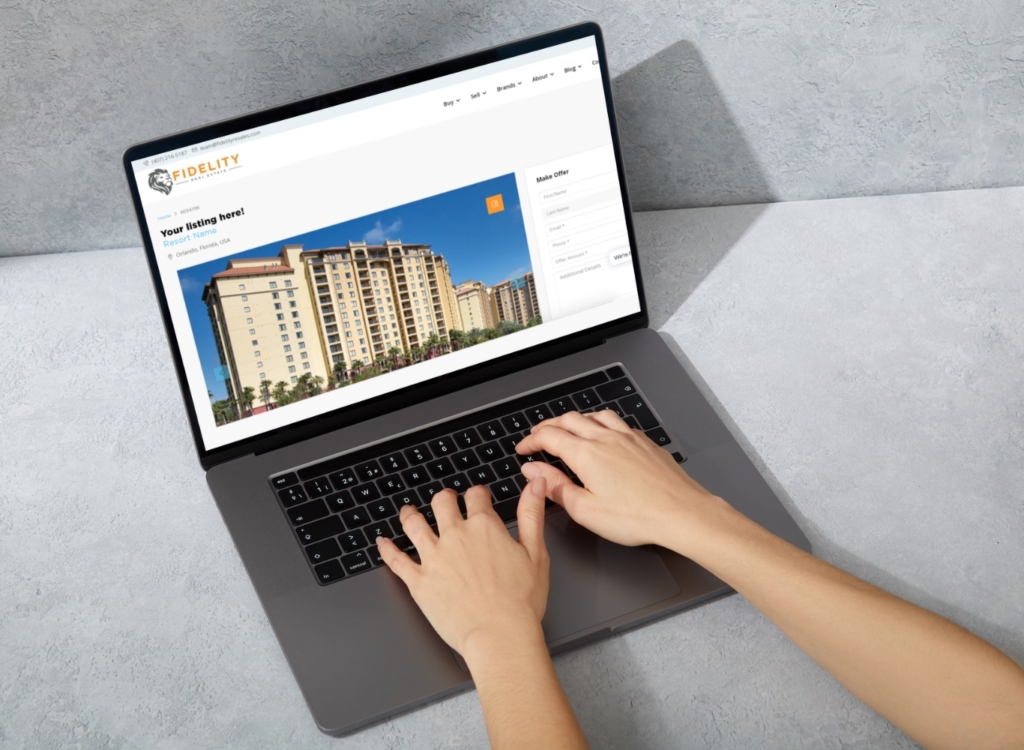 Get started by filling out a form on our website or calling one of our agents at 1-800-410-8326. We'll give you a free consultation, at no obligation, to go over the services we can provide to you.
Then, we will create a listing for your Wyndham timeshare. Should you decide to accept our services, there are zero up-front fees. We will work together to create your Wyndham timeshare listing and set the offer price. Your agent can even give you an estimate of what other Wyndham timeshares are selling for at your resort. Throughout this process, you will have direct communication with your agent, and we can adjust asking prices and such accordingly.
When a potential buyer makes an offer on your listing, we will contact you to go over the details. Fidelity Real Estate agents can facilitate the negotiations for you. These include who will be paying for commissions, resort transfer fees, closing fees, and more. Once we finalize all negotiations, we'll write the contracts for you and the buyer to sign. This is done electronically via a secure e-signature website. This makes it easy for all parties to move along the closing process quickly.
Once contracts are written and signed, it's not over yet! The Right of First Refusal (ROFR) is in every timeshare contract and gives the developer the right to review the sale before we close. Wyndham has the ability to exercise the ROFR and step in as the buyer. Essentially, if Wyndham chooses to, they can accept all terms of the contracts and buy your Wyndham timeshare back themselves. If Wyndham waives the ROFR, this means that Wyndham is allowing the sale to continue between the original parties. The sale cannot continue until the ROFR is complete, making it an essential step in the resale process!
Once the resort waives the ROFR, we can direct you to a trusted title company that will transfer the title out of your name. The title company will process the title transfer and send the new title and documents to the resort and the county the resort is located in.
After the title is transferred out of your name, you should contact the resort (Wyndham in this case) to confirm the membership is out of your name. Do not stop paying your maintenance fees until you confirm with the resort, HOA, or mortgage lender that you are no longer obligated to pay your ownership fees. Until this happens, you will still be responsible for paying the maintenance fees.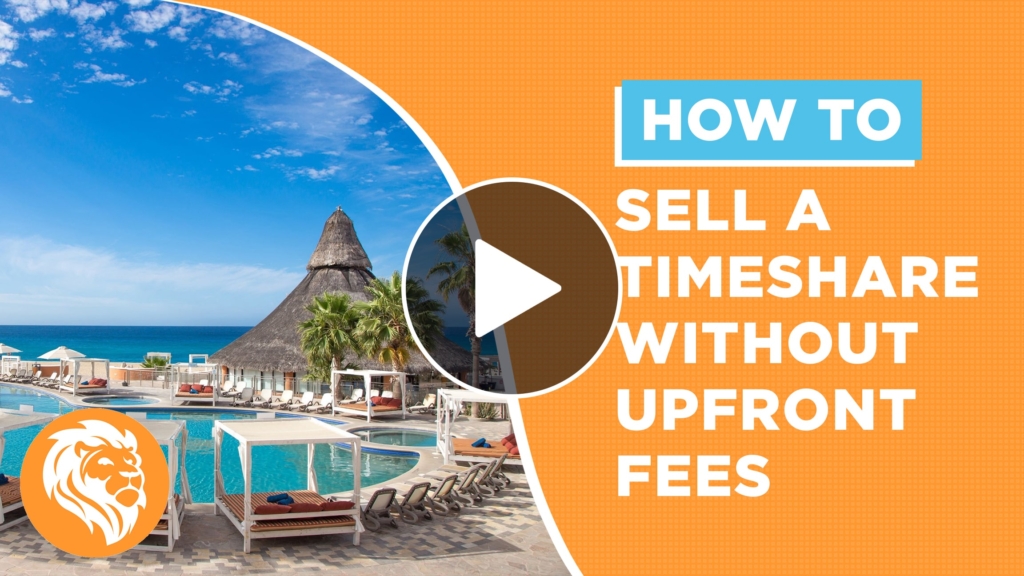 Want to learn more about selling your Club Wyndham timeshare? We have you covered! Check out our video "How to Sell a Timeshare Without Any Upfront Fees" to help you get started.
Can I sell my Club Wyndham timeshare?
As the owner, you are definitely able to sell your Club Wyndham timeshare if you choose to. Before you sell, make sure to research all of your options. These include renting out your ownership, gifting it to a friend or family member, or giving it back to Wyndham.
How can I sell my Wyndham points?
There are many options to sell your Wyndham points. You can sell your ownership on your own by advertising your points for sale online. This can be through social media or on various timeshare owner forums. There are also timeshare advertising companies that market your property for you, as well as licensed real estate brokerages that specialize in timeshare resales. If you do decide to sell your Wyndham points on your own, familiarize yourself with the entire closing process. Closing can be complex, and every detail matters!
Can I sell my timeshare back to Wyndham?
Through Wyndham Cares "Certified Exit – Backed by Wyndham", owners may be able to return their timeshare back to Wyndham. Before you attempt to return your Club Wyndham timeshare, make sure your loan is paid off, and all maintenance fees are up-to-date. We also suggest contacting Wyndham Cares directly to review your options.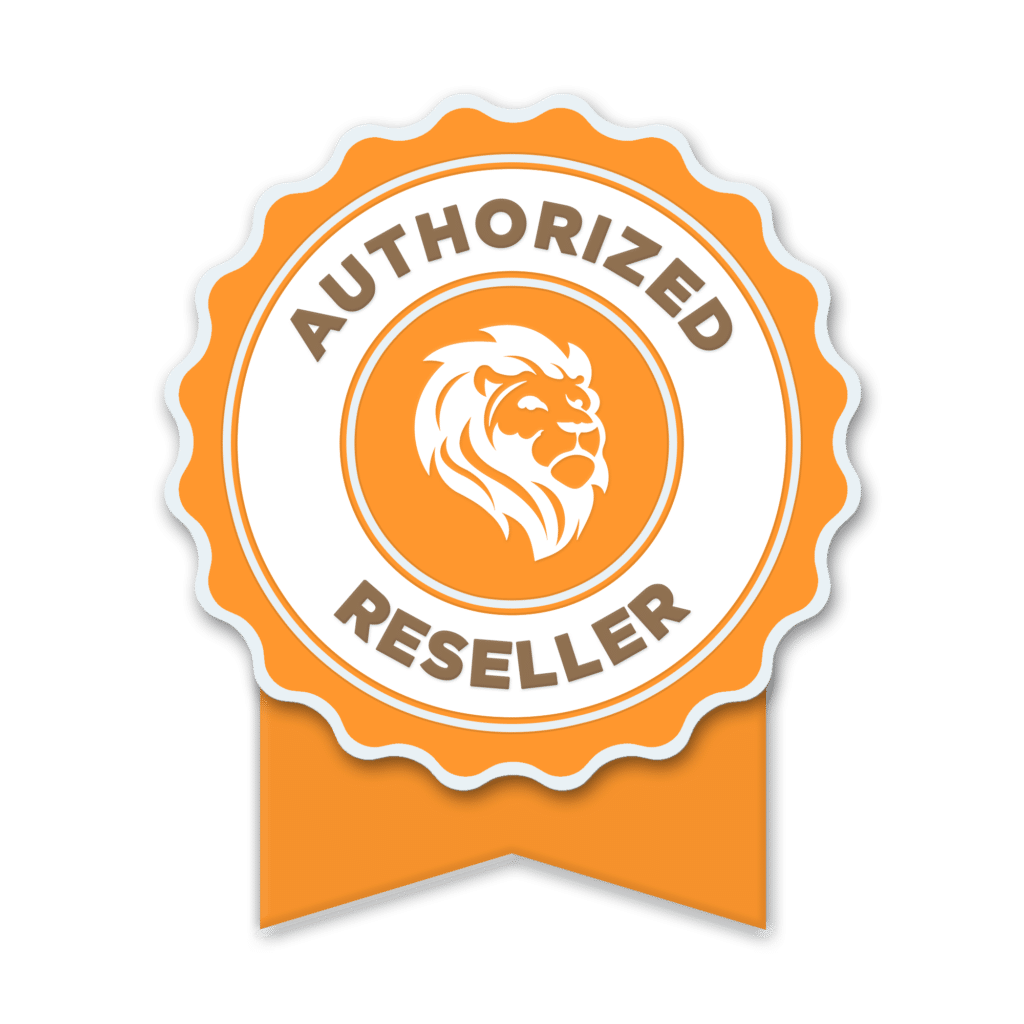 Work With FREA to Sell Your Wyndham Timeshare Today
There's nothing wrong with needing to sell your Club Wyndham timeshare. Whatever the reason may be, if you've decided it's time to move on, Fidelity Real Estate can guide you through the process safely and conveniently! If you're ready to get started, please email us at team@fidelityresales.com or call us at 1-800-410-8326. Or, fill out the form below! Either way, our licensed agents are ready and happy to help!