If you're looking for the latest on Marriott's COVID policies, we have the latest information. These policies will affect your stay, and as a Marriott Vacation Club member, you want to know these beforehand. Like many things associated with travel and vacation, adjustments to ensure safety are being made during these trying times. In this article, we'll cover Marriott Vacation Club's COVID-19 policies and what you need to know for a safer stay and travel.
Are You Traveling to a Foreign Country?
Before packing your bags and jumping on your flight, all aircraft passengers coming from the United States going to a foreign country require a negative test result or documentation that you've recovered from COVID before boarding your flight. For more information, visit the Centers for Disease Control and Prevention (CDC)'S Testing and International Air Travel and travel.state.gov's COVID-19 Travel.
Marriott's The Next Level of Clean
Undoubtedly, one of the biggest changes that guests at Marriott resorts can expect is the additional cleanliness that closely follows the guidelines and protocols set out by the CDC and World Health Organization. These Marriott COVID policies help ensure that each guest (as well as staff) can stay safe.
Marriott's enhanced cleaning standards include:
Rigorous cleaning protocols for high-touch areas and surfaces
Using hospital-grade disinfectants
Adding hand sanitizing stations
Protective social distancing guidelines
Inside and out each resort, there is extra attention and cleaning frequencies for high-touch areas and surfaces such as:
Elevators
Handrails
Door handles/knobs
Switches
Flat surfaces
Inside your villa or room, Marriott's enhanced cleaning protocols include essential touch-points such as:
Light switches
Door handles and frames
Remote controls and televisions
Telephones
Clock radios
Climate controls
Hangers and luggage rack
Iron and ironing board
Vacuum or sweeper
Cabinet doors and handles
Countertops
Appliance doors and other high touch-point areas
Hand Sanitizing Stations
You can expect to see hand sanitizing stations in high traffic areas such as entrances, exits, lobbies, front desks, elevator landings, food and beverage areas, and fitness center entrances. These hand sanitizing stations automatically dispense antibacterial soap without touch.
Marriott has also removed unnecessary brochure racks and furnishings to prevent unnecessary surface contact and the spread of germs. The standard 6-foot social distancing spacing is always set in place but with altered traffic flow to prevent traffic congestion.
Electrostatic Sprayers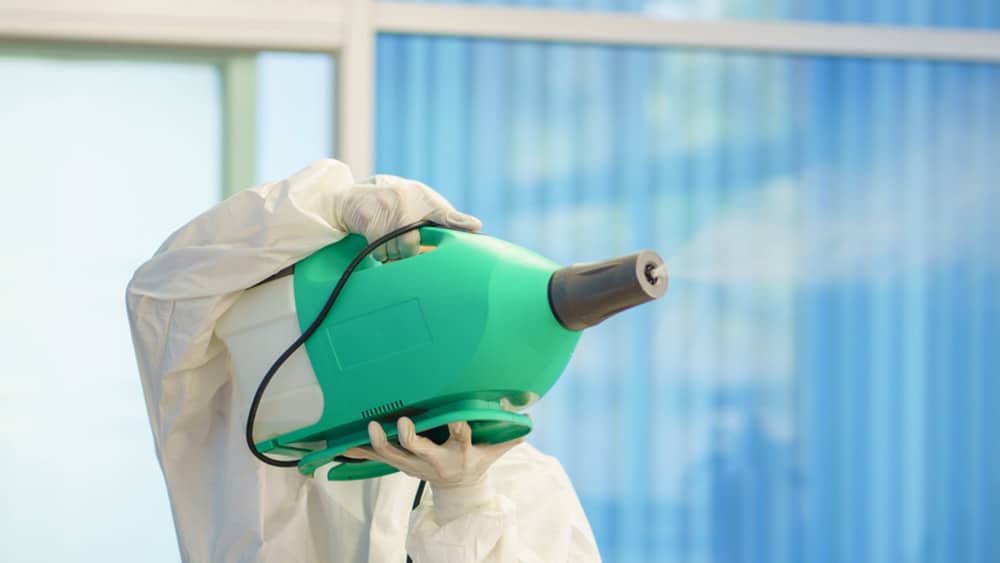 Electrostatic sprayers are used to sanitize surfaces as well as cover larger areas and surfaces for effective coating of disinfectants.
Air Purification Systems
The installation of state-of-the-art air purifying systems is effective against viruses in the air as well as on surfaces.
Mask Up, Vacation On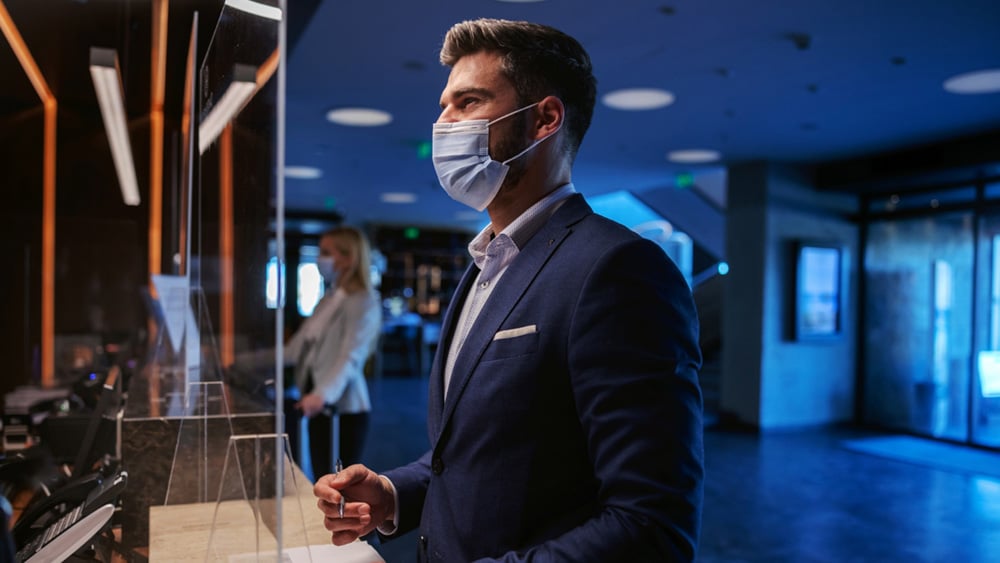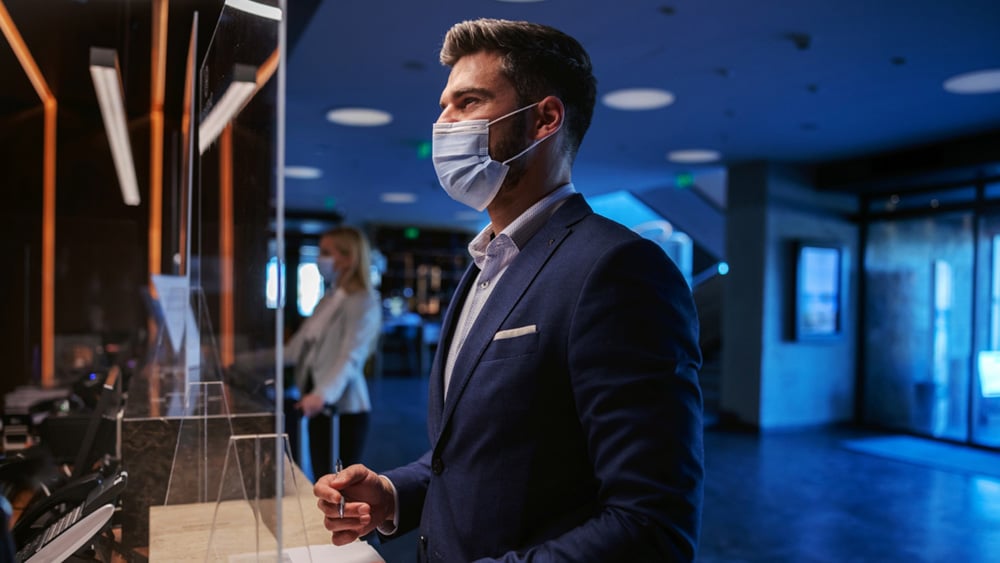 For the communities' health and safety, face masks and coverings are required for owners, guests, vendors, as well as associates in all indoor public spaces and common areas for all Marriot locations worldwide. Face coverings are required at all times at the resort when outside your villa, including at the pool areas when not in the water.
There are exceptions for not wearing a mask:
Individuals younger than 2 years old
Any individuals with a health or medical condition that prevents them from wearing a face-covering
Individuals who are actively communicating with a person who is hearing impaired, where the ability to see the mouth is essential for communication
Any individuals who are eating or drinking and seated at a food establishment on property
Individuals who are exercising outdoors
If you're not feeling well, please avoid leaving your room or villa.
Resort & Destination Updates
Your favorite resort's amenities, such as a golf course and fitness center, may be closed due to construction, repairs, or other means. To ensure that those amenities or services are available, it's best to check the Resort Status page for the particular Marriott resort and destination. The page displays whether your resort's amenities are open for use, closed, or open with social distancing. Also, there is important information regarding any construction updates that may close off or restrict certain areas at that resort.
For more information, visit Marriot's Clean and Health Safety.
Open Dates and Availability
To check if your resort is open for your stay, search for your resort at the Marriott Vacation Club website, find their phone number and give them a call about resort availability.
Making Reservations Based on Resort
Worried that Marriott's covid policies will affect your trip? To make a reservation, you can use your Marriott ownership at this link. There, you can set your dates. You can also speak to the staff about your stay. Search for your resort and find the number to call to speak to the reception.
Cancellation Policies
Marriott provides flexible reservation policies when it comes to cancellations and changing your reservations during these challenging times.
FFor all Marriott International hotels worldwide, the flexible reservation policies are as follows: 
In general, for reservations made before July 6, 2020, the reservation will remain honored for future arrival dates. 
For reservations made on or after July 6, 2020, with arrival dates through March 31, 2021; you may change or cancel with no charge up to 24 hours before the arrival date.
For new reservations with arrival dates on or after April 1, 2021, individual hotel cancellation policies in place will apply at the time of reservation.
Guests who booked via online travel agents or other third-party travel professionals (like Interval International) are advised to contact their booking provider directly for further information.
To view the current policy, log in to Marriot Vacation Club. You will need an account that's tied to ownership to view more details. Some exclusions may apply. You may also go to clean.marriott.com and scroll down to the bottom and click the Flexible Cancellation tab for more information.