Known for being a winter wonderland during the colder season and an outdoor playground when the weather warms, finding Lake Tahoe resorts in the summer is a breeze. There are plenty of things to keep you and your family busy whether you plan to stay on the North or South side of the lake. Grab some shorts and sunscreen and start planning for your next vacation in Lake Tahoe's best summer resorts.
Best Places to Stay in Lake Tahoe in the Summer
Should we stay in North or South Lake Tahoe? Do we want a fancy resort or cozy cabins? Will the entire family have something fun to do? Whatever your vacation needs are, Lake Tahoe's got you covered. We've organized a list of the best places to stay in Lake Tahoe in the summer based on the North and South Shores. If you are already a timeshare owner, take a look at the best Lake Tahoe resorts that your brand offers. If you don't have options to visit Lake Tahoe, you may be interested in exchanging your timeshare with either RCI or Interval International.
Where To Stay In North Lake Tahoe
Hyatt Residence Club Lake Tahoe, High Sierra Lodge
Ritz-Carlton Highlands Lake Tahoe
Grand Pacific Resorts Olympic Village Inn
Hyatt Regency Lake Tahoe Resort, Spa and Casino
High Sierra Lodge, Hyatt Residence Club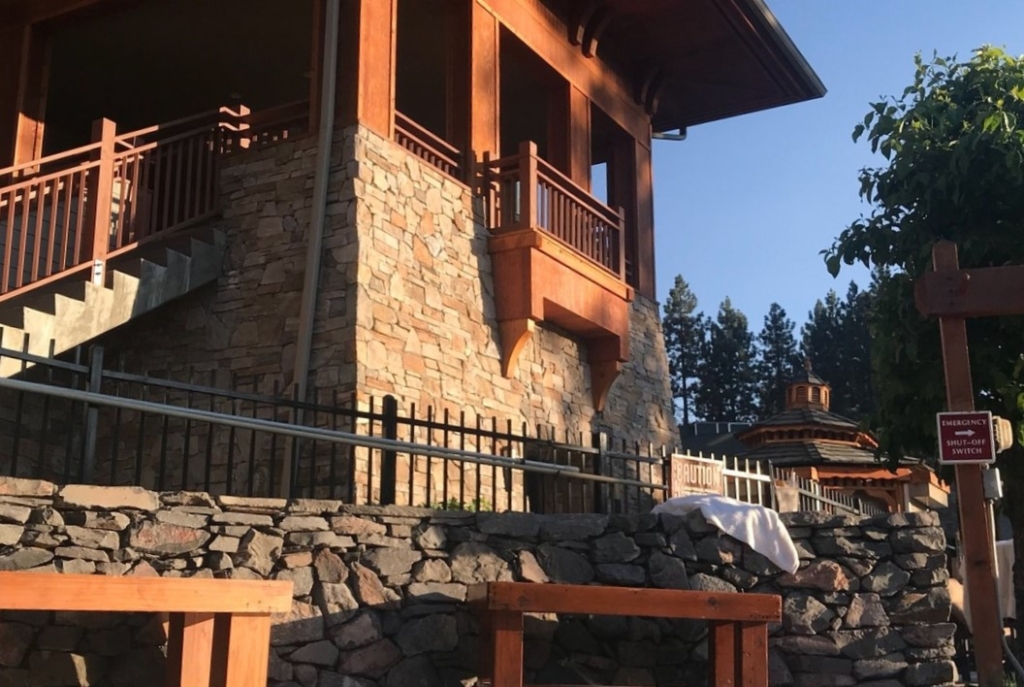 Featuring condominium-style units with two bedrooms, the Hyatt Residence Club Lake Tahoe, High Sierra Lodge, sits perfectly on the north shore. A quick walk from your spacious suite is a white-sandy beach for you to unwind and catch some rays. Incline Village is a great ski location, but in the summer, endless activities await you and your family. A 24-hour casino, horseback riding, golf, and on-site spa will keep you relaxed and carefree. The outdoor pool is open year-round, with perfect views of the scenery around the resort.
Hyatt Residence Club points allow owners to exchange their home resort points to go anywhere within Hyatt's portfolio. Owners of High Sierra Lodge have priority booking windows to reserve at this resort. Take a look at our High Sierra Lodge timeshare resales available.
The Ritz-Carlton, Lake Tahoe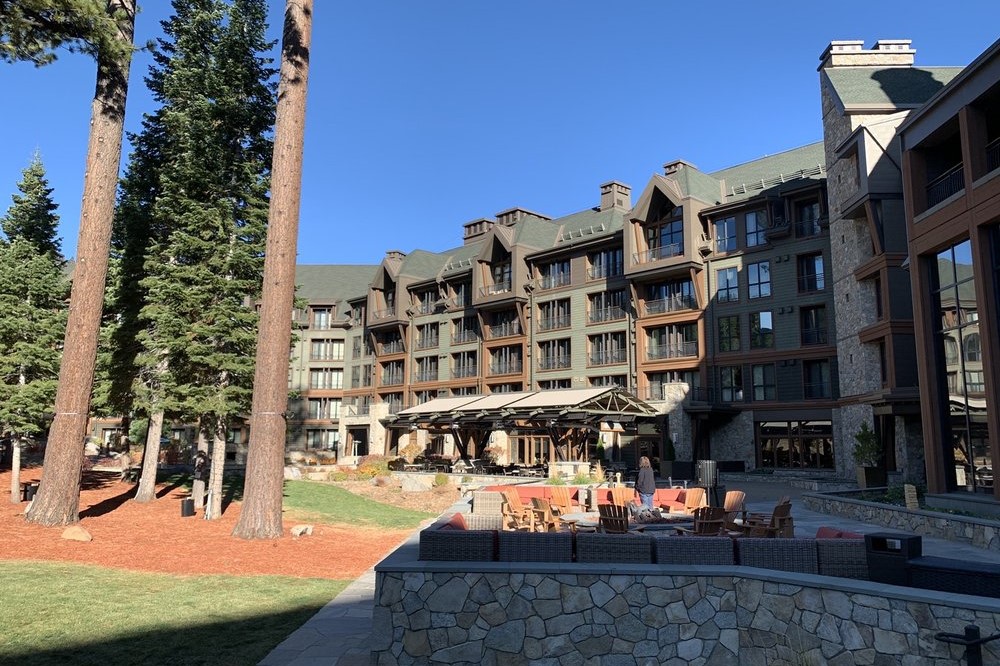 This hotel is open year-round, especially to Marriott Vacation Club owners. For the greatest luxury on the north side of Tahoe, the Ritz Carlton Lake Tahoe resort is your go-to destination for the best summer activities. With direct access to the lake during the summer months, Lake Club members have a private beach area, boat dock, and dining with a great view. Guest rooms, as well as one- to four-bedroom suites, are available to visitors, so gather your entire gather party for plenty of space to stretch out.
On-site dining with new twists in flavor is the Manzanita restaurant. Open kitchens and impeccable service help its cozy, elegant vibe. Outside on the patio, sit poolside at the Backyard Bar & BBQ for traditional barbecue flavors, pizza, and burgers. Bring your food over to a private poolside cabana and relax in the shade. There is also a counter-service cafe for your morning coffee or paninis, as well as two more lounge areas to enjoy cocktails and mountain valley views.
Benefits of Marriott Vacation Club include the ability to use your points for reservations at their other luxury resorts, such as Ritz-Carlton properties. However, Marriott Vacation Club has the best resorts in Lake Tahoe as well.
Grand Pacific Resorts Olympic Village Inn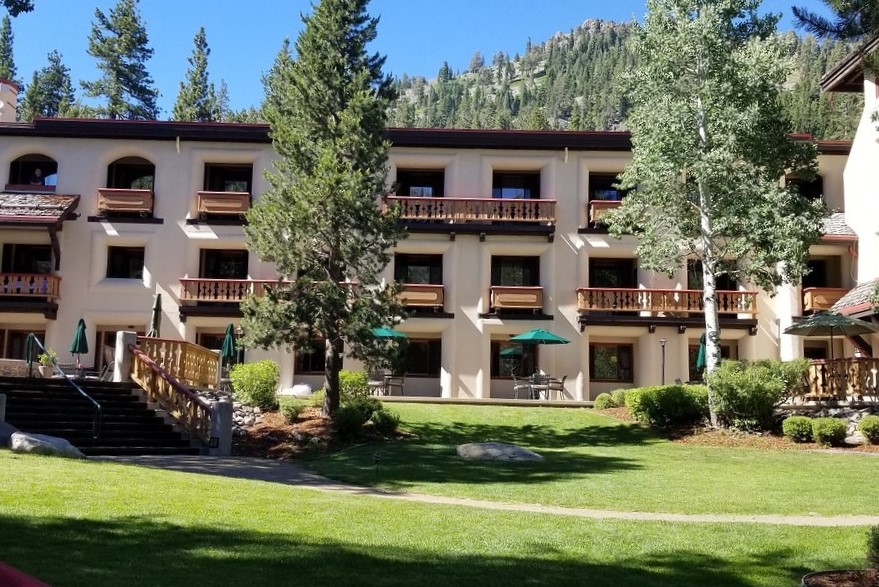 Grand Pacific Resorts Olympic Village Inn is a charming, family-friendly resort that is also perfect for a couple's getaway. This Grand Pacific resort is located at the base of Palisades Tahoe. Although it is an internationally recognized ski area in Olympic Valley, California, there is still plenty to do when the snow melts during the summer. Spacious suites include kitchenettes and private balconies that deliver great mountain scenery. Complimentary bikes are available for all of your outdoor adventures. Guests love the outdoor gardens and pool area as well.
Grand Pacific Resort has the best resorts in the world, including Utah, Hawaii, and California. Owners choose from a menu of Grand Pacific vacation ownership or exchange. Owners can exchange weeks and expand their travel horizons using Grand Pacific Resorts Exchange (GPX). As a Grand Pacific Resorts owner, you have access to over 1,000 destinations worldwide, as well as perks and discounts. If you are considering buying a Grand Pacific timeshare, our resort marketplace has resale listings at affordable prices.
Take a look at Palisades Mountain's most cozy and comfortable resort, and browse Grand Pacific's Olympic Village Inn timeshares for sale now.
Hyatt Regency Lake Tahoe Resort, Spa and Casino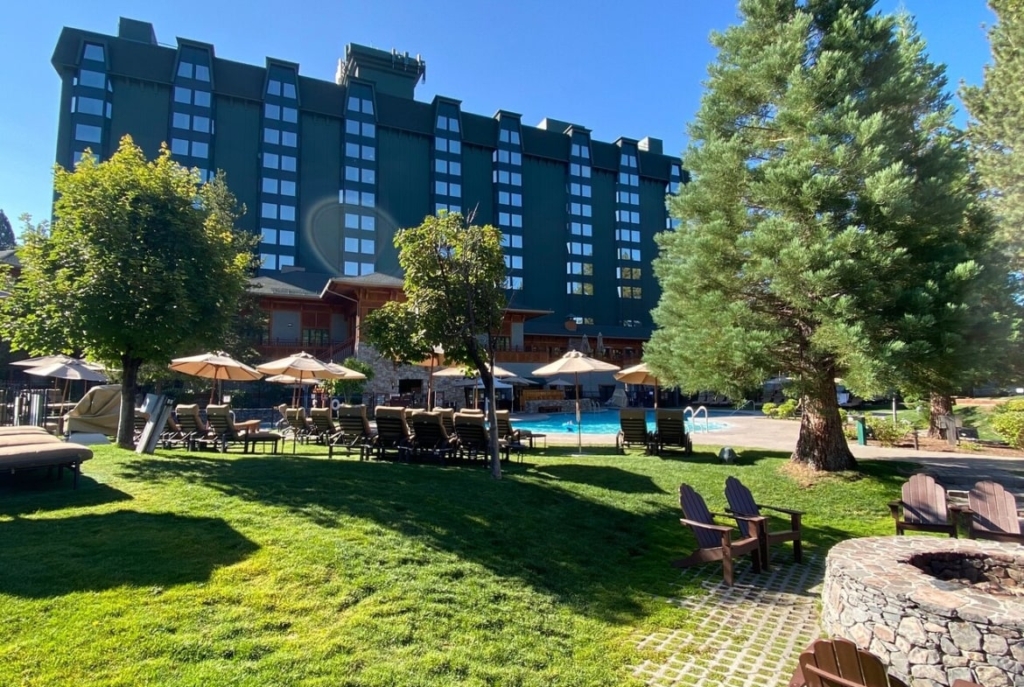 Situated on 500 feet of private lakeside beach, Hyatt Regency Lake Tahoe Resort, Spa and Casino is known for its world-class amenities. This Hyatt resort brings a wide range of activities outside the resort, but you might end up never leaving the property with all there is to do. The Lone Eagle Grille on the private beach offers award-winning cuisines. After dinner, stroll to the Grand Lodge Casino to try your luck. There is even a spa where you can schedule massages, facials, or other salon treatments.
Where To Stay In South Lake Tahoe
Wyndham South Shore
Marriott's Grand Residence Club, Lake Tahoe
Marriott's Timber Lodge
Wyndham South Shore Resort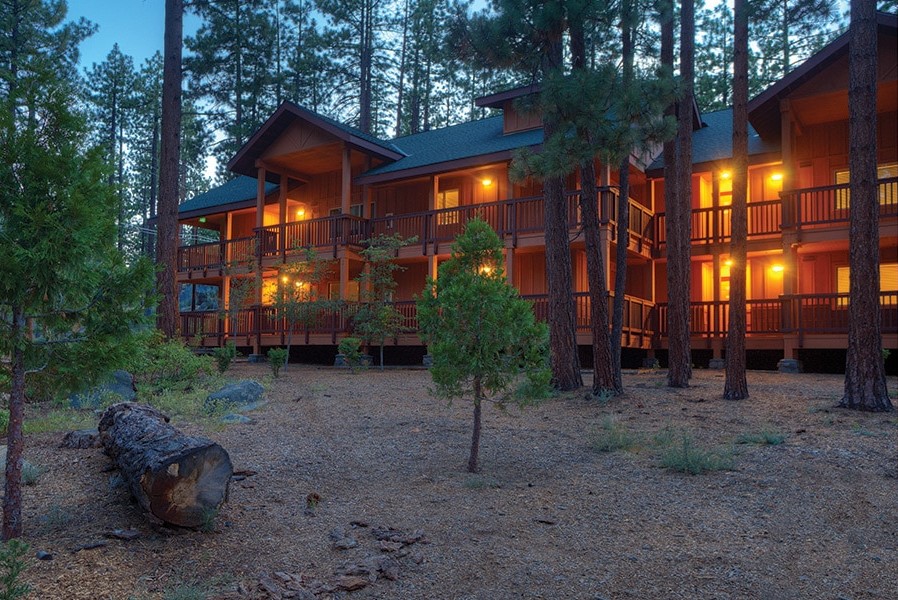 A gorgeous mountainside resort in the Sierra Mountains, Wyndham South Shore offers some of the best amenities for guests with family or on a couple's retreat. Travelers come here to rejuvenate and relax in the scenic splendor. Each unit features a fireplace, so every day can end with cozy serenity. Charming lodge-style units are influenced by Tahoe's Western aesthetic. This resort features an outdoor swimming pool, two outdoor hot tubs, and a picnic area. Across the street and a short distance away is a supermarket, as well as tons of other shopping and dining options.
Grand Residences by Marriott, Lake Tahoe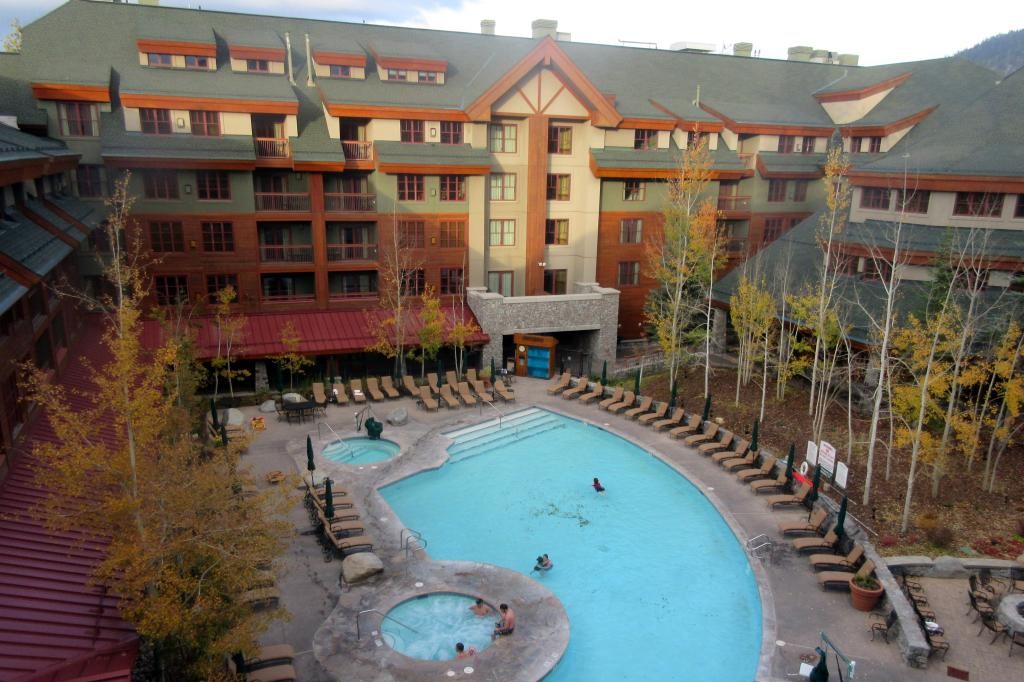 Marriott Grand Residence Club, Lake Tahoe, is located perfectly within Heavenly Village. Heavenly Village is the ideal destination for a family vacation. With a Marriott complex situated right next to the gondola, the accommodation options are second to none. Spacious villas offer all the luxuries of a home, and additional amenities include a heated pool, hot tubs, a fitness center, a full-service health spa, and ski storage. No matter why you're visiting, you and your family will have an unforgettable time in Heavenly Village.
Marriott's Timber Lodge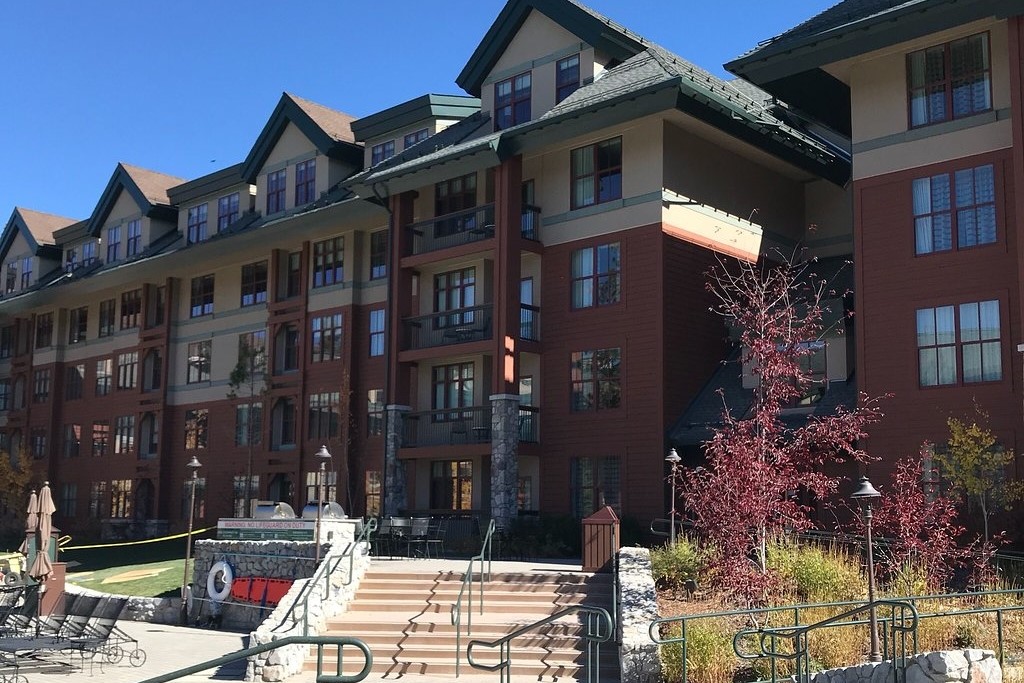 Also conveniently situated near the Heavenly Gondolas, Marriott's Timber Lodge is in the center of Lake Tahoe's South Shore. The alpine retreat is known for being a rustic getaway for your outdoor and indoor adventures. Villas range from one to three bedrooms, allowing you to stretch out and relax after a long day outside. Of course, full kitchens are also featured in every room. Head to the Fire + Ice Grill and Bar for unique Asian cuisine and cocktails. Golfers can also enjoy the proximity of the Edgewood Golf Course, only .5 miles away.
Buy a Timeshare in Lake Tahoe
Are you considering buying a timeshare at one of the best Lake Tahoe summer resorts? If so, Fidelity Real Estate can help make your dreams come true. With a vast selection of timeshares available, Fidelity Real Estate is the perfect place to start your search.
At Fidelity Real Estate, we understand that buying a timeshare can be a big decision. That's why our team of experts is here to assist you every step of the way. Our knowledgeable professionals can answer any questions you have and provide guidance to help you make the best decision for you and your family. Give us a call today at 1 (800) 410-8326. Or, start now by browsing our marketplace of timeshares for sale.