If you want to experience a slice of Hawaii without having to travel overseas, you need to check out Disney's Polynesian Resort. From its easy access to Disney World to its fantastic amenities, there's plenty to enjoy at this resort. If you're interested in checking out this DVC destination, then keep reading. Here are four reasons to buy DVC points at Disney Polynesian Resort.
1. Disney Polynesian Resort Has Great Amenities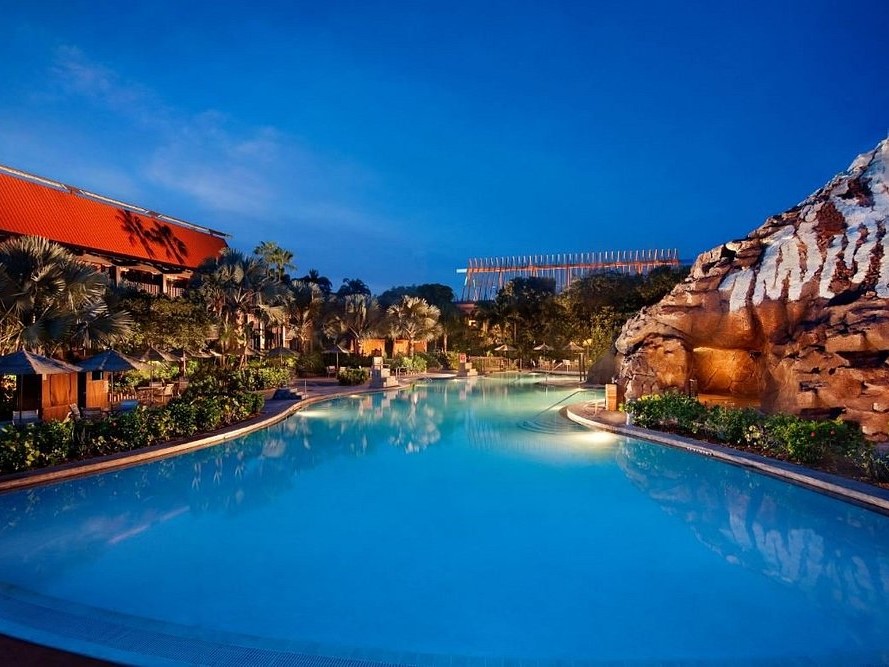 Disney Polynesian Resort, like all DVC resorts, has one thing, in particular it truly excels at: theming. Everything at this resort, from the aesthetics to the food, sticks to a distinct Polynesian theme that helps it stand out. The Lava Pool features a massive volcano featuring a towering volcano, a waterfall, and a thrilling 142-foot-long water slide. If you want a little speed and excitement, the Lava Pool is the place to be! For a more tranquil swim, check out the Oasis Pool, which is surrounded by a lush garden. Guests can also enjoy relaxing with an Oasis Patio, where you can recline in a private shaded area by the pool. When you need to work out some knots after a busy day, stop by Senses: a Victorian-themed, full-service spa offering massages, body treatments, and more. You can also enjoy a friendly volleyball match on the sandy court.
2. Disney Polynesian Resort Features Stellar Dining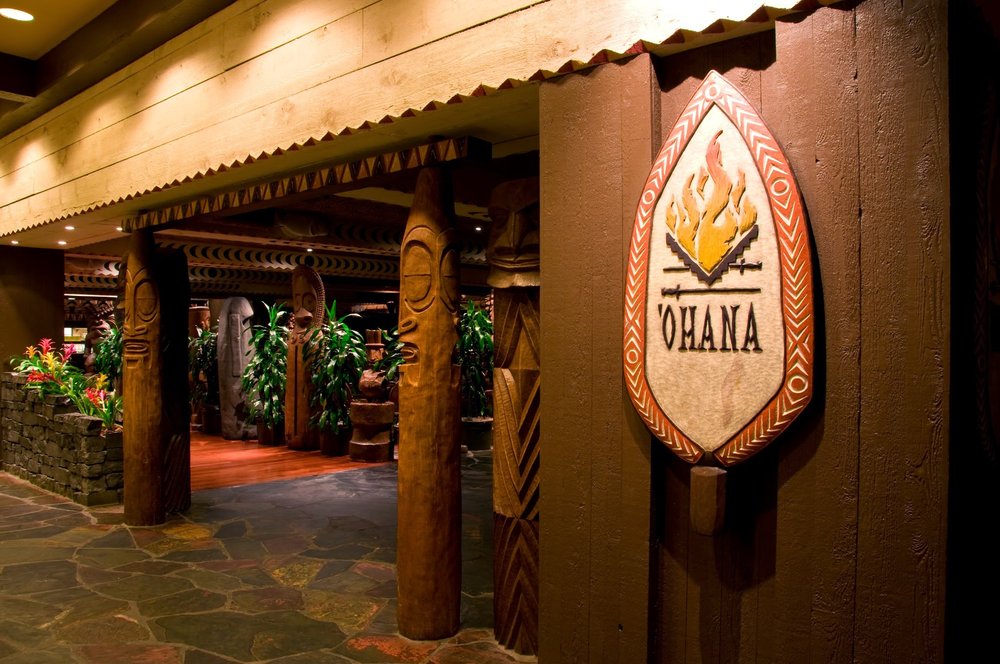 The focus on consistent theming stays strong when it comes to dining. Disney's Polynesian Resort features tropical specialties from the South Pacific. The resort has five restaurants and plenty of bars to enjoy. Captain Cook's has American classics like cheeseburgers and chicken wings alongside Thai coconut meatballs and Pan-Asian noodles. Meanwhile, Kona Cafe features an onstage sushi kitchen and tons of specialty cocktails. Speaking of sushi, Kona Island is another restaurant at the resort that specializes in it, while also offering delicious coffee beverages and pastries in the morning. Of all the restaurants at this resort, 'Ohana is the most focused on embodying the spirit of the islands. In fact, this restaurant offers family-style Polynesian-themed dinners. Additionally, 'Ohana offers a Best Friends Breakfast in the morning featuring Lilo and Stitch. The little ones will have a blast with this character dining experience!
3. Disney Polynesian Resort Has Luxurious Accommodations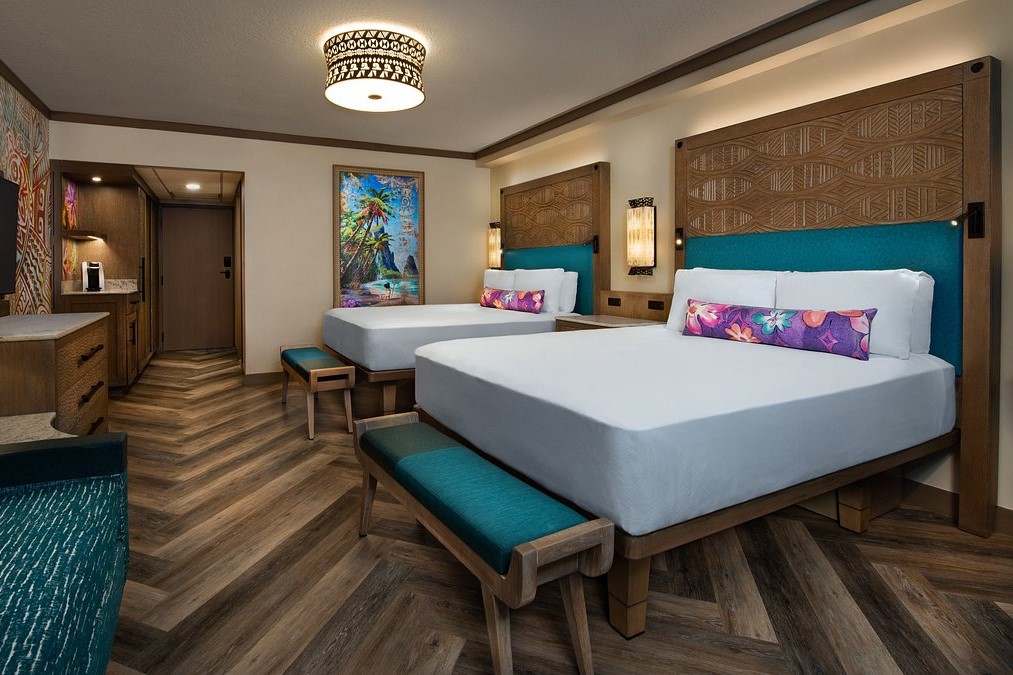 Amenities at Disney's Polynesian Resort include studio and one-bedroom suites. First, the studio suite features a queen-sized bed, a queen-sized pull-down bed, and a single pull-down bed. Overall, the studio can accommodate up to five guests. Plus, some of these suites come with a view of the lake! Next, the one-bedroom suite offers two queen-sized beds and a day bed. This suite can also house up to five guests. Both suites feature a balcony or patio, and the one-bedroom suite even gives guests access to the Kamehameha Club. This club serves continental breakfast in the morning before transitioning to offering refreshments, appetizers, and, later on in the evening, desserts. The club also has a great view of the Seven Seas Lagoon, so if you stay at the one-bedroom suite, it's worth checking out.
4. Disney Polynesian Resort is Near All the Action in Orlando
While Disney's Polynesian Resort is so great you might not want to leave, eventually, you'll likely explore beyond the walls of the resort. When you do, you'll be happy to learn there's plenty of fun to be had nearby.
Visit Disney World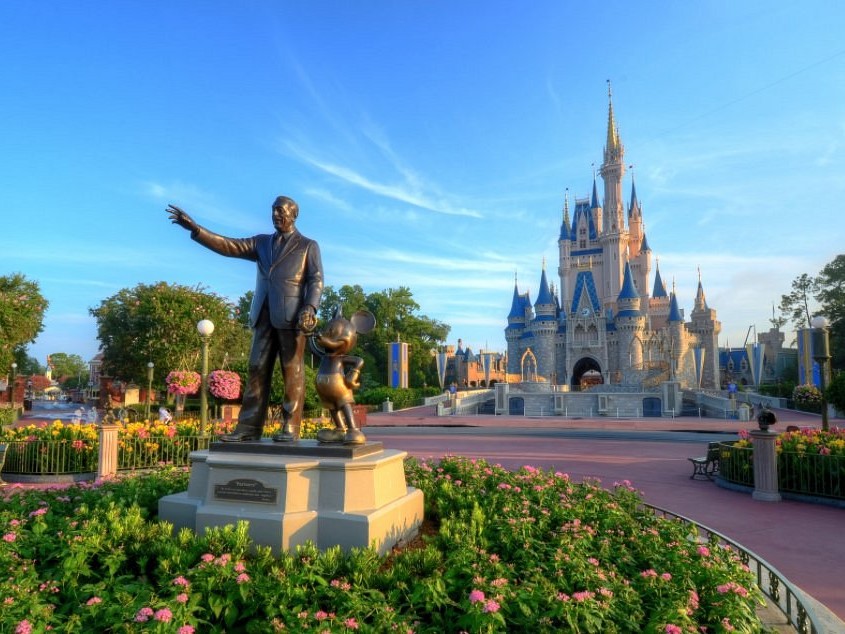 If you're staying at a DVC resort, you probably want to visit the parks at some point. Fortunately, you're in luck! Ease of access to Disney World is one of the brand's biggest strengths. In fact, the Magic Kingdom is just a monorail ride away from Disney Polynesian Resort. You can also easily transfer to Epcot using the monorail system. As for the parks themselves, what can be said about how great they are that hasn't been said already? These parks offer a once-in-a-lifetime experience. Each one pulls you into the world of beloved Disney Classics like Cinderella or newer epics like Guardians of the Galaxy. Speaking of new experiences, Tron Lightcycle Run, a new coaster, opens up at the Magic Kingdom on April 4th. If you'd like to schedule a trip to see this exciting ride open, now is the time!
Check Out Downtown Orlando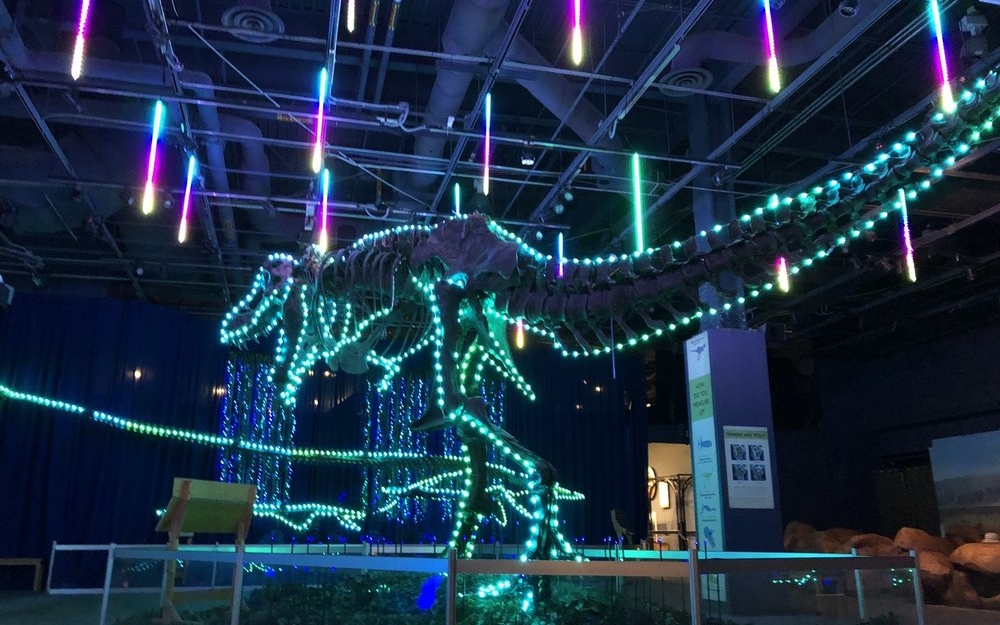 Looking for shopping? How about delicious food? Are you interested in science or history? Fortunately, there's a place with all of that and more! Downtown Orlando is just a 30-minute drive from Disney's Polynesian Resort and is home to some stellar shopping, dining, and tourist attractions. Reyes Mezcaleria serves fantastic Mexican cuisine paired with over 150 agave spirits. For those looking for something more luxurious, try Kres Chophouse. This restaurant offers a premium dining experience with carefully prepared steak in a historic building from the 1930s. You can also visit the Orlando Science Center, which has four floors of exhibit halls, labs, theaters, workshops, and even an observatory. For history, check out the Orange County Regional History Center. This museum documents the rich history of Orlando and Orange County as a whole. From the days before European settlers arrived to the beginning of space exploration, this museum has it all!
Learn More: Top Things to Do in Orlando Other Than Theme Parks
Is Disney Vacation Club Worth It?
While Disney Polynesian Resort has a lot going for it, you still might be wondering if Disney Vacation Club is worth it. Fortunately, we have a video that goes over the pros and cons of a DVC Membership. Check out the video below for more information about Disney Vacation Club.
Buy a Timeshare at Disney Polynesian Resort
A beautiful island setting, easy access to Disney World and fantastic dining all await you at Disney Polynesian Resort. If you want to dive into the amazing experiences here, consider buying a timeshare. A timeshare will allow you to visit this fantastic resort each year. This is an especially great deal if you'd like to experience the magic of Disney World again and again. If you'd like to make a trip to the resort into a yearly tradition without breaking the bank, consider buying a timeshare resale. Buying resale allows you to save money while still getting to enjoy a great resort. Here at Fidelity Real Estate, we have listings on both this resort and tons of other properties from Disney Vacation Club. If you have any questions, feel free to give us a call at 1-800-410-8326 or email us at team@fidelityresales.com.