There are endless adventures waiting for you year-round in Breckenridge, Colorado. Of course, the world-class ski slopes in Breckenridge attract many visitors each year, but there is so much more to see and do! No matter what time of year you decide to visit this scenic vacation destination, there will never be a shortage of fun. After one trip to "Breck", you'll be hooked and will be ready to book another visit! Luckily, some of the best vacation ownership brands have resorts in the area. Owning a timeshare in Breckenridge means that you will have a lifetime of incredible vacation memories.
About Breckenridge Timeshare
Breckenridge sits at the base of The Rocky Mountains' Tenmile Range in central Colorado. This mountain community is world-famous for its ski resorts, year-round beauty, and rich history. The city rose in popularity during the Pikes Peak Gold Rush. In 1859, the city was founded by a group of prospectors followed by a rush of settlers hoping to strike it rich. These people may have come for the gold, but they definitely stayed for the beauty of the surrounding mountains. To this day, you will find evidence of the early days of Breckenridge scattered throughout the city. When you visit your timeshare in Breckenridge, be sure to visit the Historic District where you can visit some of these preserved sites. Main Street of Breckenridge is one of the largest historic districts currently listed in the National Register of Historic Places.
In more recent times, Breckenridge gained popularity for being one of the best ski resorts in the world. The trails on Peak 8 opened in 1960 and since then, millions of tourists have visited the area to hit the slopes. Anyone looking to ski or snowboard will be able to explore the 3,000 acres of skiable land and 187 thrilling trails. Breckenridge may be known for being a winter wonderland, but there is plenty of adventures to be found year-round. Much like any Colorado timeshare destination, Breckenridge has adventures for every type of traveler. A visit to one of these Breckenridge timeshare resorts will put you right in the heart of the fun!
Breckenridge Timeshare Resorts
Some of the top vacation clubs have resorts in Breckenridge, so there are incredible resorts all over this mountainside town. You'll be surrounded by the beauty of Breckenridge, all while enjoying the spacious accommodations of your timeshare villa! You'll feel right at home amongst the snowcovered peaks of the Rockies and will want to make visiting your Breckenridge timeshare a yearly tradition. Whether you're visiting in the winter or are taking a Colorado summer vacation, Breck is the spot for you. Here are our top Breckenridge resorts that you do not want to miss.
Grand Lodge on Peak 7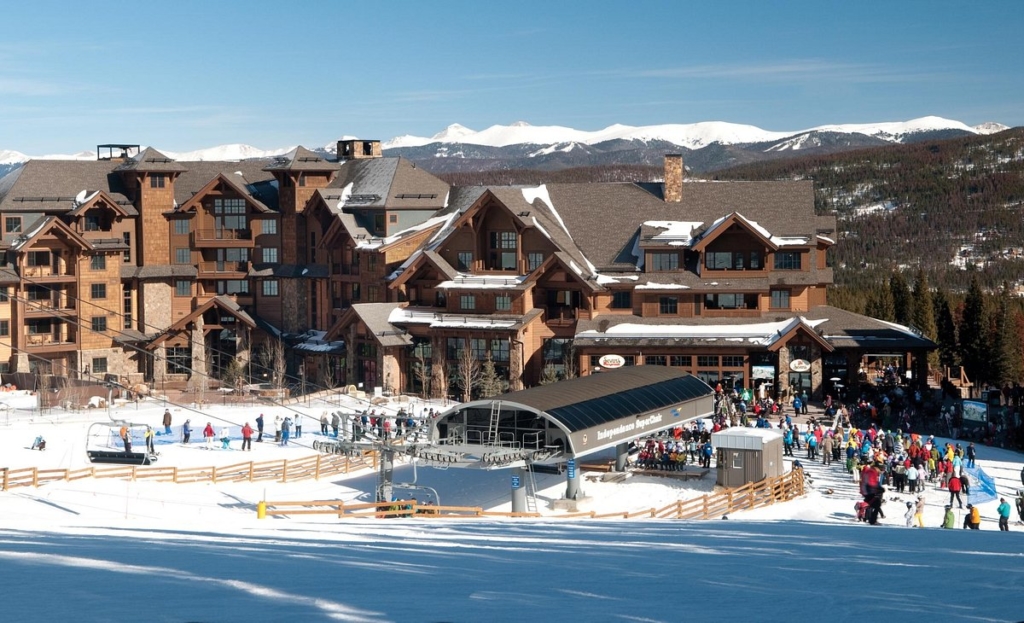 One of the most awe-inspiring timeshare resorts in Breckenridge is the Grand Lodge on Peak 7. This ski-in/ski-out resort is part of the Breckenridge Grand Vacations family of resorts. This resort sits near the BreckConnect Gondola, so visitors can easily access Peak 8 and the downtown area. This lodge-style resort is a cozy retreat for skiers and is the perfect place to unwind after a day of exploring the area. The resort offers a restaurant, so guests won't need to leave the lodge for a delicious meal. Guest villas are full of modern amenities that will make every owner feel right at home. The one- to four-bedroom villas are spacious enough for your whole family to fully relax in comfort. There are stunning mountain views from all over the resort, so every moment at Grand Lodge on Peak 7 is a scenic one.
Valdoro Mountain Lodge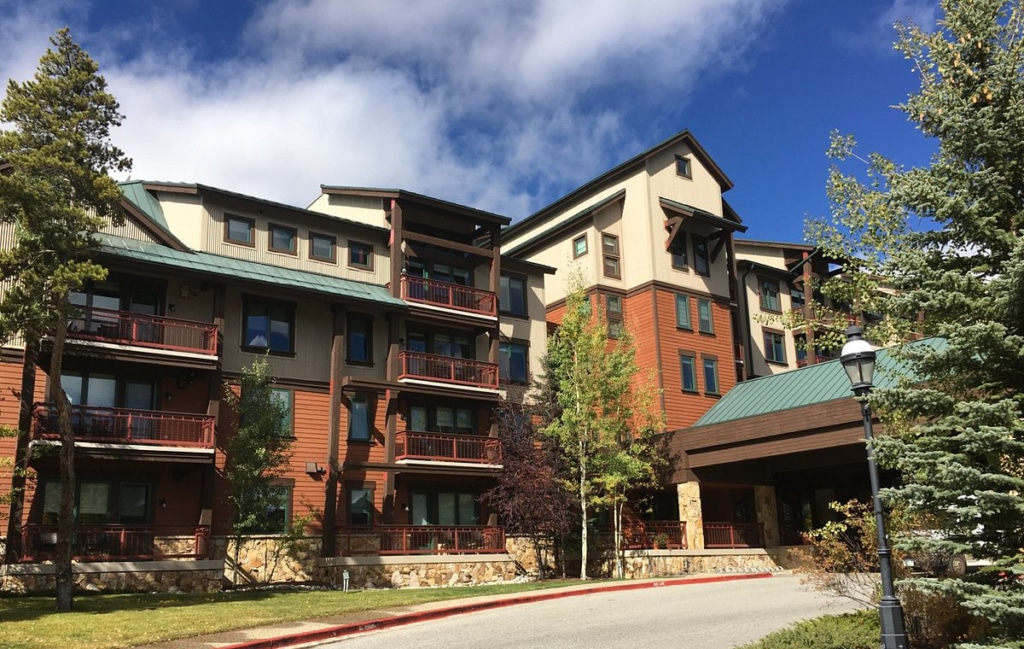 Valdoro Mountain Lodge is a Hilton Grand Vacations Club timeshare resort in the heart of Breckenridge. As you'd expect with a Hilton resort, Valdoro Mountain Lodge has endless amenities and beautiful accommodations. The resort is at the base of Peak 9, so getting out onto the slopes in the morning is super convenient. The resort is also just two blocks from the Main Street area, which means that amazing shopping and dining is just minutes away! Guest villas at this resort all feature full kitchens and laundry units. On those chilly winter nights, your villa's fireplace will be the perfect spot to cozy up with a cup of hot cocoa. If you're looking to relax near the fire with a stronger drink, head to the resort's Valdoro Lounge where you'll find craft beers and cocktails.
Grand Timber Lodge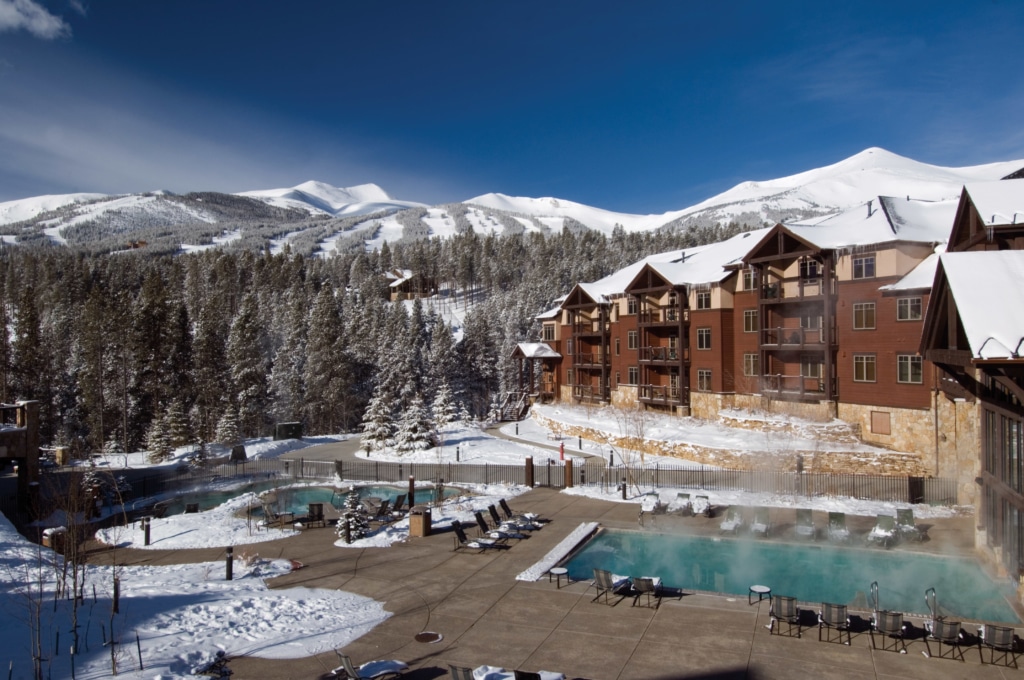 Another fabulous ski-in/ski-out timeshare resort in Breckenridge is the Grand Timber Lodge. This resort is in the middle of Peaks 8 and 9, so incredible skiing opportunities surround the lodge. There is easy access to the Snowflake chairlift which will have you up the mountain in minutes! If you only ski or snowboard while vacationing, don't fret! Grand Timber Lodge has its own shop for renting skis, snowboards, boots, and more. This resort is also part of the Breckenridge Grand Vacations family, so you can expect cozy accommodations and incredible amenities! Guest suites feature private balconies where you can admire the incredible views that surround this resort. If you're looking for some fun activities for the kids, Grand Timber offers fun events like tie-dyeing parties and hot cocoa bars!
What To Do Near Breckenridge Timeshare Resorts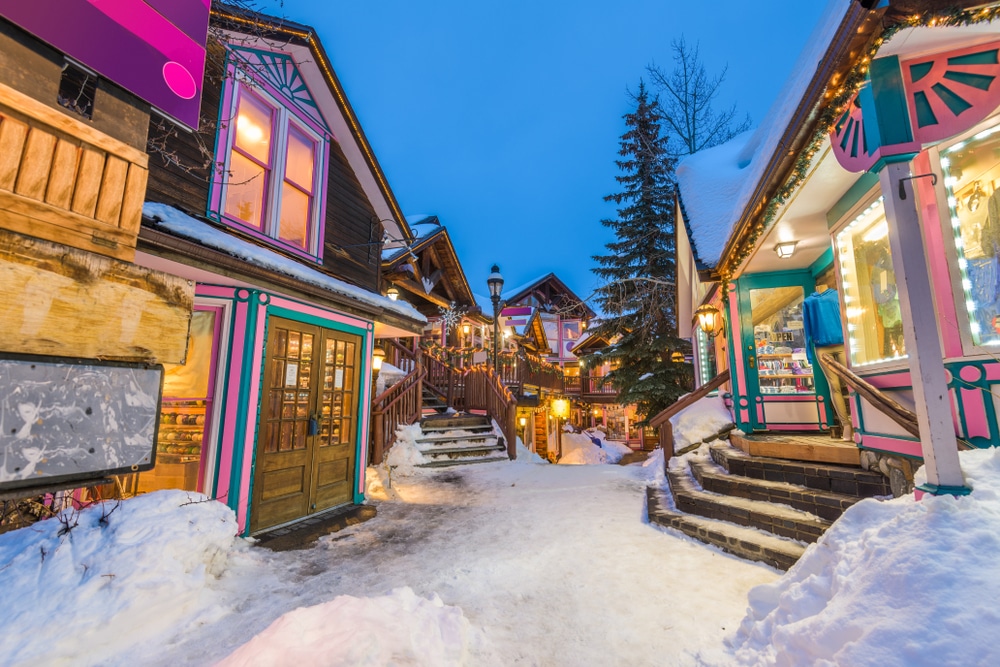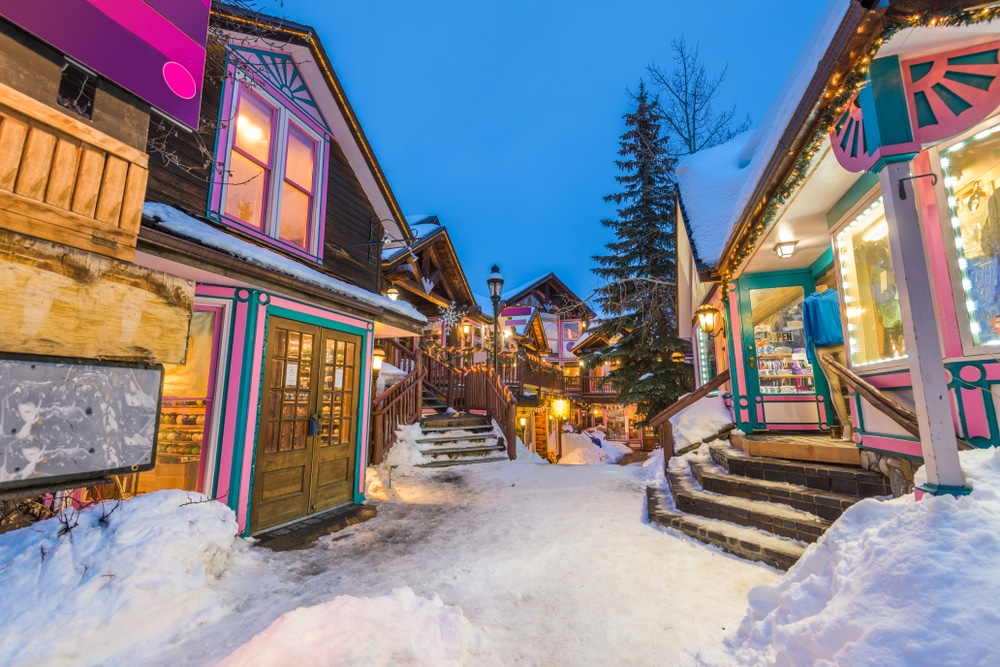 When you're visiting your timeshare in Breckenridge, your days will be full of scenic views and fun activities! There is so much to explore, so going on a guided tour might be a great way to spend a day in Breck. Don't worry though, these aren't your typical walking tours! One tour that is quintessential Breckenridge is the Bike-n-Brews Cruise! This bike tour travels from brewery to winery to distillery on some of the city's most beautiful paths. What's more Breck than biking and breweries? There are plenty of ghost tours offered around this historic city that will give you an inside look at some of the chilling tales of the Wild West. These tours are great for learning more about this city in a way that you won't soon forget!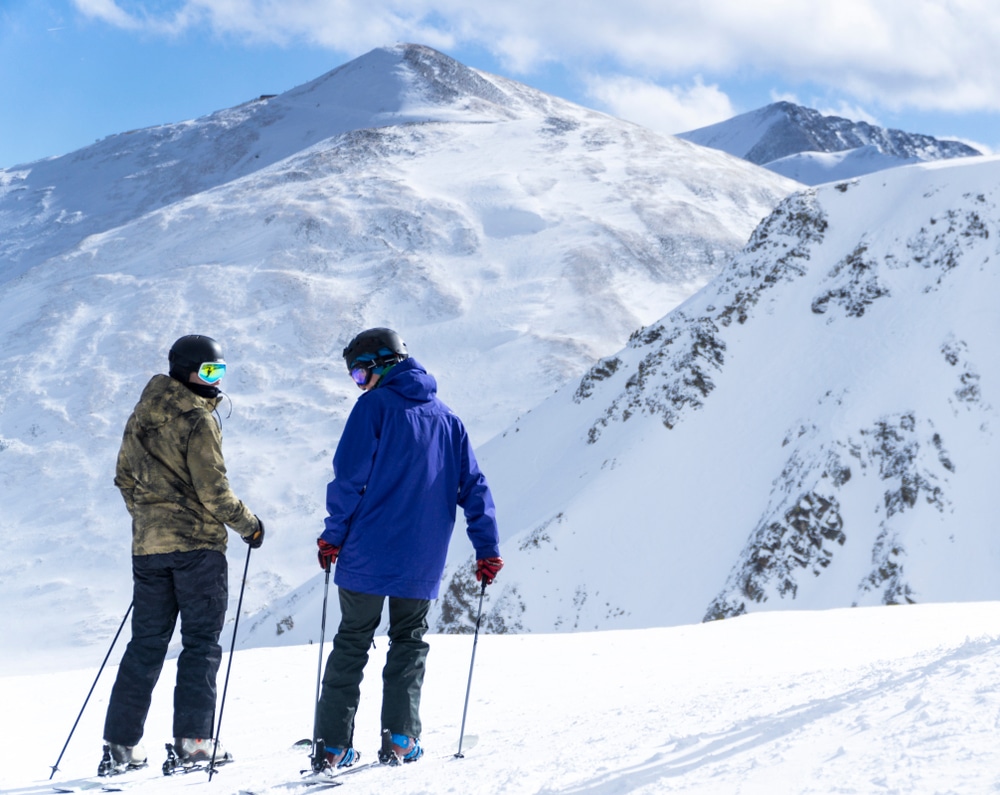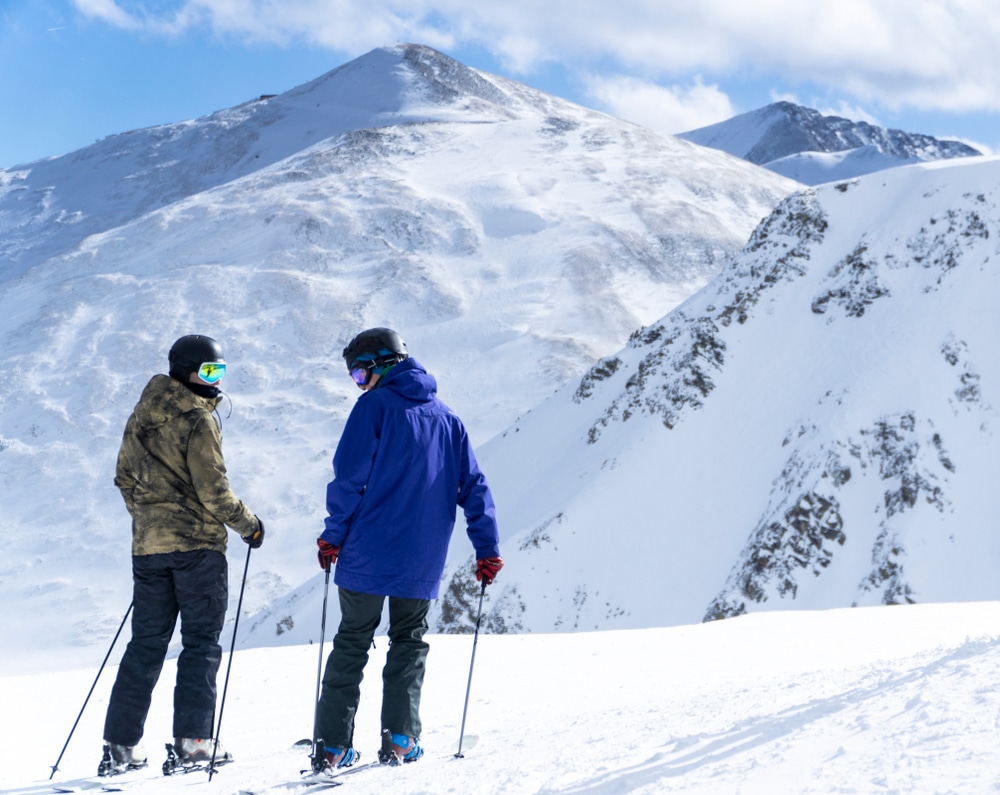 Breckenridge is one of the most beautiful vacation destinations in the world. It's the perfect trip for outdoorsy travelers, no matter what time of year it is. Of course, we recommend visiting in the winter to experience the amazing alpine activities. Skiing and snowboarding are amongst the most popular activities in Breckenridge and it's no surprise! Breckenridge is considered one of the best ski resorts in the world and has trails for every level of skier. These snowy mountains transform in the summer and turn into a lush playground for visitors. You'll find all sorts of fun warm-weather activities up Peak 8 including rock climbing, mini-golf, and a mountainside roller coaster!
Breckenridge is a quaint town where almost everywhere in town is within walking distance. This means that Main Street will be just minutes from your Breckenridge timeshare! Delicious restaurants, unique shopping, and Victorian architecture are around every corner! Not to mention, Main Street offers unforgettable mountain views.
Breckenridge Timeshare For Sale
Timeshares in Breckenridge are the best way to explore the area, all while enjoying spacious and fully-equipped accommodations. Firstly, browse our selection of available Breckenridge timeshares for sale. Then, when you find the right one for you and your family, simply make an offer! Deciding to buy a timeshare can be overwhelming, so we're here to help. Contact us today at (407) 465-5188 or at team@fidelityresales.com. Our team of licensed real estate agents has the experience and knowledge to make it easy to buy a timeshare in Breckenridge, Colorado!