Disney Vacation Club is known for going above and beyond when it comes to accommodations, amenities, and activities. They really outdid themselves with Bay Lake Tower. From studios to three-bedroom Grand Villas, this 16-story resort offers plenty of space and comfort for your stay. For those who desire more space or luxury, the Bay Lake Tower Grand Villa offers 2,044 square feet over two floors and three bedrooms. In this blog, we will cover everything you need to know about the Bay Lake Tower Grand Villa, a fabulous accommodation option for DVC owners.
Bay Lake Tower Room Decor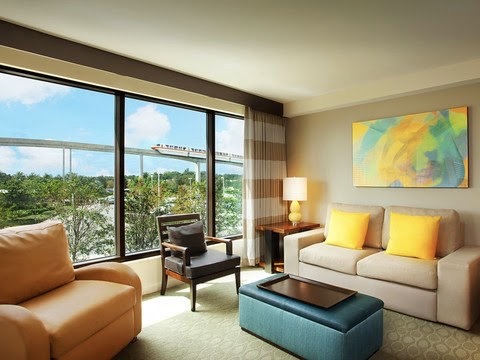 Bay Lake Tower at Disney's Contemporary Resort offers a captivating blend of modern and luxurious design that rivals the trendy hotels found in large cities. While it may not possess the same level of theming as the Polynesian, for example, Bay Lake Tower's sleek and sophisticated aesthetic appeals to those seeking a more contemporary experience.
Upon entering the Bay Lake Tower Grand Villa, guests are greeted with a sense of elegance and refinement. The sleek lines, polished surfaces, and striking architectural details create an atmosphere reminiscent of upscale urban hotels.
While Bay Lake Tower may not have the same level of theming as other Disney resorts, it still retains subtle nods to the magical world of Disney. You will see these playful touches in the artwork, with decorative accents and charming details throughout the property and rooms. They serve as gentle reminders that you are still within the enchanting realm of Disney, even amidst modern luxury.
Bay Lake Tower Grand Villa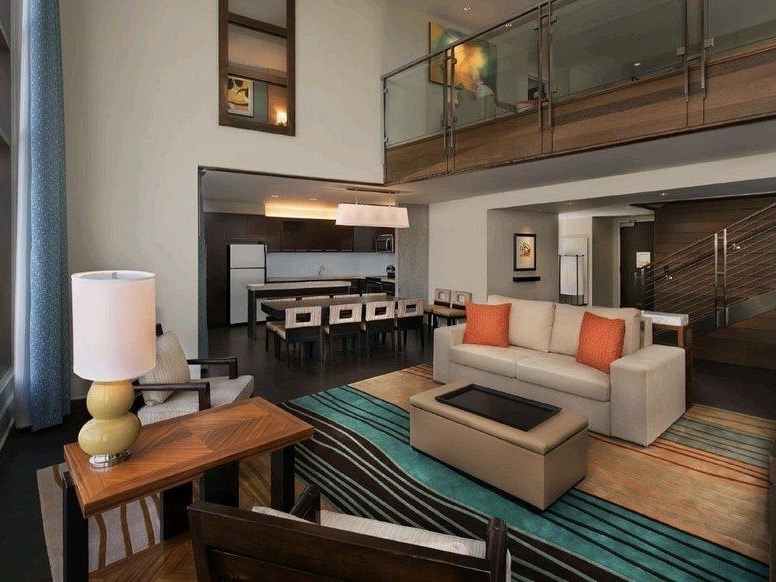 The villa offers comfortable accommodation with a total of three bedrooms and a loft area. Upstairs, there are two bedrooms, each furnished with two cozy queen-size beds. Additionally, the loft area features a convenient queen-size pull-out bed. On the ground floor, there is a spacious main bedroom equipped with a luxurious king-size bed. Furthermore, the living room on this level also provides a queen-size pull-out bed for additional sleeping arrangements.
To ensure convenience and privacy, the villa is equipped with four bathrooms. Each bedroom has its own dedicated bathroom, and there is an additional bathroom downstairs for added convenience. Among the first floor's amenities are a laundry room, a living room, a dining area, and a kitchen. Not to mention, the villa has six televisions. There is one in each bedroom, one in the master bathroom, one in the living room, and one in the loft.
List of Features
Below is a full list of all the amenities you will find in the villa:
1 King Bed
4 Queen Beds
1 Queen-Size Sleeper Sofa
4 Full Bathrooms
Full Kitchen
Living Area
Dining Area
Washer and Dryer
Balcony
Q&A: Know Before You Go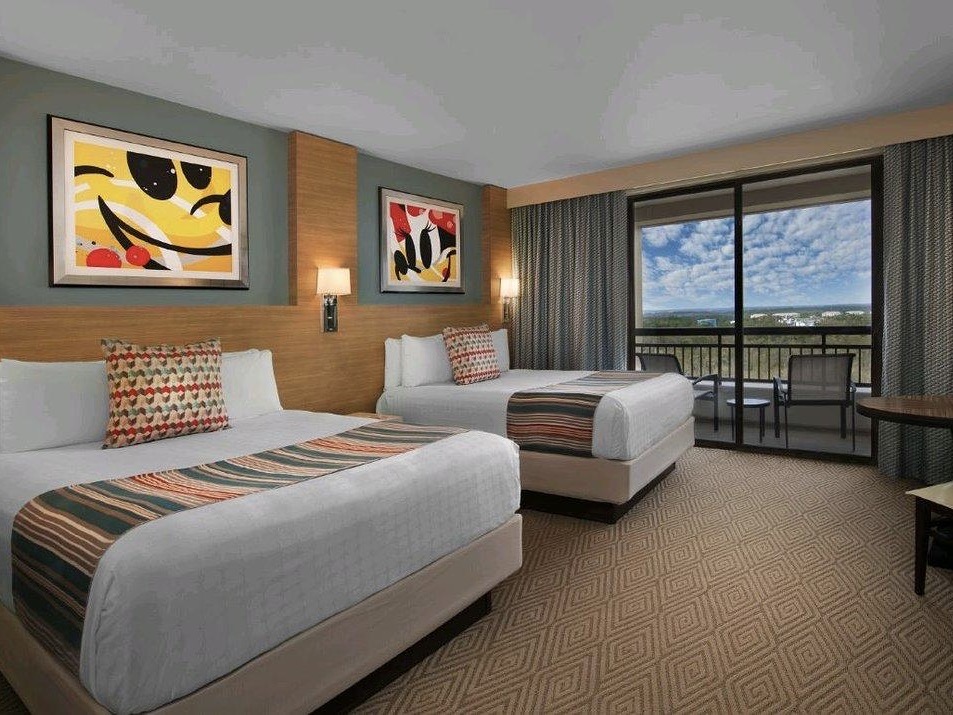 How Many People Can Bay Lake Tower Grand Villa Sleep?
The Grand Villa is a spacious and luxurious accommodation option that can comfortably sleep up to 12 adults. This means that whether you are planning a vacation with a group of friends or your extended family, the Grand Villa can accommodate everyone.
With its ample space and well-designed layout, the Grand Villa provides the perfect setting for a memorable and enjoyable stay. The villa is equipped with multiple bedrooms and bathrooms, allowing everyone to have their own space during their stay.
What are the Views From the Grand Villa?
A total of fourteen Grand Villas can be found at Bay Lake Tower, located on the 14th, 15th, and 16th floors. These Grand Villas provide a breathtaking view of the lake and the theme parks. Six of them face Seven Seas Lagoon and offer a theme park view, four face south toward the Contemporary and Wilderness Lodge, and four face north toward the lake.
The theme park view is more sought after. So no matter when you are traveling, you will need more points to obtain that view.
How Many Points Do I Need to Stay at Bay Lake Tower Grand Villa?
By checking out the DVC points chart below, you can get a better idea of how many points you would need in order to stay in the grand villa. This chart is broken down by dates, time of week, and view.
Bay Lake Tower 2024 Three-Bedroom Grand Villa Points Chart

DATES

NIGHTS

Lake View

Theme Park View

Sep 1 - 30

SUN-THU

82

101

FRI-SAT

98

120

WEEKLY

606

745

Jan 1 - 31
May 1 - 14


SUN-THU

88

106

FRI-SAT

104

125

WEEKLY

648

780

May 15 - Jun 10
Dec 1 - 23

SUN-THU

96

115

FRI-SAT

112

135

WEEKLY

704

845

Feb 1 - 15
Jun 11 - Aug 31


SUN-THU

100

120

FRI-SAT

115

141

WEEKLY

730

882

Oct 1 - Nov 26
Nov 30

SUN-THU

108

131

FRI-SAT

126

153

WEEKLY

792

961

Feb 16 - 29
Mar 1 - 23
Apr 1 - 30
Nov 27 - 29

SUN-THU

120

143

FRI-SAT

140

168

WEEKLY

880

1051

Mar 24 - 31
Dec 24 - 31

SUN-THU

146

176

FRI-SAT

171

207

WEEKLY

1072

1294
How Much Does Three-Bedroom Grand Villa Bay Lake Tower Cost?
As you can see in the chart above, you need a lot of points to stay at Bay Lake Tower Grand Villa. Currently, it costs $265.00 per point when you buy directly from Disney. When you buy DVC resale vs. direct, you can save a lot of money. For example, on average, for 2022, it costs $154.49 per point when buying Disney's Bay Lake Tower At The Contemporary on our resale market.
This means if you buy 606 points directly from DVC, it would cost $160,590 to stay at Bay Lake Tower with a lake view between September 1 and 30. In contrast, it would cost around $93,620.94 for the same week. That would be during the cheapest time, so make sure you pay attention to your DVC Use Year.
If you aren't planning to stay at the Bay Lake Tower Grand Villa every year, you can always bank and borrow to splurge on one huge trip. Or only stay there for a night or two.
Buy Disney's Bay Lake Tower At The Contemporary Resale Points
Don't have enough points to stay at Bay Lake Tower Grand Villa? Want to buy points for the first time or add DVC points to your ownership for less? If so, you have to check out our marketplace, where you can buy DVC points for less. We have points for sale at Disney's Bay Lake Tower At The Contemporary as well as the other 14 DVC resorts, so no matter your resort preference, we have you covered. Have questions on the DVC secondary market or need assistance? Give us a call today at 1 (800) 410-8326. We'd love to help you in any way we can.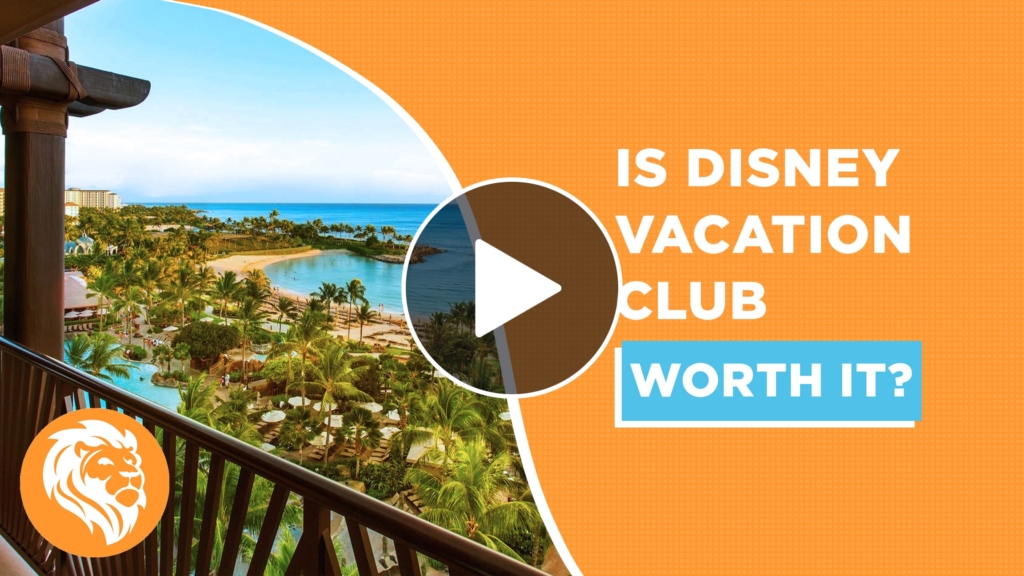 If you are a first-time buyer, you might be wondering if Disney Vacation Club is worth it or not. If you love all things Disney and take regular trips to the theme parks, then it might be the best vacation club for you. To learn more, watch our video.