Disney's Animal Kingdom Lodge offers an experience like no other. Guests can see views of the Savanna from their balconies to catch glimpses of the resort's 200+ animals and birds. Viewable animals include gazelles, giraffes, kudu, flamingos, and zebras. There are two locations within Disney's Animal Kingdom Lodge available to Disney Vacation Club members: Jambo House, which is the main building, or Kidani Village, which is only a DVC Orlando villa resort. The resort's main hub, Jambo House, has more amenities, but all guests can reach it by shuttle or walkway. The food on-site is fabulous as well! They serve authentic African cuisine and also quick service dining with a wide variety of options to suit any taste. Let's take a look at the accommodations, amenities, and dining available at both Animal Kingdom Villas.
Animal Kingdom Villas Accommodations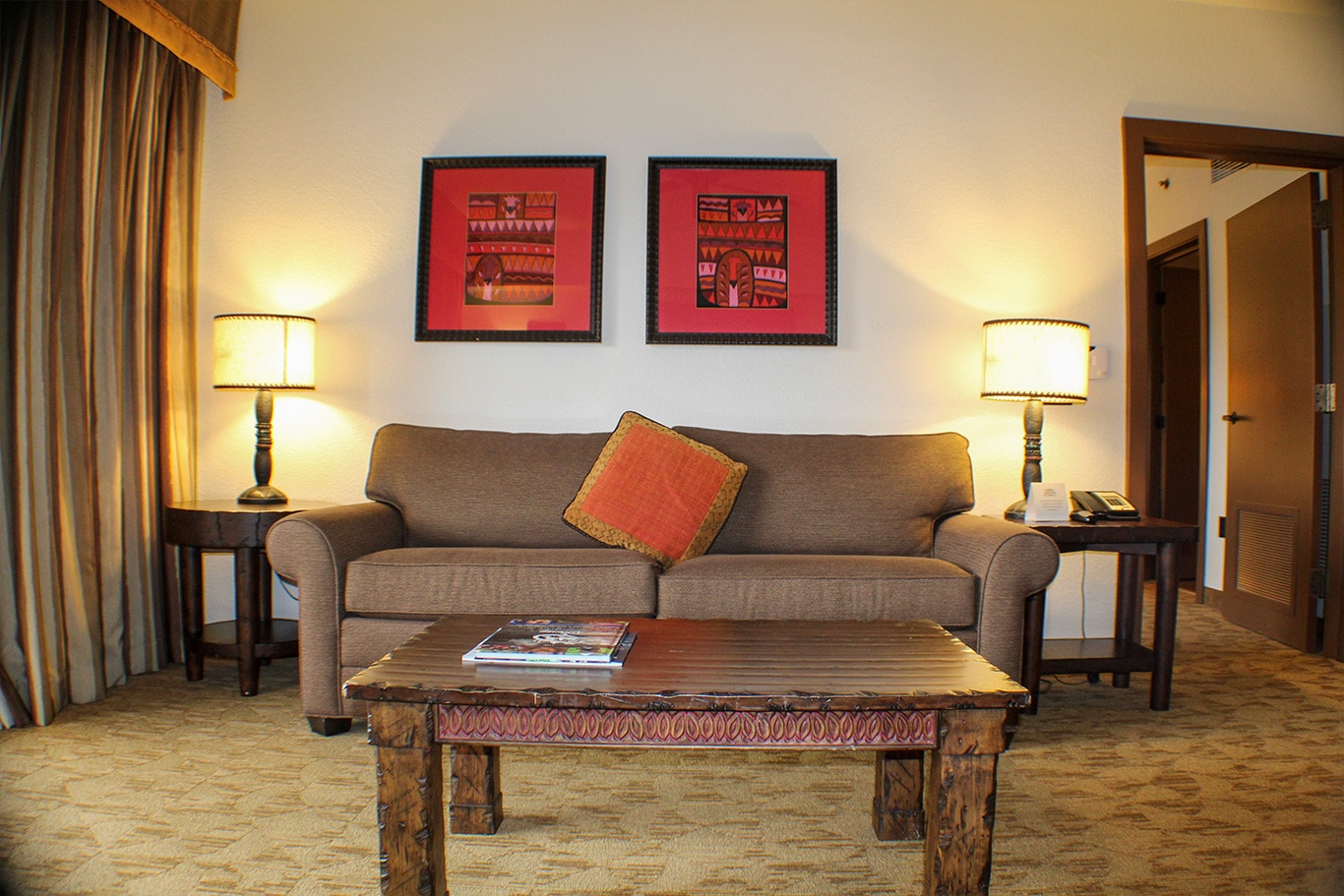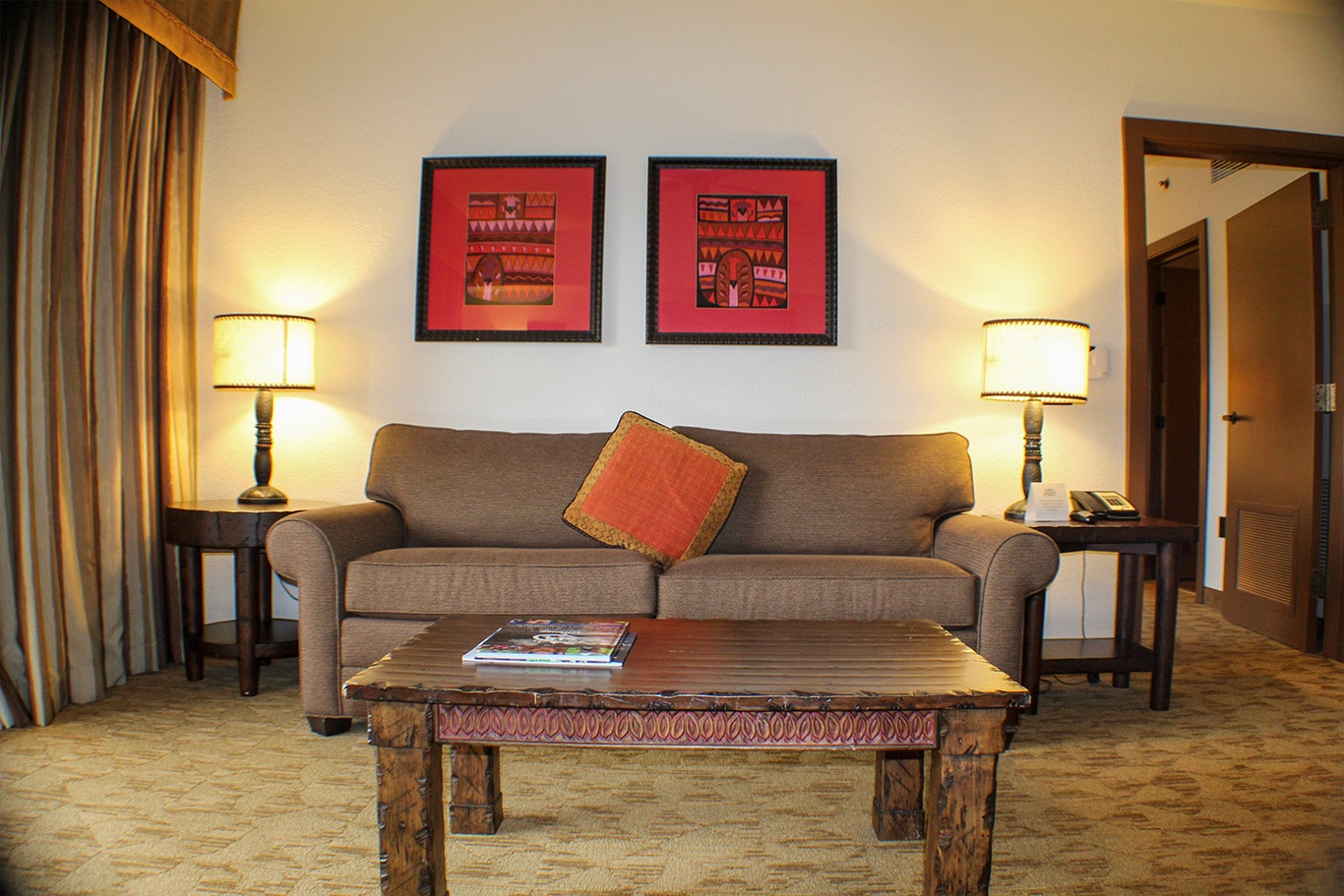 You can't go wrong when it comes to staying at Animal Kingdom Villas. Kidani Village and Jambo House have fabulous accommodations synonymous with the DVC name. They both offer studio, one-, two- and three-bedroom accommodations. Studio and one-bedrooms sleep up to four guests, two-bedrooms sleep up to nine, and three-bedroom grand villas sleep up to 12. Animal Kingdom Villas' rooms start at 7 points per night.
When you compare Kidani Village and Jambo House, you will notice that the points per night, size, decor, and amenities are very similar. The main difference is the bathroom setup. Jambo House rooms have a tub and shower combo, whereas Kidani Village rooms have a separate tub and walk-in shower. This slight difference might be a factor to consider when choosing one over the other.
Kidani Village has two types of balcony views; standard and Savanna. Standard view means you overlook the pool or parking area. Whereas Savanna views look out at one of the Savannas, so you can see animals from your balcony. Jambo House has standard and balcony views, as well as a Kilimanjaro club concierge view. Kilimanjaro club concierge has views of the savannas or pool. When it comes to choosing which view, you have to weigh your options. Spend more vacation points and see the Savanna from your room or use fewer points and have a standard view.
Animal Kingdom Villas Amenities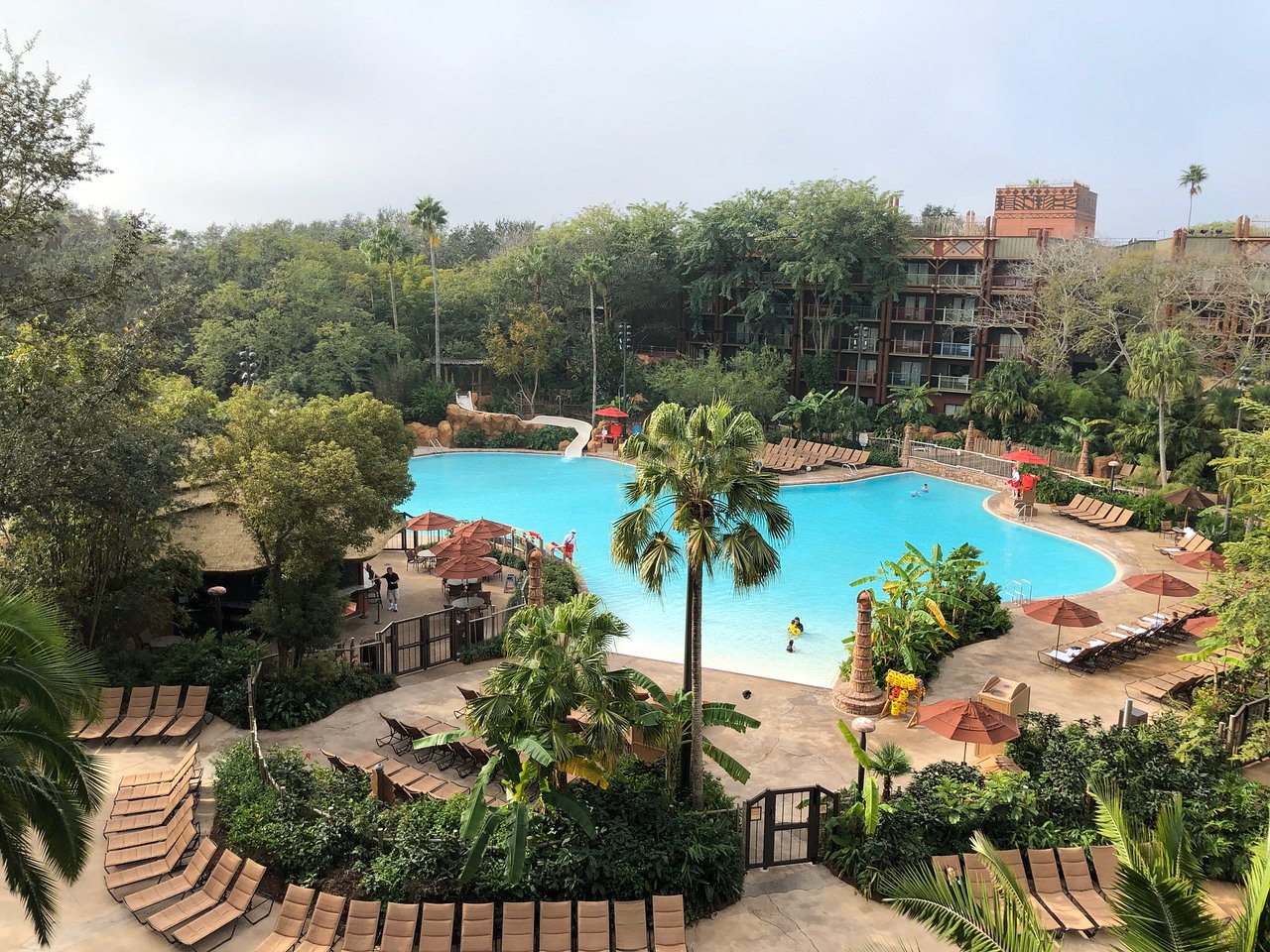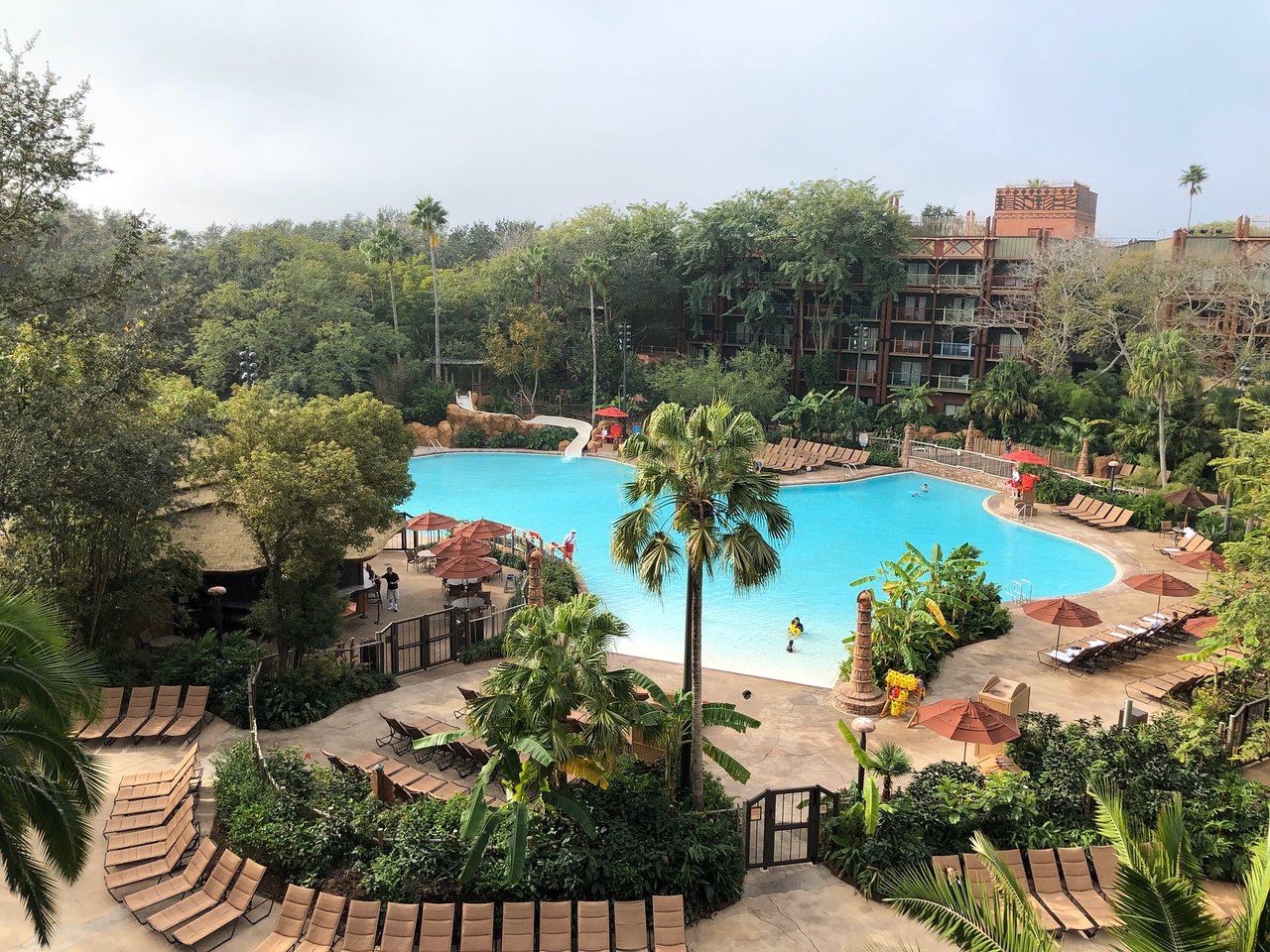 As mentioned previously, Jambo House has the majority of amenities that guests staying in Kidani Village can access as they please. Jambo House puts you up close to the action, whereas Kidani Village is more isolated. The walking paths between the two Animal Kingdom Villas are perfect for a run or walk if you want to get a workout in with views of the lush Savannas.
Both Animal Kingdom Villa buildings have pools if you want a place to cool down from the Orlando heat. Samawati Springs Pool is at Kidani Village, and Uzima Pool is at Jambo House. Or, enjoy your favorite arcade and video games at the Safari So Good Arcade in Kidani Village or Pumbaa's Fun & Games Arcade in Jambo House. The Spa, Zahanati Massage & Fitness Center, is also in Jambo House. The fitness center offers high-end workout equipment from Life Fitness and Cybex. The spa offers a relaxing massage and custom facials.
Lastly, and probably most importantly to some, is transportation to Walt Disney World. This is especially important when it comes to Animal Kindom Lodge, which is more secluded than the resort of DVC resorts. Considering the distance between the lodge and Disney resorts, Disney resort buses are the lodge's primary means of transportation. Uber and Disney's Minnie Vans are both options for riders to use as well. No matter where you stay you have easy access to the busses. The bus stops near the entrance of Kidani Village and in front of the Giraffe Trail Guest Rooms of Jambo House.
Animal Kingdom Villas Dining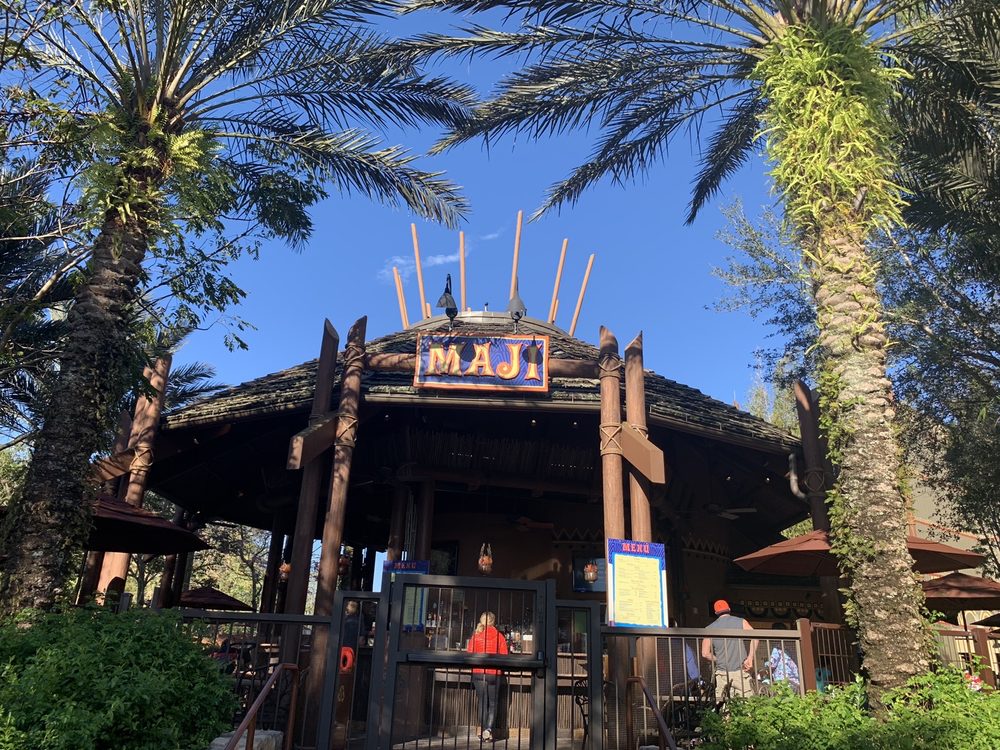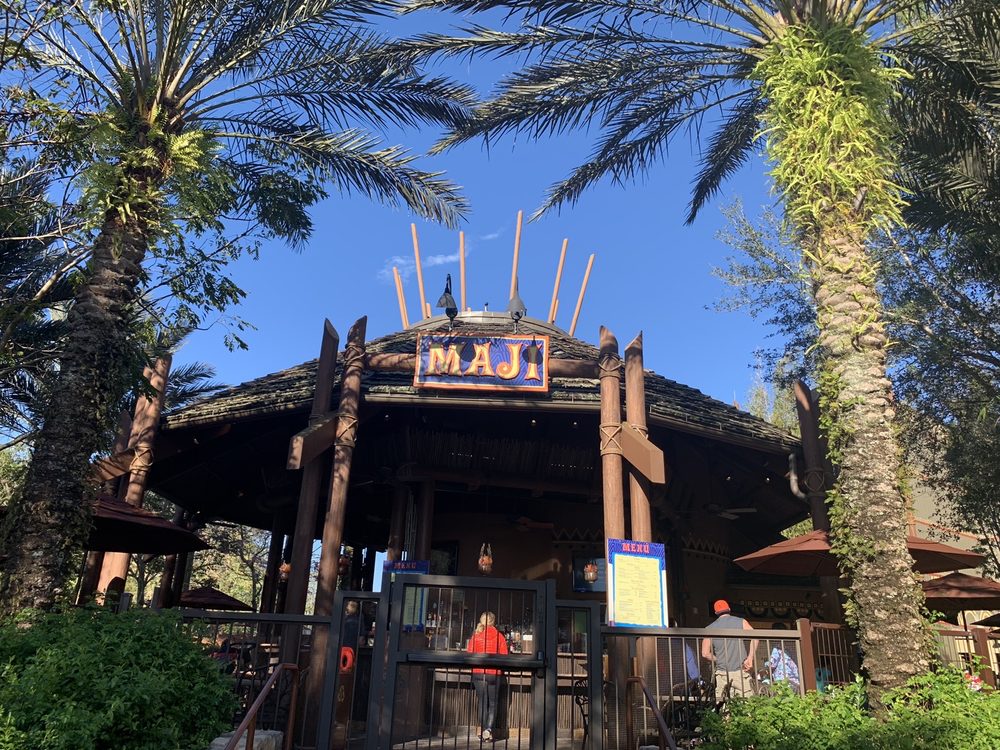 Between the two Animal Kingdom Villas, there are so many options for food, both African-themed dining and lounges with quick bites to eat. All restaurants offer delicious cuisine that you can't find at any other resort on Disney's property.
Kidani Village's unique dining experience is at the restaurant Sanaa. Guests can enjoy African cooking with a blend of Indian flavors here while overlooking the Savanna with exotic animals. They serve breakfast, lunch, and dinner. Some top dinner options include Zanzibari Vegetable Curry, Pork Shank, and Samaki Wa Kupaka. If you saved room for dessert, the African Triple Chocolate Mousse and Serradura are incredibly yummy. The Maji Pool Bar is a quick-service option at Kidani Village. They serve sandwiches, hot dogs, and salad. In addition, if you want a drink by the pool, they have cocktails, wine, and beer on draft for guests of age. Not to mention, if you want food in the comfort of your villa while staying at Kidani Village, you can get room service.
Jambo House has a fine dining experience called Jiko – The Cooking Place. Open only for dinner, this restaurant has a wide variety of specialty appetizers, entrees, enhancements, and desserts. In addition, they have a wide variety of wines from South Africa to really set the ambiance. This signature dining spot is a must-try at least once while staying at either of the Animal Kingdom Villas. The Boma African buffet is great for the entire family to enjoy delicious food. An exquisite dining experience awaits you at this restaurant situated in the lush savannah. For quick service, the Mara and Uzima Springs Pool Bar are great options for both entrees and grab n' go options.
Purchase Disney Vacation Club Points at Fidelity Real Estate
If you are looking to become a DVC owner but also want to save some money, Fidelity's resale marketplace can save you thousands. Our licensed real estate agents have been Disney Vacation Club's Recommended Resale Broker since 2005, so you've come to the right place. Start by exploring our Disney Vacation Club resales. Then make an offer once you have found the one for you! We understand buying a timeshare is a huge decision, so contact us at 407-216-5187. We are happy to assist you in any way.