Heat up your next vacation trip in a city like no other with Wyndham Las Vegas resorts. With extravagant casinos, top-notch entertainment, one-of-a-kind nightlife, and world-class restaurants, Las Vegas is a favorite pick for many vacationers. With a ton of fabulous resorts to choose from, which option is best? You're in luck because our guide will cover two of our favorite must-visit resorts, Club Wyndham Grand Desert and Club Wyndham Desert Blue. We'll cover what makes these two resorts unique and why your next trip must include these two amazing resorts. Ready, set, travel!
Club Wyndham Grand Desert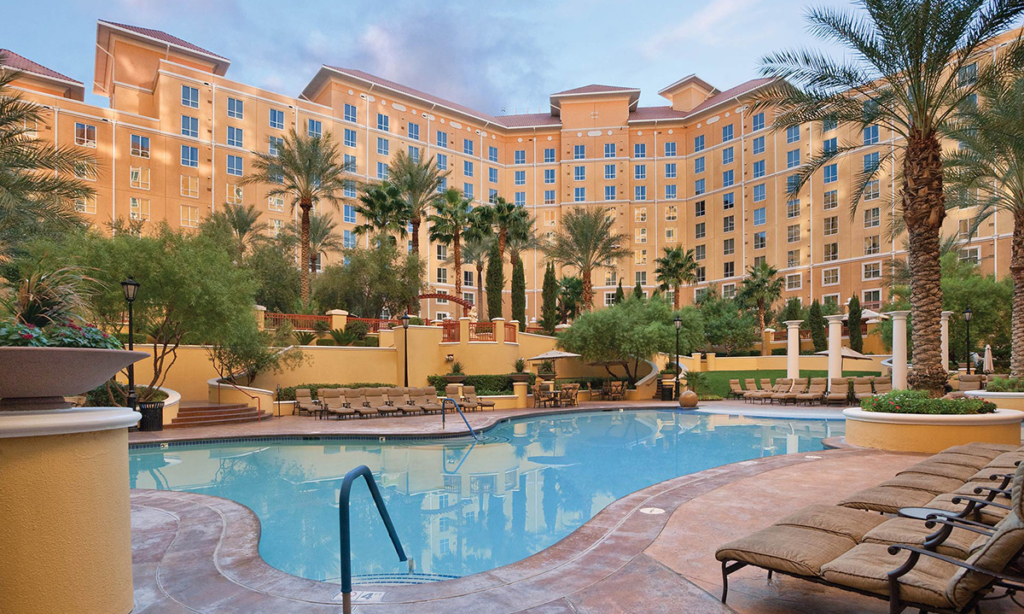 Wyndham Grand Desert is hands down one of the best value resorts to stay in Vegas that's off the Strip. With its relaxing and mellow vibe, you might forget that you're in Las Vegas staying at this one-of-a-kind resort. This non-casino resort is located off-strip and offers peace and comfort to those wanting to get away from the usual busyness you'll find at other places. Boasting stunning views, spacious suites, and a few minutes' drive from the airport, no wonder it's highly rated and reviewed.
Want to make a splash? Choose from either the family pool or the adult pool. Cool off with a refreshing drink from the tiki bar nearby. Or, heat things up with its three hot tubs or relax privately in your own in-room jacuzzi.
If you need space for your family and friends, this Wyndham Las Vegas resort offers suites that provide up to 1,325 square feet, and its penthouse can provide over 2,400 square feet in size. Make this your home away from home with its fully-equipped kitchens, washers and dryers, dining rooms, large bedrooms, whirlpool tubs, and private sleeping areas. Although there is no casino onsite, you'll be able to scratch the gambling itch playing the slot machines located at the bar in the main tower.
Why You'll Love It:
Free parking
Complimentary WiFi
Free shuttles
Short walk to the strip
Right next to Topgolf
Cons:
No casino
No restaurants
Located off-strip
View all available listings for the Wyndham Grand Desert.
Club Wyndham Desert Blue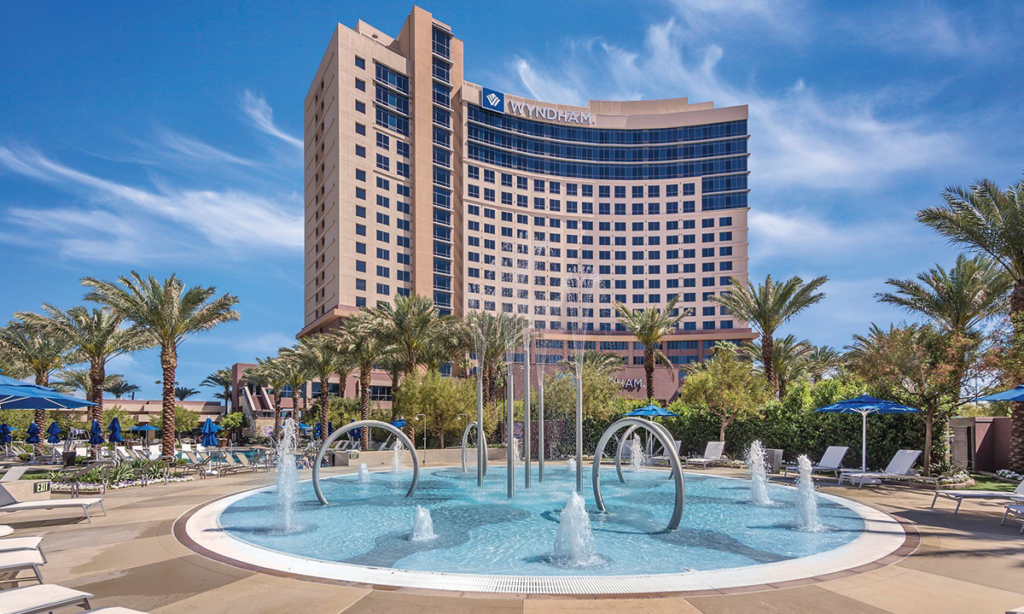 Wyndham Desert Blue is a popular choice for many travelers who are looking for another family-friendly retreat away from the busy atmosphere from the Strip. Located at the heart of Las Vegas, this four-star resort is a mile from the Strip and has world-class amenities to enhance your stay. Breathe easier because this is a relaxing, smoke-free property, and you won't find a casino onsite. If you did want to gamble, the Rio Casino, Ceasars, and Treasure Island are neighboring spots, and the free shuttle service that runs multiple times a day will get you there.
Kick back and relax with a spacious, fully-equipped one, two, three, or four-bedroom suites with up to 2,431 square feet in space. Club Wyndham Desert Blue can easily be your home base to recharge your batteries for your night out in Las Vegas. This Wyndham Las Vegas resort has something for everyone with the adult pool, kid-friendly pool, splash pad, two spa tubs, game room, tennis court, and health club. Club Wyndham Desert Blue has one restaurant, the Splash Pool Bar. It's a great place to have a drink or a snack while you're lounging next to the pool.
Why You'll Love It:
Free parking
Complimentary WiFi
Free area shuttle
Short walk to the strip
Cons:
No pets allowed
No casino
Located off-strip
View all available listings for the Wyndham Desert Blue.
How to Buy a Timeshare
Buying a timeshare is an excellent choice if you're looking to save dramatically in price while having more options on where to vacation. We highly recommend that you learn more about timeshares so that you can make the right decision when it comes to buying a timeshare. Then, submit your information as to what kind of timeshare options you're looking for as well as your contact information. Our expert Licensed Real Estate agents will give you the best advice and information so you can begin the process of obtaining the vacation of your dreams. It's as easy as that!
Learn More About Timeshares
To make the best decision, read our insightful blog on Why Do People Buy Timeshares? To view blogs specifically about Wyndham resorts, we highly suggest you read the Best Wyndham Resorts to Own in 2020 and The Ultimate Guide To Las Vegas Timeshares.
How to Buy Wyndham Timeshare Resale
To buy a Wyndham timeshare resale, here are some simple steps you can follow:
Method 1 (best):
Visit our Wyndham Las Vegas listings
Search or browse available listings
View the unit details by clicking the View Details button
Enter your contact details and offer amount at the contact form at the right-hand side
Make an offer
Our agents will contact you
By providing necessary information up-front, our Licensed Real Estate agents can find the right timeshare quickly and accurately to save you time.
Method 2:
Call our Licensed Real Estate agents by calling 407-465-5188. Our agents are experts in Wyndham timeshares and finding the best option for you.
Method 3:
Email our expert staff at team@fidelityresales.com, and you can expect a response that day.
Wyndham Timeshare Financing
Wyndham timeshare resales usually bring substantial discounts up to 50% from their original prices, making it an affordable option. Instead of paying for a Wyndham Las Vegas timeshare all at once, use the timeshare financing option with our friends at Vacation Club Loans. With Vacation Club Loans its an easy approval process with no hidden fees or monthly fees to empower you with the ability to vacation now and pay later.
As Wyndham's Featured Reseller, we are a Licensed Real Estate Brokerage with over 20 years of experience in helping customers buy or sell Wyndham timeshares. Questions? Call one of our timeshare resale experts at 1-800-465-5188 for a free consultation.