ARDA stands for the American Resort Development Association and since its inception in the 1970s, they have been advocating on behalf of the timeshare industry. By working with vacation clubs, developers, exchange companies, and more, ARDA has created a safer timeshare industry. Potential timeshare owners can easily find a trustworthy source for buying vacation ownership. Plus, if a timeshare owner is looking to sell, they can use ARDA's resources to find a legitimate timeshare resale company. In short, ARDA advocates for the protection of timeshare owners and has been helping the timeshare industry grow for over 50 years.
What is ARDA?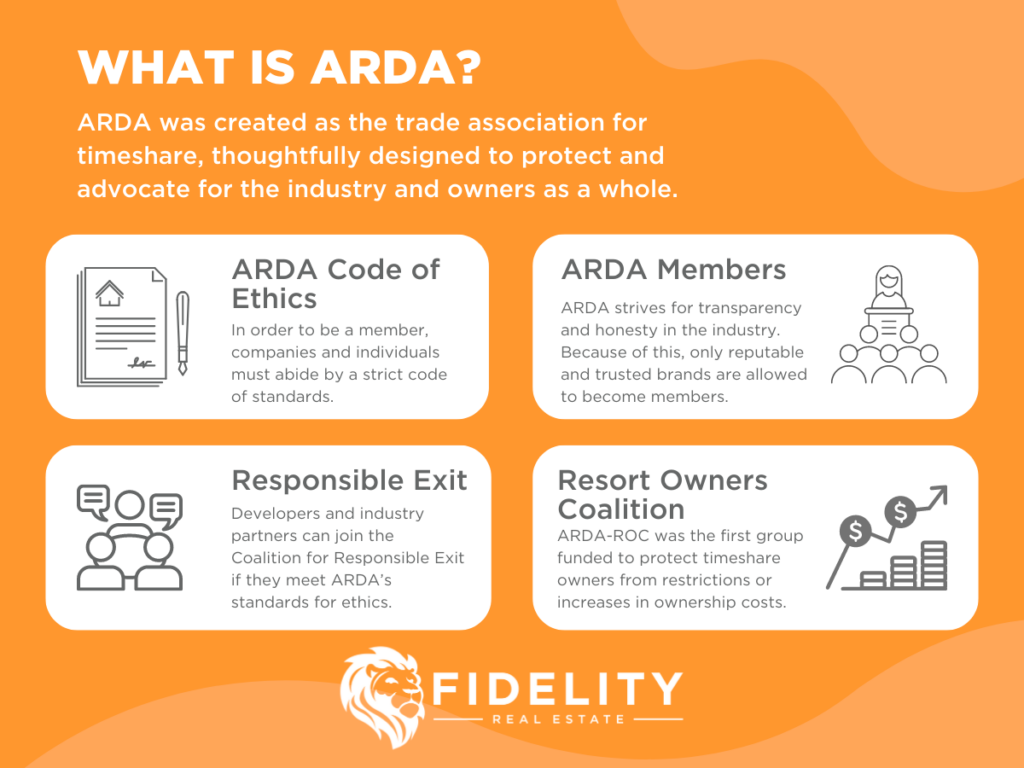 ARDA was created as the trade association for timeshare, thoughtfully designed to protect and advocate for the industry and owners as a whole. The association has made strides to protect owners. A few of these improvements include advocating for a rescission period, financial assurances, and required escrow for purchaser funds.


In the early days of timeshare, the industry was unregulated. The lack of regulation initially led to a flood of timeshare scams and bad apples. This caused a lot of strife for owners and developers, which, unfortunately, gave the timeshare industry a less than desirable image, despite the emerging future of the vacation industry. So, there was a need for not only regulation but also protection for timeshare owners.
Today, the American Resort Development Association remains a strong presence in the industry. The association works harder than ever to provide safety and opportunity for owners, professionals, and developers in the space of timeshare.
Many timeshare developers are members of the American Resort Development Association. In order to be a member, companies and individuals must abide by a strict code of ethics. The ARDA Code of Ethics calls for transparency and honesty in the industry. Because of this, only reputable and trusted brands are allowed to become members. Your timeshare developer is likely a member of ARDA.
Additionally, the Code of Ethics in the '80s was implemented to help weed out timeshare companies and associates who give timeshare a bad name by hurting owners and the industry. Today, as people look for viable solutions, ARDA is a trusted source.
The Coalition for Responsible Exit
ARDA recently began the Responsible Exit program. This program exists to help owners seeking a way out of their timeshare. Developers and industry partners have the opportunity to join the Responsible Exit coalition if they meet ARDA's standards for ethics. One of the most important requirements to be a member is to provide safe and legitimate exit solutions. Helping owners safely exit their timeshare is why Responsible Exit was made. Fidelity is one of the featured resellers in the Responsible Exit resale provider directory! This means that we are a trusted and legitimate reseller who can assist anyone looking to sell their timeshare.
The coalition started in response to bad timeshare exit companies lying and scamming owners over the years. If you need help exiting your timeshare, call your developer first, then visit the coalition's website.
ARDA Resort Owners Coalition
The American Resort Development Association sponsors ARDA-ROC. ARDA-ROC was the first group funded to protect timeshare owners from restrictions or increases in ownership costs. Additionally, this group regularly advocates on behalf of timeshare owners' wants and needs. ARDA-ROC fights for the rights of timeshare owners by standing up to legislation that might negatively impact them. Over 1.6 million timeshare owners contribute a small amount of money yearly to keep ARDA-ROC running.
ARDA World
In order to maintain community and success within the industry, ARDA hosts ARDA World. This annual conference takes place to bring members of the timeshare industry together. It's an opportunity for industry leaders, developers, and other parties to get together to learn about the state of the industry. This conference is one of the best ways to network within the industry, so if you are in the timeshare business then you should definitely consider attending!
Additionally, at this event, ARDA recognizes outstanding members in the timeshare industry with awards ranging from innovation to customer service. By highlighting achievements within the industry, ARDA recognizes those working hard to maintain the integrity of the timeshare industry.
ARDA WIN
ARDA wanted to create a space for women within the timeshare industry to come together and learn from each other's experiences. The ARDA WIN committee was designed for women in the industry to meet, collaborate and excel together. With quarterly and annual meetings, the group strives to give professional women a place to change the industry from the inside out.
Timeshare Young Professionals Group
For the new generation of timeshare professionals, ARDA created the Timeshare Young Professionals Group. The group meets several times throughout the year to bring young professionals together for networking and learning events. ARDA advocates for the growth of the timeshare industry, so it's important to promote the growth of those new to the industry!
AIF and Timeshare
The ARDA International Foundation, known as AIF, began in 1982 to expand the research and promote education about the timeshare industry. This leg of the association works to provide the industry with the most current statistics about timeshares and identifies the industry's ever-changing technology. Additionally, to keep a pulse on the industry and consumers, AIF generates reports annually. AIF aims to be the best source of information for those looking to learn more about the timeshare industry.
More Information About Timeshare Resale
If you're looking for more information about ARDA and all that it does to make the timeshare industry a better place, then visit their website now. Alternatively, if you are looking for information about timeshare resales, then you've come to the right place. You can visit our website to learn more about some of the top timeshare brands and then browse available timeshare listings. If you have any questions about timeshare resales, then we'd love to help! You can speak to a licensed real estate agent who is an expert in all things timeshare! Most importantly, you can rest easy knowing that Fidelity is a trusted source and backed by ARDA. So, contact us today at 1-800-410-8326.