Do you want to enjoy a lifetime of vacations? How about saving money on those luxurious getaways? If the answer to both of those questions is "yes," then timeshares might be right for you! You can buy vacation ownership at resorts around the globe, giving you a home away from home at whatever destination you want. If you'd like to save even more money on vacation ownership, buying a timeshare resale is a great way to do so. Many owners will even buy a timeshare resale to add to their existing ownership for less money. With that said, while there's a lot to love about timeshare sales, the resale market has both pros and cons. So, should you buy a timeshare on the resale market? We're here to help you find out.
What Is Timeshare Resale?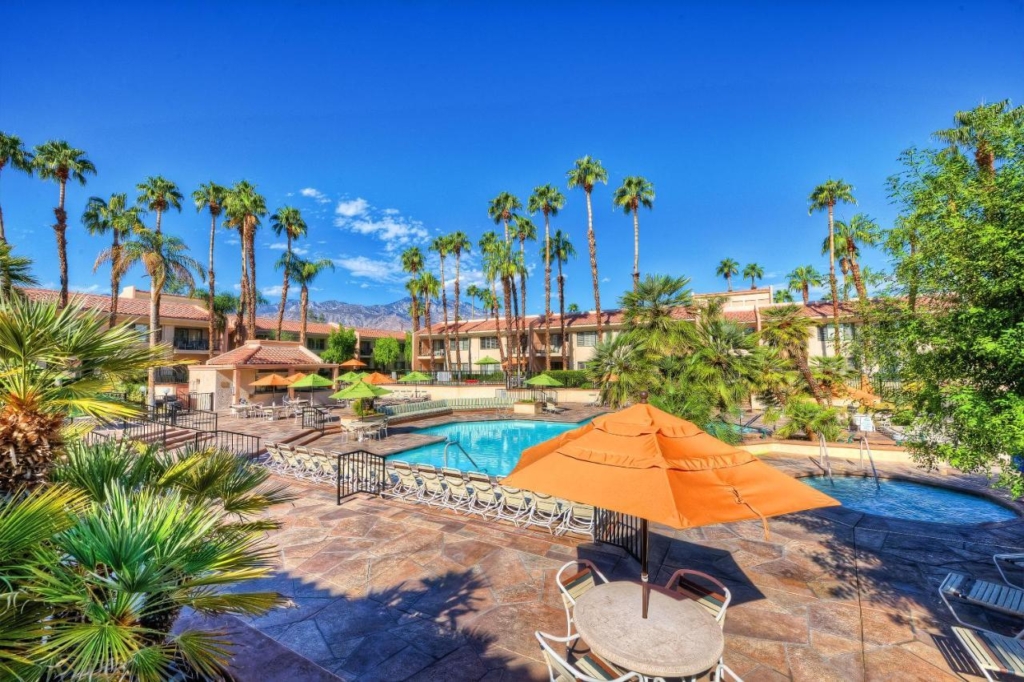 In short, timeshare resales are timeshares being sold by owners that no longer wish to use their vacation ownership. One benefit of buying a timeshare resale is how much money you can save. Since timeshares rarely appreciate in value, timeshare resales are often listed for a fraction of the retail price. This means you can ensure yearly vacations to make memories with your family for much less. Oftentimes some member benefits transfer from the original owner to the buyer, so be sure to ask your agent beforehand.
Another bonus to buying a timeshare resale is being able to browse listings right from home rather than going through a long timeshare tour. You can search for the best vacation clubs to join, like Marriott Vacation Club or Hilton Grand Vacations. Each vacation ownership club has its own benefits, exchange options, and portfolio. Have you ever stayed in a resort that you absolutely LOVED and wanted to travel back to? Chances are, you can with a timeshare and get a great deal when you buy resale.
Is Timeshare Real Estate?
When it comes to the question of whether a timeshare is real estate, the answer is yes and no. When purchasing a residential home, buyers look for potential investments or a place to settle down. The flow of buying and selling residential properties is normal, with buyers normally purchasing homes that have already been lived in rather than buying straight from a developer. Timeshares are usually deeded, like real estate, but are not necessarily comparable. Timeshares do not increase in value over time, and it's not as easy to sell your timeshare. Buyers can't simply call an agent and schedule a private viewing of your ownership. Owners really do own a portion of their resort, but resale doesn't work exactly like the real estate market. As a result, timeshare sales don't work quite the same.
Timeshares Worth Buying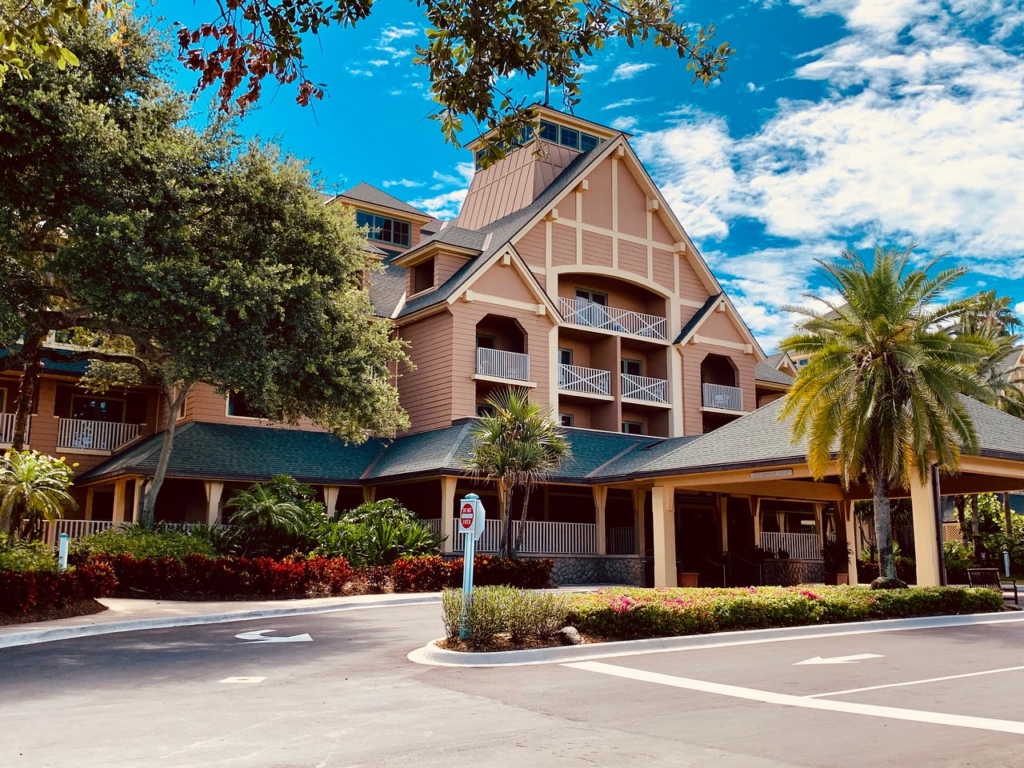 As mentioned previously, a timeshare purchase is not an investment. Timeshares worth buying are not going to appreciate in value. Depending on your travel preferences, you will want to consider which timeshares are worth buying. If you'd like extra flexibility, you'll likely want a points-based timeshare. Meanwhile, if you'd prefer to visit one beloved destination at the same time each year, a weeks-based timeshare is probably best for you. What Timeshares are worth buying depends entirely on your preferences, because in the end, their value comes from being used over a lifetime of vacations!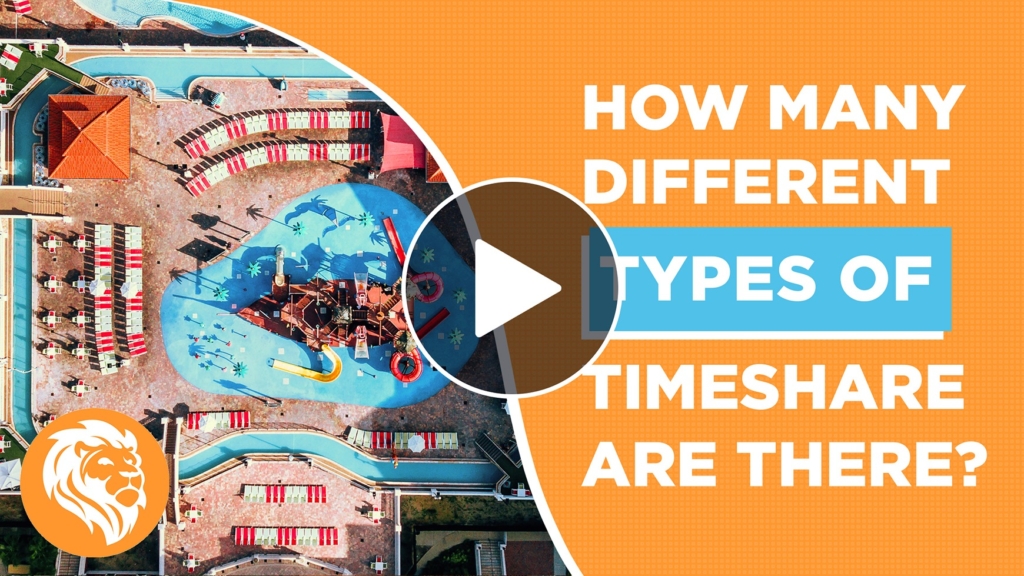 If you'd like to learn more about the differences between points-and weeks based timeshares, watch our video, "How Many Types of Timeshare Are There?"
How to Buy a Timeshare Resale
The process of buying a timeshare resale is relatively simple at first. If you're not sure which vacation club to join or what type of ownership is best, there are many resources out there that can help. With resale, you get to pick if you want to buy points or weeks, which brand you like best, and even your Home resort.
The best way to buy a timeshare resale is with a trusted, third-party company with experience in the industry.
Is Timeshare Resale A Scam?
You may have heard that timeshare resales are not legitimate and that all timeshares are a scam. While some companies or individuals out there only look to prey on unsuspecting buyers and sellers, timeshare resale itself is not a scam. There are definitely legitimate timeshare resale companies that are looking out for the best interest of their customers. It's simply owners looking to sell their interests, usually with the help of a third party. Interested in learning who can help you navigate the world of timeshare resales? We'll be covering reputable timeshare resale companies down below.
If you want to know more about staying safe in the resale market, check out our video, "Timeshare Scams and How to Avoid Them." The video details the ways in which bad actors will try to take advantage of people in the field of timeshare sales.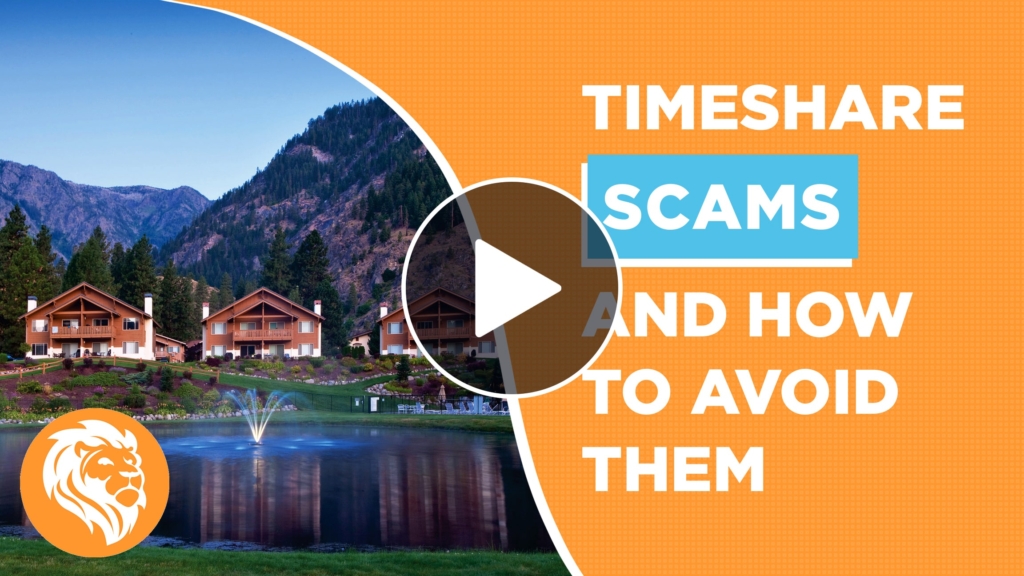 Are there any legitimate timeshare resale companies?
Great question! The answer is yes. As times are changing, the timeshare industry is, too. While some want you to believe the resale market is full of scammers, this simply is not the case. We won't deny there are still scams out there, but it is possible to find a reputable timeshare resale company. When looking for a reputable company to buy a timeshare resale from, check the BBB, Yelp, and even ask for recommendations from your friends or family. Furthermore, the American Resort Development Association is a great source and indicator of a reputable resale company. Members of ARDA uphold a strict code of ethics and are vetted by professionals in the industry. ARDA is a trusted source if you're unsure where to turn for timeshare help.
Who Can Help Me With Timeshare Resales?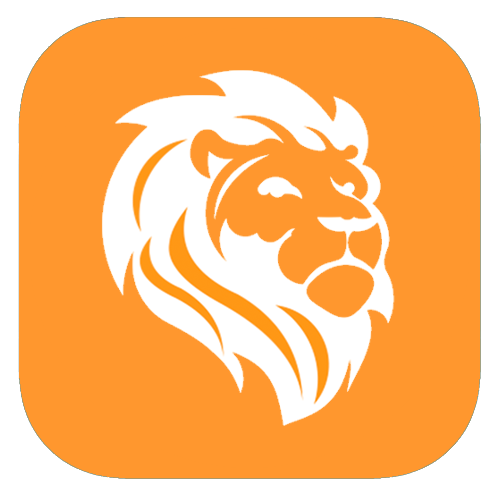 Fidelity Real Estate has been in the resale industry for over 20 years. We are accredited by the BBB and ARDA, and have been a featured reseller for many large brands in the industry. Not to mention, we specialize in both sides of the timeshare resale process. That means we can help you get the best service and support when buying or selling your timeshare.
How Can I Purchase a Timeshare?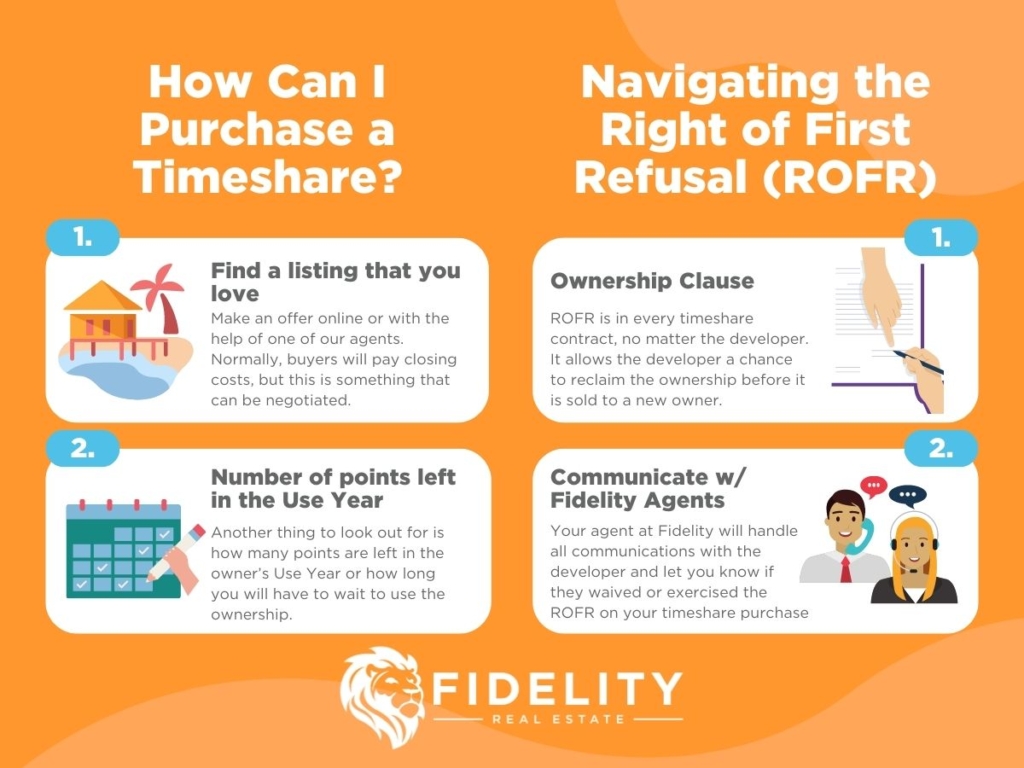 If you decide to make a timeshare purchase and find a listing that you love, it's simple to make an offer online or with the help of one of our agents. We'll guide you through every step of the buying process so you can navigate the world of timeshare sales as conveniently as possible. Normally, buyers will pay closing costs, but this is something that can be negotiated. Another thing to look out for is how many points are left in the owner's Use Year or how long you will have to wait to use the ownership. This can be a smart negotiating tactic when it comes time to buy timeshare resale.
Navigating the Right of First Refusal (ROFR)
Many industry professionals will advise you to a Licensed Real Estate Agent when buying a resale because it can be quite a process on your own. If the seller accepts your offer, don't jump for joy just yet. Your agent will then send the signed contracts to the developer to undergo the Right of First Refusal, more commonly referred to as ROFR. The Right of First Refusal is a clause in every timeshare contract, no matter the developer. It allows the developer a chance to reclaim the ownership before it is sold to a new owner. The developer can either choose to step in as the buyer and accept the contract as is or allow the timeshare sale to proceed between the original parties.
Your agent at Fidelity will handle all communications with the developer and let you know if they waived the timeshare sale or exercised the ROFR on your timeshare purchase. If the developer chooses to take over the sale, don't worry! Many listings are available, and we can help you find another one. Something to keep in mind when the developer exercises the ROFR, is that they may be reclaiming all of the contracts that come in from a specific resort. Or, the offer may have been within their means to buy it back themselves. While those $1 listings on eBay are a great steal, the developer will likely exercise the ROFR in this case.
Learn more: Timeshare Buying Tips on the Resale Market!
Benefits of Timeshare Resale You Don't Always Hear About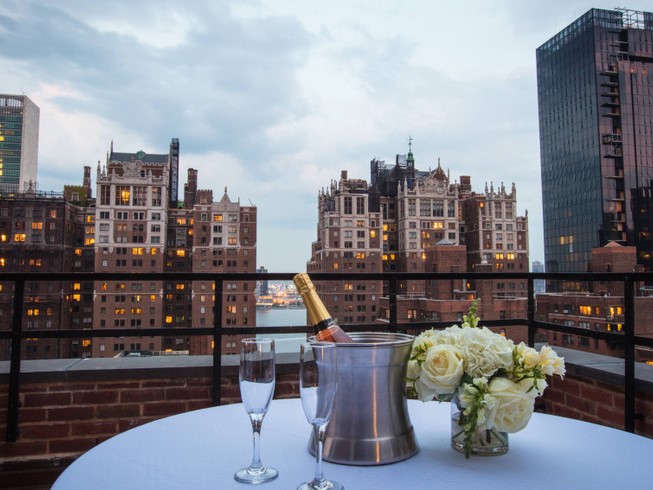 We already covered the savings that come with resale, but there are other benefits of timeshare resale that not many people know. If you're looking to add to your existing ownership, you can do it for much less while keeping all of your original benefits. Many DVC owners will look to the resale market to buy more points for bigger and better vacations. While there are some restrictions with resale, like which resorts you can use your points at, there are some ways around that. Vacation exchange networks like RCI or Interval International allow owners to sign up and trade their points or weeks for thousands of other resorts worldwide. This means you don't have to travel back to the same resort every year or even within your brand.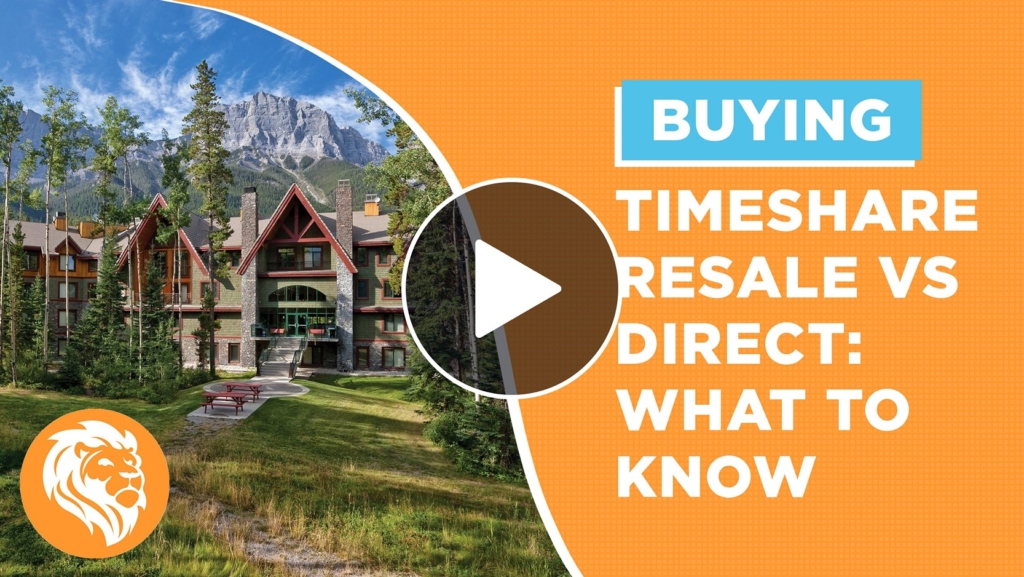 Want to learn more about the resale market? Then check out our video, "Timeshare Resale vs Buying Direct"
Can You Buy Timeshare Points Resale?
An amazing way to have flexible timeshare ownership is to use timeshare points. The question is, can you buy timeshare points resale? Of course, you can! The fact of the matter is that you can buy pretty much any timeshare on the resale market, and that includes points. By buying points resale, you'll have the freedom to choose where you vacation but at an amazing price. Search our marketplace today by brand, resort, or point allotment.
So, Should You Buy A Timeshare Resale?
At the end of the day, the question of should you buy a timeshare resale is one you can only answer for yourself. Resales are a great way to save money on vacation ownership, and you'll often get many of the perks you would enjoy from buying direct. If you'd like to get started, then check out our marketplace! We have listings for timeshare sales from brands like Westgate, Marriott, Disney Vacation Club, and more. Once you find one you like, just make an offer! If you have any questions, our licensed agents are happy to help. Please email us at team@fidelityresales.com or give us a call at 1-800-410-8326.