The Gold Crown distinction is given to RCI resorts that offer outstanding vacation experiences. In other words, RCI has chosen the best of the best and spotlights them. Staying at an RCI Gold Crown resort means that you will get the best timeshare experience at one of the most beautiful resorts. Members of RCI can trade their weeks at their home resorts for a stay at a Gold Crown resort for a really special getaway. Continue reading to learn more about RCI, how resorts earn the Gold Crown title, and to see our top RCI Gold Crown Resorts in different regions.
About RCI
RCI is the biggest name in vacation exchange and has the largest vacation exchange network. RCI doesn't actually own any timeshare properties themselves, but many of the world's top timeshare brands are affiliated with RCI. A few include Wyndham, Holiday Inn, and Hilton. RCI's simple system allows timeshare owners to exchange their time at their home resort for a trip to a different RCI-affiliated resort. The flexibility that RCI offers to its customers completely changed the timeshare industry. Allowing members to trade their current time for a brand new experience is like a breath of fresh air for timeshare owners. Some people may feel burnt out after staying at the same resort year after year, but RCI gives timeshare ownership a new and exciting update. Owners have the opportunity to visit a new location every year, all without having to sell their current timeshare!
RCI's exchange program is user-friendly and allows members to simply deposit their points/weeks to find out the trade value of their timeshare. The trading power is determined by many factors, including resort popularity, unit size, and time of year. Once the trading power is determined and a point value is assigned, members use the points as a trading currency. When you want to exchange your points/weeks, just browse RCI's catalog to determine which resort stay you have enough points for and want to trade for.
What Are RCI Gold Crown Resorts?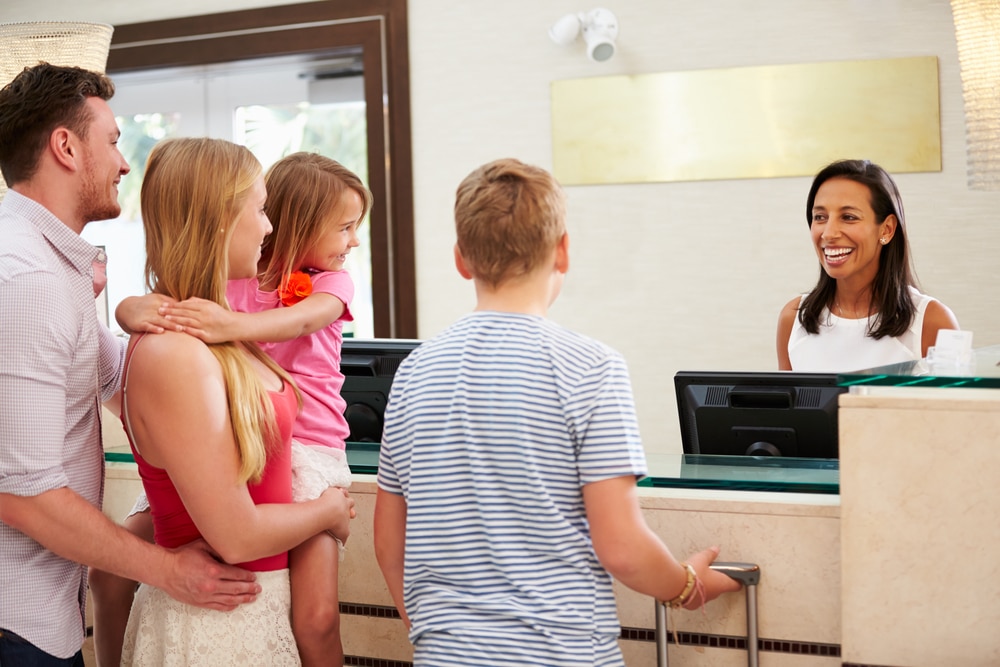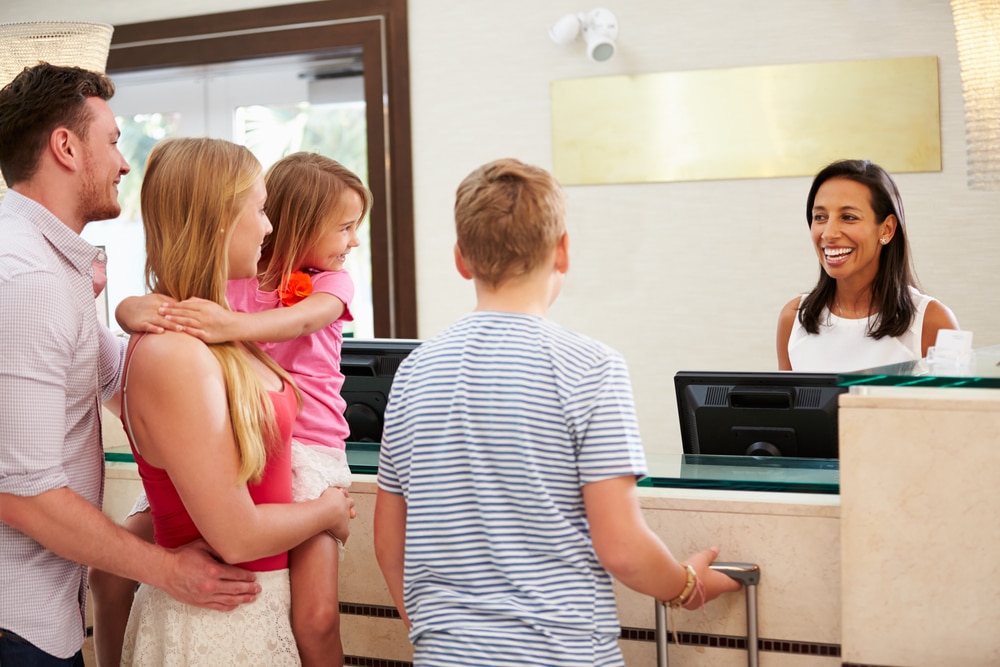 RCI Gold Crown resorts indicate that the resort has been deemed excellent in many areas. Whether that's for unit housekeeping, concierge procedures, or resort amenities, you can be confident that your stay will be of superior quality. Earning the Gold Crown award doesn't indicate that the resort is more expensive, just that the resort exceeds guests' expectations. The resorts consistently showcase RCI's highest set of standards of hospitality. RCI often offers sales and discounts, so be aware that you may be able to stay at a Gold Crown resort for a fantastic rate.
Resorts are chosen for Gold Crown status based on customer feedback on Comment Cards sent out at the end of vacation stays. Guests rate the resort on areas such as amenities, the check-in process, hospitality, and more. This feedback determines the resort's rating as well as the resort's trading power within RCI's catalog. There are over 1,500 Gold Crown resorts in RCI's catalog, so there are options for everyone's taste in vacations. In short, your vacation dreams are within reach with RCI.
Top RCI Gold Crown Resorts
There are Gold Crown resorts all over the world, so you're bound to find an incredible RCI property in your dream vacation location. Therefore, wherever your getaway takes you, you can be confident that you'll find some incredible accommodations. Let's discuss some of the best RCI Gold Crown resorts in Florida, Hawaii, and some destinations in between.
Best RCI Gold Crown Resorts in Florida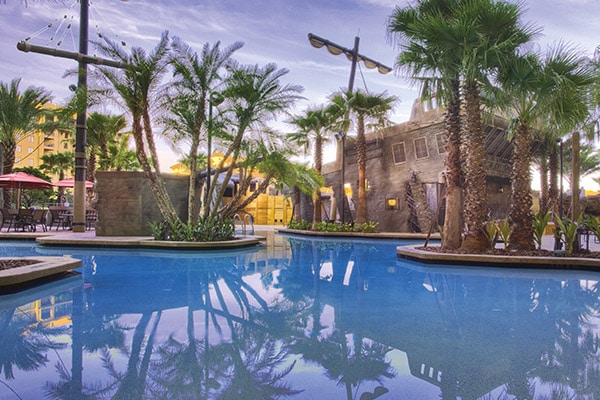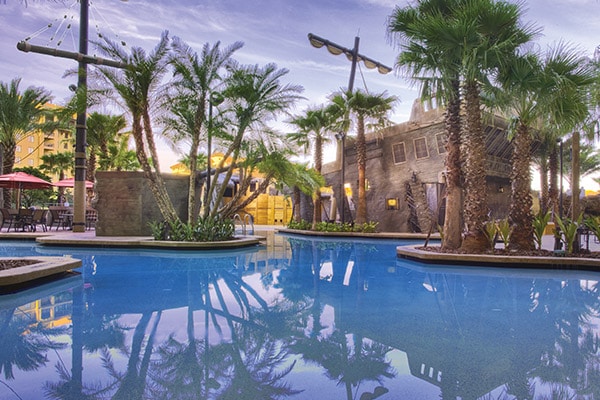 Florida has so much to offer when it comes to vacationing. Florida has some of the world's best theme parks, beaches, and resorts! If you're looking for days exploring of exploring Orlando's attractions, there are plenty of RCI resorts for you. However, if you're looking to laze around on the beach, there are RCI Gold Crown Resorts right on the shores of Florida's most beautiful beaches.
Club Wyndham Bonnet Creek
Club Wyndham Bonnet Creek is so close to Walt Disney World property, it often is mistaken for a Disney Vacation Club resort! This sprawling resort property is full of fun amenities for the whole family including waterslides, lazy rivers, mini-golf, and more! Plus, all of Orlando's best attractions are just minutes away! This RCI Gold Crown resort truly captures how fun vacations in Orlando, Florida should be!
Legacy Vacation Club Indian Shores
Stunning views of the Gulf of Mexico are the backdrop of your vacation at Legacy Vacation Club Indian Shores. Located on Florida's west coast, Indian Shores is a tranquil destination that is not far from the Tampa Bay area. This means that you can choose to either enjoy complete serenity at the resort or take a day trip to the nearby attractions. Enjoy the beautiful Gulf views from your one- or two-bedroom villa's deck.
Surfrider Beach Club
Experience quiet serenity at Surfrider Beach Club on Sanibel Island. The beaches in this area are known for amazing shell collecting, so a stroll along the beach comes with adventure and souvenirs! This resort is part of the Bluegreen family of resorts, so you can expect great amenities at Surfrider Beach Club. Amenities include villas with full kitchens and bike rentals to explore the island. This RCI Gold Crown resort is a true tropical gem.
Best RCI Gold Crown Resorts in Hawaii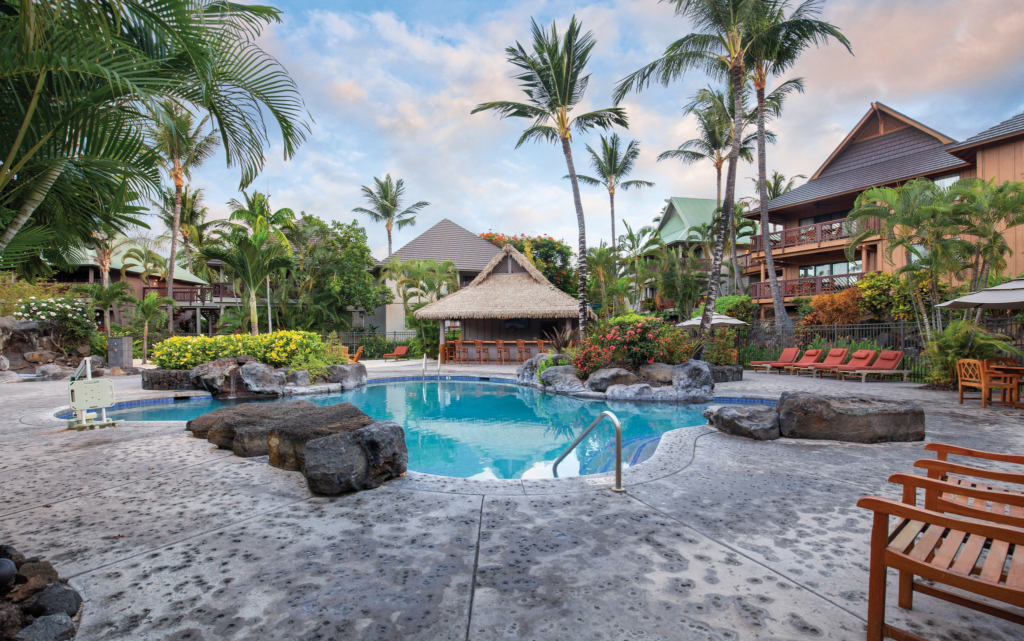 If you're dreaming of a lush tropical escape, then a Hawaiian getaway is probably the best place to make that dream a reality. The islands of Hawaii are sprinkled with fabulous resorts, including some of the best RCI Gold Crown resorts. Using RCI to exchange for a stay in Hawaii allows you to choose resorts from top brands like Club Wyndham and Hilton Grand Vacations. These are the best RCI resorts in Hawaii that you can exchange for now!
Club Wyndham Kona Hawaiian Resort
Club Wyndham Kona Hawaiian Resort has the charming island vibes of the 1930s while providing the modern amenities you'd want at a timeshare resort. This tropical paradise features two pools, hot tubs, and a children's pool on its lush, sprawling property. This RCI-affiliated resort is located on Hawaii's Big Island, so unforgettable activities and attractions are within a close distance.
Grand Waikikian by Hilton Grand Vacations Club
This RCI Gold Crown resort sits on the shores of the world-famous Waikiki beach. The Grand Waikikian by Hilton Grand Vacations Club offers the world-class amenities that you would expect from the Hilton brand. This resort is located on the grounds of Hilton Hawaiian Village, a facility that offers shopping and dining. In addition, the sprawling resort also has an incredible pool area with waterfalls, slides, and swim-through grottos.
Grand Pacific Resorts' Hanalei Bay
Hanalei Bay Resort is an RCI Gold Crown resort in Hawaii that will make your next vacation absolutely unforgettable. The lush gardens and stunning views of the Pacific make this resort a true paradise. Once you exchange for this Hawaiian resort on RCI, you'll probably be tempted to return year after year. The lagoon-style pool has even won awards! This resort is so beautiful, you'll have to see it to believe it.
Alii Kai Resort
Among the golden beaches on the island of Kauai, you'll find Alii Kai Resort. The resort overlooks a mile of beautiful beaches and offers stunning views of the island's lush mountainscapes. This serene property offers the true spirit of Hawaii, complete with private lanais and romantic sunset views. Each timeshare villa at Alii Kai Resort features a full kitchen and laundry units to make guests feel right at home.
Best RCI Gold Crown Resorts in Myrtle Beach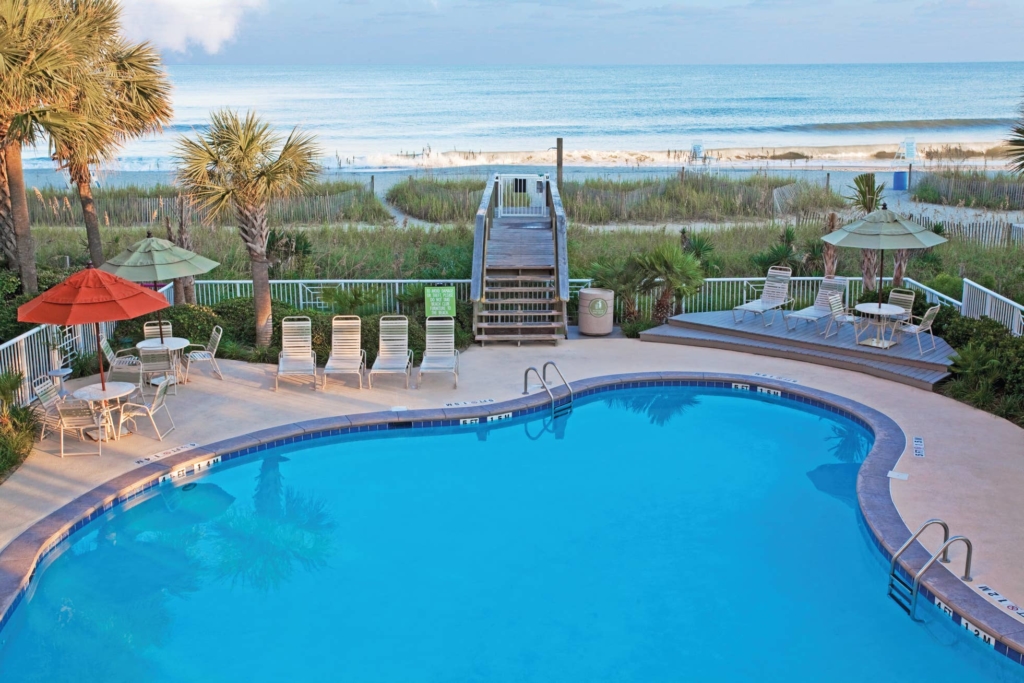 Myrtle Beach is a popular vacation destination for every type of traveler. Whether you're looking for a romantic escape or are planning your next big family vacation, this beachside city is worth checking out. Plus, there are quite a few RCI Gold Crown Resorts in Myrtle Beach, so you can relax knowing that you'll have one of the best timeshare resorts waiting for you on your next trip.
Holiday Inn Club Vacations South Beach Resort
South Beach Resort sits on a par-3 golf course and is just steps away from a private beach club. Guests of this Holiday Inn Club Vacations resort will enjoy the on-site lazy river and pool bar. This resort is just 5 miles from Broadway At The Beach, one of Myrtle Beach's biggest attractions. There you'll find shopping, dining, and attractions including an aquarium and a water park.
Carolina Grande, A Bluegreen Resort
Carolina Grande is a Bluegreen resort across the street from the famous shores of Myrtle Beach. This area is a popular vacation destination for its beaches, golfing, and other family-friendly attractions. As with any Gold Crown resort, guests will enjoy amazing amenities at this resort. There is a rooftop pool that offers guests a fun way to cool off while enjoying amazing views of the Atlantic.
Ocean 22 by Hilton Grand Vacations Club
Ocean 22 is a gorgeous seafront Hilton Grand Vacations Club resort in Myrtle Beach. Amenities are held to the highest standards by Hilton, so it's no wonder RCI awarded this resort the Gold Crown. Guests will enjoy not only the amenities but also some exclusive perks. For example, free entry to Wild Water & Wheels park and free greens fees for various golf courses are available for guests.
Best RCI Gold Crown Resorts in Colorado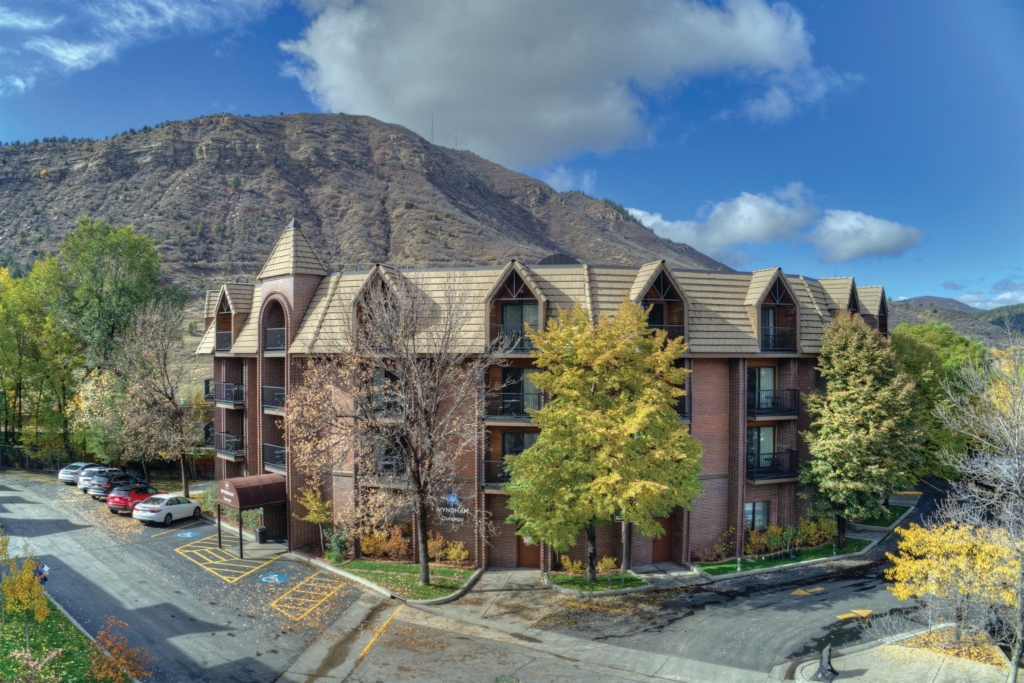 Colorado is known for its towering mountainscapes and year-round outdoor adventures. Whether you're visiting in the winter or the summer, these resorts will also provide stunning views of the surrounding scenery. It's no wonder that some of the top timeshare brands have RCI Gold Crown resorts in Colorado. The best RCI Gold Crown Resorts in Colorado put you right in the middle of all of the fun!
Club Wyndham Durango
Club Wyndham Durango is at the foot of San Juan National Forest and offers beautiful views of Western Colorado. The resort offers spacious villas with fully-equipped kitchens and private balconies. A trip to Durango feels like you were transported to the Wild West, complete with antique boutiques and a saloon. Durango is the perfect destination for adventure seekers.
Rams Horn Village Resort
Rams Horn Village Resort provides guests with luxurious cabins just one mile from Rocky Mountain National Park. Found in Estes Park, this resort is the perfect place to retreat after a fun-filled day. Hiking, skiing, mountain biking, white water rafting, and more adventures are just minutes away. Cabins are spacious and include fully equipped kitchens for the comfort of guests.
Valdoro Mountain Lodge, A Hilton Grand Vacations Resort
In the heart of Breckenridge's snow-capped mountains sits Valdoro Mountain Lodge. This Hilton Grand Vacations Resort is right at the base of Peak 9, so skiing and snowboarding are just moments away. Main Street is also nearby where visitors will enjoy delicious restaurants and fun shopping. On cold winter nights, guests can cozy up next to their villa's fireplace.
Best RCI Gold Crown Resorts in New York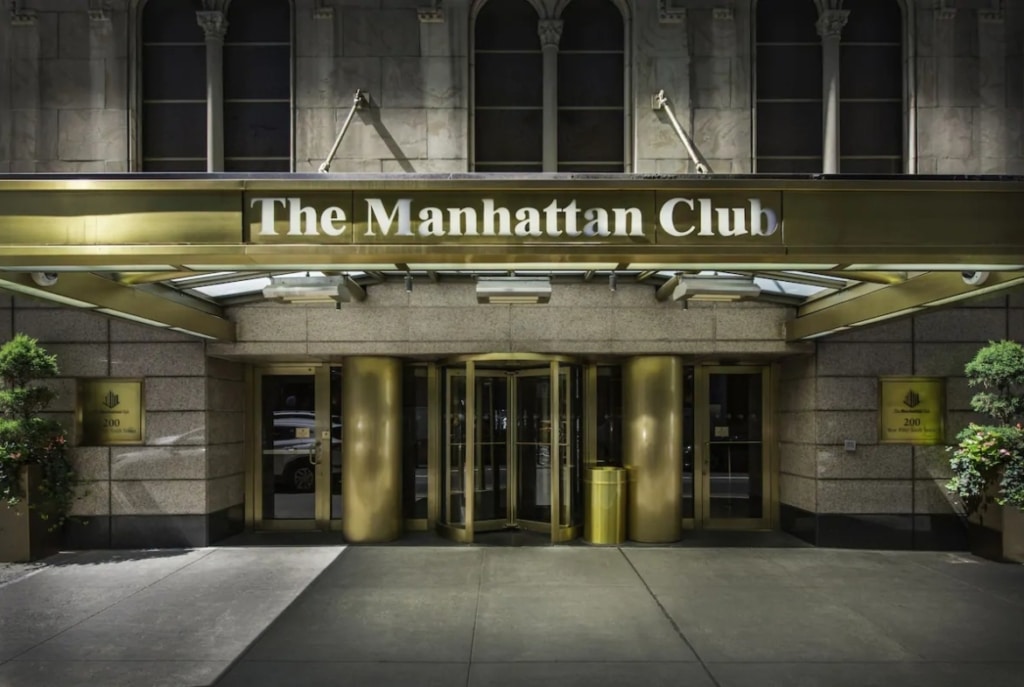 There are beautiful RCI resorts all over New York State, whether you're visiting the city or enjoying a getaway upstate. RCI Gold Crown Resorts in New York City can provide a quiet escape from the excitement of the streets below. There are also plenty of mountainside resorts upstate that provide a place to rest after a day of skiing or hiking. Here are some of the top RCI Gold Crown Resorts in New York.
The Manhattan Club
Spend your day enjoying the bustling energy of New York City and then retreat to your luxurious timeshare at The Manhattan Club. As the resort's name suggests, its building is located right in downtown Manhattan. Whether you're out in the city or enjoying stunning views of Central Park from your villa, you'll get the true New York experience with this RCI Gold Crown resort.
The Lodges at Cresthaven
The Lodges at Cresthaven is a lodge-style resort on Lake George in scenic upstate New York. Lake George is a beautiful destination year-round, offering watersports on the lake and skiing or snowboarding at Gore Mountain. The Lodges at Cresthaven is a lakeside getaway featuring a beach area, spacious villas, and stunning lake views.
The Hilton Club – New York
Right in Midtown Manhattan, The Hilton Club New York sits amongst the sights and sounds of the city. This resort provides a rare quiet retreat for visitors of NYC and will make guests feel right at home. Guests can enjoy the luxurious amenities in their suite or take advantage of the resort's restaurants, spa, and fitness center.
RCI Gold Crown Resort Timeshares For Sale
Timeshares are the perfect way to explore the world, all while enjoying spacious and fully-equipped accommodations. If your home resort is affiliated with RCI, then you're eligible to register for their program and start staying in more Gold Crown resorts. Firstly, browse our selection of available timeshares for sale here. Then, when you find the right one for you and your family, simply make an offer! Deciding to buy a timeshare can be overwhelming, so we're here to help. Contact us today at (407) 465-5188 or at team@fidelityresales.com. Our team of licensed real estate agents has the experience and knowledge to make buying a timeshare simple!