That's right, the most highly anticipated event of the summer is now open to the public! Visitors were able to get a special preview before the official opening from June 5th until 20th at a discount. Get your own sneak peek at the Margaritaville Orlando water park, open now, before you take your trip!
Margaritaville Orlando Makes Waves
Located in Kissimmee, the Margaritaville Orlando resort water park has been in the works for some time. Locals and frequent vacationers have waited patiently for H2O Live!'s grand opening on June 21st. Fortunately, the wait doesn't have to be any longer. Take an afternoon (or entire day) to visit and make some waves. Play-on-words and phrases make up the names of exciting attractions that we know of so far.
H2O Live!, the Margaritaville water park name, has a fun social media theme. Play-on-words and phrases make up the names of exciting attractions that we know of so far. There is a mat slide named "Reply Racers," a family tubing attraction called "Hashtag Heights" and the adults-only pool "Private Domain."
A kiddie area is perfect for the little ones, with a zero-entry opening and fun activities to splash around. There is also a lazy river that wraps around the entire park and is 25-feet wide, so you have plenty of space to stretch out while you wade through the water.
With Margaritaville water park's grand opening, adults will be able to get in for $49.99 and seniors, as well as children, can enter for $42.99. Annual passes are sold for $89.99, so you can go all year long if you want to! (Please note, these prices were accurate when we posted this but they are subject to change. Be sure to check with the park for the most up-to-date admissions!)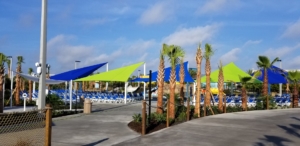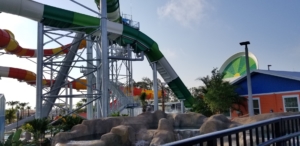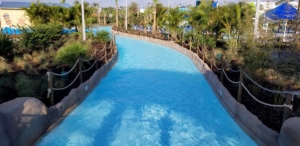 About Margaritaville Timeshares
Fans of Jimmy Buffett can revel in the idea of an island vacation, where it's 5 o'clock all the time. Cottages on the Margaritaville Orlando resort property can be purchased, so you can own your vacations year after year.
The Margaritaville resort in Orlando is completely luxurious, with activities, amenities and accommodations that are perfect for families or those weekend getaways. Dine and relax in one of the four on-site lounges, sit in the sun at any of the lagoon-style pools, or take an afternoon to the spa.
Guests can stay in one of 184 guestrooms, each with balconies and comfort, or dial up the luxury with a beach-house style cottage. Each cottage has in-suite baths for every bedroom, a full kitchen, as well as a dining area. Take the whole family or get away with that special someone–either way, Margaritaville Resort Orlando has you covered.
Planning Your Next Trip?
Read up on more popular vacation destinations, vacation ownership clubs and all the inside information on all things timeshare.