If you've done any research about timeshares, you've surely heard of Bluegreen Vacations. As one of the top brands in the timeshare industry, Bluegreen offers stunning resorts in the most desirable vacation destinations. Bluegreen owners would agree that they offer some timeshare experiences unlike any other. So, how does Bluegreen Vacations Club work? Let's discuss what Bluegreen Vacations Club is and how it works!
About Bluegreen Vacations Club
Bluegreen began in the mid-1980s as a small company that sold and renovated residential properties in New England. Its vacation ownership business started with MountainLoft, a resort located in the Smoky Mountains near Gatlinburg, Tennessee. Bluegreen has been an industry leader since the start. In fact, it formed one of the first partnerships between a retailer and a vacation ownership company. The alliance between Bass Pro Shops (the large retailer of fishing and hunting gear) and Bluegreen Vacations helped the brand create a new resort. The addition to the Bluegreen Vacations family focuses on an outdoorsy lifestyle. Known as the Wilderness Club in Ridgedale, Missouri, the resort continues to be one of the most popular Bluegreen resorts.
Today, Bluegreen offers excellent vacation ownership to over 220,000 members at over 60 resorts. Members can use their points to book their perfect vacations year after year, no matter where they want to go. Through partnerships with vacation exchange networks, Bluegreen makes it possible to get flexibility out of their vacation ownership options.
How Does Bluegreen Vacation Club Work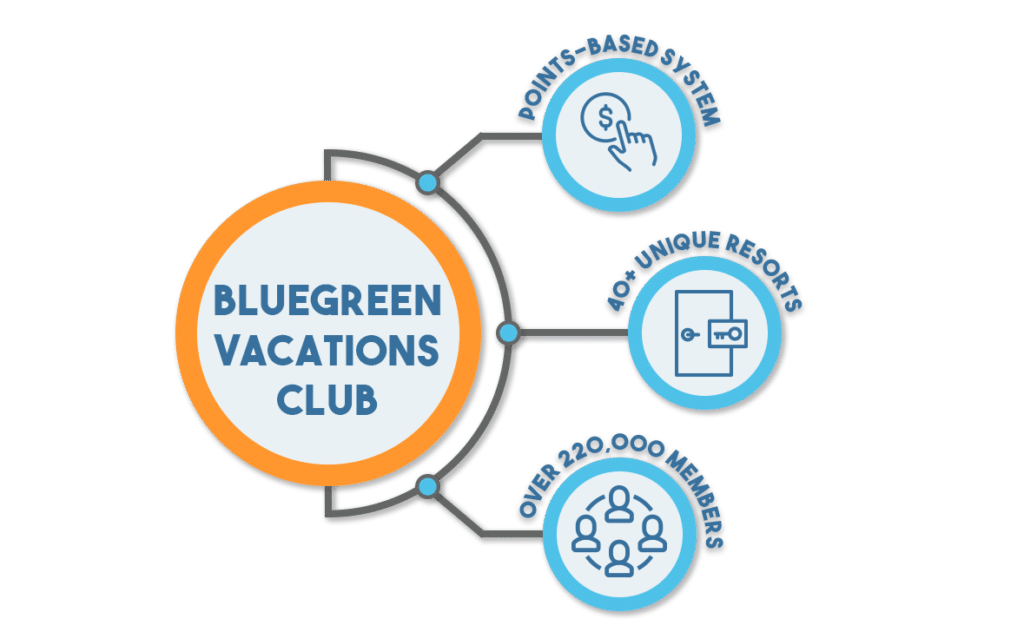 Bluegreen's 60 resorts give vacation owners near-limitless vacation choices. Their flexible points-based system makes it easy for members to book the vacation of their dreams. Members can use their points to stay at any one of the resorts in Bluegreen's catalog. That means that every vacation can take you to a new destination! However, if a member wants to return to the same resort every year, that's totally fine! Create unforgettable yearly vacation memories with Bluegreen.
Bluegreen resorts typically offer more room and privacy than a standard hotel suite. Many units include full kitchens, separate rooms, and even balconies. On-site amenities include sparkling pools, cook-out and picnic areas, housekeeping, and more. Appealing to the growing trend of experiences over anything else, Bluegreen has some of the most unique resort accommodations available. Bluegreen accommodations are spacious and comfortable, ranging from historic inns and log cabins to modernized yurts. Wherever your vacation takes you, Bluegreen will make you feel right at home.
Bluegreen Resort Collections
To make planning and decision-making easier for their owners, Bluegreen Vacations organizes their resorts into Collections. Divided by destinations, activities, and travel styles, Bluegreen Vacations Resort Collections are tailored to fulfill everyone's travel needs. Here are all of Bluegreen's collections and our favorite resorts within each collection.
The Lighthouse Collection
Made up of fourteen popular beachside resorts where guests can dig their toes in the sand or lounge by the ocean waves, the Lighthouse Collection is made for the inner mermaids out there. From Florida's best beach vacation spots to exotic opportunities in Aruba, traveling through each resort in this collection will have you set for salty-air vacations for a lifetime.
The Soundings Seaside Resort – Dennis Port, MA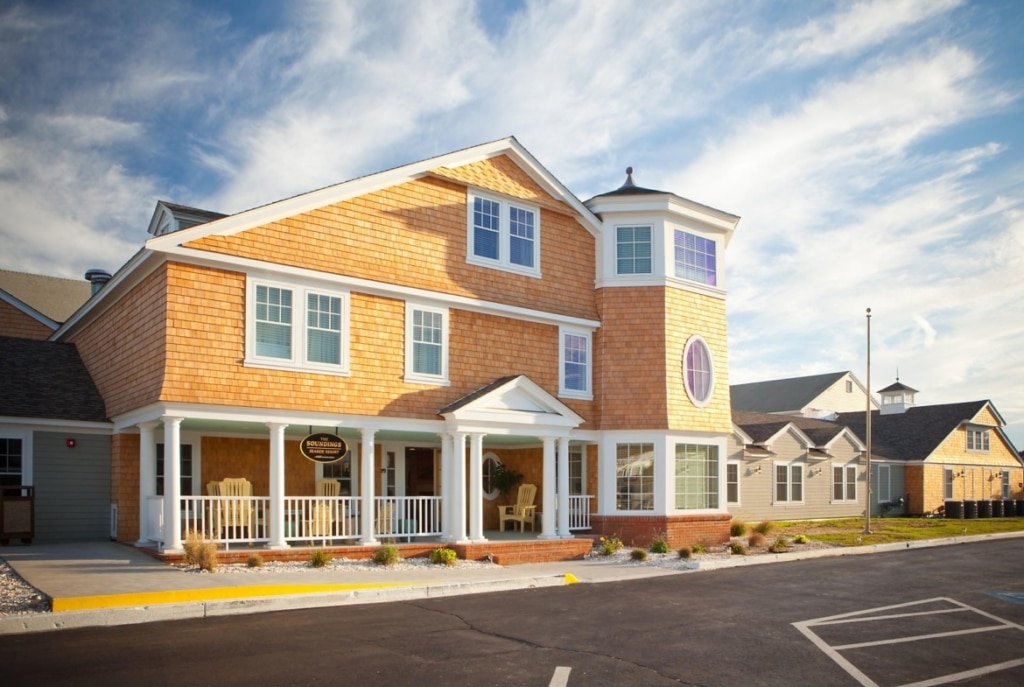 The Soundings Seaside Resort is a stunning Bluegreen resort on the shores of Nantucket Sound. Take a stroll on the resort's 365 feet of private beach and experience the quaint charm of Cape Cod. Nearby amenities include tennis, golf, whale watching, parks & nature reserves, museums, zoos, and aquariums. The resort offers studio villas, 1- and 2-bedroom suites, and a presidential suite. All villas offer fireplaces and many of them feature sweeping views of Cape Cod.
The Cityscape Collection
Some of us want to live out our jet-setter dreams and stay in bustling cities with bright lights. The towering architectural masterpieces of skyscrapers take your breath away at their sheer sizes. Alternatively, this collection can take you to a more low-key southern city. Live in luxury at The Manhattan Club or enjoy some southern hospitality at The Marquee in New Orleans.
Solara Surfside Resort – Surfside, FL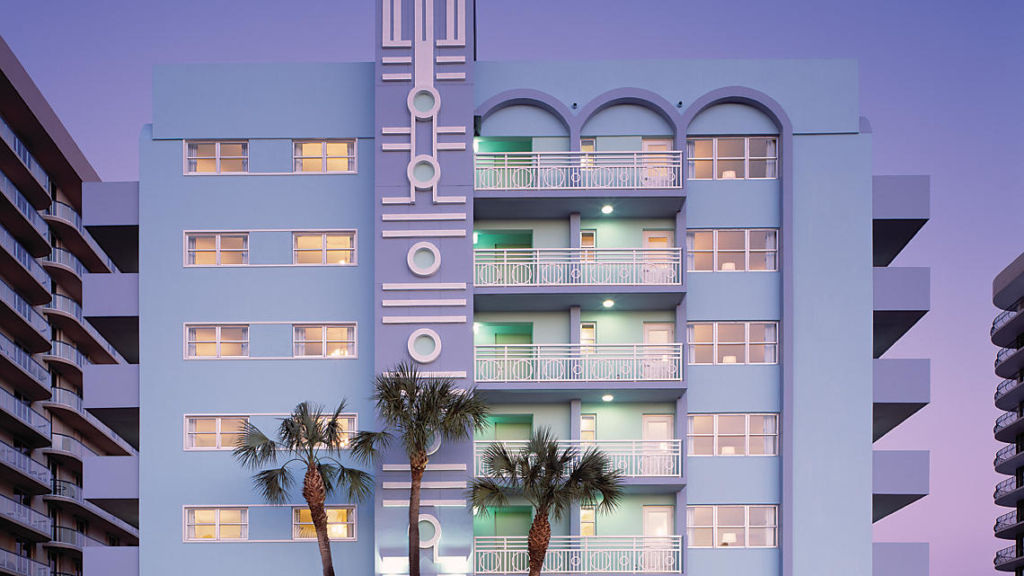 On the shores of North Miami Beach, you'll find Bluegreen's Solara Surfside Resort. This art-deco-inspired resort provides the quintessential Miami vacation. Many conveniences are located directly on-site including a swimming pool, game room, laundry facilities, and direct beach access where you can enjoy scuba diving, water skiing, and even windsurfing. Solara's modern villas can sleep up to 8 guests and offer stunning ocean views.
The Amusement Collection
Families with little ones must keep attractions and activities at the top of the list when planning vacations. Bluegreen's Amusement Collection keeps this in mind with resorts close to all the action. Of course, this collection includes Orlando, the theme park center of the world. Alternatively, for some kid-free amusement, this collection can take you to the bright lights of Las Vegas.
Bluegreen Odyssey Dells – Wisconsin Dells, WI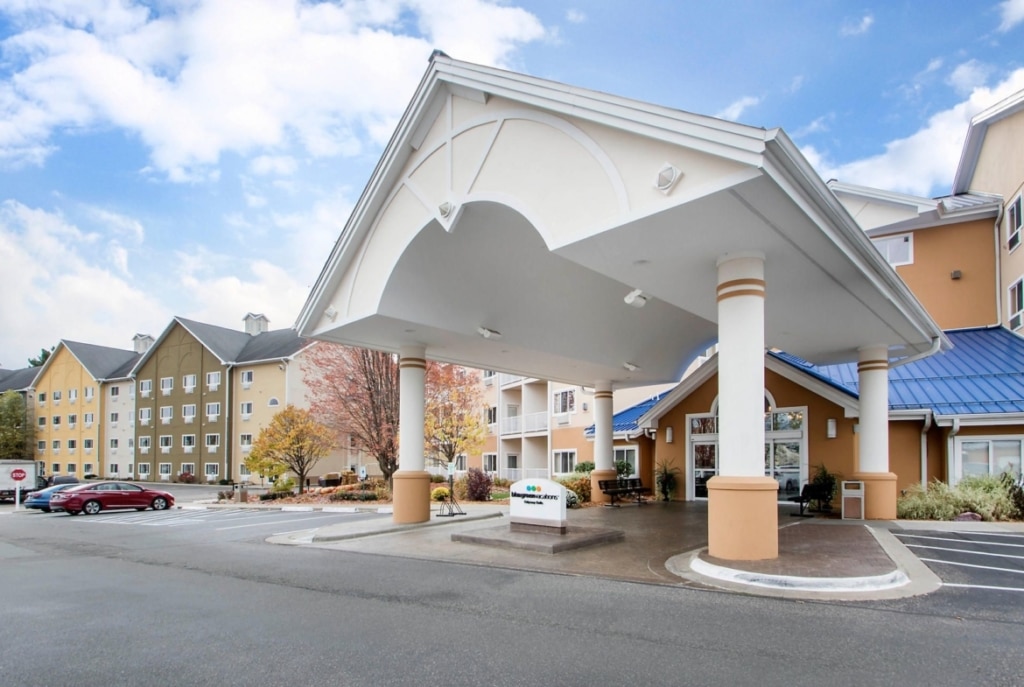 Odyssey Dells is a fun-packed resort is located right next door to the Mt. Olympus waterpark and theme parks. Wisconsin Dells is the waterpark capital of the world, so you're bound to find a ton of things to do and see in this vacation destination. Each reservation at Odyssey Dells includes admission to the water park! After a long day of thrills, retreat to your spacious 1- or 2-bedroom villa, which includes a full kitchen and balcony.
The Great Outdoors Collection
Sometimes, we just have to reconnect with nature and unplug. Bluegreen resorts organized in the Great Outdoors Collection are nestled in seamlessly with their surrounding environments. The Smoky Mountains are calling from Pigeon Forge and fresh snowfall remains untouched on the ski slopes of Colorado. Go fishing, explore caverns and caves in Arizona or take a break from the world in the pastureland of Virginia.
MountainLoft – Gatlinburg, TN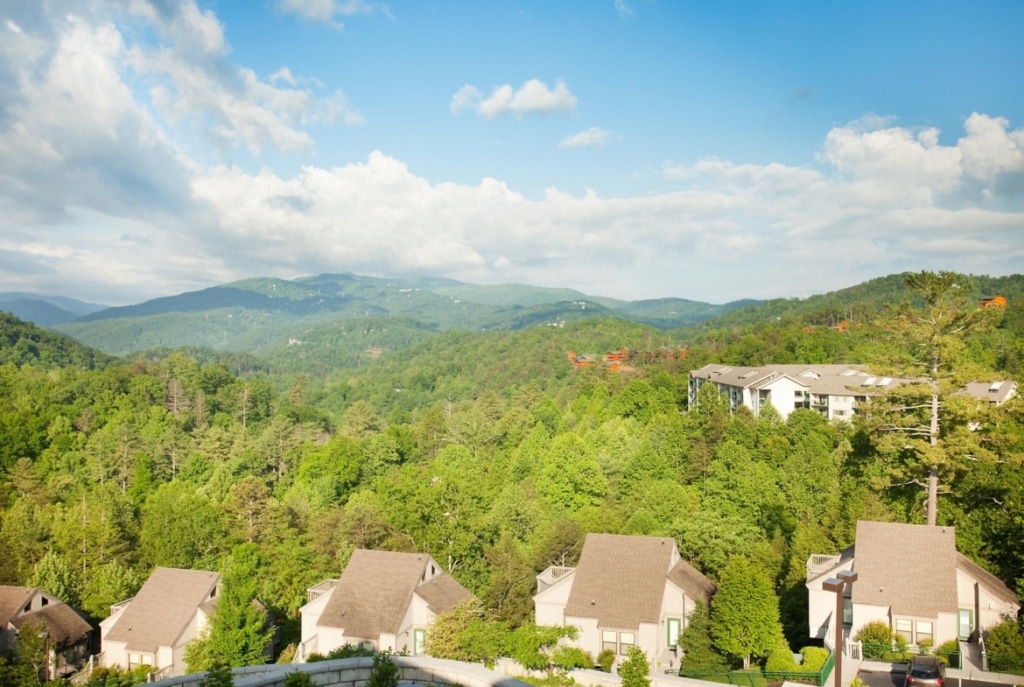 MountainLoft resort has an elevation of 2,200 feet, so you'll find amazing panoramic views of the Smoky Mountains. The warm, lodge-feel of this resort trickles into each villa. MountainLoft has townhomes that sit along the tree-topped hillsides, offering 1-, 2-, and 3-bedroom options. Accommodations can sleep up to 10 guests, so they'll be perfect for a big family trip or reunion. Cozy up near your villa's fireplace or spend a fun evening in the spacious living room.
The Heritage Collection
Travel back in time and experience history in the oldest cities of the country. This collection of Bluegreen resorts brings out the history buffs that are excited by antiquity and heritage. Located within reasonable distances from landmarks and points of interest, this collection of resorts will not disappoint.
Grande Villas At World Golf Village – St. Augustine, FL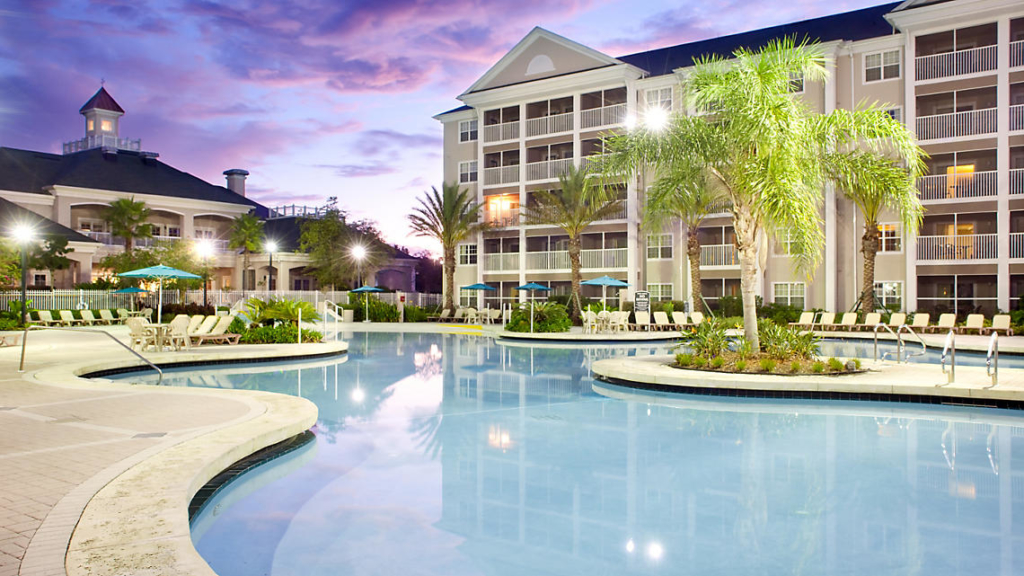 Grande Villas At World Golf Village takes you to the oldest city in the country, St. Augustine. Explore the cobblestone streets of this former Spanish colonial town to enjoy its quaint cafes and shops. You can even take a ghost tour through the city! The city sits along the Atlantic Coast of Florida, so spending the day on the beach is just minutes away. This resort overlooks champion golf courses and offers amenities such as restaurants, shopping, an IMAX theater, and the World Golf Hall of Fame.
How Do Bluegreen Vacations Club Points Work?
When you buy a Bluegreen vacation ownership, you receive an allotment of points representing your timeshare value. The amount of points your vacation ownership is worth depends on a number of factors. These include the size and type of the unit, the season and week of ownership, and the popularity of the resort.
Points needed for various vacations at Bluegreen resorts range from 3,000 to 15,000. It all depends on the time of year, location, and length of your trip. Vacation owners can choose to borrow points from a subsequent year or save their points instead of going on vacation.
Bluegreen Vacations Club points work in a few different ways. Owners can also use their Bluegreen Points to travel the world. Bluegreen has partnered with Resort Condominiums International (RCI), a vacation exchange company. RCI allows vacation owners to deposit their points and use them to exchange the value of their timeshares for a stay at a resort almost anywhere in the world.
Buy a Bluegreen Timeshare
Interested in buying Bluegreen points? Firstly, check out our listings on Bluegreen timeshares for sale. Then, when you've found the right listing for you, simply make an offer! We know that deciding to buy a timeshare can be daunting, but we're here to help. Fidelity Real Estate can help you figure out how Bluegreen Vacations Club works! Contact us today at (407) 465-5188 or at team@fidelityresales.com. Our team of licensed real estate agents has years of experience, so helping you buy Bluegreen points will be simple!