In 1971, Walt Disney World opened up its gates and began the journey of becoming The Most Magical Place on Earth. Over the past 50 years, Disney World has been the place where families go to make unforgettable vacation memories. It's no surprise that celebrating the world-famous park's 50th anniversary would be a magical event. Disney World kicked off its much-anticipated 50th Anniversary Celebration on October 1st. Crowds gathered before the sun came up to be amongst the first people to celebrate the park's huge milestone! The celebration continues for the next year and a half, so don't worry if you weren't able to make it on the first day. You still have plenty of time to experience all of the special things Disney World has planned for the next 18 months.
From new fireworks shows and attractions to exclusive 50th-anniversary treats, there is a lot of magic to enjoy all around Walt Disney World's property. For an inside peek at what's new to see, do, and eat… keep reading!
Disney's New 50th Anniversary Look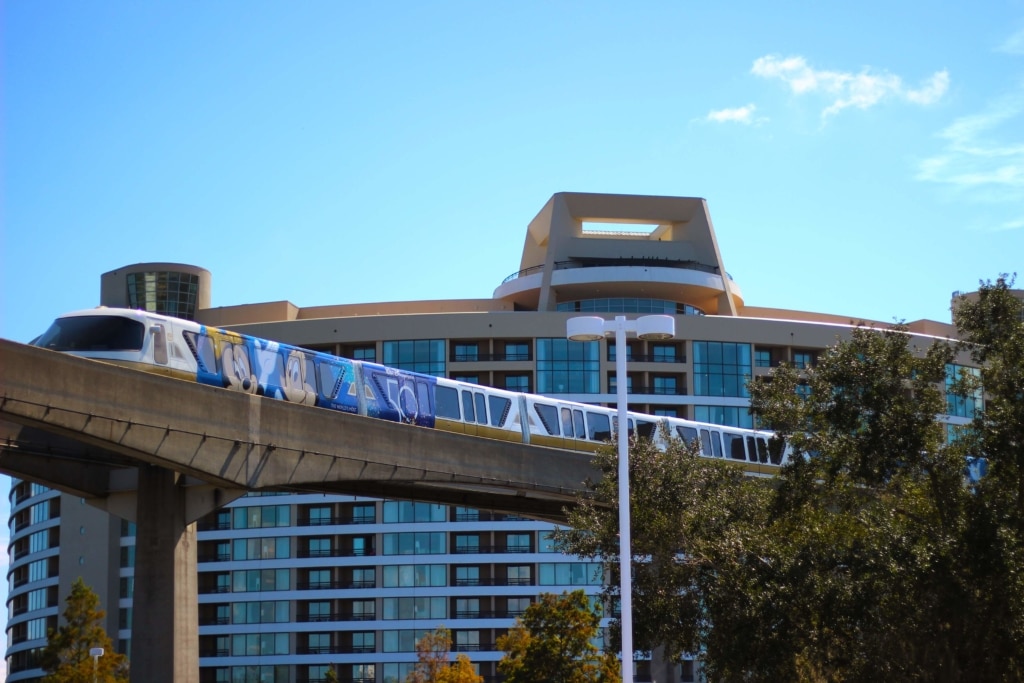 Around practically every corner of Walt Disney World, you'll see special touches of magic celebrating the 50th anniversary. These dazzling details come in all different sizes, so keep an eye out! From special-edition guest tickets to newly-wrapped busses, you'll see adorable 50th decor everywhere you go! Right when guests enter the gates of Magic Kingdom, they will see a nod to the park's opening day. There are posters of the original attractions on the walls of the entry of Main Street Station. We love the vintage artwork!
One of the most notable features that got an "EARidescent" makeover is Cinderella's Castle at Magic Kingdom! The castle got a vibrant paint-job and is now adorned with beautiful gold ribbons. A large "50" icon is now the focal point of the castle. The iconic monorail trains are also sporting special 50th-anniversary details, so you'll travel around Disney property in style. Not only are some trains wrapped in an anniversary design, but now they all glow the color of the train while driving around at night!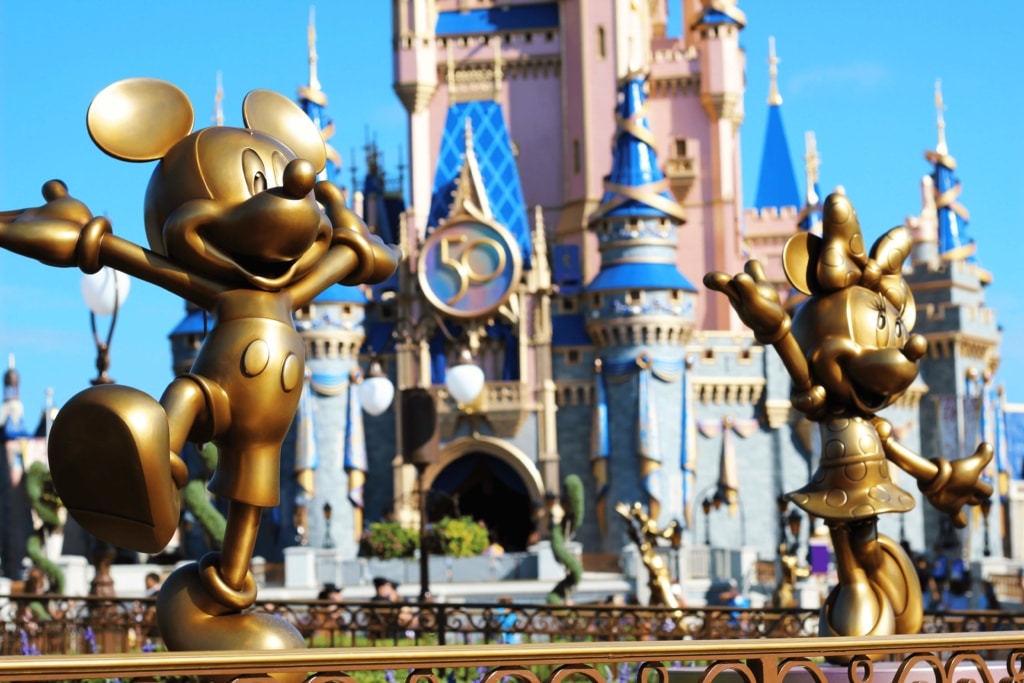 For another fun way to add some extra magic, Disney installed golden statues of beloved characters! These 50 amazing sculptures are a fabulous addition and are in all four theme parks. Be on the lookout when exploring Disney World's parks, because you won't want to miss these adorable 50th-anniversary adornments. Some of Disney's most famous characters have statues right in front of the castle. You'll find characters from Disney's vast catalog, including Pixar Star Wars, and Marvel all over the theme parks. Our favorite statues include Figment in EPCOT, Nemo & Dory in Animal Kingdom, and BB-8 in Hollywood Studios. Let us know when you find Tinkerbelle, she's hiding in the trees in Magic Kingdom.
Dazzling New Nighttime Entertainment
A day at Walt Disney World isn't complete without staying for the nightly entertainment! There is something special about Disney World's nighttime shows and the 50th Anniversary is the perfect occasion to make them even more magical. All four Disney parks have been giving an extra amount of pixie dust for the anniversary.
Enchantment and Harmonious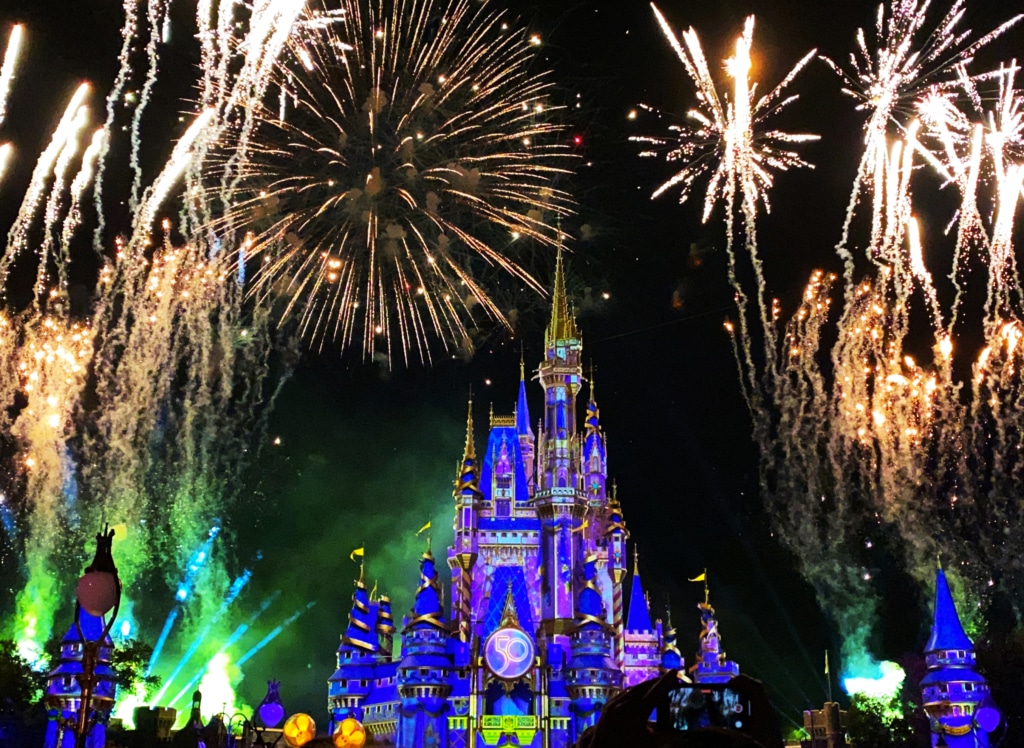 There are two new fireworks shows that started on October 1st: Magic Kingdom's Enchantment and EPCOT's Harmonious. Both of these spectacular shows celebrate the magic of Disney through music and art. The new show at Magic Kingdom premiered Thursday night with a special performance from Christina Aguilera, who sang her song "Reflection" from Disney's Mulan. A new song, "You Are The Magic," accompanies the start of the show. The message of the song is that Disney World's guests are the ones that make it such a magical place. Enchantment's show includes dazzling fireworks and projections that light up the castle and, for the first time ever, Main Street. Wherever you are, you will be surrounded by the brilliant colors of this amazing show. The show includes songs and images from classic Disney films, as well as more current fan-favorite movies.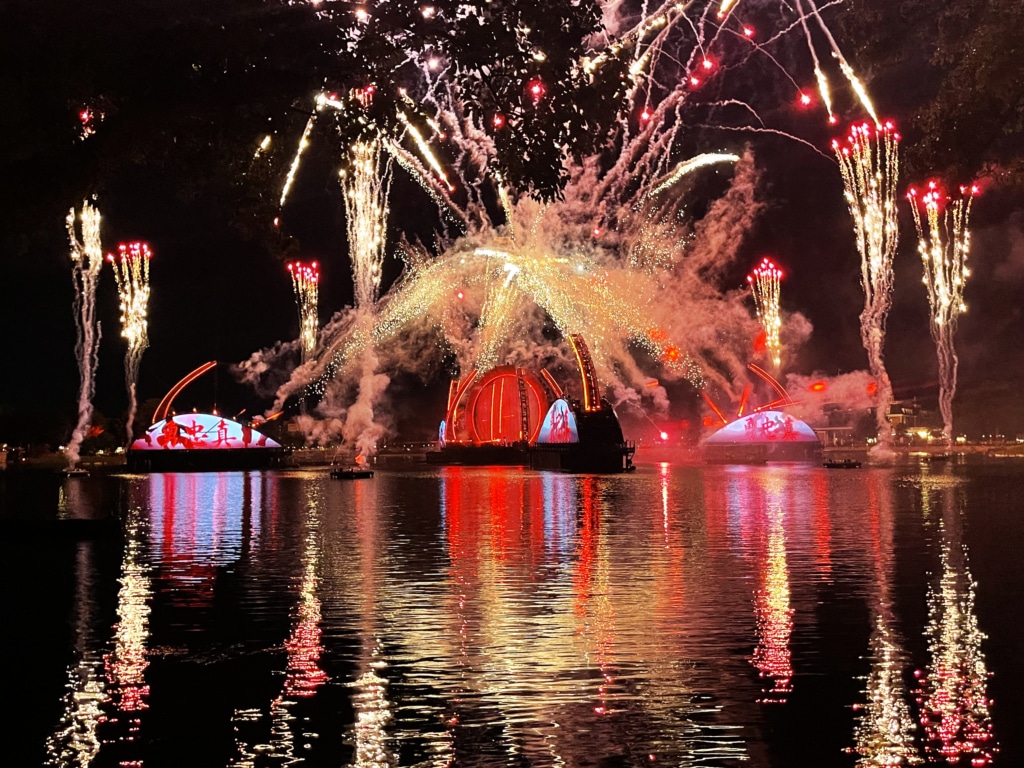 EPCOT's Harmonious takes place on the World Showcase Lagoon. The show is a dazzling display of pyrotechnics, fireworks, moving fountains, and more! This is one of the largest nighttime shows ever created for Disney, so it truly is awe-inspiring. The show celebrates how people from all over the world have been brought together by the magic of Disney. Harmonious features music from Disney movies sang both in English and in other languages from around the world. During the show, you'll hear some of your favorite songs from The Lion King, Aladdin, Coco, Mulan, and more. The soundtrack features 240 artists from different cultures and backgrounds! This is the perfect way to end your day of exploring EPCOT's World Showcase.
Beacons of Magic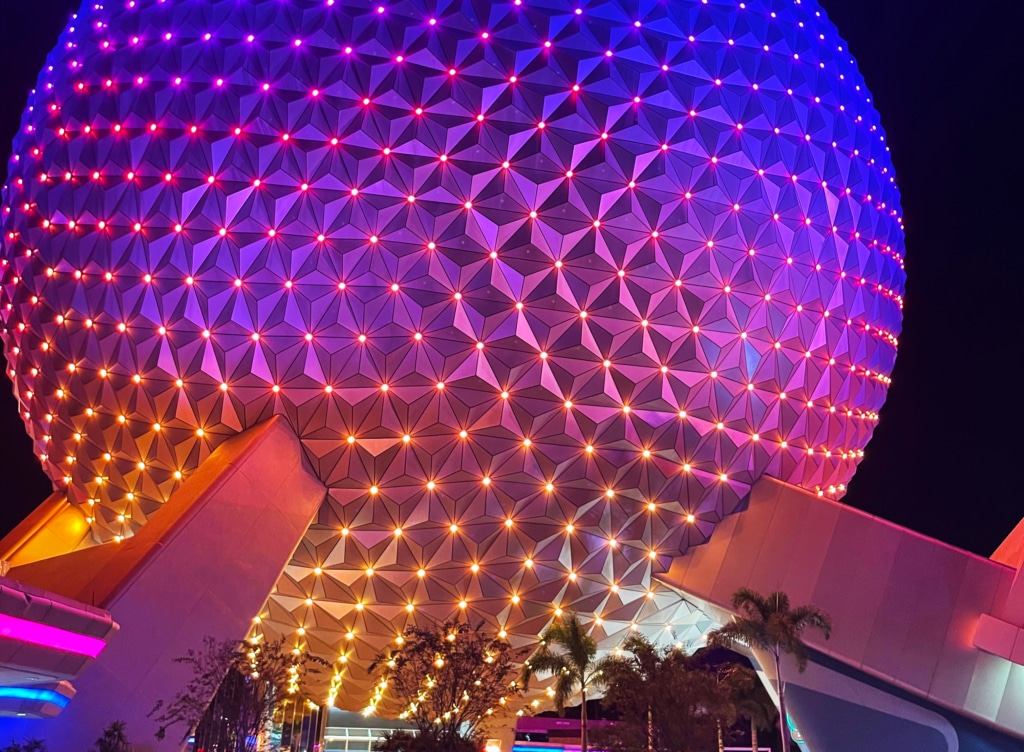 Another beautiful way that Disney has added some extra magic is with the new Beacons of Magic. Cinderella's Castle twinkles as if it had been transformed by the Fairy Godmother's magic wand. At night, the castle sparkles and shines in a brilliant new way. EPCOT's Spaceship Earth now has brand new lights that shine like stars in the night sky. With just a spark of inspiration, the globe has been transformed into a beacon of stardust. The Tree of Life at Animal Kingdom ignites with the lights of enchanted fireflies, thus illuminating the beautiful carvings of the tree. These lights highlight the beauty of nature and the magic that Earth produces each day. In Hollywood Studios, Tower of Terror is truly brought back to life. The Hollywood Tower Hotel transforms back into its former glory of being a lively hotel, complete with guests dancing in the sky-high Tip Top Club.
A Delicious Way To Celebrate Disney's 50th Anniversary
Part of the fun of attending any party is enjoying the delicious treats! Of course, Disney World went all out for their 50th Anniversary Celebration. There are tasty food options all over the parks, resorts, and Disney Springs. From dishes inspired by the opening day of Disney World to treats with an EARidescent twist, there are options for everyone!
Opening Day Inspired Treats at Magic Kingdom
There are a few options for foods inspired by the original 1971 attractions of Walt Disney World. Friar's Nook in Fantasyland is offering two treats with a nod to Mr. Toad's Wild Ride. The Toad Burger and the Mr. Toad Dome Cake both feature the image of the iconic star of that ride. The unique burger features olive eyes and a pickle for a tongue, while the delicious dome cake is in the shape of Mr. Toad. Haunted Mansion was one of the rides that were open in 1971, so naturally, there are treats that honor the beloved ride. The Happy Haunts milkshake is blackberry flavor, has a purple chocolate-glazed donut on top, and comes with a Haunted Mansion straw. There is special edition Dumbo churros that have tasty peanut dust and come in an adorable Dumbo "Peanuts" bag.
There is also a selection of meals that are close to what guests would have been eating at Walt Disney World's opening day. The 1971 Meal is available at different restaurants throughout Magic Kingdom. The restaurants that offer these meals are Casey's Corner, Pecos Bill Tall Tale Inn, Cosmic Ray's, and Pinocchio's Village Haus. At Casey's Corner, the meals include chili-cheese hot dogs and fries. Pecos Bill's 1971 meal comes with beef nachos and a side of yellow rice. The meal at Cosmic Ray's has a barbecue chicken sandwich and chili-cheese fries. Pinnochio Village Haus' 1971 Meal includes an all-meat flatbread and garlic knots. Each restaurant includes a fountain drink and a special 50th Anniversary cake pop with every 1971 Meal, so you really get your money's worth with these meals.
Fun Celebration Snacks at Magic Kingdom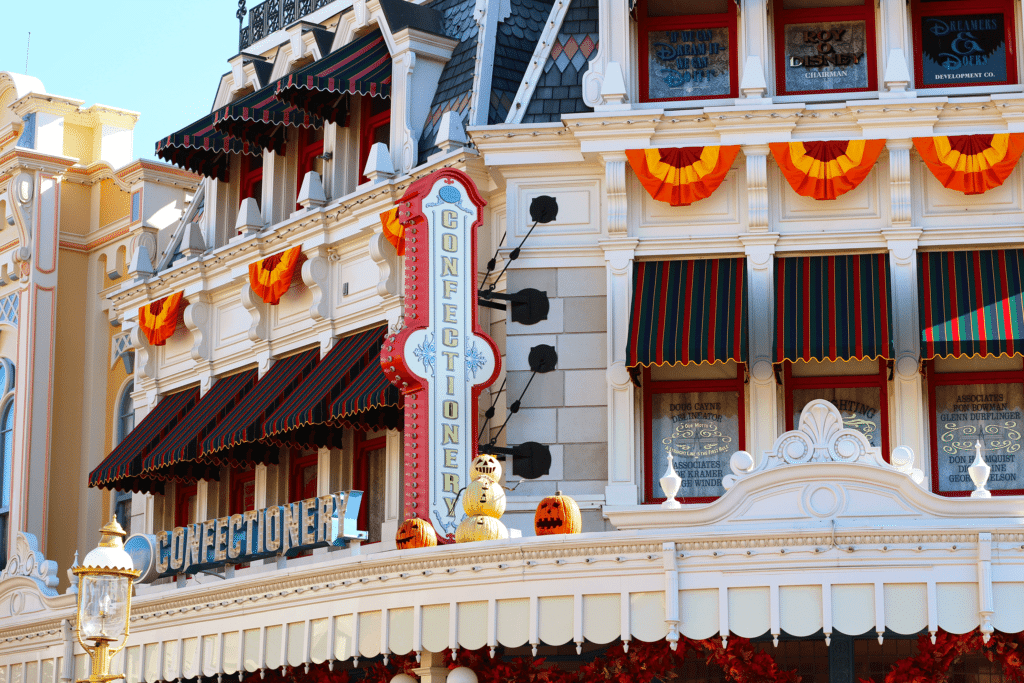 There are some limited-time-only treats that you won't want to miss when attending Disney World's 50th Anniversary Celebration. There is a delicious chocolate Mickey Dome Cake at Gaston's Tavern with creme brulee inside and, of course, adorable Mickey ears on top. The classic churro gets a delicious makeover with the Royal 50th Churro, which has strawberry sugar, marshmallow drizzle, and shimmer sprinkles. Of course, there are some elaborate treats that really go all out for the anniversary. At Casey's Corner, you can order the 50th Celebration Hot Dog. This unique, salty/sweet snack has strawberry bacon jam and funnel cake pieces on top. The Plaza Restaurant is serving a giant dessert called Cheers To 50 Years. This dessert that serves 4-6 people comes with ice cream, cookies, brownies, fudge, and a whole Mickey pretzel! Yum! The Confectionery on Main Street also just re-opened with a brand new build-your-own popcorn bar.
50th Anniversary Celebration Food Around Disney World Property
The delicious celebrations don't end at Magic Kingdom! There are some amazing 50th Anniversary treats at Disney World's other theme parks and Disney Springs. There are special 50th Mickey Bars at Animal Kingdom, which are hand-dipped in blue raspberry coating and shimmering sprinkles. This is such a cute twist on a classic Disney Treat! Another awesome 50th Anniversary dessert is the Chocolate Fiesta Pyramid at San Angel Inn Restaurante in EPCOT. This festive dessert has a chocolate pyramid with chocolate mousse and toffee inside, sat on top of a Tres Leches cake. If you're looking for something savory, some of the restaurants are serving up some of Walt Disney's favorite meals. The Hollywood Brown Derby at Hollywood Studios is offering Filet Mignon with Walt's Hash topped with an egg, just how Walt liked it. Disney Springs' Amorette's is serving a sophisticated 50th Petit Cake that you won't want to miss.
There are a couple of new restaurants at Disney World that opened just in time for the 50th Anniversary Celebrations! Space 220 Restaurant in EPCOT takes guests high above Earth to enjoy a meal amongst the stars. The menu includes innovative food and drinks, including the Celestial Cosmopolitan which comes with Moon Dust! The new Steakhouse 71 at Disney's Contemporary Resort is named for the year Disney World opened! The casual steakhouse has 1970s-style decor and serves up dishes that take inspiration from Walt's favorite foods, including Prime Rib Hash.
Special Treats At Disney Resorts
The Contemporary Resort is also offering "Celebration at the Top," a special dining event at the resort's California Grill and its observation deck. Guests will enjoy a sophisticated meal of sushi, small plates, and specialty drinks. Then, guests will step outside to enjoy the incredible views of the Enchantment fireworks show. Afterward, guests will return inside for dessert and coffee. Other resorts are also serving up some special treats for Disney World's 50th Anniversary, so there is probably a fun snack at whichever resort you're staying at! Beaches & Cream Soda Shop at the Beach Club Resort has a 50th Milkshake with an entire slice of cake on top! There is an adorable Vintage Minnie Brown Betty Profiterole with spiced apple filling at the Grand Floridian Resort. A few resorts are serving Walt Disney's favorite chili in a delicious bread bowl.
New Attractions and Fun
There are some new family-friendly additions to the parks that guests will love! Remy's Ratatouille Adventure is a new 4-D attraction in EPCOT's France Pavilion. Guests will shrink down to join Remy on a frolic around the kitchen of Gusteau's famous restaurant in Paris. Marvel at how big everything in the kitchen is from a rat's-eye view, including larger-than-life fruits and veggies. After you narrowly escape being chased around the restaurant, you might have built up an appetite. Luckily, this attraction is next to the brand-new La Creperie de Paris which serves up some French favorites. Either head to the window to take a crepe to go or sit down to a three-course meal of crepes and galettes.
KiteTails is a fun new show at Disney's Animal Kingdom. Some of Disney's most beloved characters will take to the sky in this soaring show of 3D kites and windcatchers. There are two different shows throughout the day, so be sure to catch both when you're visiting! One show features songs and characters from The Lion King, while the other show has inspiration from The Jungle Book. This show will take place at the Discovery River Theater throughout Walt Disney World's 50th Anniversary Celebration.
More Magic Is On Its Way!
There is still more to come in the next 18 months of Disney World's 50th Anniversary Celebration! More rides, more shows, more resorts, and more magic are on their way! The first new addition, which is arriving on November 18th, is Disney Springs' new Cirque du Soleil show "Drawn to Life". Disney animation comes to life in this new performance by the world-famous acrobatic group. This mesmerizing show is the first collaboration between Walt Disney Animation, Walt Disney Imagineering, and Cirque du Soleil. Another upcoming addition that will dazzle guests is the new Star Wars: Galactic Starcruiser resort. This will be an immersive experience that will take passengers aboard a spacecraft where they will live, dine, and play a vital part in how the thrilling story unfolds.
Two incredible new attractions will potentially open within the next year and a half. The first, which has a confirmed opening date of 2022, is the Guardians of the Galaxy: Cosmic Rewind roller coaster. This ride is family-friendly and will take guests on an unforgettable journey through the cosmo with some of their favorite characters from the movies. The ride will be one of the biggest indoor coasters in the world and will feature the first reverse-launch at any Disney Park. The other attraction that may be opening before the anniversary celebration is over is the TRON Lightcycle Run. Inspired by the TRON movies, this attraction will take guests on a motorcycle-like race through the Grid's computer system. There hasn't been an official announcement about this ride's opening date, but the coaster's progress can be seen from Magic Kingdom and it looks quite close to complete.
Where To Stay When You Visit For Disney's 50th Anniversary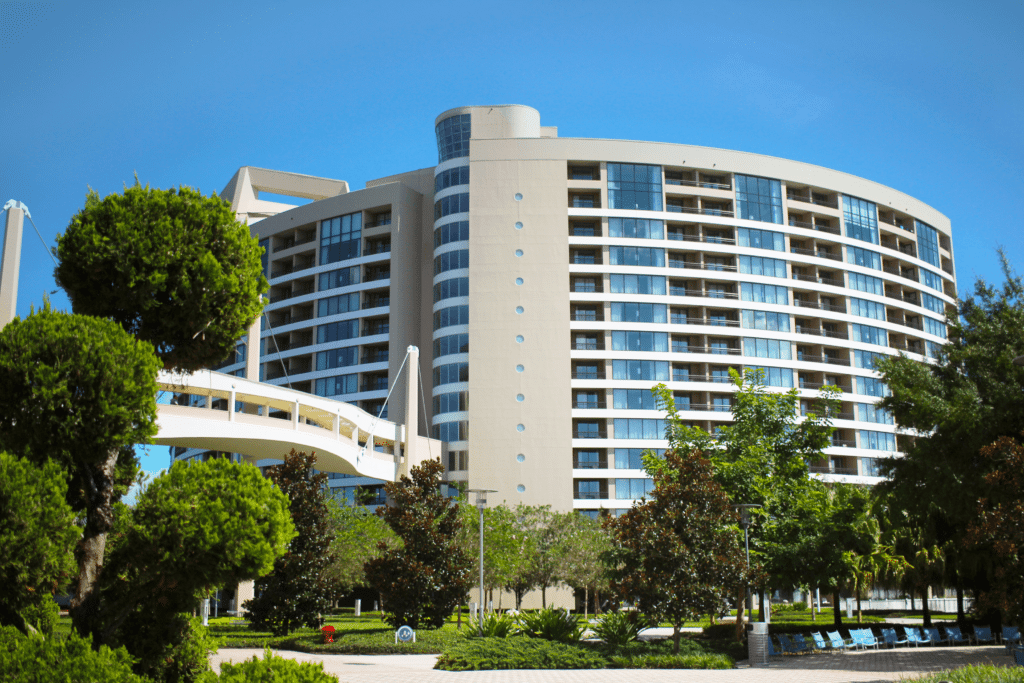 There are tons of incredible resorts to choose from when visiting Walt Disney World! Once you experience the magic of Disney World, you'll dream of returning year after year. With Disney Vacation Club, that dream can become a reality! Owning a DVC timeshare means that you'll have a lifetime of amazing vacations. Even after Disney World's 50th Anniversary Celebration is over, there are still a million reasons to return to the parks. If you have an interest in becoming a DVC member, Fidelity is here to help you find the perfect amount of points for you at a fraction of the price of retail.
When you're visiting during the anniversary celebrations, we think that staying at one of the DVC resorts around Seven Seas Lagoon will be unbelievably magical. You might catch an incredible view of Enchantment when staying at Disney's Bay Lake Tower, Polynesian, or Grand Floridian resorts. These resorts are all on the Magic Kingdom monorail line, so getting to the celebrations couldn't be easier!