A Unique DVC Experience
This Sunday marks 15 years since The Villas at Disney's Wilderness Lodge opened as the fifth Disney Vacation Club resort. Adding 181 luxury units to the DVC portfolio has made this a beloved resort to Disney Vacation Club members. Its success as a unique vacation experience is evident from expansion plans and rising resale prices.
DVC Resales Opportunity
As a Disney Vacation Club resort, The Villas are available only to DVC members and their guests. In 2000, when The Villas opened, DVC membership at Wilderness Lodge sold for $67.00 per point. Today, many of those memberships are being sold on the DVC resale market for upwards of $100 per point. Vacationers who purchased DVC membership at Wilderness Lodge in 2000 may sell their points for more than 150% of the initial sale price!
Impeccable service and unique Pacific Northwest decor garner a rating of "Excellent" from reviewers on TripAdvisor. What's more, establishing it as one of the most premier resorts in the world.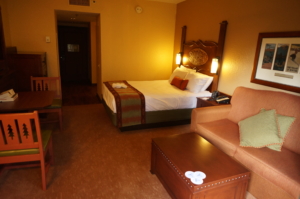 Due in part to the popularity of The Villas, Disney will be expanding its DVC offering at Wilderness Lodge with 26 cabins lining Bay Lake. There has not been any announcement regarding when the cabins will open, but construction is likely to continue into 2018.