What is Disney Springs?
Disney Springs (formerly Downtown Disney) is a shopping, dining and entertainment district with something for everyone. Located at Walt Disney World Florida in Orlando, it is within walking distance from Old Key West Resort and Saratoga Springs Resort & Spa, both part of the Disney Vacation Club Resorts Collection. It is outside of the Disney theme parks and you do not need to pay for admission to get in.
Disney Springs features world-class cuisine, shopping at flagship stores and nightly live entertainment across multiple stages and venues. We have put together a list of everything Disney Springs has to offer for family vacation, groups, date nights and nightlife at Disney Springs.
Restaurants at Disney Springs
Let's start with everyone's favorite… the food! Disney Springs restaurants are listed in 4 distinct categories: Quick Service, Table Service, Specialty and Lounges (AKA bars). Below you will find a complete list of all of the best restaurants at Disney Springs, including how much they cost, reviews and more.
Vacation Within Walking Distance To Disney Springs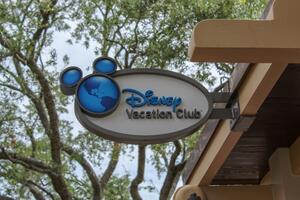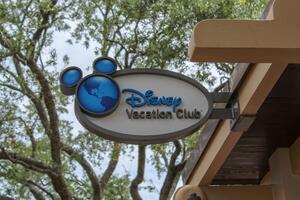 Disney Springs is located right in the center of the action. On the Walt Disney World Florida property, amongst DVC Resorts and Disney hotels. Disney offers ferries, gondolas, and trams as just a few of the transportation options you will have upon arrival.
DVC Member Dining Discounts
Be sure to bring your Disney Vacation Club Member card to receive DVC member discounts at Disney Springs & Downtown Disney Restaurants! Even though the latest DVC resale restrictions prevent some of these benefits from transferring, you are still saving thousands more when you buy DVC resale! Not a member? Check out our current listings of DVC Resales to save on your next Disney vacation.
Every Type of Cuisine at Disney Springs
Quick service

Just as it sounds, offers visitors the opportunity to quickly purchase a variety of foods at a counter a la carte and sit down to eat at a table. This is a cafeteria-style dining option great for a quick bite without the fuss of being waited on. In this category, you will find sandwiches, pizza, deli-style salads and pasta, as well as Cuban, Irish and Asian street foods. Don't let the delivery method fool you, Disney's quick services options are usually made with fresh ingredients, cutting edge culinary techniques and are just plain delicious.

Table service

Also known as full-service dining, it allows you to sit down at a table, relax and let someone bring you your food and drinks… and clean up after you! Disney's waiters and waitresses are sure to make your dining a magical experience with customer service unrivaled in the industry. With dozens of options to choose from, you are sure to find the best dining at Disney in this category.

Specialty food & beverage


Refers to the retail-style stops along Disney Springs to satisfy your sweet tooth and need for caffeine. From the many bakeries and sweet shops to 2 Starbucks locations.

Disney Night Life

Last but not least, Disney's Bars and Lounges are sprinkled throughout Disney Springs to satisfy a different kind of thirst. In addition to the bars located at almost every restaurant, you will find a handful of adult-only locales.
Disney Springs Restaurant Pricing Key
Based on Disney's Restaurant Prices listed on their guide maps, you will find dollar symbols below representing the ranges below:
$ = 14.99 and under per adult
$$ = 15-34.99 per adult
$$$ = 35-59.99 per adult
$$$$ = over 60 per adult
What Restaurants Are At Disney Springs?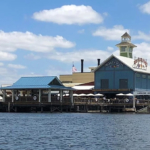 The BOATHOUSE® $$
An upscale nautical themed dining experience, this restaurant is BY FAR our favorite! Family-friendly, romantic, great for groups and late-night dining. With the world's largest restored Amphicar collection, enjoy waterfront dining at its finest. See a full review of the Boathouse restaurant here.
Bongos Cuban Café™ $$
This Cuban fusion restaurant is relatively quiet during the day and comes alive after dark. Great for families, a quick bite at their outside walk-up counter, or a full-service dining experience. Live entertainment after hours. Located right next to the AMC movie theater, House of Blues and Cirque du Soleil for a meal before your show!
Chef Art Smith's Homecomin' $$
An all-American restaurant with the best fried chicken at Disney Springs. Chef Art Smith's restaurant highlights local ingredients in farm-to-table cuisine with a southern charm. Famous for comfort food and their signature moonshine.
The Edison $$
Open for lunch and dinner, the Edison is an industrial prohibition themed restaurant with hand-crafted cocktails and nightly entertainment. We highly recommend a night out at the Edison, which turns into a 21 and up night club after 10 pm most evenings. Featuring jazz singers, cabaret dancers and even contortionists, you are sure to be entertained!
Enzo's Hideaway Tunnel Bar $$
With a secret "speakeasy-style" entrance through The Edison OR a neon-lit front door under a tunnel, this is Disney Springs' best Italian restaurant. Sip on prohibition-era cocktails and enjoy delicious Italian cuisine in a rum-runner tunnel environment. Known for having the largest selection of rums and scotches than any other restaurant at Disney Springs.
Frontera Cocina $$
Authentic Mexican cuisine from eight-time James Beard Award winner Chef Rick Bayless. Known for their margaritas, guacamole and carne asada. A friendly environment is great for family, groups and dates.
House of Blues® Restaurant & Bar $$
One of the original restaurants to be built at Downtown Disney, this all-American rocker-themed restaurant and bar is attached to the world-famous concert venue House of Blues.
Jaleo® by José Andrés
Coming soon in 2018! Authentic Spanish cuisine including paella, tapas, sangria and more!
Maria & Enzo's $$
An Italian Restaurant at Disney Springs, Maria & Enzo's serves Roman and Sicilian inspired dishes in a 1930's Italian airline terminal themed environment. Handcrafted pastas and mouth-watering family-friendly options. Open for lunch and dinner.
Morimoto Asia™ $$
Japanese-American fusion in an Asian modern-industrial environment. One thing is for sure, make sure you are NOT in a hurry if you plan to dine here. We recommend the short ribs (served as an appetizer or main dish).
Paddlefish $$$
A full-scale steamboat replica, this waterside seafood restaurant offers family, friends, and couples a unique upscale dining experience. Known for their steamed crab boils, Paddlefish serves the best seafood at Disney Springs. (Formerly known as Fulton's Seafood House). We recommend dining on the rooftop after dark for stunning views of the night sky.
Paradiso 37, Taste of the Americas $$
This unique concept offers guests the best culinary offerings from 37 countries of North, Central and South America. The waterfront location gives diners stunning views whether seated inside the dining room or on the patio. Enjoy live entertainment, a well-stocked tequila bar, and the world's coldest 29º beer.
Planet Hollywood Observatory™ $$
An All-American restaurant known for their massive burgers, the Planet Hollywood Observatory is one of the best spots in Orlando for film and music buffs everywhere! Take your time and wander the newly-renovated floors to see memorabilia from Star Wars, Hunger Games, the Wizard of Oz, Michael Jackson and thousands more… over 4,500 to be exact.
Rainforest Cafe® $$
You will truly feel like you have stepped into a tropical rainforest from the moment you are greeted by a hanging anaconda above the hostess stand! Every square inch is decorated with tropical vegetation, animatronic stomping elephants, snapping crocodiles and chest-pounding gorillas, waterfalls, and so much more!
Raglan Road™ Irish Pub and Restaurant $$
Known for its Fish and Chips, this Irish Pub will transport you across the ocean into Ireland! Kick up your heels 7 days a week with nightly entertainment by energetic bands and YES! even Riverdancing by The Rhythms of Raglan. Top chefs from Dublin have created a menu of authentic offerings of the very best of modern Irish cuisine. Open for brunch, lunch, and dinner.
Splitsville Dining Room $$
Not your average bowling alley, Splitsville Luxury Lanes features a full table service restaurant in a diner-style atmosphere with fun for the whole family. To our utter shock and surprise, Splitsville came highly recommended for the best sushi at Disney Springs… of all things!
STK Orlando® $$
Open for dinner only, STK Orlando is an ultra-modern upscale steakhouse located at Disney Springs. Known for their late-night scene, we recommend seating on the patio for views overlooking all of Disney Springs and Lake Buena Vista.
T-REX™ $$
Step into a prehistoric world in this dinosaur-themed café. Featuring animated life-sized dinosaurs at every turn, enjoy lunch or dinner with the entire family. Plan to wander the restaurant and discover interactive exhibits. The menu features "mammoth main courses" like the Guac-asaurus Burger, Tar Pit Fried Shrimp, and Chocolate Extinction – a colossal Butterfinger-topped fudge cake.
Terralina Crafted Italian
Coming soon – Winter 2018 Inspired by Italy's Lake District, the menu boasts genuine Italian fare (formerly Portobello Country Italian Trattoria).
Wolfgang Puck® Bar & Grill
Coming soon in 2018! "Modernizing the traditional bar & grill", this restaurant will feature Puck's signature California-Asian fusion cuisine.
If you are planning to bring your family to Walt Disney World Florida, as well as the opportunity to stay within walking distance of Disney Springs, check out our current listings of Disney Vacation Club resales. We hope you have enjoyed our Disney restaurant reviews! Check back for updates as the new additions under construction open to the public.