If you're an avid skier, a ski trip is probably already part of your yearly agenda. Spring has arrived, but it's never too early to start planning your next winter vacation. When you're looking for lodging near the slopes, luckily there are tons of incredible options. Some of the best timeshare brands even have ski-in/ski-out resorts in the mountains that would be perfect for your next getaway. Not only will you enjoy close proximity to the slopes, but you will also enjoy all of the benefits of staying at a timeshare resort. To see our top picks for the best ski timeshares, keep reading.
Best Ski Timeshare in Breckenridge, Colorado
Breckenridge, Colorado is a scenic ski town in the heart of the Rocky Mountains. The ski slopes here are some of the most famous in the world, so this is a winter wonderland for any skier. The skiing in Breckenridge is great for beginners and experts alike. There are five peaks and 34 ski lifts, including the highest chairlift in North America! So, whether you're a new skier or a seasoned pro, there will be tons of trails for you to explore in Breckenridge. Not only does Breckenridge have a world-renowned ski resort, but also a lively downtown area. The unique shopping and dining options will keep visitors entertained on any day not spent skiing.
Grand Timber Lodge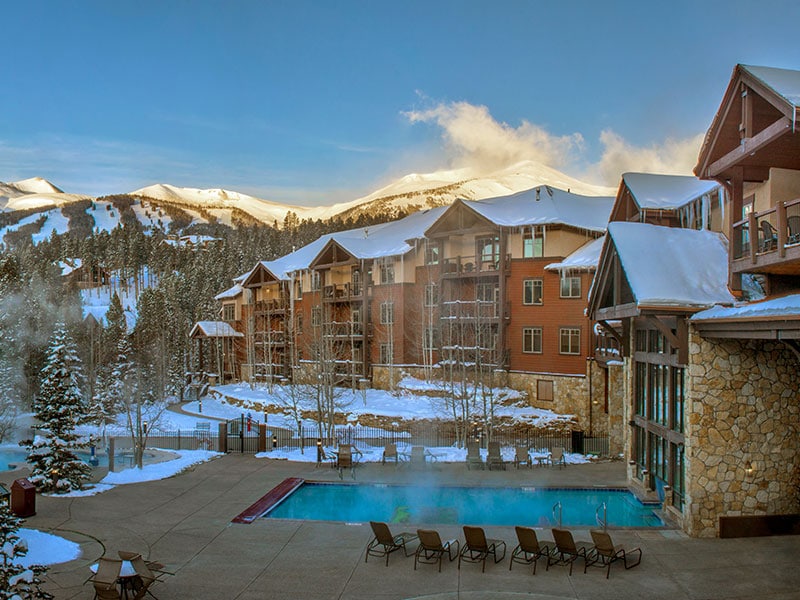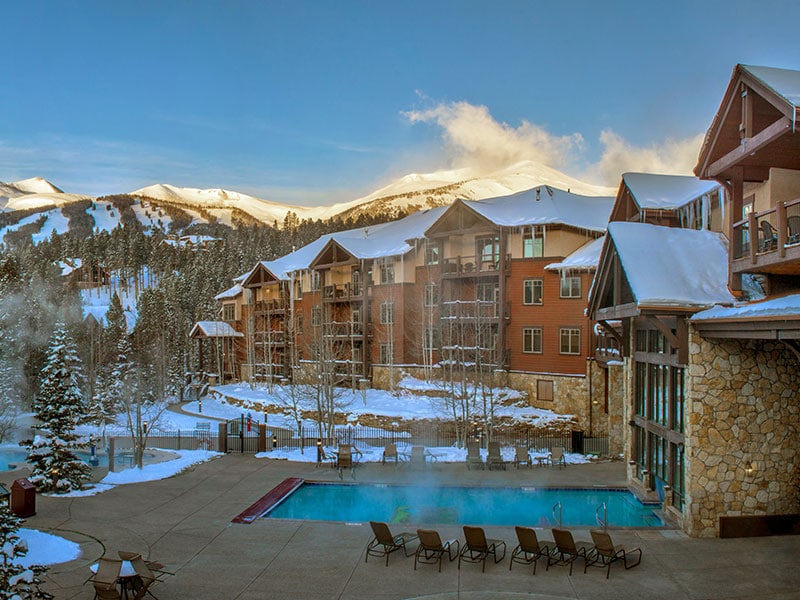 Breckenridge Grand Vacations has some of the best ski timeshare resorts in Colorado. Grand Timber Lodge is our top pick because of its beautiful amenities and accommodations. This resort sits right in between Peaks 8 and 9 of the Breckenridge Ski Resort, which means hitting the slopes is a breeze. The Snowflake Chairlift is less than 75 yards from the resort and you can ski right onto resort property via the Lower Sawmill trail. The fact that this resort is ski-in/ski-out is just one of many luxuries available to guests. Resort guests have access to multiple all-season heated pools, a spa, a movie theater, a saloon, and more!
The accommodations at Grand Timber Lodge are just as fabulous! Guests can choose from one-, two-, and three-bedroom villas that provide all of the comforts of home. The gourmet kitchens, spacious living rooms, and private balconies will keep every guest satisfied. Timeshare owners will experience some of the best skiing and accommodations while visiting this Breckenridge timeshare resort.
Best Ski Timeshare in Park City, Utah
Park City is a popular ski town in the western Rocky Mountains of Utah. This city hosted the 2002 Winter Olympics, so as you'd expect, skiers and snowboarders travel from around the world to visit Park City. Park City also hosts the Sundance Film Festival each year, so if you're a film buff you may want to plan your ski trip accordingly. Park City is home to two world-renowned ski resorts, Park City Mountain and Deer Valley. Deer Valley Resort will actually limit the number of skiers on the slopes so that everyone can have the best experience possible. Keep this in mind when traveling to Park City during popular times of the year!
Westgate Park City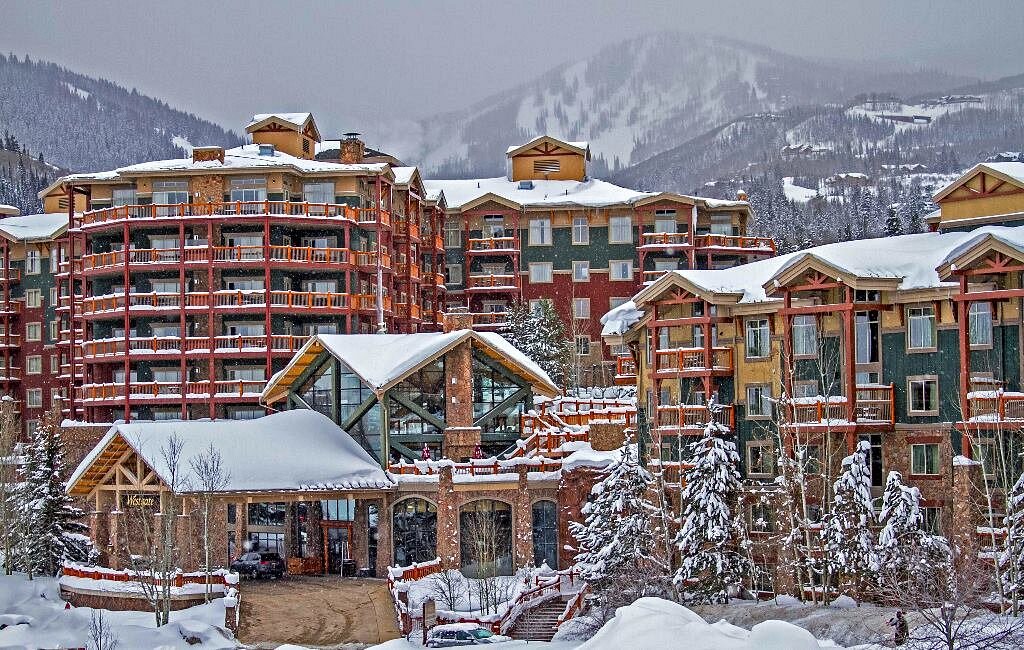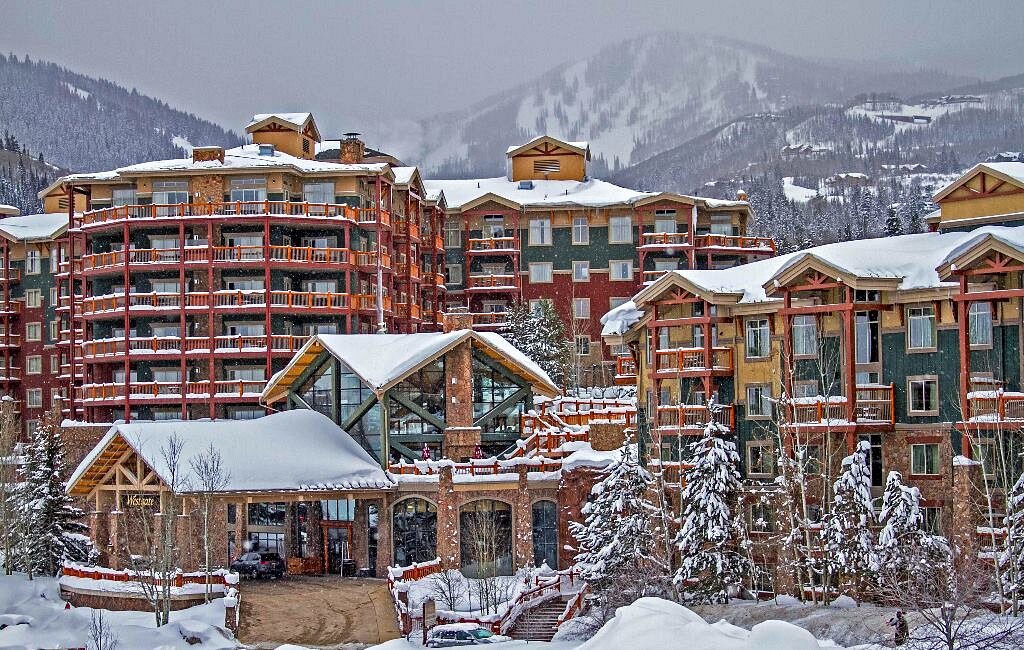 Westgate Park City is considered one of the best ski timeshare resorts in all of Utah. Located at the base of Canyons Village, this resort is just steps away from the ski slopes. Guests will be able to easily access more than 7,300 skiable acres of powdery slopes. The resort even offers complimentary ski valet services, so you won't have to carry around your heavy equipment back and forth. Westgate Park City is home to the Edge 360 Dining Experience where diners can enjoy panoramic views while dining in climate-controlled Alpenglobe domes. When you're looking to relax after a long day of skiing, head to the resort's luxury spa or soak in one of the resort's many hot tubs.
The luxury continues throughout the guest accommodations at Westgate Park City. The one-, two-, and four-bedroom villa options are all complete with full kitchens that are complete with all of the essentials. Villas also have laundry in-unit, rustic fireplaces, and updated furniture. The lodge-style feel of this resort's accommodations will make every evening by the fire a cozy one.
Best Ski Timeshare near Lake Tahoe, California
Lake Tahoe, California is most notable for its water-based activities but there is also world-class skiing in the area too. Palisades Tahoe is credited with putting California skiing on the map. Home to the 1960 Winter Olympics, this ski resort has an expansive terrain that includes beginner slopes. There are 42 lifts that take guests to the over 6,000 acres of skiable mountain zones available at Palisades Tahoe. There were recent improvements made to the ski resort, so a ski trip to Palisades Tahoe will include state-of-the-art amenities. After a fun day of skiing, head to the European-inspired streets of the Village at Palisades Tahoe which has fabulous shopping and dining options.
Olympic Village Inn by Grand Pacific Resorts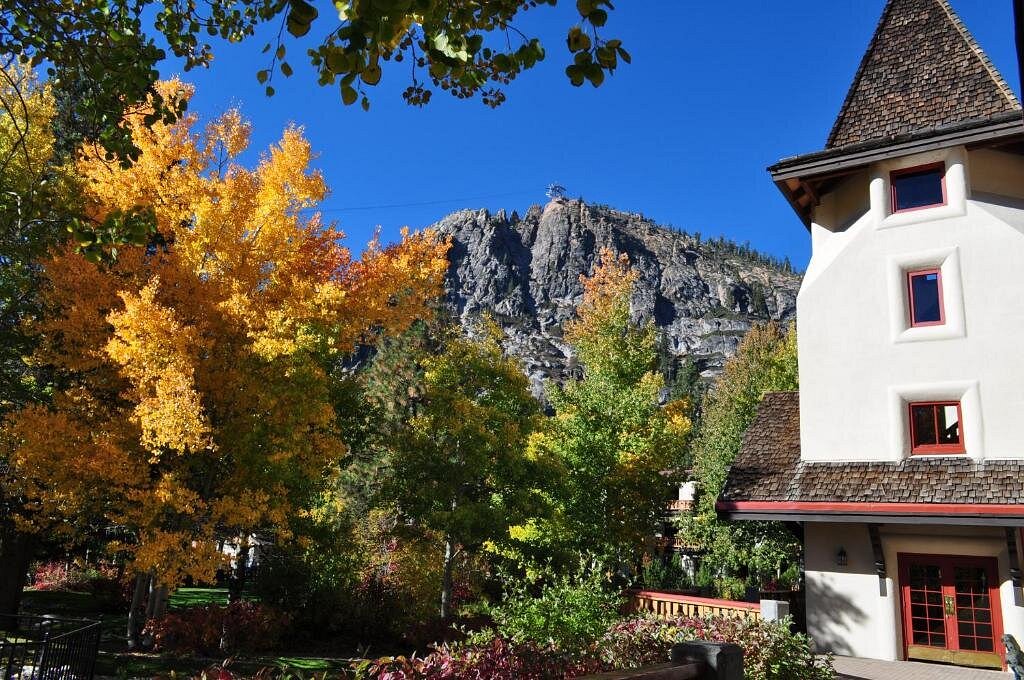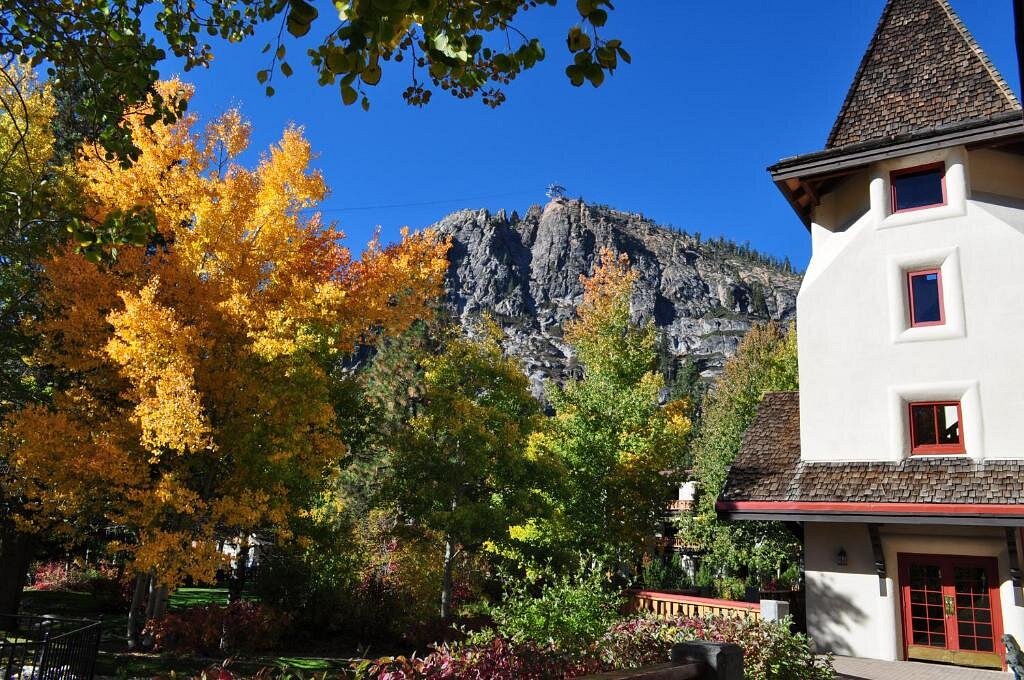 Olympic Village Inn is a mountainside chalet just minutes from Palisades Tahoe resort. This resort is surrounded by sky-high mountains of the Sierra Nevada Range. When this Grand Pacific Resorts property is dusted with snow, it truly transforms into the ultimate winter wonderland. This resort was originally built to house the athletes of the 1960 Olympic Games. Olympic Village Inn is just minutes away from the nearby ski resort's chair lifts, so you will be up the mountain in no time. The resort even has shuttles that will take you straight to the ski resort! The resort is also within walking distance of Olympic Village, where visitors can enjoy fabulous dining or stock up on the latest ski gear.
After a long day of enjoying the slopes, Olympic Village Inn is the perfect place to unwind. The rustic, lodge-style accommodations will make any guest feel completely cozy. Snuggle up next to the fire with a cup of hot cocoa and enjoy a winter flurry outside your window. Enjoy the fabulous mountain views from your spacious timeshare villa, complete with an open living room and kitchen space.
Best Ski Timeshares For Sale With Fidelity Real Estate
If you're looking to own a timeshare at one of the best ski resorts in the country, Fidelity can help. A yearly ski trip is a great excuse to look into buying a timeshare, so why wait? Browse our selection of timeshare resale listings today. Simply make an offer on the listing of your choice right online, or call us at 407-465-5188 for guidance.