Fall is the perfect time to curl up with a warm cup of cocoa and a good book. What's more, it's the time of year to see striking displays of fall leaves announcing the change of seasons. In the US, leaves start to change mid-September at the higher elevations. Typically colors are at their most vibrant from early-October to mid-November. If you want to plan a peaceful trip to view the best autumn has to offer, these destinations offer just a few of the best places to travel in the fall.
Take a look at the best places to see fall foliage and start planning your trip!
*Curious about peak fall foliage times for other destinations? Check out this handy Fall Foliage Map.
Massachusetts: Wyndham Bentley Brook (Hancock, MA)
When to go: early- to mid-October
Nestled in the hills of western Massachusetts, the Wyndham Bentley Brook places you right in the middle of some of the best chances to view fall's striking colors. The resort is located in the historic town of Hancock, first settled in 1762. Cozy accommodations at the Wyndham Bentley Brook are perfect for relaxing after a hike through the hills or a day spent exploring the town. Additionally, suites range from studios with kitchenettes to two-bedroom condo-style units. Outside you will find fire pits perfect for roasting marshmallows!
See Wyndham Bentley Brook timeshares for sale.
Tennessee: Wyndham Smoky Mountains (Sevierville, TN)
When to go: late-October to mid-November
Tennessee is a fantastic vacation year-round, but fall brings out the best of the state. The Wyndham Smoky Mountains resort sits in the foothills of the majestic Smoky Mountains. The mountain backdrop makes this location the perfect setting to enjoy fall's most brilliant hues. Spacious villas at the Wyndham Smoky Mountains offers vacationers a home away from home on ground that span over 900 miles of protected woodlands. Nearby are plenty of attractions such as the Great Smoky Mountains National Park and the Tennessee Museum of Aviation.
Check out Wyndham Smoky Mountains timeshares for sale.
California: Marriott's Grand Residence at Lake Tahoe (South Lake Tahoe, CA)
When to go: mid- to late-October
With scenic mountain views, royal blue waters and plenty of opportunities to enjoy the outdoors, it's no wonder Lake Tahoe is one of the most sought after vacation destinations. Marriott's Grand Residence at Lake Tahoe offers the best of Marriott's accommodations in a locale that's picture perfect for taking in the fall foliage. Vacationers staying here enjoy a full-service spa, fitness center and kitchens or kitchenettes depending on the suite.
Take a look at Marriott's Grand Residence at Lake Tahoe timeshares for sale.
Colorado: Grand Colorado Peak 8 (Breckenridge, CO)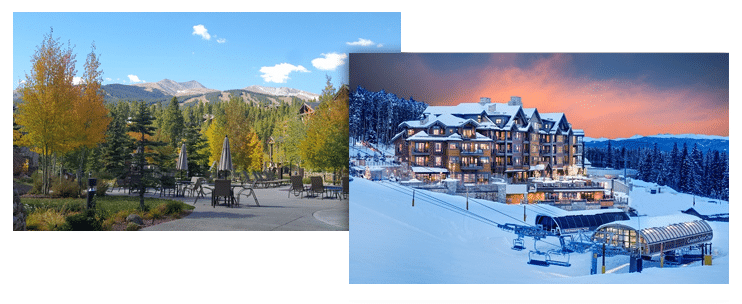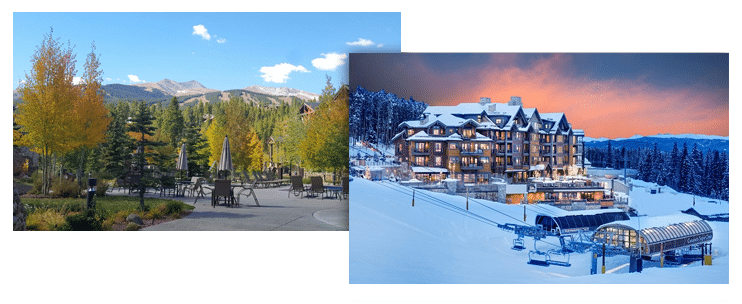 When to go: early- to mid-October
The Grand Colorado Peak 8 is best known as a top-notch ski resort and one of the best places to travel in the fall, set in the renowned ski town of Breckenridge. Don't forget, visiting during the fall can grant you the view of a lifetime: bright yellow-hued Aspen trees turn whole hillsides into gold. The resort itself sets the standard for luxury slopeside accommodations. Not to mention, full-service space, fully stocked lobby bar, and a collection of indoor and outdoor pools and hot tubs all make the Grand Colorado a fantastic place to kick back and watch summer turn into fall.
See Grand Colorado Peak 8 vacation ownership properties for sale.
Missouri: Wyndham Branson at the Meadows (Branson, MO)
When to go: late-October to mid-November
For a fall vacation that features beautiful foliage and amazing live entertainment, Branson, Missouri is where you'll want to go. Not to mention, cooler temperatures bring fall festivals like the Still Waters Resort Harvest Festival and the National Crafts & Cowboy Festival. Nearby the resort grounds, you can enjoy award-winning wines at the Stone Hill Winery and live music entertainment all throughout town. Comfy accommodations help you make the most of your autumn vacation. Suites feature condo-style floor plans from one to three bedrooms.
Don't wait! Take a look at our Wyndham Branson at the Meadows timeshare properties for sale today.
What do you think is one of the best places to travel in the fall? Let us know below!
Give Us A Call
Fidelity Resales is a full-service Florida licensed real estate broker specializing in assisting buyers and sellers with timeshare resales with 15 years of experience. Give one of our licensed real estate agents a call today. They are happy to assist you in finding your dream vacation ownership property.