There has been a great deal of speculation over the past several months about the Polynesian Villas & Bungalows. Specifically, the extensive construction taking place over at the resort. The wait is over since Disney has recently announced that phase one of Polynesian Villas and Bungalows will open in 2015!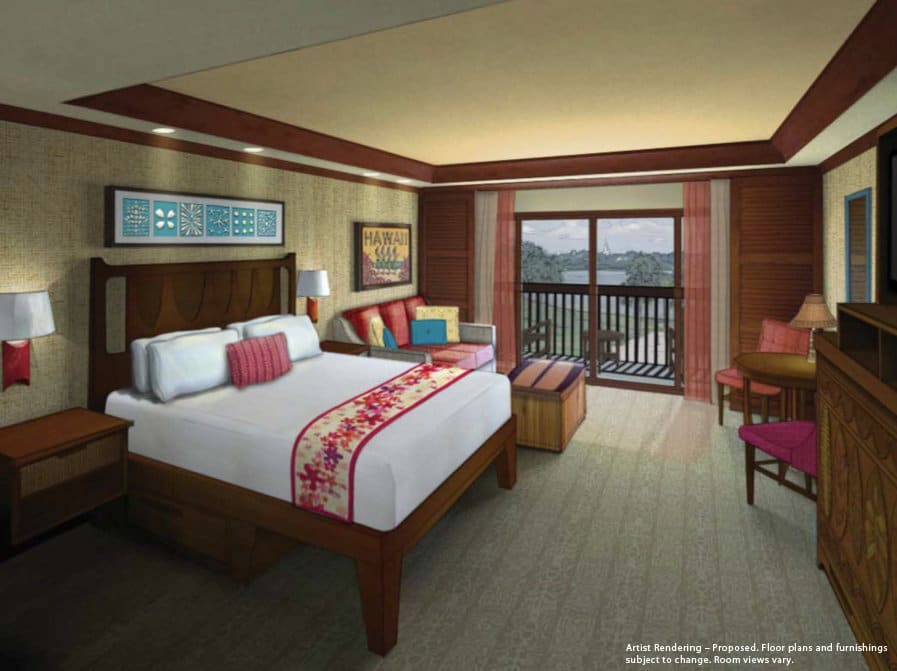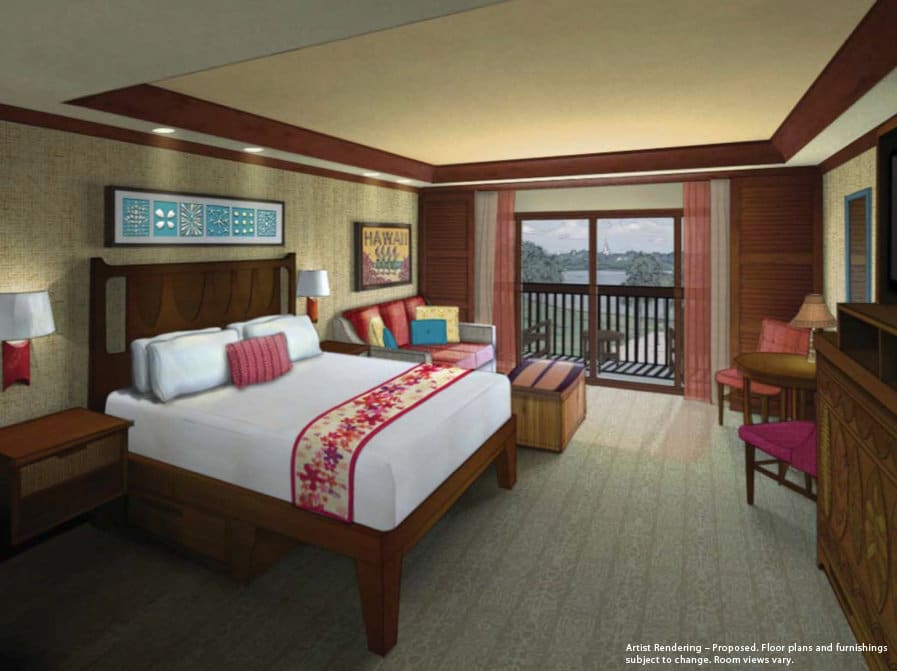 Disney just announced points for Polynesian Resort will go on sale to current DVC members on Monday, January 12! Non-DVC members won't be able to purchase until February 9th since being delayed. The first phase of accommodations is scheduled to open on April 1st. Phase One includes the Bora Bora Bungalows and some Deluxe Studio Villas.
2015 Points Chart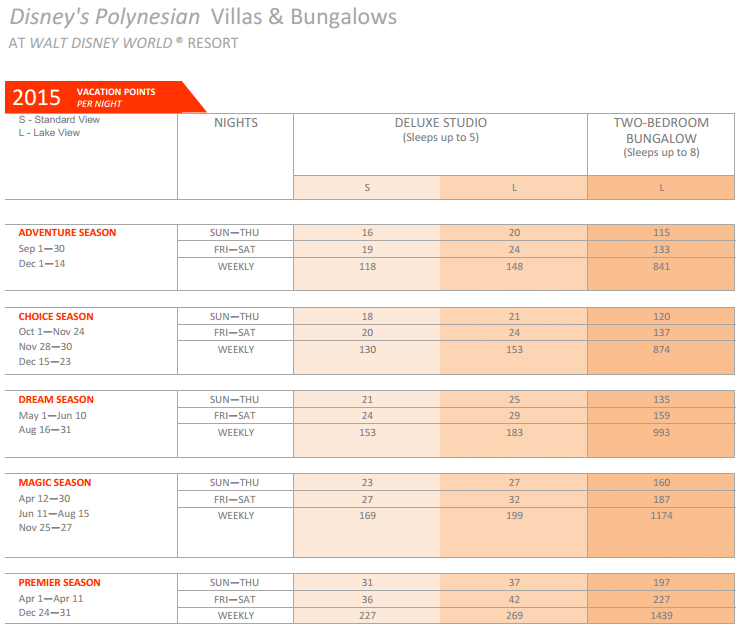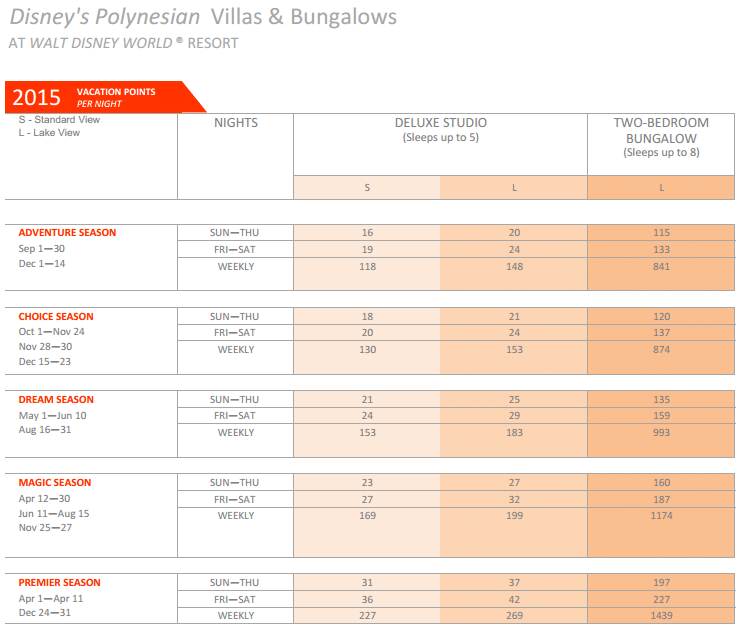 Three of Disney's Polynesian longhouses were converted to DVC units. The first phase of which will include only 360 Deluxe Studio villas. In addition to being the newest, these will also be the largest studio DVC villas out of all the resorts. Sleeping up to five guests, the 360 Deluxe Studio will have a kitchenette and spacious bathroom separated into two areas. Each studio will have the ability to connect to an adjacent unit to accommodate large groups.
Also new to Disney's Polynesian Resort are the exotic Bungalows. These sit upon the Seven Seas Lagoon and accommodate up to eight guests. They're the first of their kind at a DVC resort with a private boardwalk, plunge pool, and stunning views of Magic Kingdom for every bungalow.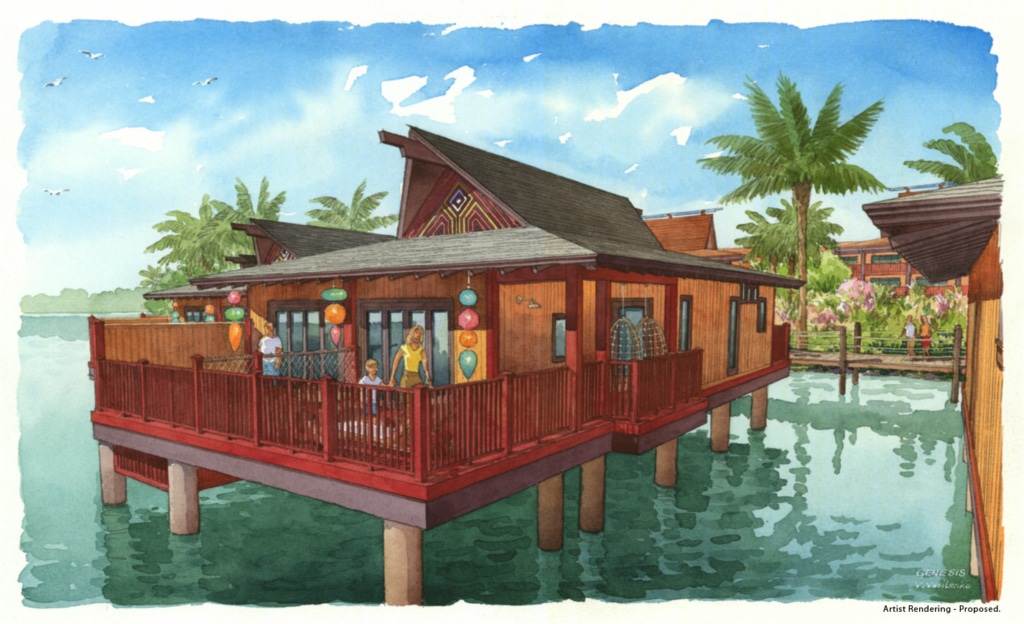 The renovations to Disney's Polynesian resort and the much-anticipated addition of DVC villas are exciting news for owners. However, information is still scarce. They are set to open in 2015, but there hasn't been any mention of when they will be available to purchase or reserve.
What do you think of the changes at Disney's Polynesian? Leave your thoughts in the comments section below.
DVC Polynesian Resort Resales
Want to know more about DVC? Download our free Family Guide to Disney Vacation Club to learn all about choosing a home resort, deciding how many points to purchase, and how to maximize the value of DVC membership.