The American Resort Development Association (ARDA) held its annual spring event May 1st-May 4th down in Hollywood, Florida at The Diplomat Beach Resort. Industry leaders from Wyndham, Marriott Vacation Club, Bluegreen Vacations, and more got together to discuss and share insight on the timeshare industry moving forward, and towards a new experiential focus on travel. Our team at Fidelity Real Estate is proud to have been a Signature Sponsor for this year's event, as we support developers and work with them in providing owners with safe and legitimate timeshare resale solutions.
A Resilient Industry
Since the 50 Forward event in 2019, when ARDA celebrated 50 years of achievement and leadership in the timeshare space, leaders have said time and time again that no other industry is as resilient and strong as timeshares. Families have made it clear repeatedly that they value their vacations, and above all, love their timeshares, even in times of economic distress or crisis. If you take a look through the decades, timeshares have withstood the recession of the 80s, the 9/11 tragedy, the Great Recession of 2008/2009, a slew of timeshare exit scams in the 2010s, and most recently, the COVID-19 pandemic. Michael Brown, CEO of Travel + Leisure Co commented that everyone is seeing record occupancies and a huge demand for vacations. When commentators ask, "What will happen to the industry when we go through a crisis?" it's easy to see that timeshare is here to stay.
What they keep getting wrong time and time again is people don't view us as a high ticket discretionary product. They view us as an essential product to the American family and anyone who loves leisure travel.

Michael Brown, CEO of Travel + Leisure Co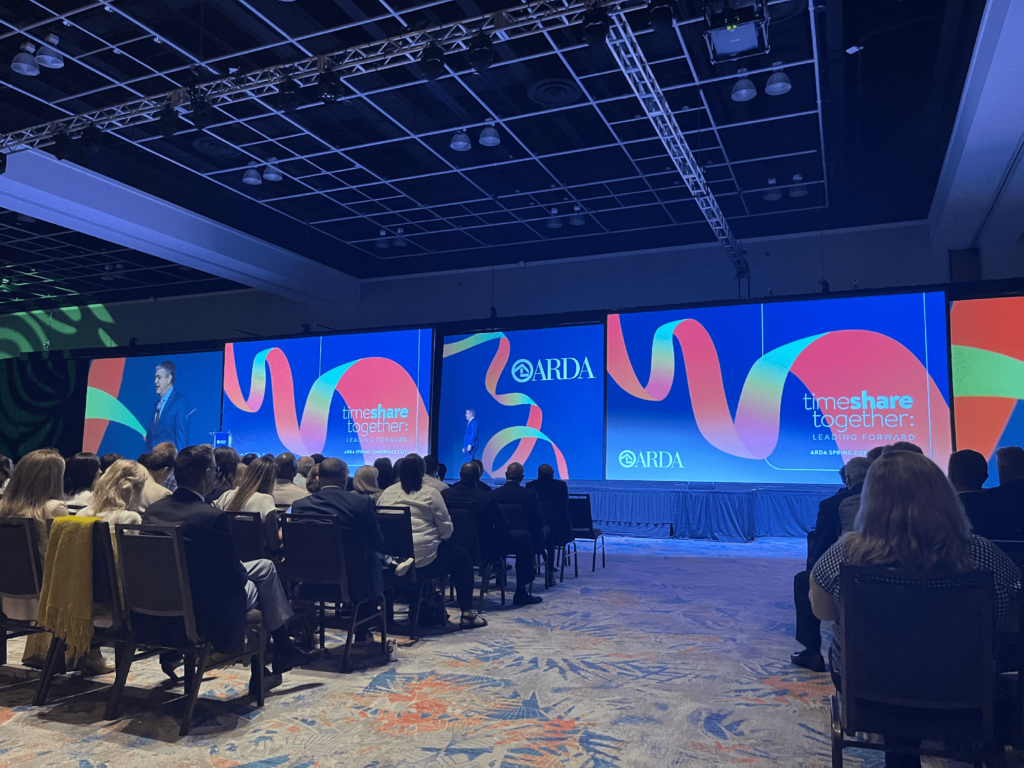 Jason Gamel took to the stage on opening day to comment on just how remarkable the timeshare industry is. In 2019, the focus was on fighting back against harmful exit messaging, but ARDA has worked to take back our narrative with the #LoveMyTimeshare movement. The successful campaign has generated over 57 million impressions across the web and gives owners their own voice to amplify positive messaging about timeshares.
Outsiders now consider vacation rental businesses such as AirBNB or Vrbo as a threat to timeshares, however, Jason Gamel shared that he thinks these hospitality brands have only amplified our product. Not to mention, no other vacation product offers space, security, amenities, service, or experiences like timeshare does.
Success of The Coalition for Responsible Exit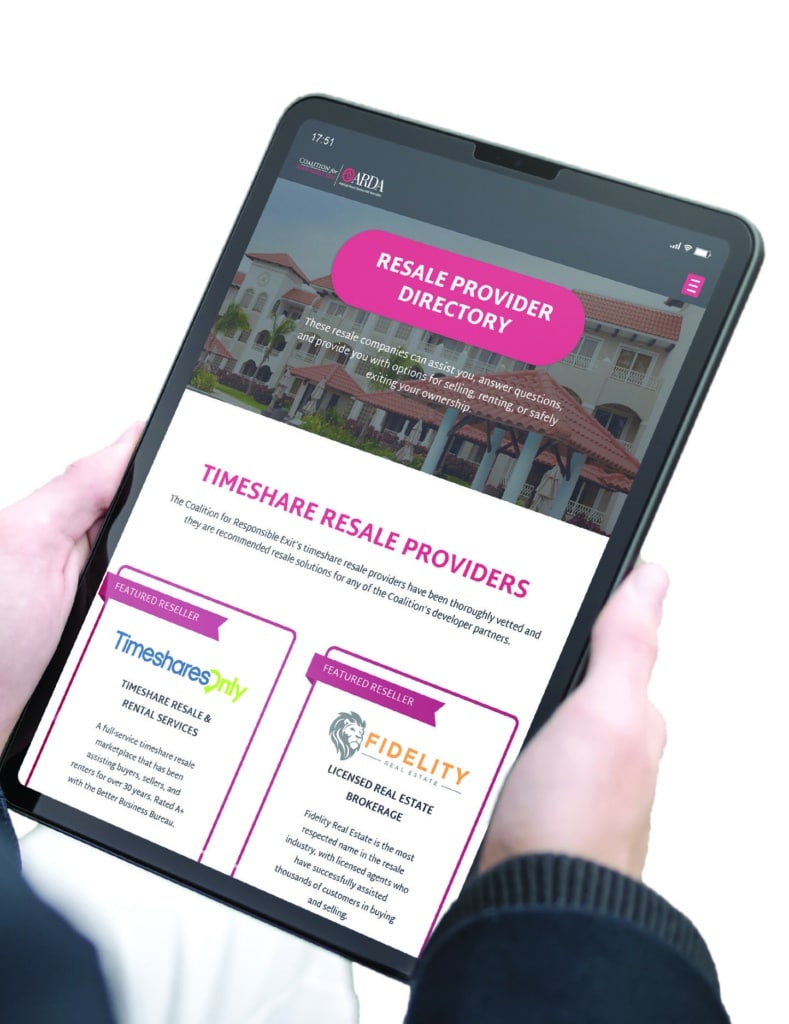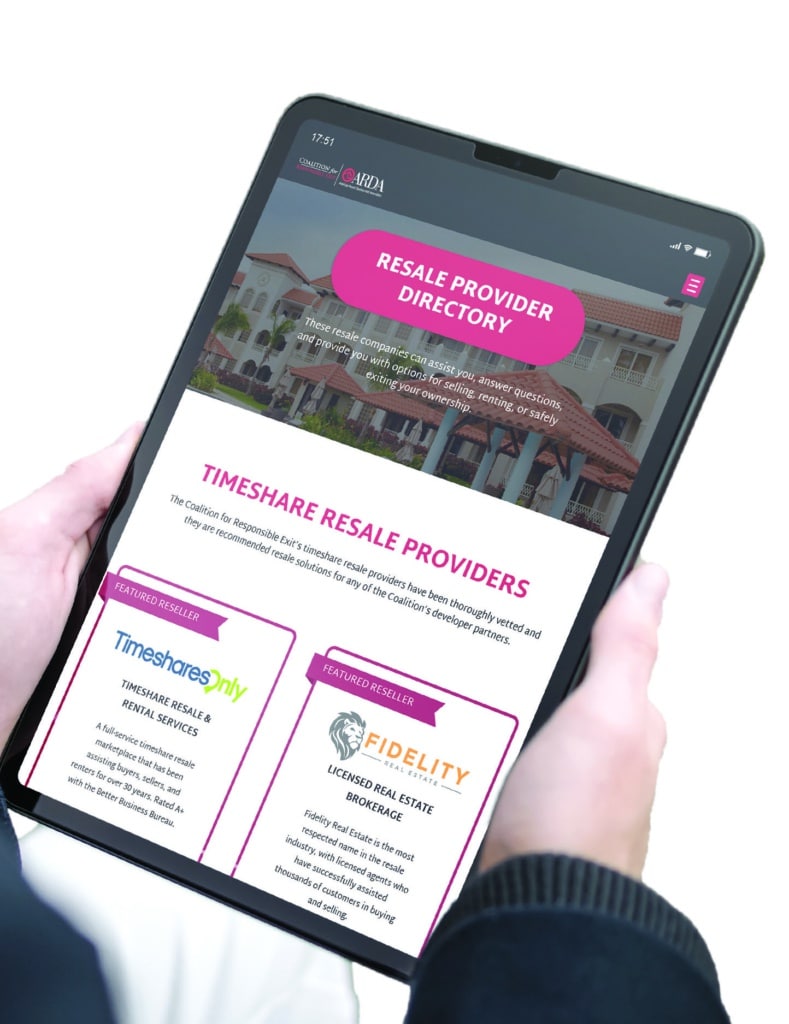 Part of ARDA's initiatives over the last two years is the launch of #LoveMyTimeshare, which has had wild success reaching owners to share their stories and appreciation of their vacation products. ARDA has also launched The Coalition for Responsible Exit, which is a united front against harmful timeshare exit and cancellation companies. It is an effort that is essential to owners and developers alike, providing resources and references for owners that need help with their timeshares.
Jason Gamel spoke on the progress of the Responsible Exit initiative and shared some exciting insight that proves how necessary it is for owners, developers, and resale companies to provide a united front against harmful scams. The Coalition for Responsible Exit receives more than 25,000 visitors to the site on a monthly basis and it is the one-stop-shop for resale and rental services. Check out the resale directory page, where you can find Fidelity Real Estate as a Featured Reseller for the Coalition. We are proud to have also been a Signature Sponsor of this year's ARDA conference, representing ourselves as a Featured Reseller supporting the Coalition.
AIF State of the Industry Sneak Peek
ARDA's AIF publishes a State of the Industry report annually to share sales revenue, occupancy rates, average maintenance fees, nationwide resort statistics, and more. Attendees of the spring conference each year get a sneak peek of the industry stats before they are published in June. Take a look at what was revealed for the 2021 year compared to what the numbers showed in 2020.
*Note that these figures are preliminary and may be adjusted before the State of the Industry report is published.
| | | | | | |
| --- | --- | --- | --- | --- | --- |
| Key Metric | 2021 | 2020 | 2019 | 2018 | 2017 |
| Sales Volume | $8.1 billion | $4.9 billion | $10.5 billion | $10.1 billion | $9.6 billion |
| Sales Price Per Interval | $24,140 | $20,170 | $22,942 | $21,455 | $22,180 |
| Rental Revenue | $2.2 billion | $1.3 billion | $2.5 billion | $2.4 billion | $2.3 billion |
| Occupancy | 73% | 49.2% | 79.3% | 80.8% | 81.4% |
| Average Maintenance Fee Per Interval | $1,120 | $1,090 | $1,080 | $1,000 | $980 |
Stephen Weisz Presented With the ACE Innovation Leadership Award
For the first time, the ACE Innovation Leadership Award was presented to Stephen Weisz, CEO of Marriott Vacations Worldwide. The ACE Innovation Leadership Award was created to honor industry professionals that not only revolutionized or impacted the industry in some way but have also left a mark as an influential leader. Weisz was with Marriott during their entry into the timeshare industry, and they were the first major hospitality brand to launch into timeshares. He is also responsible for the Marriott Bonvoy loyalty program, one of the first of its kind to reward vacationers with valuable discounts and hotel offerings.
Weisz sat down with Jason Gamel to speak on his experiences as a noteworthy leader and innovator and offered advice to "keep your eye on the job that you're doing today and the future will take care of itself." This sentiment can help all of us stay tethered to what our mission is in business and life.
Buzzword of the Year: Experiences
In all of the general sessions with keynote speakers or sales and marketing professionals, some mention of "experiences" made its way through to convey a new message to timeshare vacations and beyond. "Experiential travel" focuses more on the customer or the owners. For example, representatives from Hilton Grand Vacations spoke on their acquisition of Diamond Resorts, and how they are bringing new drive-to resort locations to their owners with new properties. As travel has shifted to road trips and weekend getaways over the pandemic, more travelers are hesitant to fly by plane to go to far-away destinations.
Seth Goldenberg, artist and social entrepreneur, shared his expertise during the "Vacation Experience Evolution" general session. Goldenberg says that "experiential travel is the future," especially because 78% of millennials prefer to buy experiences and not things. As of July 1st, 2019, there are more millennials than baby boomers, which has shifted the market in ways we are just beginning to understand.